Every Colored Bun In Burger King History And Why They Should Just Stop Making Them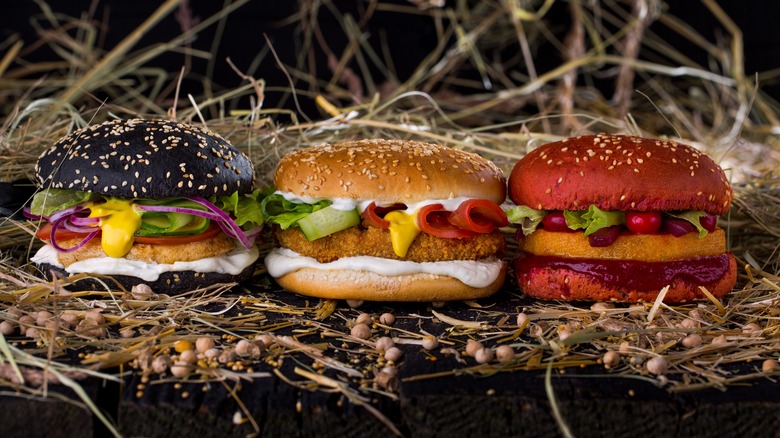 Ukrainian Food Photo/Shutterstock
Burger King isn't at the top of most people's favorite list. In fact, a report by 2 KUTV found that it's actually the "most hated" chain in the country. Still, it ranked #7 on QSR's "Top 50 Fast-Food Chains of 2021" list. One thing that makes customers keep coming back for more is its whacky marketing techniques.
The Home of the Whopper, born in Miami, Florida in 1954, has gone through rebranding, employed celebrities, and utilizes multiple types of media to produce innovative promotional strategies. So, Burger King is no stranger to sparking a buzz around their products. But its most creative attempts to lure customers have got to be what it does to its food.
One method it's employed over the years is offering limited-time burger variations housed in hamburger buns that have been dyed bold colors. Some find the brightly-hued bread as a fun way to experience something new. Others aren't into the novelty. They are the lot that insists that Burger King put an end to making different colored buns.
Why why Burger King offers colored buns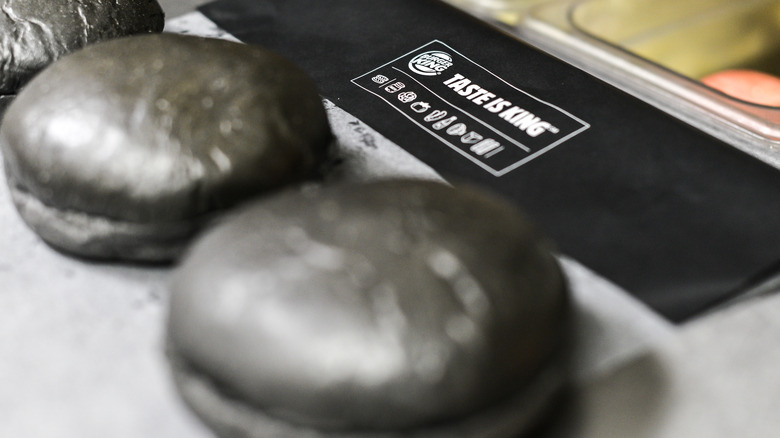 Keith Tsuji/Getty Images
Burger King's colored bread serves multiple purposes in the fast food chain's marketing strategy. The dyed buns are often released as limited-time offers, creating a sense of urgency and FOMO among customers. This marketing tactic encourages impulse purchases and drives foot traffic.
These offerings are often promotions for events like holidays or movie releases. The Home of the Whopper released special buns in honor of Halloween and "Spider-Man: Across the Spider-Verse." The bold-colored bread is oh-so Instagrammable, which creates a big buzz on social media, influencing more consumers to try these products and associate themselves with the brand.
The flashy presentation also helps Burger King make a striking statement that distinguishes itself from other chains that often stick to traditional menu items. McDonald's has ventured into this unorthodox burger bread territory with its grey bun on the Modern China burger, as has KFC China with a pink one. But Burger King does it in the U.S. and abroad. As a result, this marketing strategy has become a powerful tool for the fast-food giant, proving that sometimes, thinking "outside the bun" can lead to great success.
Ghost Pepper Whopper Orange Bun
In October 2022, Burger King introduced the Ghost Pepper Whopper as part of their Halloween promotion. This limited-time offer was available during spooky season starting October 10. Royal Perks members could use the Home of the Ghosts feature on the BK app, which offered an electromagnetic field ghost detector so customers could "discover whether they have paranormal activity in their house." Those who used the app to search for ghosts in their home were treated to a meal for two, which included this spicy burger. The offer was valid from October 17 to October 31.
The Ghost Pepper Whopper featured a unique orange and black sesame seed bun, making it an eye-catching addition to the Burger King menu. It was comprised of a flame-grilled beef patty, spicy queso, crispy jalapeños, bacon, and ghost pepper cheese. Reviewers found the bread to be a pillowy beauty with a slight sweetness to it saying, "It's stunning, and that alone is worth the purchase." 
The Impulsive Buy favored this orange bun much more than the green one that Burger King released. The cheese on the Ghost Pepper Whopper delivered a fair amount of heat, while the jalapeno pieces gave off a nice crunchy potato-chip texture. "I definitely got the hiccups this time. But still, most people should be able to handle it," the outlet shared.
Halloween Whopper Black A.1. Bun
The limited-edition Black Halloween Whopper that Burger King released in 2015 didn't just serve as some spooky eye candy. That dark coloring in this bun was also flavored with A.1. sauce, giving it a totally different appeal rather than just dressing up the chain's signature sandwich.
The Halloween Whopper featured a flame-grilled beef patty with American cheese, lettuce, tomatoes, pickles, onions, mayonnaise, and A.1.'s Thick and Hearty Sauce. The star of the show, however, was the festive pitch-black bun. Burger King said it was inspired to bring this creation to the U.S. after testing flavored buns in Japan. It was also wrapped in festive paper that looked like a mummy peering out of his wraps with bright yellow eyes.
Customers had mixed feelings about the burger. Some said it looked repulsive and refused to go near it, while others rushed out to get it, only to find it was sold out at their Burger King. Those who did get their hands on it found the bun to have a light smokey and sweet flavor. The Impulsive Buy said while the black roll was a nice touch, this pairing mostly just tasted like a Whopper with some A.1. sauce and "wasn't anything special."
Spider-Verse Whopper Red Bun with Black Seasame Seeds
In partnership with the movie Spider-Man: Across the Spider-Verse, Burger King introduced the Spider-Verse Whopper in 2023. This burger featured a bright red bun with black sesame seeds, inspired by the color palette of Miles Morales' Spider-Man suit. The flame-grilled patty was topped with mayo, lettuce, tomato, pickles, white onion, ketchup, and Swiss cheese, giving it a slight twist from the regular Whopper, which has American.
Like the infinite possibilities of the multiverse, the chain encouraged customers to put their own toppings on the burger to create various versions of it. The Spider-Verse Whopper was offered alongside a Spider-Verse Sundae with soft-serve ice cream sprinkled with popping red and black candies. Burger King also decorated a few of its locations to match the movie's theme and offer some good photo ops with a Spider-Man-themed paper crown replacing its traditional gold one.
Unlike the multiverse, the Spider-Verse Whopper lacked a variety of unique flavors, leaving the burger to fall flat. Mass Live's review said it was just a regular Whopper with a dyed bun. "It's honestly pretty lame," the disappointed reviewer wrote. While it added to the colorful history of Burger King's creative marketing tactics and created a buzz for the fast-food chain, this offering was more of a visual gimmick than a gastronomical innovation.
Green Nightmare King Bun
When Burger King released a green-bunned burger in October 2018, it was giving people nightmares — but not for the reason you might think. The Nightmare King was a sandwich engineered to terrify participants while they slept. No wonder why this chain is among the most hated. Still, in perfect American consumerism fashion, people actually paid for this experience.
Burger King joined forces with Florida Sleep & Neuro Diagnostic Services, Inc., Paramount Trials, and Goldforest Inc. to perform a study where it fed the Nightmare King to 100 test subjects over the course of 10 nights just before bed. As a result, the participants experienced 3.5 times more bad dreams than are typically had on a given night. These vivid dreams were about transforming into snakes and being approached by aliens.
The Nightmare King offered ¼ lb. of beef in addition to a white meat chicken filet that was topped with American cheese, mayo, onions, and bacon. Experts told Inverse that this caloric-filled burger and unsightly colored patty likely subconsciously traumatized the subjects and triggered bad dreams since it screamed "heart attack waiting to happen" and "bad bacteria on board." But for those who aren't afraid of things that aren't real, the burger was reported to actually be pretty tasty, according to BuzzFeed.
Black Double Grilled Onion Burger
Burger King's Thailand customers also got a taste of the black bun when it introduced the Black Double Grilled Onion Burger in 2021. This wasn't just a Whopper with a painted bun and some extra toppings. This was an entirely different colored creation that include a beef patty topped with a slice of cheese and then another beef patty, followed by more cheese, a special barbecue sauce, and grilled onions. The bread is naturally dyed.
The Black Double Grilled Onion Burger was released as part of Burger King's Black and Pink promotion for Valentine's Day, which also offered a pink-bunned sandwich. Many assumed that this offer paid homage to the K-pop girl band BLACKPINK. The chain, however, said there was no affiliation. An advertisement shows a man in black and a woman in pink facing backward and flipping around with cell phones in hand to snap photos of themselves with each of their respective burgers. 
Angriest Whopper Red Bun
In March 2016, Burger King introduced the Angriest Whopper, a sequel to their previous limited-time offering, the Angry Whopper. The difference between the two is that this version has a fiery red bun with hot sauce baked right into the bread to amp up the heat level. This sandwich came with the chain's savory flame-grilled beef patty, thick-cut bacon, American cheese, iceberg lettuce, tomatoes, hot crispy onion petals, jalapeños, creamy mayonnaise, and spicy angry sauce.
This limited-time offering was inspired by the success of the company's A.1. flavored buns. And like its black-breaded counterpart, this Whopper's roll also had a subtle flavor. However, the chain's press release intended for every bite of this bright burger to be "infuriating" and "furiously delicious." It even came in a wrapper that said "I survived the Angriest Whopper."
Unfortunately, reviewers said it definitely missed the mark in its attempt to scorch. The red bun definitely packed some nice heat, but not enough to make you grasp for a glass of water. M Live reported that it still only delivered a "small kick" with all of the other spicy ingredients added.
Kuro Burger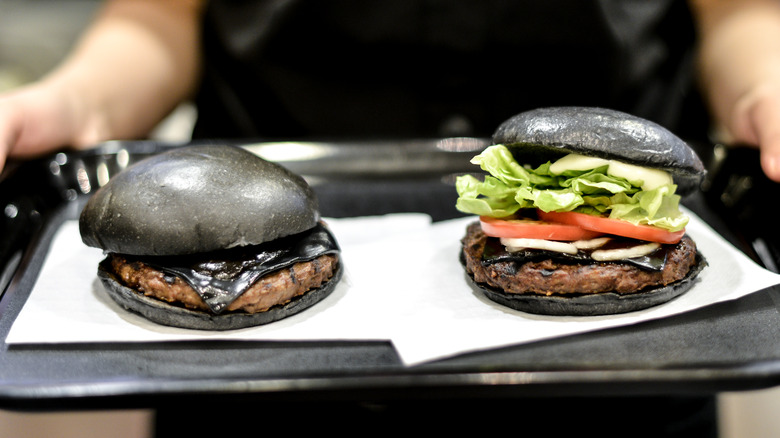 Keith Tsuji/Getty Images
If you thought any of the burgers we mentioned were offputting, wait until you see these all-black beauties. In 2012, Burger King Japan launched its Kuro (which means black in Japanese) line with a dark-colored bun, beef patty, and squid-ink ketchup. The limited-time burger was brought back in 2013 as the Kuro Ninja, which included bacon. 
It was revamped again in 2014 as the Kuro Pearl and Kuro Diamond, both featuring midnight-colored buns, cheese, and sauce. The cheese and buns were colored with bamboo charcoal, while the onion and garlic sauce was blackened using squid ink. The beef patty was even darkened up a bit with hefty amounts of black pepper. The Kuro Pearl, as in "The Black Pearl," came with just a patty, cheese, and sauce on black bread, while the Diamond also included onion, tomato, lettuce, mayo, and pickles. 
These buns were reviewed by Gawker who said the Kuro Diamond tasted like a "microwave Salisbury steak" and called it "a burger, but grosser." But this isn't the last that we've seen of these raven-dyed sandwiches. In 2014, Burger King gave us the Kuro Shogun (which added some fried eggplant) and the Kuro Taisho (which added a hash brown).
Pink Salmon Burger
The Pink Salmon Burger was the other burger in Burger King Thailand's Black and Pink campaign. It featured a deep-fried salmon fillet breaded and topped with cheese. It was served with a special sauce on a bubble gum pink bun at a price slightly lower than the Black Double Grilled Onion. The Valentine's Day promotion was offered between February 2 and February 28 in 2021.
But not everyone was feeling the love when it came to the Black and Pink campaign. The Black and Pink Burgers gained significant attention on social media platforms like Twitter, with many users expressing their opinions on the color combinations and taste. Some found the hues and flavors unappealing, while others were intrigued by the novelty of these unique menu items.
"Idk about the black one but deffo not going anywhere near the pink god that s— looks awful," a Twitter user wrote, according to popculture, with another adding, "Good luck to y'all bathrooms after eating this." 
Black and White Burger
Burger King Singapore introduced its BK Black Burger a year before it dropped the BK White Burger in 2015. The dark-hued offer came on a bamboo charcoal-infused bun with white sesame seeds and was filled with a Tendercrisp chicken thigh patty with honey mustard, Batavian lettuce, and turkey bacon. 
The BK White Burger was made with Trehalose sugar. It came with black sesame seeds and was advertised with a Whopper beef patty, though you could switch it out for chicken. It was smothered with black pepper sauce and came with the same toppings as the charcoal bun burger. Customers who had the burgers said it was pricey and smaller than it looked in photos. 
This wasn't Burger King's only fair-hued offering. A white-bun burger with plain-colored seeds was released in 2019 for Halloween. The Ghost Whooper was basically the chain's signature sandwich but with pale white cheddar-flavored bread. While it didn't have an overpowering cheese flavor, it did have a significant enough taste to distinguish itself from a traditional bun. Its marketing slogan said that it was "Approved by 11 out of 10 people."  The joke, however, fell flat on some. "I got a glorious chuckle out of that tidbit, but then it was followed by immediate sadness as I realized the actual product was nowhere near as clever or as exciting as the marketing on that window cling," The Impulsive Buy wrote. 
Why Burger King needs to stop making colored buns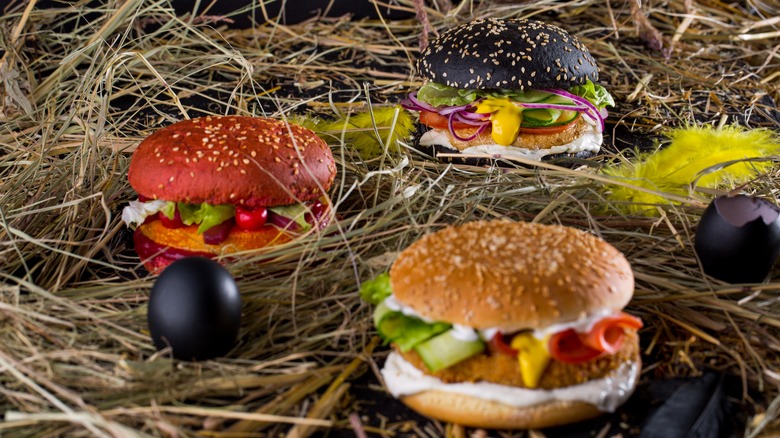 Ukrainian Food Photo/Shutterstock
While some might enjoy the novelty of a cartoon-colored bun, not everyone is eager to consume them. There are a few reasons why some feel the Home of the Whopper should ditch the practice. The biggest is what potential chemicals are found in them.
Some of Burger King's buns use food dye for their coloring. The chain told ABC News that its black A.1. flavored bun contained less than 1% of food dye concentration, which was deemed an acceptable amount by the Food and Drug Administration. Though the FDA claims food dyes are safe, some scientific studies contest this, finding that some dyes may cause cancer in animals or behavior problems in children. "In the short-term, the neurobehavioral effects of synthetic food dyes in children should be acknowledged and steps taken to reduce exposure to these dyes in potentially susceptible children," a study published on Bio Med Central concluded.
That food dye has also changed Burger King customers' bowel movements, and people were not happy about it. The aforementioned black Halloween Whopper turned people's poop bright green. While this can happen when people eat foods like beets, we'd rather not have scary surprises in our toilets after eating fast food.
What we'd rather see from Burger King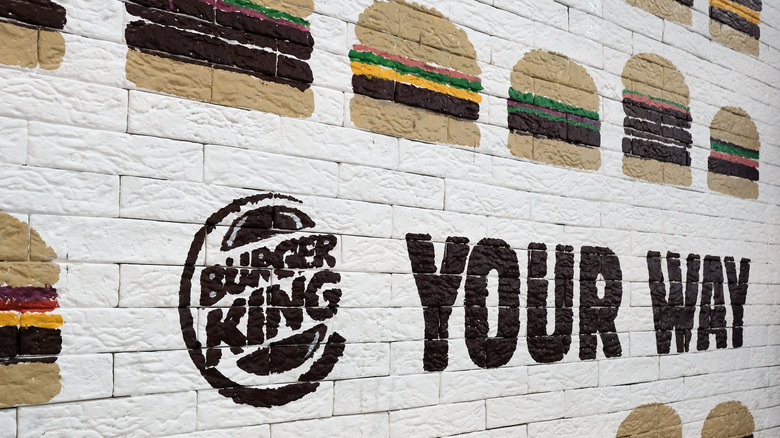 ROMSVETNIK/Shutterstock
If Burger King really wants to bring customers in the door, it should ditch the gimmicky bun colors and opt for meaningful innovation. A shift in focus from novelty to quality would likely be well-received by customers, who are ultimately more interested in the taste and enjoyment of their food than the appearance of the bread on the burger. 
A Quora post shows customers complaining about sloppy-looking food, unappetizing fries, and high prices that weren't on par with the food's quality. Other customers complained about smaller-sized burgers. A study by Clootrack found that when it comes to fast food, customers want it to be fresh, hot, and tasty and come in reasonable quantities. They also prefer their food to be as "clean" as possible and ditching the dyes would cut down on those added chemicals.
Burger King's advertising is also distasteful. In the chain's attempt at humor, they've been accused of being religiously offensive and misogynistic, which has prompted calls for boycotts of the chain. The bottom line is customers want to be respected when purchasing healthy food at fair prices, rather than being dazzled by a color.