8 Fast Food Chains Who Make Their Milkshakes With Real Ice Cream And 7 Who Don't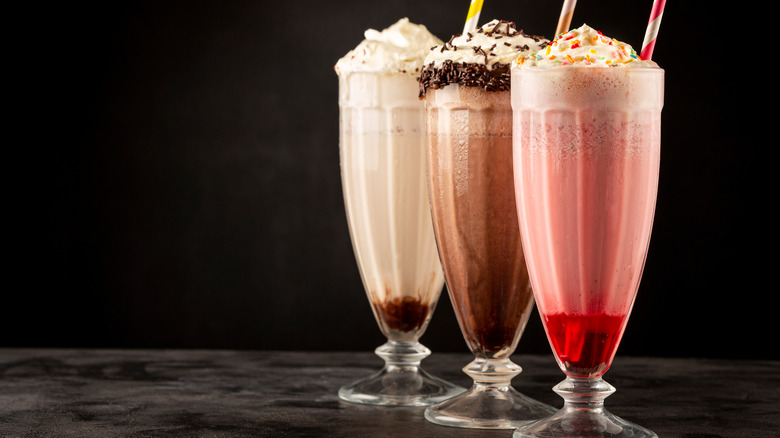 WS-Studio/Shutterstock
Milkshakes were not always the delicious ice cream-based concoction we know today. When the word milkshake first came into use in the late 1800s, it was used to describe a drink made of cream, eggs, and whiskey. The first non-alcoholic versions arrived on the scene when malt powder and syrups replaced whiskey. In 1922, the meaning of "milkshake" changed — and we would argue for the better. A man by the name of Ivar "Pop" Coulson worked for Walgreens, which at the time had a soda fountain. Coulson had the brilliant idea to add ice cream to the flavored milk mixture. Of course, now milkshakes are synonymous with ice cream. You can't have one without it. Or so you thought ...
Many fast food restaurants skirt around using real ice cream in their milkshakes. The USDA has specific requirements for frozen dairy treats to be called ice cream. The frozen mixture must weigh no less than 4.5 pounds per gallon, contain 20% milk solids — of which 10% must be milk fat — and other stipulations regarding added ingredients like crushed cookies or fruit. If you're curious about which fast food restaurants pass the ice cream test, we have compiled a list of which ones use real ice cream and which do not.
Do: Sonic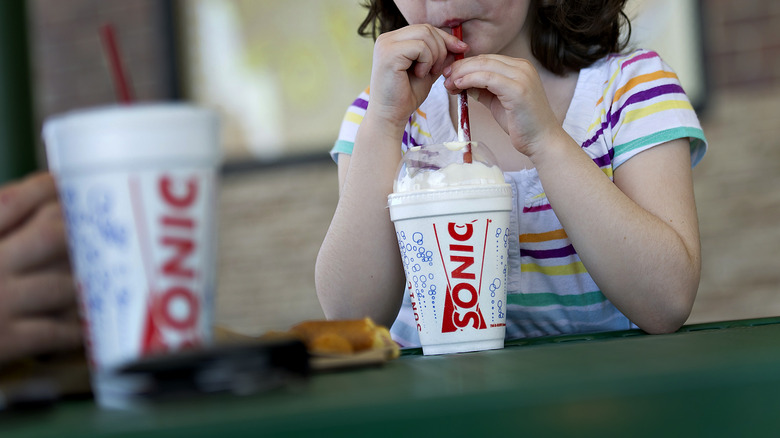 Bloomberg/Getty Images
It has been a long time since the heyday of drive-ins. Despite Guy Fiere's best efforts, they don't seem to be making a big comeback. However, one fast food drive-in that remains is Sonic. The drive-in restaurant was founded initially as Top Hat Drive-In in 1953 by Troy Smith in Shawnee, Oklahoma. They say the third time's the charm to succeed with an endeavor. For Smith, it took until attempt number four to make the restaurant work. Top Hat Drive-in grew as Smith innovated — eventually becoming the Sonic we know today.
Smith must have been onto something because Sonic is still going strong and still offers milkshakes in delicious flavors made with real ice cream. On its menu, it states, "real ice Cream made with milk and cream." This says it all. Due to the legal restrictions around the frozen treat, Sonic wouldn't be able to list ice cream as an ingredient if it wasn't. Plus, its website states that the company hand blends real ice cream and flavorings into the customer's chosen milkshake flavor. The result is a thick, delicious treat topped with whipped topping (not real whipped cream) and a cherry.
Do: Steak N Shake
As one-half of the restaurant's namesake, we would be pretty disappointed if Steak N Shake didn't use real ice cream in its shakes. Founded in 1934 in Normal, Illinois, Steak N Shake made its name serving up — you guessed it — burgers and milkshakes! The company is adamant that the goal behind Steak N Shake was to create high-quality burgers and milkshakes. While much of the focus has been on the meat end of things, the company has not forgotten to ensure the quality of its milkshakes.
Steak N Shake has 17 different flavors of milkshakes, with each one using a base of real ice cream. But Steak N Shake does not stop there with its recipe. Each handmade milkshake also contains real — not powdered — milk. While some companies skip using real whipped cream, Steak N Shake also opts to serve authentic whipped cream and a cherry to finish off its shakes.
Do: Bruster's
Since it's in the restaurant's title, it should come as no surprise that Bruster's Real Ice Cream uses real ice cream. In 1989, Bruce Reed founded Bruster's in Bridgewater, PA. Since then, the company has grown to over 200 locations across the United States, Guyana, and South Korea.
Bruster's serves up 24 flavors of ice cream, which are made on a daily basis in each individual shop. This process guarantees that not only are the shops using real ice cream, but they are also using freshly made products as the basis for their milkshakes. Any Bruster's Ice Cream flavor can be turned into a milkshake. The shakes are hand spun to creamy perfection and use real milk. For those who like a traditional shake, chocolate, and vanilla are available options. But if you like to mix it up, you'll never get bored trying out Bruster's many flavors. While there are at least 24 flavors each day, flavors rotate. According to the company website, there are more than 240 flavors total! If you want a milkshake made with real ice cream, Bruster's won't let you down.
Do: In-N-Out Burger
In-N-Out Burger started in California in 1948. However, its first milkshake didn't officially make it onto the menu until 1975, when it premiered its ice cream-based milkshake. As the company expanded, it hasn't lost the taste for crafting classic milkshakes. In-N-Out Burger's website proudly proclaims with a pop-up that its milkshakes contain real ice cream.
Frankly, the company doesn't provide much more information than that regarding its ice cream. Thankfully, a former employee got onto Reddit and spilled how the company makes its ice cream. He explained that — at least during his tenure — that the ice cream was shipped in liquid form and then frozen in the store. To make the milkshakes, the then frozen ice cream would be mixed with whatever syrup flavor was ordered. While this may not be an overly romantic image of real ice cream, as long as the contents still meet the legal definition of ice cream, In-N-Out can continue to use the wording in its advertising.
Do: Jack's Family Restaurant
When Jack's first came on the scene in 1960, it served milkshakes for 20 cents apiece — just like the original McDonald's. But unlike McDonald's, Jack's uses real ice cream in its milkshakes.
Jack's makes milkshakes using its hand-dipped ice cream. The ice cream is hand mixed to create delectable milkshake flavors. Its flavors go beyond classic choices like chocolate and vanilla to offer varieties like strawberry, peach, moose tracks, Smoky Mountain fudge, and chocolate chip cookie dough. Jack's does not make its ice cream in-house. By using our powers of research, we discovered Jack's sources ice cream from Mayfield Dairy, which has been churning ice cream since 1923. Mayfield ice cream definitely meets the definition of ice cream, as the first two ingredients of its vanilla ice cream are cream and buttermilk. With Mayfield Dairy ice cream by the company's side, Jack's successfully brings real ice cream milkshakes to the masses!
Do: Shake Shack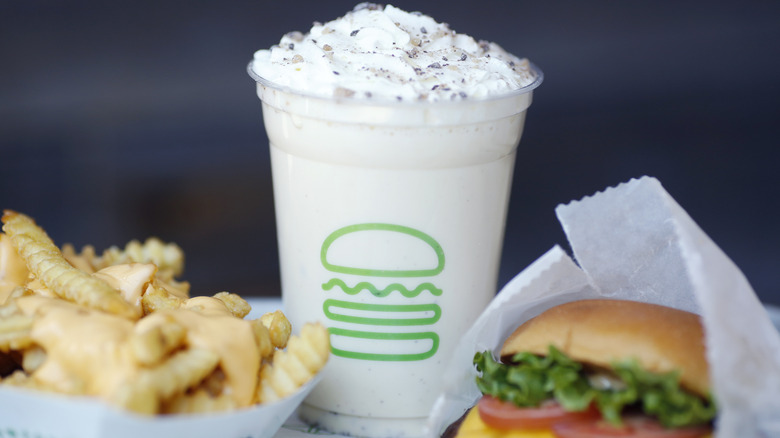 Bloomberg/Getty Images
We expect that with a name focused on milkshakes, Shake Shack's product will live up to the hype and use real ice cream. To its credit, it does!
In 2001, Shake Shack was a New York hot dog stand. The cart became so popular that by 2004 Shake Shack opened a more permanent restaurant serving hamburgers, hot dogs, crinkle-cut fries, and — of course — milkshakes. Shake Shack has since expanded to be much larger, but the chain still offers versions of those foods.
While all the food is great, Shake Shack milkshakes are something special. They are made using a house-made premium ice cream, which is also known as frozen custard. This may sound confusing because, as we discussed, ice cream is a specific legal category. Allow us to decode some of the terminology for you!
Premium ice cream is ice cream that exceeds the minimum standard of fat content in ice cream with high-quality ingredients. Custard is ice cream but with the addition of at least 1.4% egg yolks. Shake Shack makes its own custard ice cream with cane sugar and cage-free eggs to produce thick and luscious milkshakes.
Do: Culver's
Speaking of custard, Culver's is also known for its custard. In 1984, the chain began in Sauk City, Wisconsin — serving up its signature ButterBurgers, cheese curds, and frozen custard. As discussed above, frozen custard is an ice cream that has a higher percentage of egg yolks than standard ice cream. The extra egg yolks tend to make frozen custard taste extra rich and creamy. At Culver's, all the frozen custard is made fresh on-site using farm-fresh dairy, which the company says gives the custard the best possible flavor.
Each shake starts with fresh custard, then is blended with milk and whatever flavor on the menu you choose, including the ability to add malt to just about every flavor. While the flavors do not reach the same level of insanity as somewhere like Five Guys, we are glad to see a place that offers classic flavors using real ice cream.
Do: Freddy's
Another contender in the wide world of custard-based milkshakes is Freddy's Frozen Custard and Steakburgers. Freddy's was founded in 2002 in Wichita, Kansas. However, the restaurant now brings burgers and custard ice cream to locations throughout America. Freddy's serves fresh premium custard, which the company churns daily. This custard is the base of its milkshakes and malts. When blended with milk, the end result is a thick and creamy milkshake — and one that surpasses a milkshake made with an ice cream base. Freddy's keeps it simple with flavors — offering vanilla, chocolate, and half and half. Don't expect a wide range of flavors here. Additionally, like some restaurants on this list, Freddy's does give its customers the option to malt their milkshakes, too.
After ordering a thick and creamy milkshake from Freddy's, it will be hard to go back to regular soft-serve-based milkshakes from other fast food restaurants.
Do not: Dairy Queen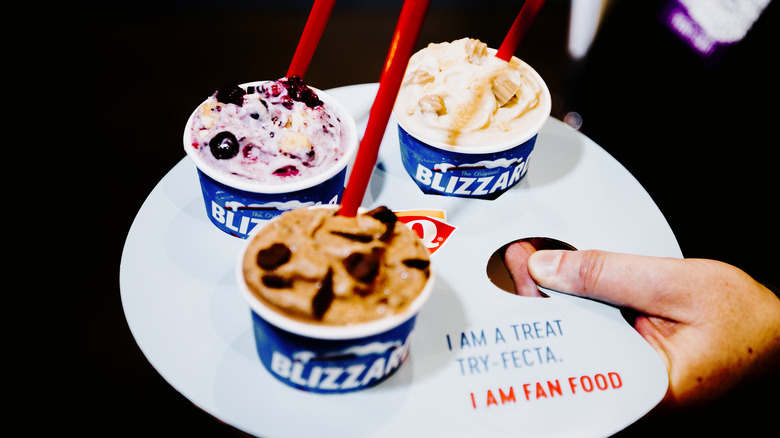 Bloomberg/Getty Images
Dairy Queen was founded in 1940 in Joliet, Illinois. In 1949, its first milkshake appeared on its menu. So it's safe to say milkshakes have been a part of the company's business for a long time. We are sorry to be the bearer of bad news, but the truth is Dairy Queen milkshakes are not made with real ice cream. Further, Dairy Queen's soft serve is not considered ice cream at all.
This fast food restaurant's shakes and malts are made using milk and Dairy Queen soft serve. However, the company admits that its soft serve isn't technically considered ice cream — since its soft serve only contains 5% butterfat, which is just half the legal requirement for ice cream. This means that on any of the advertising, you will not see Dairy Queen using the terminology "ice cream." To top it off, Dairy Queen milkshakes are topped with a "whipped topping," which is not whipped cream since it contains no cream.
Do not: Wendy's
There is no denying that Wendy's Frosty is delicious. The frozen treat is cold, sweet, and creamy — everything we want in a milkshake. Sadly, ice cream isn't one of its ingredients.
Wendy's was founded in 1969 by Dave Thomas in Columbus, Ohio. The company immediately began serving up square hamburgers and its signature drink — the Frosty. While the hamburgers were famous for using fresh beef — and Wendy's slogan of, "Where's the beef?" — the Wendy's Frosty doesn't enjoy the same level of authenticity. 
If you take a look at the Frosty ingredients list, you find things such as water, sugar, and powdered milk. Crucially, the Frosty doesn't contain cream. Instead, to get a rich thickness akin to ice cream, the company uses sunflower creamer and additional stabilizers. Yes, this creates a smooth and creamy experience. Still, it doesn't offer any milkfat so it can't be called real ice cream.
Despite the lack of real ice cream, Wendy's Frosty continues to be popular. Starting in 2006, the company began to branch out from the original. For a long time, only chocolate and vanilla were available flavors. Since then, the company has offered tasty varieties like strawberry and peppermint.
Do not: McDonald's
The first iteration of McDonald's started in 1948. Founded by brothers Dick and Mac McDonald, McDonald's basically created the modern day version of a fast food restaurant. They created the Speedee Service System to optimize getting food out quickly and cheaply. This new method was used to sell a small menu of just nine items which included 15-cent burgers, fries, and the most expensive item on the menu, a 20-cent triple-thick shake. The rest is history. However, the milkshakes do cost more now.
The milkshakes are also made without the use of real ice cream. This may be confusing, as when you look at the ingredients, you see that it is made with vanilla reduced fat ice cream. However, it is important to note that this is not ice cream. It does not meet the USDA standards to be called ice cream. So why does it get to keep part of the moniker?
Prior to 1994,frozen milk products with less than the required 10% milk fat were categorized as a product called ice milk. However, the USDA created new categories that eliminated ice milk and included nonfat, low-fat, reduced fat, and light. McDonald's soft serve, the basis of its milkshakes, is considered reduced fat. However, the soft serve cannot simply be called ice cream, as, once again, it does not meet the legal definition of ice cream.
Do not: Chick-fil-A
Chick-fil-A was founded in 1946 in Hapville, GA. What started out as a small independent restaurant has turned into one of the largest fast food chains in America. Known for its speedy service and chicken sandwiches, its milkshakes have gone on to stand out as well! Of course, that does not mean they are made with real ice cream. Sorry!
It is a pretty dead giveaway when a place does not even attempt to use the term "ice cream" or "soft serve" for its products. Instead, Chick-fil-A uses a product known as Icedream. What's that? Icedream is a thick, soft-serve product made from whole milk, nonfat milk, sugar, milkfat, and nonfat dry milk, among other things. Once again, the ingredient not included here is cream. This means the fat content does not reach the necessary levels to be considered ice cream. Still, the milkshakes are topped with real whipped cream though, so that's something!
Do not: Burger King
You may have noticed a theme on this list. Soft-serve ice cream from fast food restaurants tends to not be considered real ice cream. The reason for this is that soft serve is usually whipped with a lot of air and has a lower milkfat content. This process helps give that drink its signature soft and pipeable texture. And Burger King's soft serve is no exception!
Burger King was founded in 1954 and served burgers, fries, and milkshakes right from the get-go. Now it is one of the largest fast food burger companies in the world. With the need to pump out incredible volumes of product, we understand why Burger King chose to go the route it did with soft-serve. Still, one look at the ingredient list for its signature milkshake tells us what we need to know about its taste quality. There is no cream in Burger King's soft serve, which is the basis for all of the company's milkshakes.
Do not: Five Guys
Compared to other fast food burger joints on this list, Five Guys is a baby. Five Guys was founded in 1986 in the Washington, DC area. When Five Guys debuted, the company focused on freshness — hand-making burgers with unfrozen meat and frying fries in peanut oil. To ensure the meat is fresh, Five Guys opted not to install freezers. Instead, the company used coolers.
Wait! How can Five Guys have milkshakes with no freezers? The answer: for a long time, the chain did not. In an interview with Inc in 2010, Five Guys co-founder Jerry Murrell stated that the company never had milkshakes for that reason. Eventually, Five Guys figured it out. In 2014, the guys premiered their milkshake. With no freezers, Five Guys opted to use a "Vanilla Shake Base." While it's still tasty, it's certainly not fresh cream nor does it claim to be. Still, with all the mix-ins available, you can customize a tasty shake however you like!
Do not, probably: Jack in the box
Jack in the Box came onto the fast food scene in 1951, serving up classic burgers and fries. What goes better with that classic combo than a nice cold milkshake? This fast food restaurant offers a selection of classic shakes as well as some out-there flavors — including ones with movie tie-ins like "Pineapple Express."
Here is the thing with Jack in the Box that prevents it from being solidly in the real ice cream category. The chain has two different shake mixes, each of which uses a combination of dairy products and sugar. The second one has cream higher on the ingredient list and thus is more likely to have the fat content required to be considered real ice cream.
Jack in the Box does not explain why it has two mixes or how they are used. Nor does the chain explicitly state on the menu whether its milkshakes contain real ice cream. However, coupons from 2011 proclaim the restaurants have "real ice cream shakes," and a Facebook post from 2012 also references "real ice cream shakes." But since then, that phrasing doesn't appear with its milkshakes: This leads us to the conclusion that they — at least currently — are not likely made with real ice cream.