Mexican Street Corn Pasta Salad Will Be The Star Of Your Next BBQ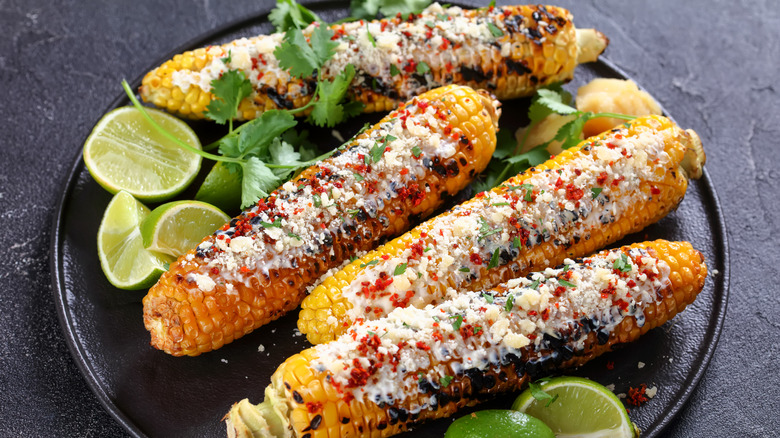 from my point of view/Shutterstock
Even if you never get tired of fun summer barbecues, you and your fellow partiers can, unfortunately, end up a little tired of the same old sides like potato salad or coleslaw. Don't fear — Mexican street corn pasta salad is here to add some delicious flair to your next cookout.
Like many of the summer's hottest food trends, the recipe hails from TikTok, a growing source of tasty and innovative food ideas. Start by boiling a box of mini pasta shells (conchigliette, for purists). While the pasta cooks, sauté half of a chopped white onion, a chopped red bell pepper, one bunch of sliced green onions, and one or more cans of corn kernels. Then, combine the basics of your sauce: 1 cup of Greek yogurt, ½ cup of sriracha mayo, the juice of one lime, and dashes of hot sauce, olive oil, and chipotle seasoning to taste.
Drain the cooked pasta and add it to a large bowl. Top the pasta with the sautéed vegetables and sauce, then mix it with chopped cilantro. Finally, top the mixture with feta cheese and dig in. While you can eat the pasta salad right away at room temperature, it's as delicious when served chilled after being in the fridge.
This pasta salad recipe moves away from traditional Mexican ingredients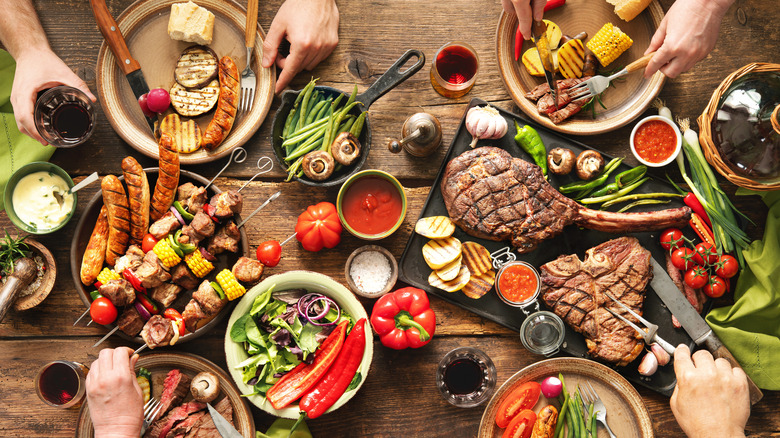 Alexraths/Getty Images
While the mixture is delicious, as some commenters pointed out in response to the TikTok video, it's not a traditional take on Mexican street corn. This pasta salad recipe swaps out the spiced crema sauce for a Greek yogurt-based, Asian hot sauce flavor profile, and feta takes the place of similarly crumbly, salty cotija cheese. In addition, some viewers suggested adding the popular and unique Trader Joe's Everything But Elote seasoning for a more authentic taste. However, most of your barbecue guests will probably be too focused on the tasty blend of flavors and textures to worry about all the specific ingredients unless they ask for the recipe. 
Among other notable benefits of this recipe is that it is meat-free. This makes it a great side or main dish for vegetarians and others who don't always have plentiful meal options at barbecues. If you want to please a crowd this summer, you may appreciate this and any of our other top 25 plant-based BBQ recipes for your summer cookouts.