Summer Pesto Pasta Salad Recipe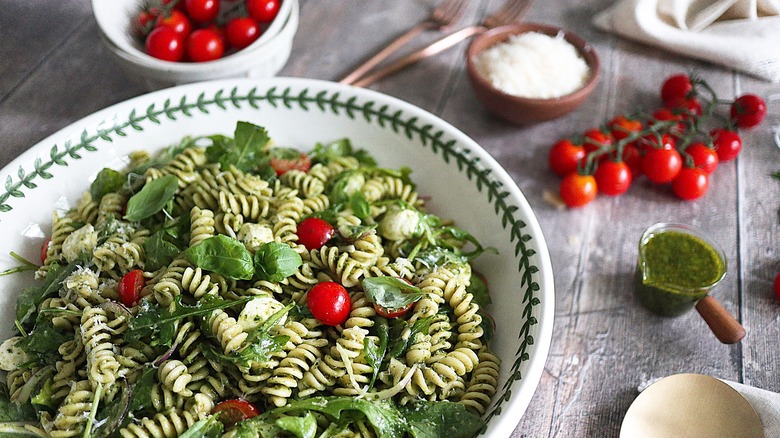 Cecilia Ryu/Mashed
There are plenty of foods that we tend to enjoy mostly in the hot summer months, and pasta salad is definitely one of those things. While you might have your favorite go-to recipe when it comes to whipping up this quick and easy side, here's the thing: A lot of those are incredibly heavy, and when you're trying to eat healthy, a pasta salad coated in mayo may not be at the top of the list.
That's where our summer pesto salad comes in. Recipe guru Cecilia Ryu has come up with a pasta salad that has so many things you'll love about it. Not only does it feature a light pesto dressing that's delicious, but it's filled with all kinds of fresh ingredients that won't ruin your commitment to healthy eating, and a few — like grape tomatoes — that are so easy to get fresh throughout the summer. It also comes together in less than 20 minutes from start to finish, and it's so versatile that we can even give you some ideas on how to switch it up a little. 
Bookmark this recipe, because it's going to be your new go-to dish for every summertime picnic, party, and work week prep when you want something fun. Oh, and fresh mozzarella cheese? It's got that, too.
Gather your ingredients to prepare this pesto pasta salad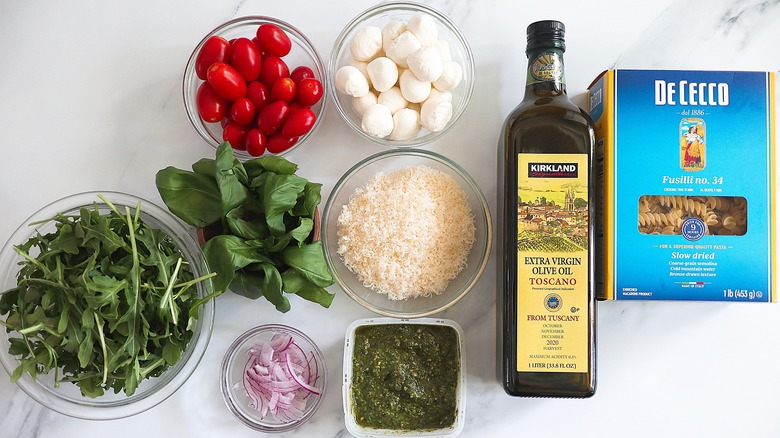 Cecilia Ryu/Mashed
This recipe doesn't call for too many ingredients, but there is something super important to take into consideration. Since you're going to be using all fresh ingredients — and not many of them — you're going to want to take the time to make sure you're getting the very best. Ryu says that's particularly important when it comes to the pesto. "One recommendation I have is to use good quality pesto," she notes. "[It's] the star of this whole recipe!"
In addition to the pesto, you're going to need a pound of Fusilli pasta, grape tomatoes, bocconcini (fresh mozzarella balls), Parmigiano Reggiano cheese, arugula, red onion, basil leaves, and extra-virgin olive oil. The exciting thing about preparing this delicious recipe in the summer months is that you may have some of the ingredients growing right in your own garden. If not, they will be easy to find at your local farmer's market.
Cook the pasta al dente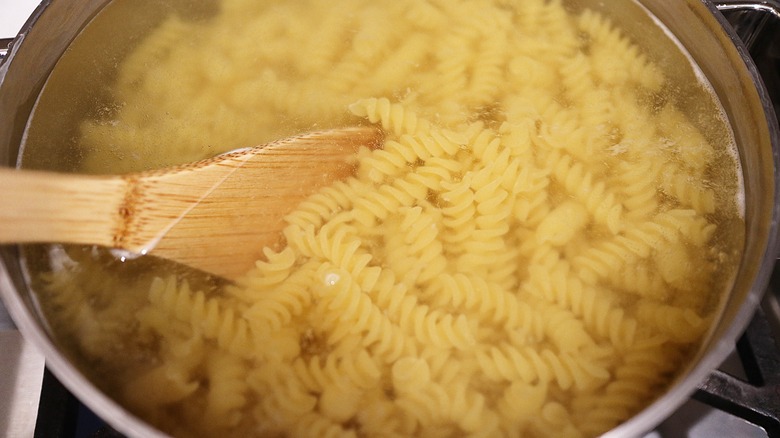 Cecilia Ryu/Mashed
This is the most intimidating part of the whole recipe, and with a few tips, you'll find that it's not that intimidating at all. Start by cooking your pasta according to the instructions on the bag — but there are a few things to keep in mind. You're going to want to make sure your pasta is al dente — that is, it still has firmness and bite to it when you're done cooking. If there's anything that might ruin this dish (or any pasta dish), it's over-cooking your pasta. Fortunately, Ryu has a tip to make sure you're not going to do that. She says, "I usually cook the pasta about a minute less than the directions for al dente."
Easy, right? She also adds that your choice of pasta is important. The grooves on fusilli pasta is going to help hold the pesto on each noodle and in each bite, but if you don't happen to have that on hand, she also suggests penne, cavatelli, or farfalle as excellent alternatives.
Drain the pasta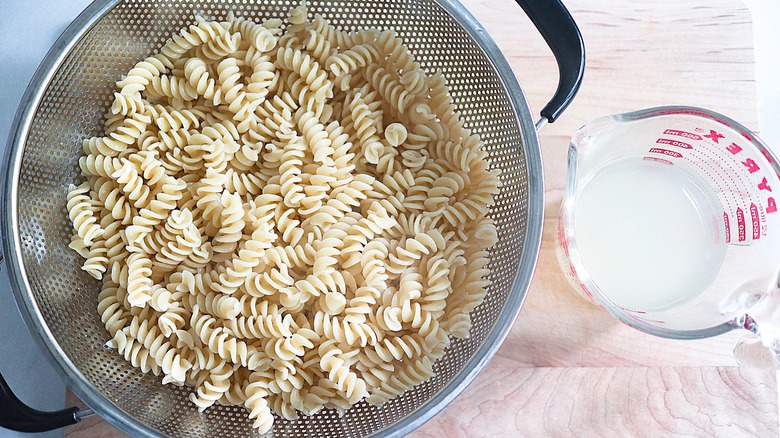 Cecilia Ryu/Mashed
Draining your pasta might not seem like an important or noteworthy step, but for this recipe, it is. Your first instinct might just be to drain your pasta in the sink, dump all of the water, and call it a day. But Ryu says you should save at least ½ cup of the pasta water, as you might need it later.
Why? If your salad ends up being covered with a sauce that's just a bit too thick, pasta water is the perfect way to thin it out so it completely covers the noodles and your greens. Ryu explains, "Pasta water may not seem like something to use, but it's filled with salt, flavor, and leftover starch from boiling your pasta. Mixing in pasta water will emulsify whatever sauce you are using, and you'll have a delicious, smooth sauce." So don't forget to set aside some of that water!
Prep the fresh ingredients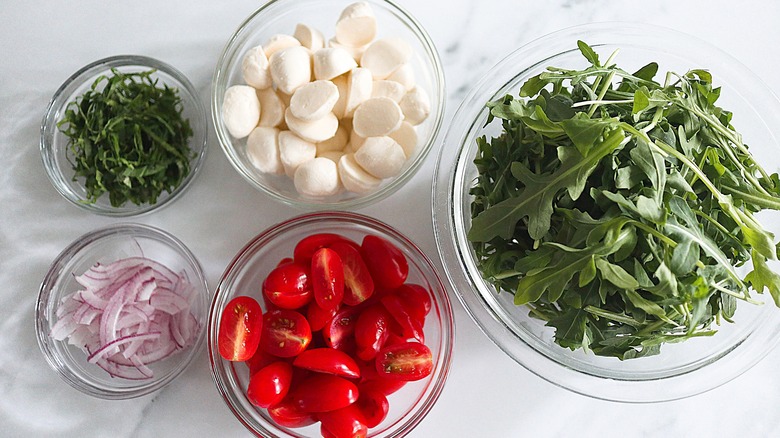 Cecilia Ryu/Mashed
Now it's time to transfer your cooked and drained pasta to a large bowl. Make sure that the bowl you choose is large enough and you will have plenty of room to add other ingredients and mix everything together. (No one likes to have to do extra dishes!) Then, you'll have to do just a little bit of prep.
Take your grape tomatoes and your mozzarella balls, and slice them all in half. If you need to, this is also a great time to grate your Parmesan cheese, if it's not grated already. You'll also need to slice your red onion — preferably in very thin slices — and julienne your basil leaves. All of these ingredients will combine together to make such a colorful presentation!
Combine the ingredients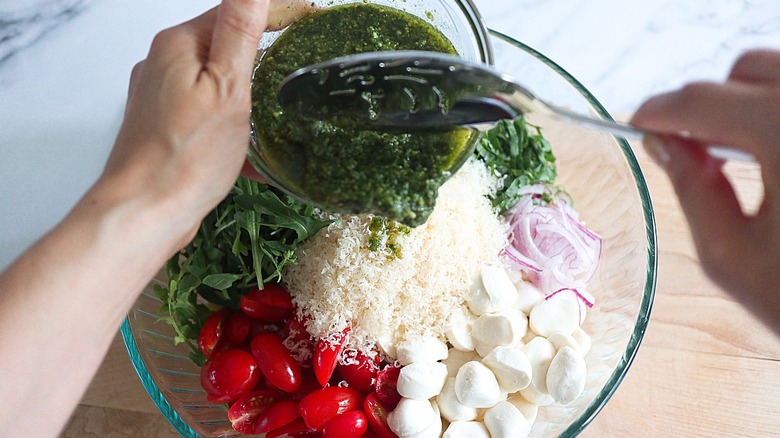 Cecilia Ryu/Mashed
Add your halved tomatoes, halved mozzarella balls, grated Parmesan cheese, arugula, onion, basil, extra-virgin olive oil, and pesto to your pasta. Mix thoroughly.
All the ingredients should be evenly coated with the pesto, and if it's proving difficult to mix, here's where that pasta water you saved comes in. Add a dash at a time, and continue mixing until the pesto is at a consistency that allows you to completely and lightly coat the entire salad. If desired, you can absolutely add more cheese or a dash of salt.
Here are some substitutions and alterations you can make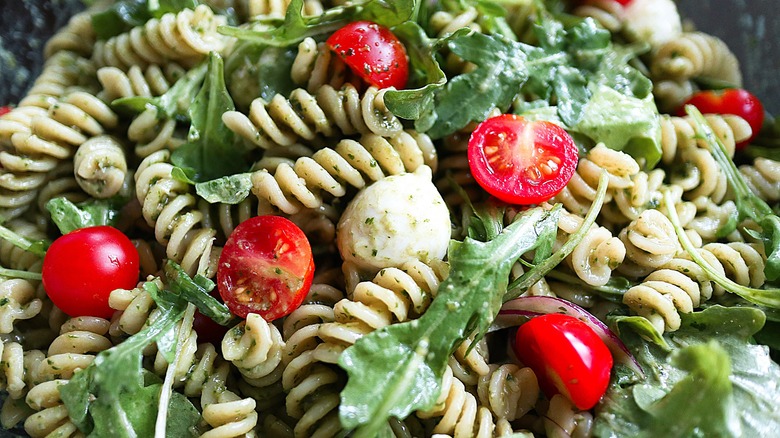 Cecilia Ryu/Mashed
If you love this salad — and you will — Ryu has a few suggestions for adding some variety to it the next time you make it. "You could add grilled chicken or shrimp to make it into a complete meal," she says. That's just what a hot summer evening calls for, isn't it?
She suggests swapping the arugula for baby spinach if you want to switch things up, or, if your family isn't a fan of arugula, "you can omit it all together." Ryu notes that while she prefers grape tomatoes for their sweetness, you can also use cherry tomatoes — which is ideal for anyone who has a plant growing on their patio.
Additionally, Ryu says that you can swap out regular pasta for wheat pasta, and that's not a bad idea, is it? It's the little choices that keep our families healthy, and with a few tweaks, they'll never get bored of this awesome summer side dish.
Serve, but keep it fresh and cold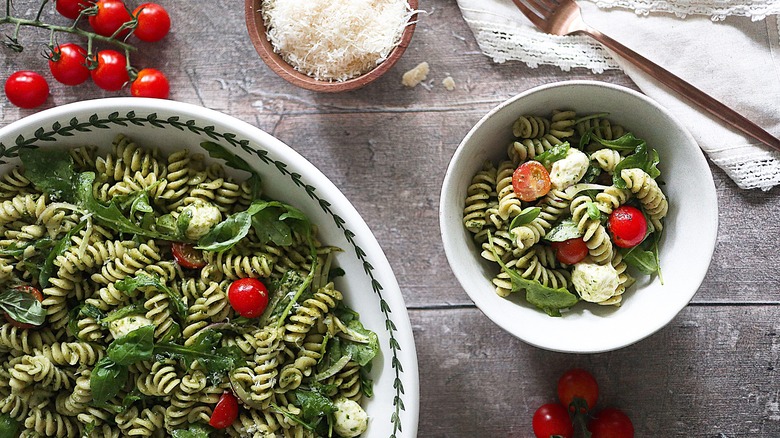 Cecilia Ryu/Mashed
Ryu notes that this salad will keep well in the fridge for up to three days, but also stresses that it's going to be best when it's served cold. That's definitely the case if you're going to be serving it at a backyard BBQ or a picnic. You're going to want to store it in the fridge until it's ready to serve, or if you're traveling, make sure you keep it in a chilled cooler.
The pasta salad is a great presentation on any table for all of your family members or guests to serve themselves, or you can scoop out a portion for individual plates. If you don't add chicken or shrimp to the actual salad, this dish pairs well with any steak, salmon, or even burger dinner you plan on making.
Summer Pesto Pasta Salad Recipe
Bookmark this pesto pasta salad recipe, because it's going to be your new go-to for every summer picnic, party, and work week prep when you want something fun.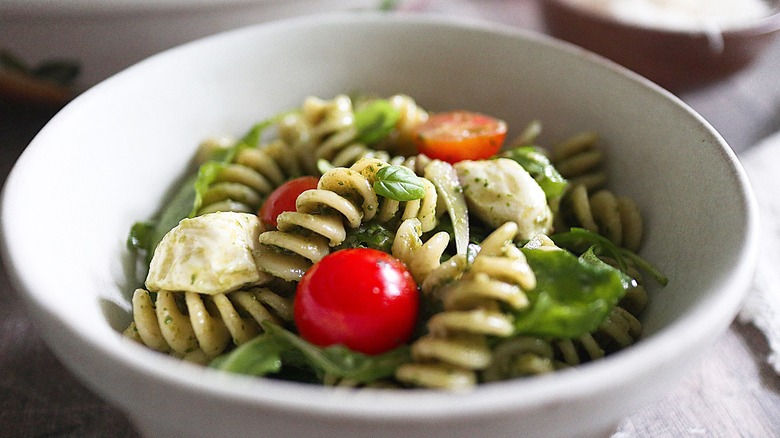 Ingredients
1 pound Fusilli pasta
1 cup grape tomatoes, halved
1 cup bocconcini, halved
1 ½ cup grated Parmigiano Reggiano cheese
3 cups arugula
¼ cup thinly sliced red onion
8 large basil leaves, julienned
2 tablespoons extra-virgin olive oil
1 cup basil pesto
Optional Ingredients
extra cheese, for serving
grilled chicken or shrimp
Directions
Bring a large pot of salted water to a boil, and cook the pasta until al dente according to the package directions.
Reserve ½ cup of pasta cooking water before draining.
Place cooked pasta in a large bowl. Add the chopped tomatoes, fresh mozzarella, grated Parmigiano Reggiano cheese, arugula, sliced onion, basil, extra-virgin olive oil, and pesto.
Mix well until all ingredients are thoroughly coated in the pesto, adding a small amount of the reserved pasta water, if necessary, to thin out the pasta.
Check for seasoning by adding salt or more grated cheese, if necessary.
Serve immediately, or pasta can be placed in the refrigerator until ready to serve.
Nutrition
| | |
| --- | --- |
| Calories per Serving | 683 |
| Total Fat | 33.8 g |
| Saturated Fat | 11.3 g |
| Trans Fat | 0.0 g |
| Cholesterol | 43.6 mg |
| | |
| --- | --- |
| Total Carbohydrates | 63.6 g |
| Dietary Fiber | 3.8 g |
| Total Sugars | 3.7 g |
| Sodium | 1,090.9 mg |
| Protein | 30.1 g |