Brown Sugar Oven-Roasted Bacon Recipe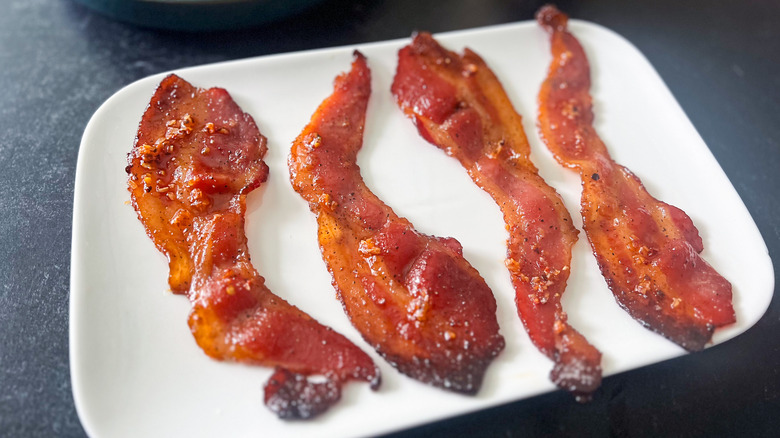 Erin Johnson/Mashed
Bacon tends to elicit some pretty exuberant reactions thanks to its rich, smoky flavor and aroma. The standard stuff is always welcome on our breakfast plate to accompany eggs and toast, but we're equally open to finding new ways to enhance its qualities. From novel cooking methods to subtle ingredient add-ins that make all the difference, amped-up bacon wins all the flavor points. 
Mashed recipe developer Erin Johnson brings us this brown sugar oven-roasted bacon recipe, which she describes as "the perfect combination of salty, sweet, and spicy." If you're looking for a mess-free method to whip up a batch of bacon, this is definitely it. Simply season the strips and pop them in the oven, and you'll be rewarded with perfectly crisp bacon. "I love to use this on BLTs, but it's also an easy way to jazz up an ordinary breakfast," Johnson shares. And if you just want to munch on the perfectly flavored strips? That's fine by us too.
Gather the ingredients for brown sugar oven-roasted bacon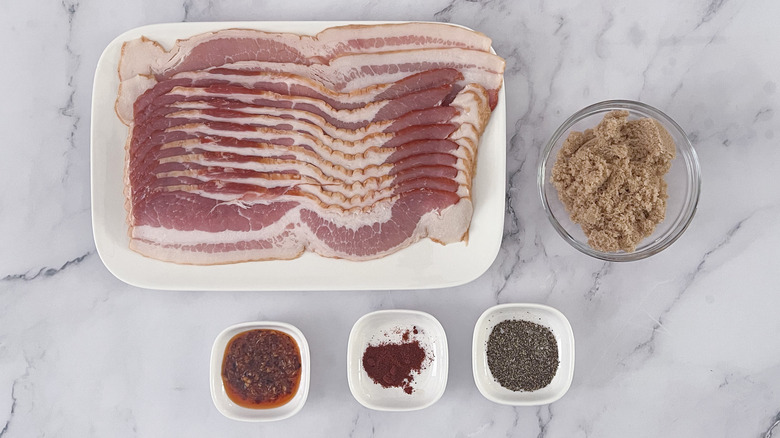 Erin Johnson/Mashed
For this 5-ingredient recipe, you'll need brown sugar, equal parts smoked paprika and black pepper, thick cut bacon, and chili oil. Johnson notes that "most recipes for candied bacon don't use chili oil, but I think the spice adds a nice balance and extra flavor." However, if your pantry is a bit limited, she points out that "crushed red pepper works as well."
Prepare the sugar mixture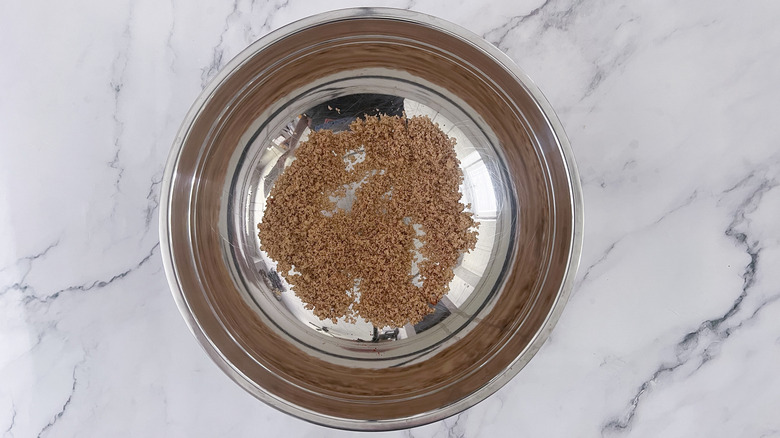 Erin Johnson/Mashed
Preheat your oven to 375 F so it's nice and hot for the bacon. Then, set out a large bowl and toss in the brown sugar, smoked paprika, and black pepper. Mix the contents until the seasonings are distributed in the sugar.
Toss the bacon to coat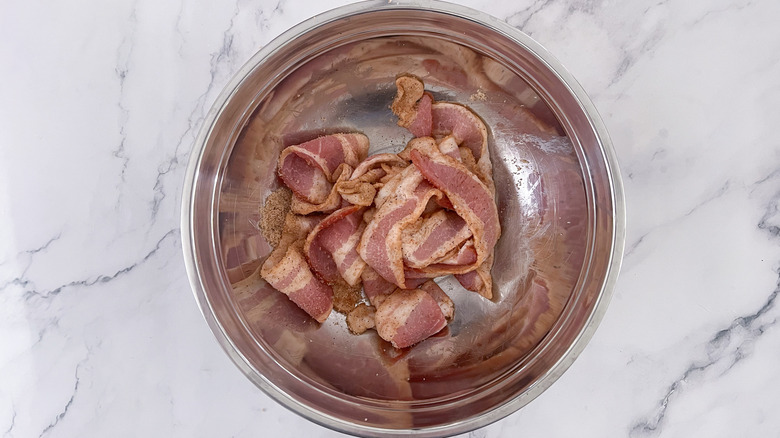 Erin Johnson/Mashed
Add the bacon strips to the bowl with the sugar and toss to properly coat them with the seasoning mixture. Be thorough, coating both sides of the strips to ensure that the result is perfectly candied.
Bake the bacon strips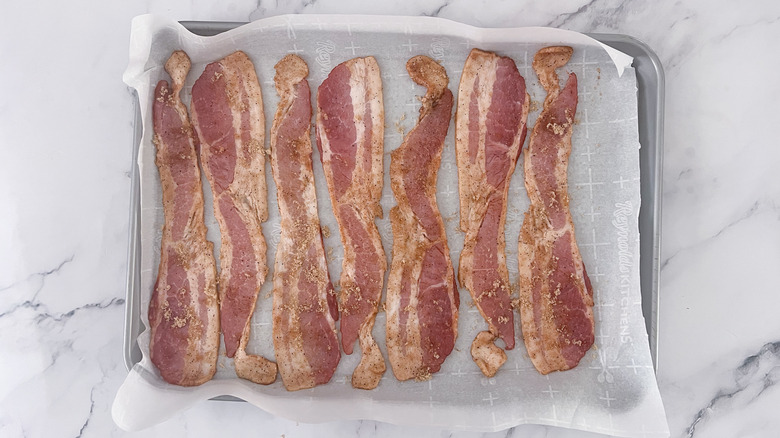 Erin Johnson/Mashed
Line two large baking sheets with parchment paper — a step you don't want to skip. "The caramelized sugar makes a sticky mess, and you don't want to have to scrub that off," Johnson warns.
Next, place the strips side by side on the baking sheets, making sure they don't touch. If there's any extra sugar in the bowl, sprinkle it over the strips as well.
Pop the trays into the oven and bake for 35 minutes or until the bacon reaches your desired consistency. Johnson recommends checking on it at the 25-minute mark, explaining, "The exact time you need depends on the thickness of your bacon, how crispy you like it, and your oven."
Drizzle with chili oil and serve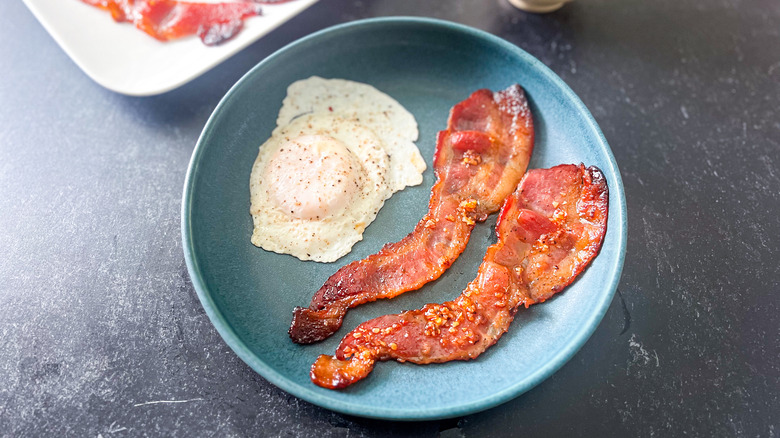 Erin Johnson/Mashed
Remove the baking sheets from the oven and lightly drizzle each piece of bacon with chili oil. Let the strips sit for 10 minutes before serving to soak up the sweet and spicy flavors. Now, you're ready to sub in this hot candied bacon "wherever you'd use regular bacon but want added flavor," Johnson says.
Transfer any leftovers to a sealed container and store them in the fridge for up to three days — though they'll probably be gone before then.
Brown Sugar Oven-Roasted Bacon Recipe
While unadulterated bacon is undeniably delicious, even purists could get behind this spicy, smoky, brown sugary twist on classic oven-roasted bacon.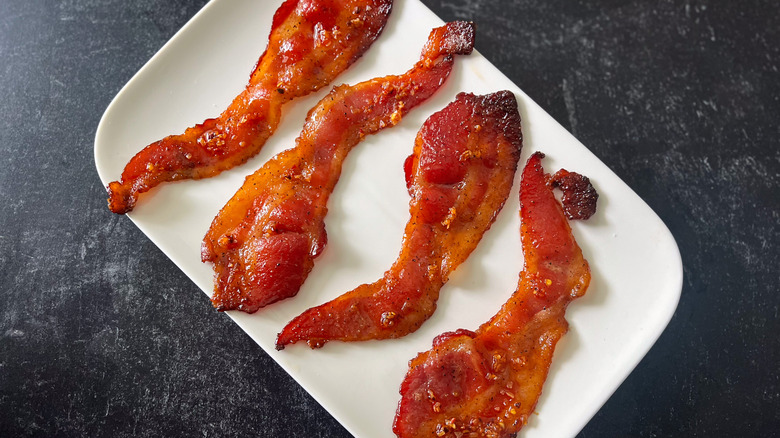 Ingredients
¼ cup brown sugar
¼ teaspoon smoked paprika
¼ teaspoon black pepper
12 strips thick cut bacon
1 tablespoon chili oil
Directions
Preheat the oven to 375 F.
In a large bowl, combine the brown sugar, paprika, and black pepper.
Add the bacon to the bowl and toss to fully coat each strip with the sugar mixture.
Line two large baking sheets with parchment paper and place the bacon on the sheets, leaving space between each strip. Sprinkle any remaining sugar mixture over the bacon.
Bake for 35 minutes or until the bacon reaches your desired texture.
Drizzle each piece with chili oil and let sit for 10 minutes before serving.
Nutrition
| | |
| --- | --- |
| Calories per Serving | 136 |
| Total Fat | 11.9 g |
| Saturated Fat | 3.7 g |
| Trans Fat | 0.0 g |
| Cholesterol | 19.1 mg |
| | |
| --- | --- |
| Total Carbohydrates | 3.0 g |
| Dietary Fiber | 0.0 g |
| Total Sugars | 3.0 g |
| Sodium | 218.7 mg |
| Protein | 4.0 g |