Taco Bell's Crunchwrap Is Finally Going Vegan
Taco Bell's most popular menu item, the Crunchwrap Supreme, isn't known for being particularly vegan-friendly. Seasoned beef (usually), nacho cheese sauce, and sour cream round out the item's list of key ingredients, which makes any vegan replica a challenge times three. Now, at long last, the wrap will come in a fully vegan version in select locations.
Taco Bell has long boasted an array of popular vegetarian and vegan-friendly customizations, including the option to order menu items "Fresco Style," which replaces dairy and egg-based ingredients with fresh tomatoes. However, the Crunchwrap arguably suffered when it was ordered this way. Though the meat protein could easily be swapped out for beans, there were no real substitutes for the nacho sauce and sour cream. This vegan version was missing a lot of the original's most heavy-hitting components.
The new Vegan Crunchwrap replicates these ingredients. Yes, there are the typical vegan-friendly ingredients like diced tomato, shredded lettuce, and the tostada shell that gives the wrap its trademark crunch. However, there's also vegan nacho sauce and "vegan blanco sauce" to stand in for sour cream. Then, there's the centerpiece: Taco Bell's own plant-based vegan seasoned protein (designed to mimic ground beef). The franchise will offer the Vegan Crunchwrap at locations in Los Angeles, New York City, and Orlando for a limited time starting on June 8th.
Fans already can't wait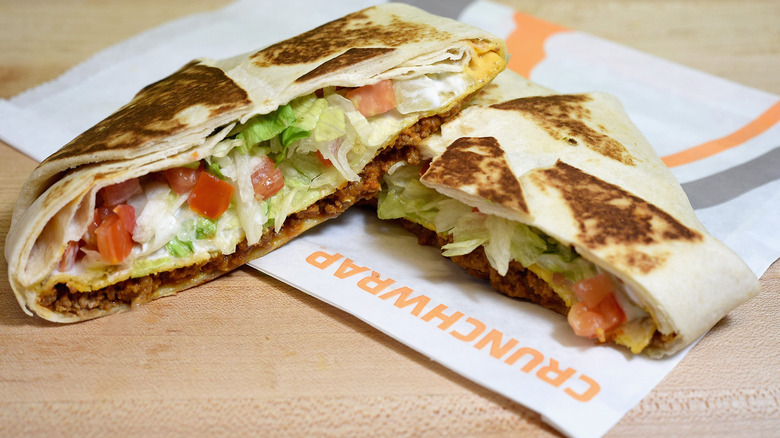 Joshua Blanchard/Getty Images
According to Taco Bell, 23% of sales came from meatless items last year. While the franchise has already tested menu items with plant-based meat alternatives, the Vegan Crunchwrap will be its first offering to contain vegan dairy products.
Some vegan Taco Bell fans have already taken to social media to voice their excitement. Though they haven't tried it yet, users tweeted pleas from cities where the Vegan Crunchwrap isn't slated to be offered. One user wrote, "@tacobell can we get a vegan Crunchwrap in the Bay Area?" Meanwhile, another commented, "Hopefully it'll be expanded soon to all locations. Would be at the top of my vegan junk food list."
However, Taco Bell has warned consumers about potential cross-contamination with its meat products. The announcement of the vegan menu item comes with an important disclaimer: Taco Bell can't guarantee that the fryers, grills, and oils used for products like the Vegan Crunchwrap won't have been used for items containing meat or animal products.