The Martini-Inspired Pasta Dish Even Gin Haters Will Enjoy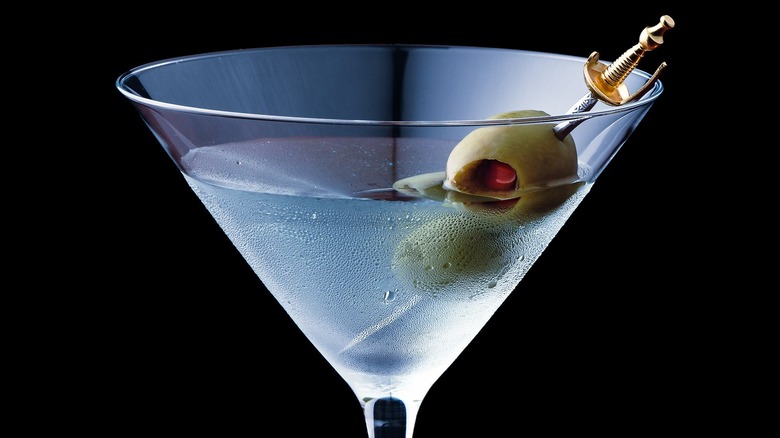 Credit: Ehstock/Getty
Whether you prefer your martini shaken or stirred, you may also enjoy it infused into a pasta sauce. If you like gin, this dirty martini pasta dish is a game-changer. If you don't, you can simply replace it with vodka.
@legallyhealthyblonde shared a recipe on TikTok that she described as her "Emily Mariko Salmon Bowl moment." Her dirty martini-inspired pasta dish is easy and features an unusual combination of flavors. To make the sauce, she fuses garlic, zested lemon peel, parsley, Castelvetrano Olives, blue cheese, olive brine, olive oil, butter, and gin (or vodka). She simmers it with cooked angel hair pasta, but you can use another kind of pasta if you prefer. Finally, she tops it with black pepper, blue cheese, parsley, and lemon zest.
Not only is it easy, but it is also super versatile. If you don't like blue cheese, she suggested subbing it for another soft cheese like goat cheese. One TikToker said, "I don't like olives at all but I did in fact watch the whole thing." @legallyhealthyblonde replied, suggesting capers as an alternative.
Another fan commented, "It's like a cousin of penne alla vodka! I'm excited to try this." Many people are used to the idea of cooking with wine, but the idea of cooking with spirits is often overlooked despite the popularity of penne alla vodka. If you are like many home cooking enthusiasts, cocktail-inspired dishes are a new avenue to explore. In many ways, pasta sauces are the ideal playground to get started.
How alcohol enhances sauces
Using penne alla vodka as an example, we can explore how alcohol may enhance flavor. Similar concepts are at play when cooking with the dirty gin martini pasta. The use of vodka is especially interesting since it is known for not having its own flavor beyond a strong alcoholic taste.
Strong spirits like vodka and gin can help improve the texture and mouthfeel of dishes containing both acidic ingredients like lemon or tomato and creamy dairy ingredients. The alcohol serves as an emulsifier keeping the cream from separating (per American Liquor Co). Alcohol is also a solvent that enhances the aromas of herbs, spices, citrus, and other tasty-smelling ingredients which is one reason you can use it to make flavor extracts (per American Chemical Society).
Finally, many people enjoy the heat and flavor of alcohol. Contrary to a popular myth, cooking mellows the alcohol taste but doesn't completely destroy it. Alcohol molecules evaporate with exposure to air and even more so at its boiling point of 173 degrees Fahrenheit. After cooking, the dish will contain much less alcohol. However, cooking at a low temperature retains much of the original alcohol. According to Barbara Gordon of Idaho State University, when you simmer a dish for 15 minutes, around 40% of the alcohol remains. Even after simmering for an hour, as much as 25% remains.
If you enjoy dirty gin martini pasta or penne alla vodka, check out these tips for cooking with alcohol to move beyond the pasta.