Tim Hortons Is Celebrating Summer With 3 Strawberry Treats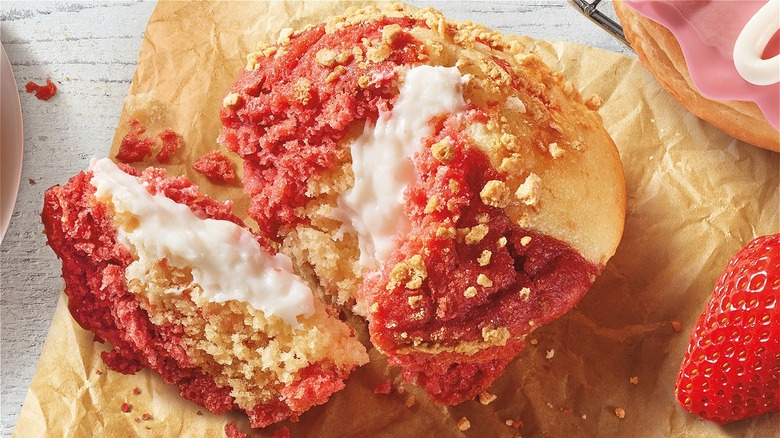 Tim Hortons
We're not saying the best way to embrace summer is by enjoying fresh summer fruit like strawberries, but it's definitely one of the best ways. Thanks to fast-casual bakery chain Tim Hortons, customers can get their fruity fix in the form of three new strawberry baked goods. The first strawberry treat is a yeasted strawberry dip doughnut with pink strawberry frosting and rainbow sprinkles. The second is a cream-filled doughnut with a strawberry fondant topping and vanilla drizzle. The last item is a strawberry-flavored cheesecake muffin with a cheesecake filling. Before you get ready to hop in the car, it's important to note that the items will only be sold at select U.S. locations, and not in the chain's home country of Canada.
This isn't the first time the chain has offered a fruit-centric summer treat. Tim Hortons first began offering its limited-time strawberry menu back in 2019. The treats were originally released in the springtime as an attempt for those living in cold climates to at least taste the warmth and flavors of the warmer months. Tim Hortons is no stranger to offering seasonal items and treats throughout the year — the chain released a special Easter donut with pastel candy-coated eggs this past spring.
The summer donuts won't last long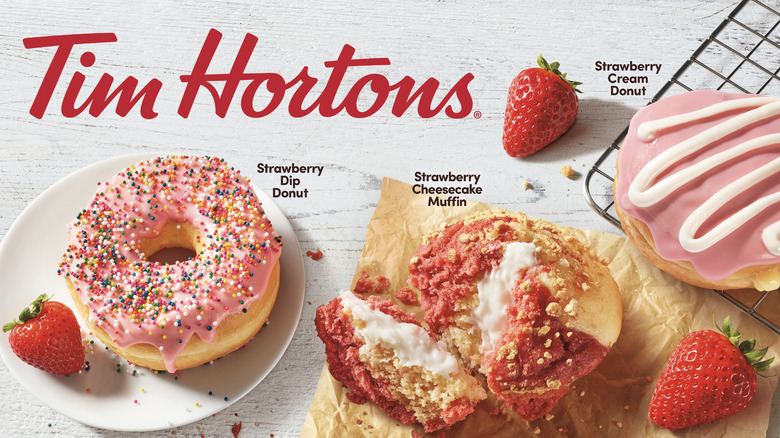 Tim Hortons
The strawberry treats are available at participating Tim Hortons locations now, but will only last for an unknown "limited time." Not every U.S. location will be participating, so customers can enter their address online to find the nearest location if they're interested in ordering the summer specialties. Just like many other fast food chains, Tim Hortons encourages customers to use its mobile app to order ahead and earn points and rewards on purchases. New app users can earn a free medium cold beverage the first week after downloading and using the app.
If for some reason your nearest location doesn't offer the strawberry treats, there are still plenty of ways to satisfy your sweet tooth. Every Tuesday, app users can receive 10 Timbits (aka the chain's version of donut holes) for only $1. If you've still got strawberry on your mind, Tim Hortons sells strawberry banana Greek yogurt smoothies and sells both a strawberry and strawberry vanilla donut on the regular menu. Since Tim Hortons seems to love celebrating the changing seasons and holidays, fans can potentially be on the lookout for its Halloween bucket of Timbits once the heat fades away.