Every Sweet Baby Ray's Sauce Flavor Ranked Worst To Best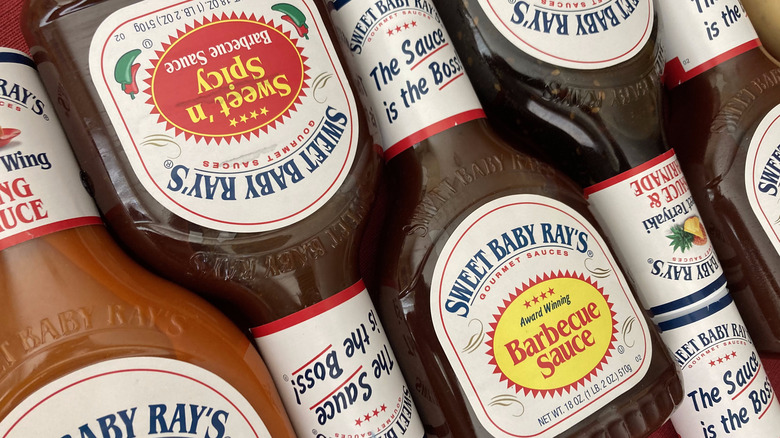 Steven Luna/Mashed
The sheer variety of Sweet Baby Ray's barbecue sauces invites enough cookout vibes to keep you dining in style for the whole summer. This beloved brand was voted in one survey as the best barbecue sauce on shelves by fans who know their way around a basting brush. But the untold truth about Sweet Baby Ray's is that while the flavors abound, not all are created equally. Even eaters who've chosen a favorite bottle will agree that while the selection is good, some are plainly better than others.
We thought it best not to keep the truth bottled up, so we're spreading the sauce about which Sweet Baby Ray's flavor is the best (minus Maple, which was unavailable at the time of our taste test). Competition was fierce and fiery for the top spot. After all, the brand has been circling the block since creator Chef Larry first used the blend in 1985 to win the biggest barbecue rib competition in the U.S., according to the company website. After decades of delighting fans and expanding the line, it's time to pop the lid and find out how each Sweet Baby Ray's selection stands up to the proverbial heat. The suspense is utterly delicious.
12. Sweet Vidalia Onion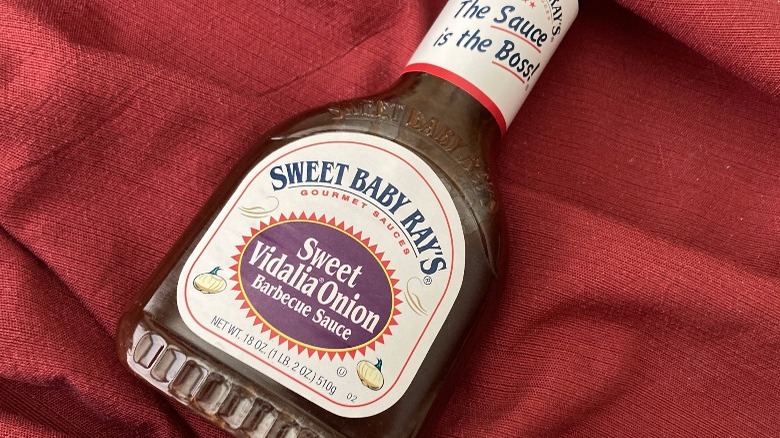 Steven Luna/Mashed
As the Georgia Department of Agriculture states on its website, "Vidalia Onions are the champagne of onions." No, these bold, tasty bulbs aren't bubbly. But they are sweeter and have less kick than the average onion, making them a robust addition to the Ray family picnic. With Sweet Vidalia Onion, the hope is that an aromatic addition to the basic recipe will challenge the formula with a flavorful spark. What we get instead is something not quite okay as barbecue sauce goes. There's a strange undertone of artificial flavoring that does its best to be smoky and intriguing, but it comes across as less than appetizing instead.
We were convinced when we began the taste test that there would be no flavor we couldn't at least try at a cookout or include as an ingredient in our favorite barbecue recipes. That theory held true until we came to the Sweet Vidalia Onion bottle. As sad as it is to say, this Sweet Baby Ray's concoction is a clear last-placer in the collection. There's nothing we can even recommend you put it on, except your "do not eat" list. Sometimes, even the classics hit a hitch they can't overcome.
11. Honey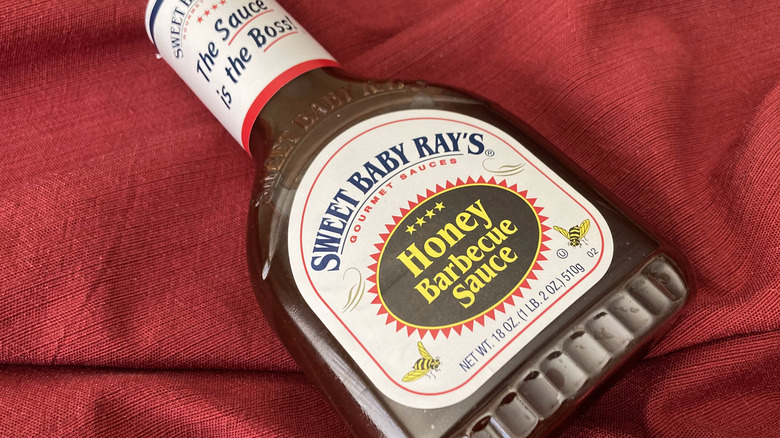 Steven Luna/Mashed
The idea of adding a glowingly sweet tone like honey to barbecue sauce has made sense for generations. There are already sugar layers for the golden goop to get in on, and the umami elements create a tasty interplay that gives your taste buds something new to celebrate with every bite. So how does Sweet Baby Ray's go so far afield with its Honey sauce? The blend that should elevate such a condiment turns it into something false-tasting instead. Nothing on the ingredient list stands out as the culprit. Maybe it's the concentration of additives or the quality of the honey chosen for this blend. Whatever the cause, there's nothing to celebrate in this bottle.
There is, however, a possibility of mixing the Honey barbecue sauce with a bottle of Original to temper the strangeness and turn it into something more festive. If you happen to have both flavors on hand and want to give it a go, we can personally recommend this as a fast fix food hack. The better option is to avoid this misstep and pick up one of the better flavors instead. It's also a cheaper option and one that will take up less room in your fridge.
10. Sweet Teriyaki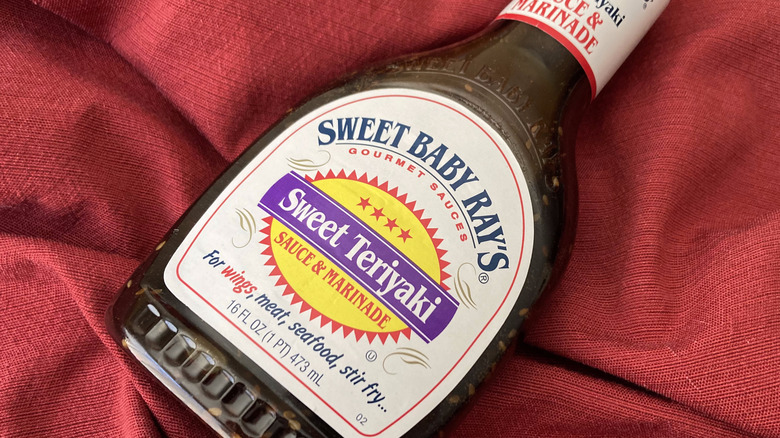 Steven Luna/Mashed
To spread the results of our round-up around to the entire Sweet Baby Ray's collection, we dipped a spoon into the marinades section to see what it had to offer. The answer is Sweet Teriyaki, an Asian blend that takes the sweet standard into savory spaces, without an ounce of regret in the bottle. To be sure, this tempting mix bears almost no resemblance to barbecue sauce, and it doesn't pretend to. It's highly liquid and filled with authentic ingredients like pineapple juice and ginger that bring brightness and unmistakably fresh flavor to traditional teriyaki marinades. Ray's is aces for adding this one to the family, even if it steps beyond the barbecue bounds to do its own thing.
Wherever you would use teriyaki sauce in your cooking, Sweet Teriyaki makes a thoroughly equal — and possibly even superior — replacement. The thought of throwing it into a stir-fry, including it in fried rice recipes, and even serving it as a dipping sauce for spring rolls or steamed veggies is enough to set mouths watering and tongues wagging. To make your barbecue a more sophisticated affair, try blending Sweet Teriyaki with Original to create complexity with a unique smoky sweetness.
9. Buffalo Wing Sauce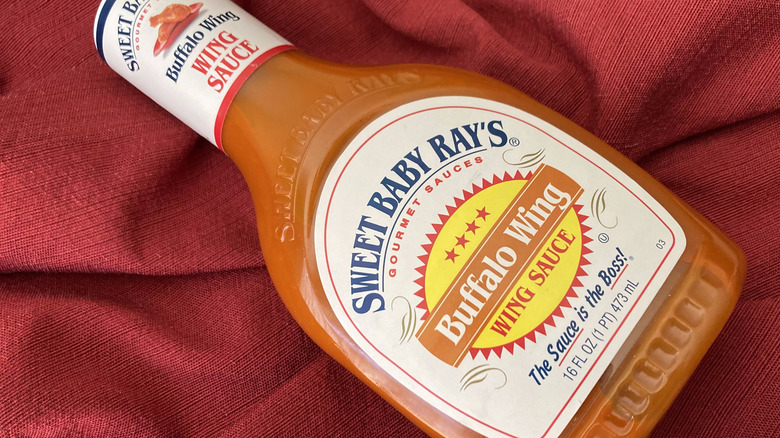 Steven Luna/Mashed
While not technically barbecue, Buffalo wings are a fun addition to backyard banquets and special occasion spreads, so it's not entirely out of left field for Sweet Baby Ray's to have Buffalo Wing Sauce in its extended line of products. For anyone who loves the tangy heat of vinegar mixed with cayenne, this is the bottle you want in your kitchen. Ray's expertly captures the best of Louisiana cuisine in a brush-on wing dressing fiery enough to ring the alarm and with enough flavor to keep the fire engine idling while you go back for another round.
As with other marinade-style sauces, this Buffalo Wing Sauce is on the liquidy side, which means dipping and dressing rather than brushing and basting will make the best uses. Wing fans looking for extra kick in their favorite game-day snack can sneak a dish of the sauce and keep it on the table for drizzling on wings before the blue cheese dressing. We can imagine it bringing a more-than-modest blaze to homemade burgers in place of steak sauce, steaming up a black bean patty, or doing its duty as a coating for home fries in need of a saucy spark.
8. No Sugar Added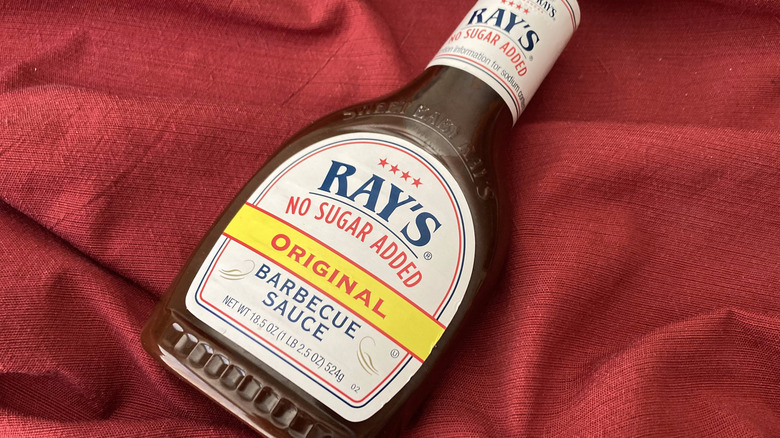 Steven Luna/Mashed
For the sugar-free version of the sauce, the company stripped the "Sweet Baby" from the name and kept it right-and-tight with just Ray's, launching a separate website to glorify this audacious alternate blend. Being absent of added sugar, this kicky baste is keto-friendly for eaters watching their carbs. And does it ever pack in the flavor! Though the ingredient list includes Sucralose and Allulose as sweeteners, there's no discernable aftertaste that sometimes comes with the no-sugar versions of other beloved foods. It's a sweet relief for barbecue fans keeping close tabs on their sugar intake, allowing everyone to enjoy a Ray's kind of cookout.
Replacing any of the other barbecue sauces in the Ray's realm with this unsugared substitute is a sensible switch that keeps the flavor meter right where you'll want it to be. Whether you're basting up a bunch of ribs to feed the neighborhood or looking for a way to jazz up pork roast for a midweek dinner, you have a lite option that will satisfy your craving for real barbecue goodness without the sugar you're looking to leave out. Gotta love the moments when the food world gets a healthy alternative so right!
7. Original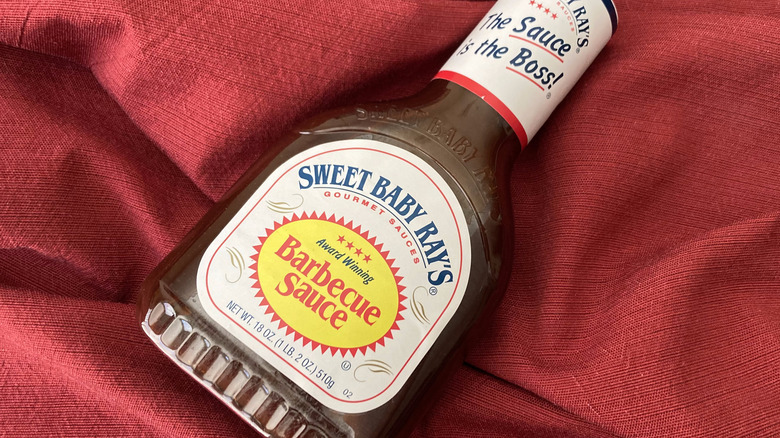 Steven Luna/Mashed
There's no reason for placing Sweet Baby Ray's Original blend barbecue sauce center-list, other than the availability of so many other great flavors. After all, this is where the story began — with a robust sauce that captures the culinary romance of so much Southern cooking without missing a note. You want sweetness? You've got it. A little smokiness? It's in there, too. A feeling of old-fashioned satisfaction every time you break open a bottle so you can live your best life at the grill? Would it even be on the list if the answer was "no?"
The familiar uses are already in your cookbook, so how about trying Original as a dipping sauce for fries or thinning it down with water or red wine vinegar as a dressing for salads or veggies? It also makes a spectacular coating to add tons of flavor to more anonymous ingredients like tofu and cauliflower, items just waiting for the taste brigade to come along and give them a reason to join the spread. No matter how you choose to use it, having a bottle or two on hand to provide culinary inspiration in a variety of ways is always a good idea.
6. Hawaiian style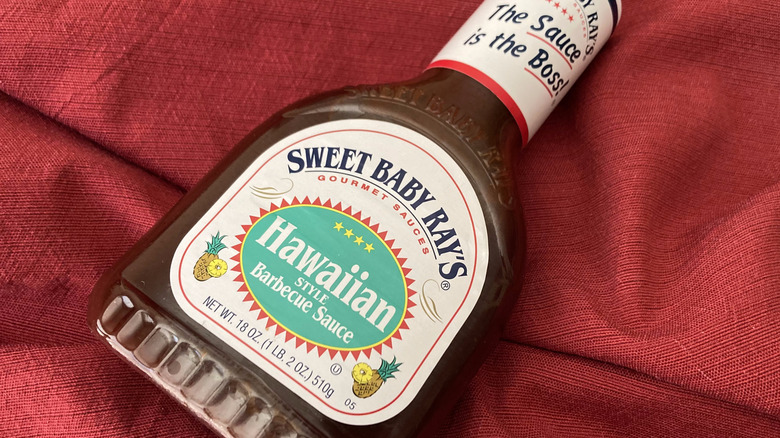 Steven Luna/Mashed
Hawaiian-style barbecue sauce as done by Sweet Baby Ray's turns its traditional taste on its island-loving ear. Every drop is a sweet surprise, made sunshiny-bright with pineapple juice concentrate and tamarind, of all things. The flavor of this sweet-yet-tangy fruit duo makes merry culinary counterplay against the rich molasses and spicy mustard flour. It's a combination that can't help but make you smile as each element reveals itself to your taste buds. This joyous blast of gustatory magic mixed with the uncanny power to transport you to breezier locales places it in the upper levels of our list.
Crack open a bottle of this brilliant baste, break out your best skewers, and get ready to reimagine kabobs with a generous slathering of Hawaiian-style sauce gracing the grill. It's perfect for flavoring spears filled with bell peppers, mushrooms, cubes of steak and chicken strips, and even pineapple slices. Pork dishes are a natural fit, and patties of any kind topped with a generous dollop will expand the definition of how tasty burger toppings are allowed to be. You can add even more Asian-Pacific influence by pairing plain rice with your Hawaiian-style barbecue beauties to make the most of this magnificent concoction.
5. Sweet Golden Mustard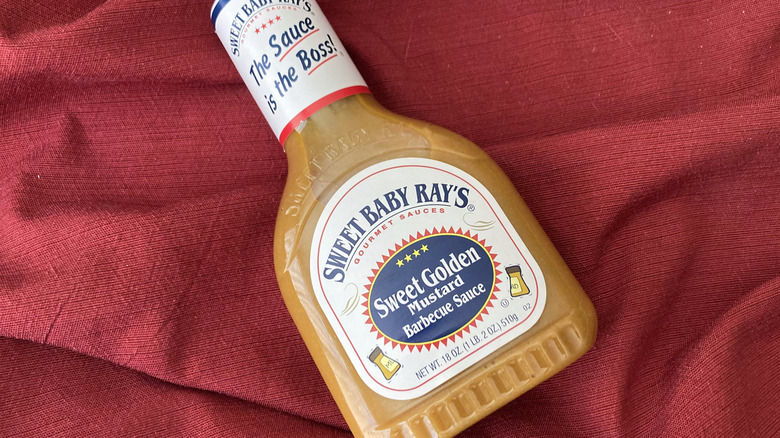 Steven Luna/Mashed
With Sweet Golden Mustard as part of its saucy selection, Sweet Baby Ray's brings a colorful cohort into the fold. There's no disguising the fact that this isn't a traditional barbecue sauce, as evidenced by the golden hue that shows through the body of the bottle. Pineapple juice joins the party as a sweet element to soften the sharpness of the yellow mustard, two ingredients that make agreeable partners for your barbecue adventures. This sauce can also serve as a dip rather than a baste or a marinade; it's sturdy enough to keep its place on a plate as much as in a dunking-ready ramekin to add fancy fun to the table. In fact, it's an ideal stand-in for traditional mustard of any kind. It just may be the most underrated barbecue sauce Ray's makes.
Soft pretzels are a snacking weakness you can't overcome, you say? Well, SGM as the hip dippers call it (or they should, anyway) is a perfect accent to a chewy knot of doughy goodness. If your fries are aching for a new vibe, use a little of this sauce on its own or mixed with mayonnaise or ketchup and create a sensation!
4. Garlic Parmesan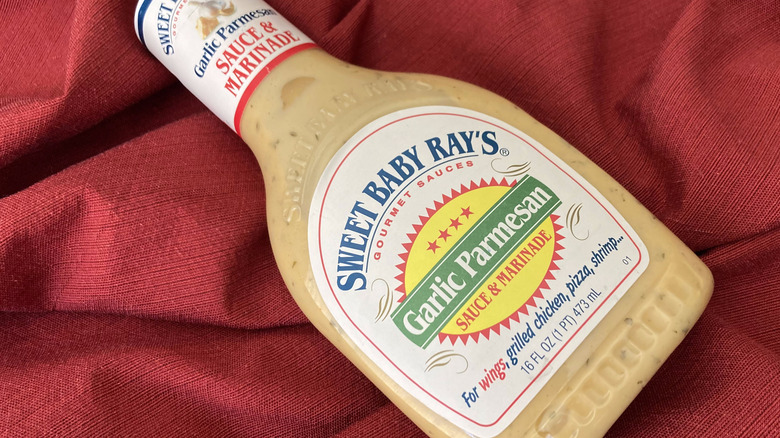 Steven Luna/Mashed
More of a salad dressing flavor than a typical barbecue sauce, Garlic Parmesan is a power player in the Sweet Baby Ray's pantheon. The unmistakably Italian aroma hits you as soon as the bottle opens, and you know exactly what you're in for. The texture is far more marinade than sauce, but that shouldn't stop you from finding ways to incorporate the incredible mix into your cookout combinations, in everything from pasta plates to fish dishes. In every shake, you'll be getting bold Parmesan and zesty garlic that ensure no matter what you're making, you won't be running out of flavor anytime soon.
Reach beyond the usual uses for sauce made by a barbecue company, and you'll find a mind-boggling variety of occasions where Garlic Parmesan isn't just a natural fit, but a required guest. Use it as a bread topper for bruschetta, throw it on a salad or veggies, or marinate chicken to give it a zesty makeover with no added kitchen work. Even if it just goes on the table to class up your cast of condiments, it will be well-loved and well-used, possibly even surpassing whatever dressing your friends and family used to love best.
3. Hickory & Brown Sugar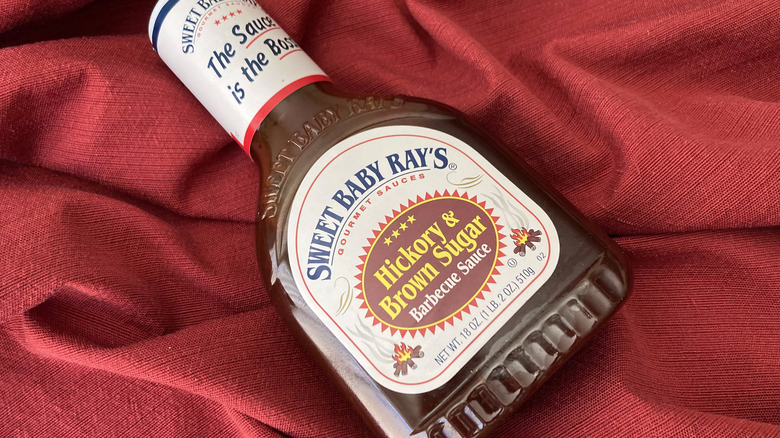 Steven Luna/Mashed
Of course Sweet Baby Ray's is going to have a Hickory & Brown Sugar flavor. What self-respecting barbecue sauce producer wouldn't? The good news here is how well the two flavors cooperate without becoming either too sweet or too hickory-ish, a troublesome tilt to one side or the other that many sauces find themselves sliding into. With this delightful spread, the perfect balance is achieved, delivering a taste profile that comes through as a classic. It may seem a bit ordinary for a sauce, but what it does, it does spectacularly. No need to mess with near-perfection.
This is one bottle you'll want in your arsenal when the hunger for old-fashioned barbecue comes calling. Slather it on pork chops, brush it on ribs of all sorts and sizes, and incorporate it into ground beef for burgers — or better yet, sliders — and double-up with another dash on top for good measure. Your backyard will be sending out smoke signals no one can resist. No matter what your memories of barbecue have been up to this moment, they'll seem shiny and new when you let Sweet Baby Ray's sprinkle a little hickory and brown sugar glitter all over them.
2. Sweet 'n Spicy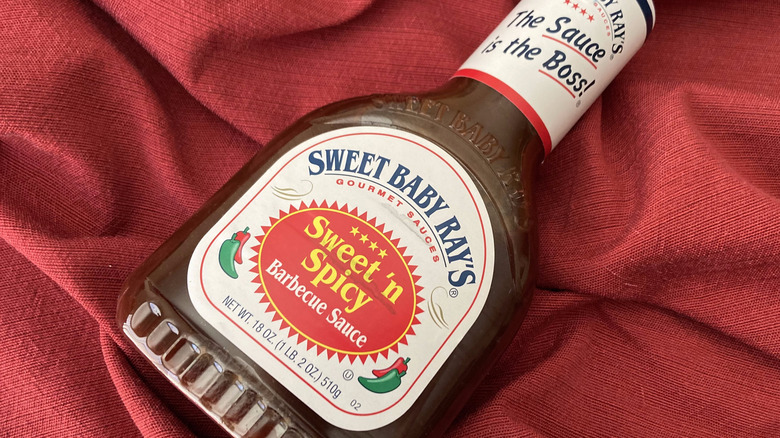 Steven Luna/Mashed
Perceptive tasters may find ketchup-like familiarity in Sweet 'n Spicy. But that is a very good thing for fans of the tangy condiment. Why bother mixing together two different squeezes when you can get them both making happy harmony in one delicious bottle? There's a bit of a battle being played out for your attention between the sugary barbecue aspects and the jalapeño heat being given off, plus a juicy sweetness provided by pineapple juice on the ingredient list. But it's so well-formulated that it gives the effect of a merry-go-round, with each layer taking turns tantalizing tasters as they savor every drop.
This one would make an unexpected crowd pleaser on Taco Tuesday, added to ground beef or served in place of salsa over other toppings. Think of how happening your fajitas or shredded beef would be with a smattering of this seductive sauce thrown into the pan. And if you have pulled pork sandwiches on the menu and you're looking for a novel way to give them a kick in the ol' slow cooker, you'll do no wrong by replacing your typical sauce with Sweet 'n Spicy. Be ready for your friends and family to applaud.
1. Honey Chipotle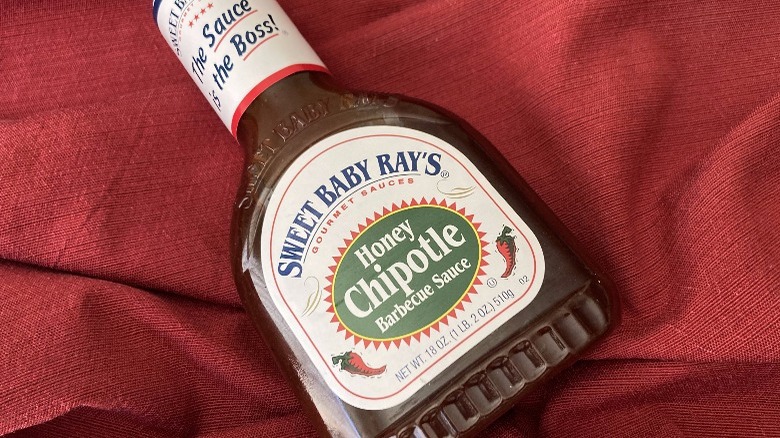 Steven Luna/Mashed
This bottle is the undeniable best of the barbecue bunch. While there's a secret ingredient in Sweet Baby Ray's that provides a layer of undeniable heat in the company's general recipe, Honey Chipotle adds a hearty helping of both sweetness and fire to the formula for a double-shot of fabulous flavor. The result is a smoky, sweet, and thoroughly satisfying sauce that you'll be inventing new uses for, just to keep it in your dining routine as much as possible. Whether you lean into the Southwestern notes or push it in a more traditional barbecue direction, you can't go wrong.
With such a versatile addition to your culinary toolbox, you'll be hard-pressed to find a dining occasion that can't be improved by this wonderful blend. Use it in place of steak sauce, and elevate a meat-and-potatoes dinner to the realm of gourmet dining. Mix it in with ground poultry to create chicken chipotle meatballs, and serve up hot hoagies topped with Monterey Jack for the big game. Roll potato wedges around in it, and make roasted home fries that will be gone as soon as they hit the table. This list topper is bound to make everything better.