This Is Sweet Baby Ray's Most Underrated BBQ Sauce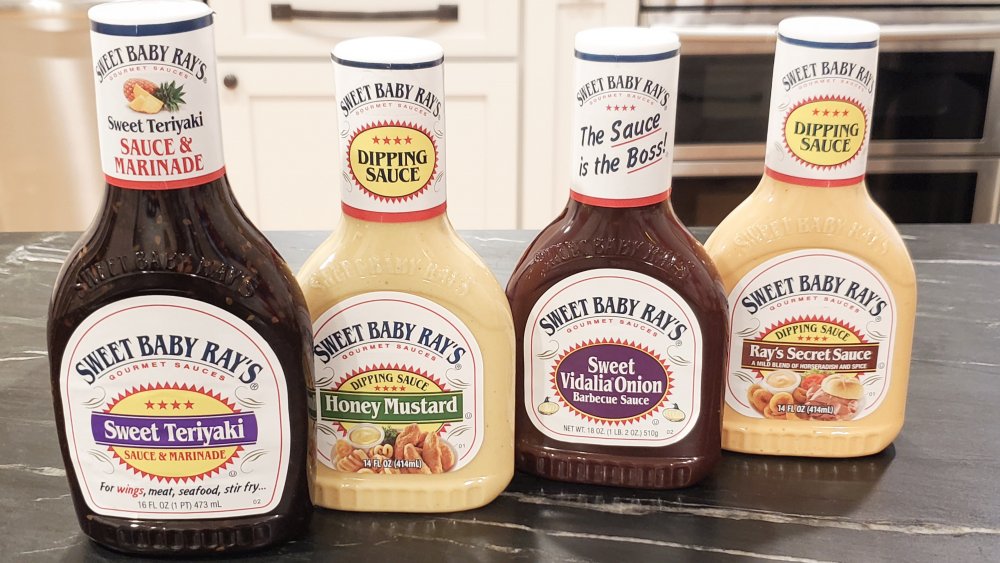 Karen Hart
We may receive a commission on purchases made from links.
Americans like barbecue and all the sauces that make this meal so finger licking good. In 2019, 8.82 million Americans used at least 4 bottles of the sweet and savory sauce we brush on our barbecue meats as they grill (via Statista). And among those brands we purchase, Sweet Baby Rays barbecue sauce consistently ranks on lists of best barbecue sauces. Just do an internet search and you will find that food sites like Delish, Taste of Home, and the Kitchn, to name a few, rank the original flavor among the best. And it's easy to understand why. 
Sweet Baby Ray's barbecue sauce got its big break when it won a rib contest in the Midwest (via Sweet Baby Ray's). After its fateful victory, the now-famous brand decided to go commercial and ultimately developed a suite of sauces, expanding from its classic original barbecue to variations that include a Hawaiian flavor, Sweet & Spicy, Maple, Hickory & Brown Sugar, and more. The sauce's moniker is a hat tip to the creator's little brother who was nicknamed Sweet Baby Ray, and aptly so. The collection of sauces range in flavor, but there is a definite sweetness to each. However, there's one Sweet Baby Ray's barbecue sauce whose taste rises to the top, head and shoulders above the rest but never seems to get the love it deserves. In fact, this sauce is probably the most underrated in the Sweet Baby Ray collection. Which one is it?
Sweet Baby Ray's Sweet Golden Mustard Barbecue Sauce
The one Sweet Baby Ray's barbecue sauce that you would probably have a difficult time finding on "best of" barbecue sauces lists but which has the internet talking about how it is underappreciated is the brand's delicious and mild Sweet Golden Mustard barbecue sauce. It adds the tangy flavor of mustard to the sweetness of the original recipe while using less sugar. The award-winning original recipe packs 16 grams of sugar in a two-tablespoon serving (via My Food Diary) while a serving of Sweet Golden Mustard barbecue sauce has 12 grams of sugar per serving.
A writer at My Recipes called the mustard variety her "personal favorite for ribs and grilled chicken breasts" while an Amazon reviewer who gave it five stars called the sauce "underrated" and "hands down the best sauce from sweet baby rays." In April 2020, comedic Youtube food reviewers Number Six with Cheese put six of the Sweet Baby Ray's barbecue sauces to a taste test. When it came time to declare their favorite, viewers saw both gentlemen reach for the Sweet Golden Mustard barbecue sauce. While it may not be tracking with all the popularity points the original barbecue sauce has racked up, Sweet Baby Ray's Sweet Golden Mustard barbecue sauce is worth seeking out and trying the next time you make pulled pork sandwiches or want to jazz-up your chicken.