The Secret To Good Chicken Parmesan Isn't Just About The Chicken And Cheese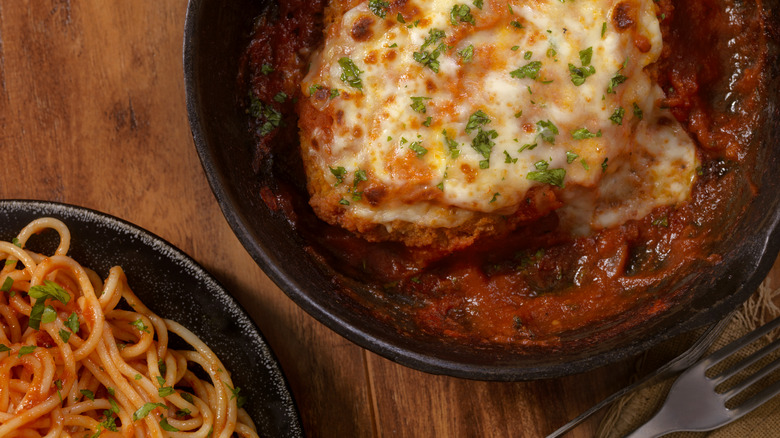 Lauripatterson/Getty Images
With breaded chicken, tomato sauce, and crispy, melty cheese, chicken parmesan seems to check every box we look for in satisfying comfort food. Truth is, it's more of an Italian-American dish than a truly European one — and while the chicken and cheese are important, other ingredients can actually make or break the dish.
Most chicken parmesan recipes start with breading a chicken cutlet and paying attention to the breading itself is so important. Italian bread crumbs are simple and delicious, and using a dry-wet-dry flour dredging method can help your chicken stay crispy. Giada de Laurentiis's easy chicken parm recipe calls for panko bread crumbs combined with parmesan cheese for a hearty and savory take.
Exploring other toppings can be fun, too. Our recipe for classic chicken parm with a twist calls for capping off the dish with caramelized onions finished with a splash of red wine.
And when you're assembling chicken parm, it can be easy to misunderstand the marinara sauce as simply a binder between the chicken and cheese — but the secret to chicken parm perfection is realizing it's so much more than that.
Marinara sauce makes chicken parmesan next level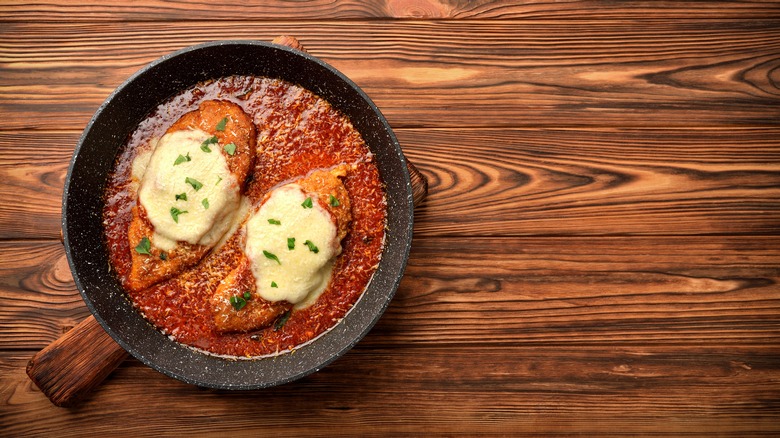 SerPhoto/Shutterstock
A good chicken parmesan recipe calls for breading a chicken cutlet and melting fresh mozzarella. But, while the chicken and cheese are clearly delicious, chefs say it's actually the tomato sauce that can take the dish to the next level.
Especially when made simply in a way that highlights the tomatoes themselves, the marinara sauce can be surprisingly complex. Tomatoes have natural acidity, which — like in any incredible sauce — can help cut through richness and fattiness. In a higher-salt dish, tomatoes' sweetness helps balance out the flavors, too. Also, good-quality olive oil and garlic help ground the sauce with earthiness, and basil keeps it herbaceous.
Even once you recognize that tomato sauce is the actual secret to good chicken parm, things can still go wrong. Pouring sauce on top of carefully crisped-up chicken can create a soggy mess that can undermine your hard work. To get around this, at one of his restaurants, Bobby Flay doesn't cover the chicken but instead places it on top of the sauce. Buon appetito!