What Makes Giada De Laurentiis' Chicken Parmesan Recipe So Easy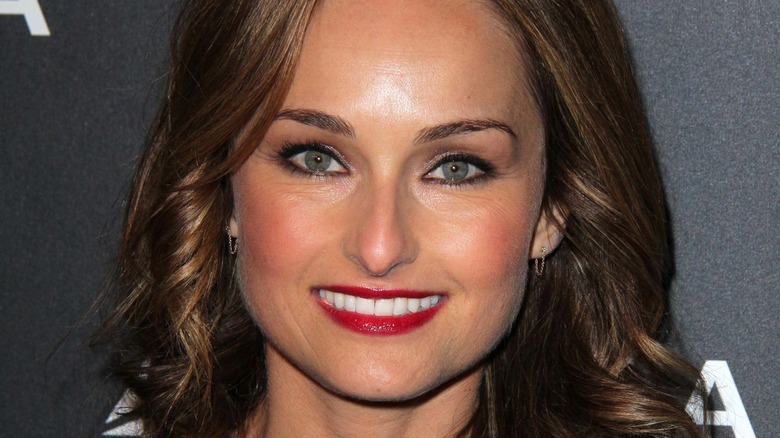 s_bukley/Shutterstock
If you love chicken Parmesan, but dread the stomachache that can come from eating this heavy, calorie-rich dish, then you are going to love Giada De Laurentiis's take on this classic Italian-American meal. According to the Calorie King, the average chicken Parmesan contains 567 calories per serving and a whopping 33.7 grams of fat. But De Laurentiis has not only made this recipe a little healthier, but a little easier to create by leaving out one of the messier steps involved in creating this dish.
The breaded chicken is definitely the protein-packed star of chicken Parmesan, but it is all the herbs, cheese, and tomato sauce that make our taste buds so joyful with each bite. Well, leave it to the cookbook author and host of "Giada at Home" to simplify this go-to dinner by eliminating the step that requires you to roll your chicken around in breadcrumbs until it's properly coated (via Giadzy). But that's not the only thing you're going to love about this recipe. As an added bonus, it doesn't take too long to make and it'll be relatively easy to clean up after you make it for your family.
It takes 35 minutes
Giada De Laurentiis took to Instagram to share this recipe, writing, "If the breading process of chicken Parmesan turns you off of the idea of making it, behold @Giadadelaurentiis' weeknight Chicken Thigh Parm – no rolling or breading required! Topped with cheese and crispy panko, you still get all of the textural variety with none of the fuss." Mind blown. Coating your chicken with egg and then panko bread crumbs can be a messy proposition on a weeknight, but De Laurentiis has completely taken that step out of the equation without sacrificing the crunchy taste you know and love.
She also shares on her website Giadzy that from start to finish, her version of chicken Parmesan will take all of 35 minutes to prepare using just one pan, making it a plausible choice for a weeknight dinner, even if you're busy. De Laurentiis uses chicken thighs as opposed to breasts, which she said "...gets extremely flavorful and juicy after braising in marinara sauce." She does still use panko bread crumbs, but mixes them in with the Parmesan cheese, then "presses" the mixture onto provolone-covered chicken. The whole thing gets toasted under the broiler, so you still get that delicious combo of melty cheese and crispy breadcrumbs. De Laurentiis suggests serving it with either pasta or rice, or go easy and make a salad.