Seacuterie Boards Are The Hot Finger Food Trend For Summer
Every food category you can think of has probably been turned into a delicious charcuterie board variant before. From fried foods to road trip "car-cuterie" snacks, these colorful, fun displays are as eye-catching as they are mouthwatering, and they keep getting better. Even though the French word "charcuterie" loosely translates to cured meat, that hasn't stopped creative foodies from bringing new savory smorgasbords into the spotlight. This summer's newest version of the trendy food platter — the seacuterie board — is a seafood lover's dream, and can be customized with whatever tasty ocean-dwelling bites you like best.
If you're someone who is dedicated to building the perfect charcuterie board, then you'd know that there are several questions that will come before putting all your seafood together. What flavors do you want on your board? Do you hope to have a good mix of everything, or do you want to showcase savory, sweet, or fishy flavors the most? Your first thought might be a colorful sushi platter accompanied by umami sauces, and while that does sound drool-worthy, you can also fill up your board with typical seafood fare. Crab and shrimp are very fishy-tasting additions that you can pair with the mild sweetness of tilapia and lobster. For a burst of color on your seafood charcuterie board, you can artfully place fresh citrus, sprigs of herbs, savory olives, and more.
When serving your finger-licking assortment to your guests, it's important to use the freshest seafood possible, while ensuring it doesn't sit out for too long.
Lay out your seacuterie board morsels on a bed of ice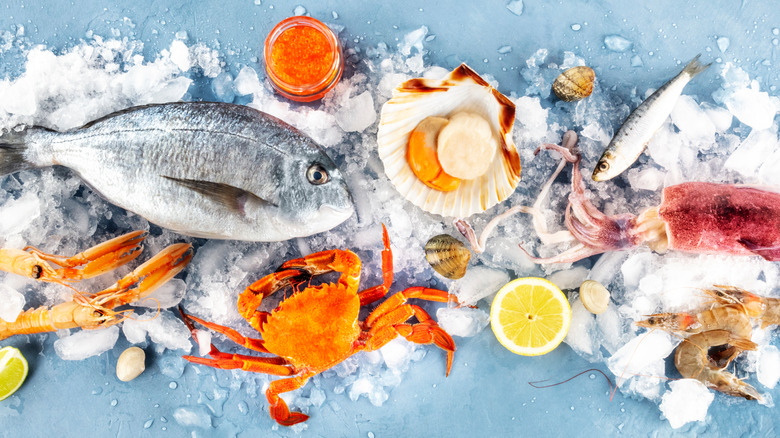 Plateresca/Shutterstock
While you could opt to contain each seafood section in its own separate bowl, one TikTok user puts down a bed of ice first so that everything can stay chilled. To keep the temperature as low as possible on their seafood charcuterie board, creative home chef Meg Quinn salts the ice before laying down their chosen types of seafood. Salting the ice can get its temperature to drop from 0 degrees Fahrenheit to -21 degrees, which is a smart choice when it comes to keeping everything fresh as it sits out.
Quinn carefully arranges lobster tails and legs, shrimp, and oysters on their fishy platter, with a mix of condiments like shrimp cocktail sauce and tartar sauce. Garnishing the spread with bright lemons, green herbs, and lobster butter, their creation is complete. For those who are especially artsy, you can go even bigger with your design to make it all the more tempting, much like expert seafood chef Charlotte Langley. Her seacuterie boards are inspired by the dark-to-light painting techniques of Van Gogh.
If you're planning on following suit and making your own flavor-packed seacuterie board, ensure it gets eaten soon. The FDA advises not to leave seafood sitting at room temperature for more than two hours to prevent the growth of bacteria — but we don't imagine that the seafood fans you're feeding will have a hard time chowing down immediately.