Korean Glazed Eggplant Recipe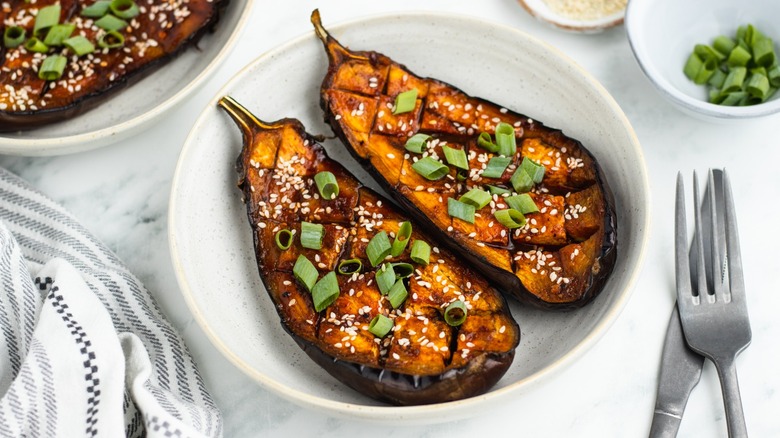 Catherine Brookes/Mashed
Let's face it: The average person isn't regularly sitting down to eat an entire eggplant (or even half of one). However, it might be worth your while to give it a try, especially when it's as tasty as this sweet, savory, tangy, spicy Korean glazed eggplant. "The gochujang chili paste is the star ingredient here as it adds an amazing spicy kick and loads of authentic Korean flavor," developer Catherine Brookes says, who has created a recipe for Korean glazed eggplant that's relatively simple to whip up, but certainly isn't lacking in flavor.
Here, eggplants get cut in half, scored, and seared, then slathered with that flavor-packed glaze and baked. Though you don't necessarily need to use a specific type of eggplant here, Brookes does have some advice in that department: "Pick the largest ones you can find, then you'll have plenty of surface area to work with when it comes to brushing on that glaze!" And trust us, you'll want to make sure that as much glaze as possible makes it on.
Get your glazed eggplant ingredients together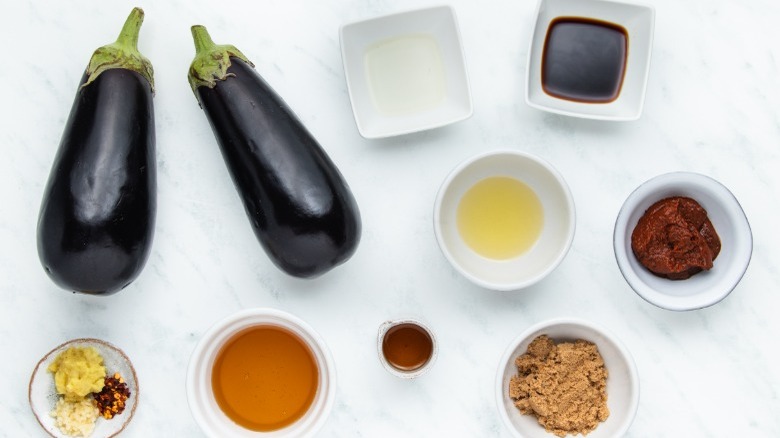 Catherine Brookes/Mashed
Other than eggplants (two of them, to be exact), for this recipe you'll need gochujang, sesame oil, rice vinegar, chili flakes, brown sugar, garlic, ginger, honey, soy sauce, and olive oil. You probably have most of those in your house already, so check the pantry before heading to the grocery store.
Make the glaze
Catherine Brookes/Mashed
Start off by preheating your oven to 350 F and making that glaze. It's simple: Put all the ingredients aside from the eggplants and olive oil in a saucepan, let them boil, then simmer for a bit. And, for any meal-preppers out there, "You could absolutely prepare the glaze in advance if desired," Brookes says. "It should keep well in the fridge for up to 3 days."
Score and fry the eggplant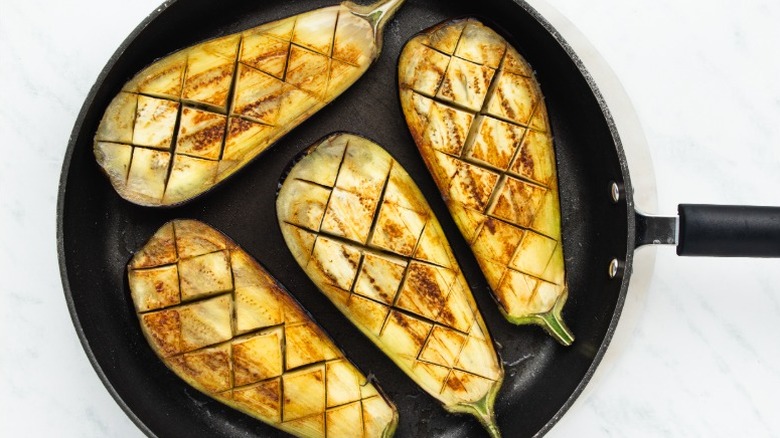 Catherine Brookes/Mashed
Now onto the eggplant. Cut each one in half, then cut criss-cross marks into the pieces. Heat some oil in a pan and fry the eggplant until each side is good and browned.
Glaze, bake, and dig in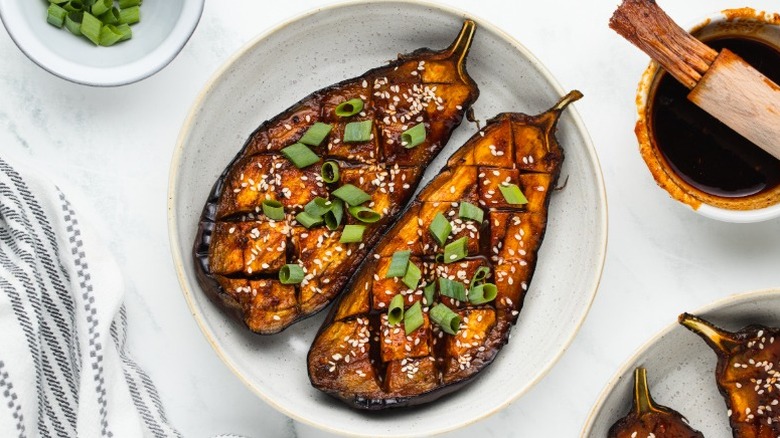 Catherine Brookes/Mashed
Put your seared eggplant halves on a baking sheet, cover them with your glaze, and pop them in the oven. When they're done, scatter some sesame seeds and green onions on top and enjoy. "I love serving this alongside noodle or rice dishes with some chicken, pork, shrimp or tofu," Brookes says.
This recipe yields about four servings, and if you end up with leftovers, that just means more eggplant for another time. Extras "can be stored in the fridge wrapped in foil for up to 2 days and reheated in the microwave or oven," Brookes adds. The next time you end up with an eggplant or two, you'll know what to do.
Korean Glazed Eggplant Recipe
Add some flavor to eggplant with this Korean-inspired recipe, which features a gochujang glaze.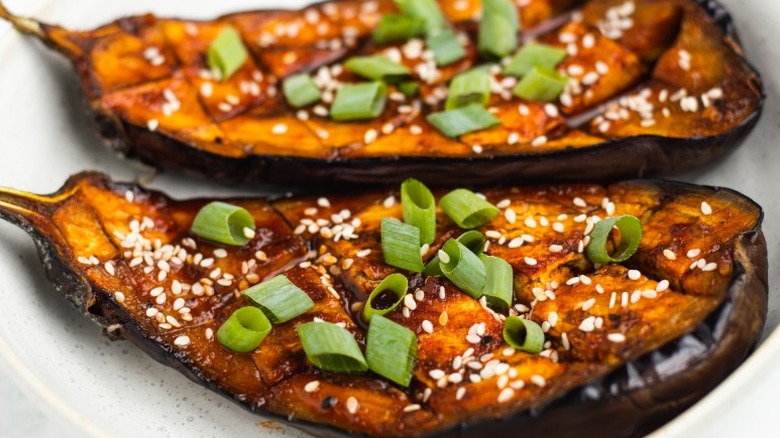 Ingredients
2 cloves garlic, minced
1-inch chunk ginger, minced
4 tablespoons honey
2 tablespoons brown sugar
1 tablespoon soy sauce
2 teaspoons rice vinegar
2 teaspoons sesame oil
2 tablespoons gochujang paste
¼ teaspoon red pepper flakes
2 large eggplants
1 tablespoon olive oil
Optional Ingredients
Sesame seeds, for garnish
Chopped green onion, for garnish
Directions
Preheat the oven to 350 F.
Add the garlic, ginger, honey, brown sugar, soy sauce, rice vinegar, sesame oil, Gochujang, and red pepper flakes to a saucepan. Bring to a boil, stirring frequently, then simmer for 2 minutes.
Slice the eggplants in half lengthwise. Score them in a criss-cross pattern across the flesh.
Heat the olive oil in a large frying pan over medium-high heat. Fry the eggplants for about 3 minutes on each side until nicely browned.
Transfer the eggplants to a baking sheet, flesh side up. Brush the glaze generously all over the tops.
Bake for 30 minutes.
Garnish with some sesame seeds and chopped green onion if desired.
Nutrition
| | |
| --- | --- |
| Calories per Serving | 241 |
| Total Fat | 6.8 g |
| Saturated Fat | 1.0 g |
| Trans Fat | 0.0 g |
| Cholesterol | 0.0 mg |
| | |
| --- | --- |
| Total Carbohydrates | 45.5 g |
| Dietary Fiber | 10.9 g |
| Total Sugars | 34.4 g |
| Sodium | 550.0 mg |
| Protein | 5.0 g |