Sorry, But Savory Cakes Are Just Un-Iced Loaves Of Bread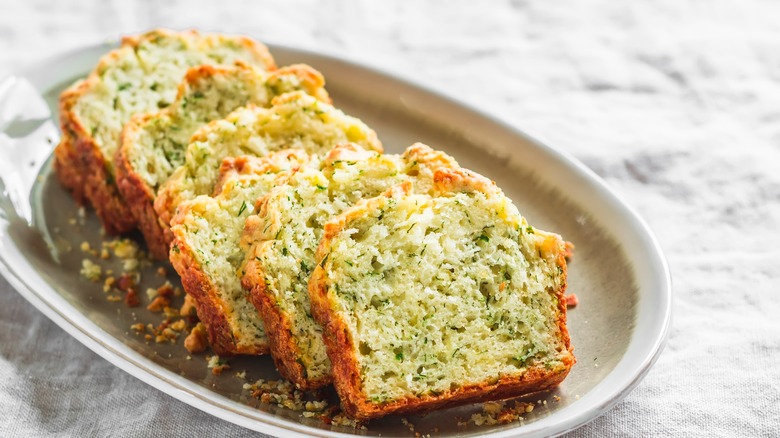 Kiian Oksana/Shutterstock
Here at Mashed, we don't shy away from your most contentious food arguments. We don't just talk about 'em — we get to the bottom of which food debates are the worst, from whether hot dogs are sandwiches (yes — they're even legally considered sandwiches in two states) to whether ketchup is a smoothie (no!).
But as "savory cakes" like the French cake salé take over TikTok, it's time to put our foot down once again: These recipes should actually be considered bread — not cake. In a recent video, a French food blogger shared her twist on cake salé, which includes canned tuna, feta cheese, and green olives.
Say what you want about those mix-ins. And yes, this recipe is certainly different from classic French breads like baguettes, which are leavened with yeast. Cake salé contains baking powder, which makes the recipe more similar to muffins and biscuits and other no-knead recipes — which are also known as ... *wait for it* ... quick breads.
In the name of accuracy, we'll ruin our own dramatic mic-drop moment: Quick breads, despite their name, are actually cake, experts say. But functionally, when it comes to bread versus cake, we think the sweet/savory divide means French savory cakes should count as bread.
Functionally, savory cakes are more similar to bread
When delineating which baked goods are bread and which are cake, baking experts have a wide range of criteria. Some point to the texture; others note gluten development and protein content. But at the end of the day, many agree on broadly similar basic criteria: Breads are leavened with yeast, and cakes rely on chemical leavening agents like baking powder.
@la.cuisine.de.geraldine

The perfect summer snack ☀️ French savory cake 1 2/3 cup flour (200 g) 2 tsp baking powder (8g) 4 eggs 1 cup canned tuna , drained (150 g) 1 1/3 feta cheese (200 g) 1/2 cup green olives (75 g) 2/3 cup olive oil (150 ml) 2/3 cup milk (150 ml) Salt Black pepper Preheat your oven to 200°C (390°F) and grease a loaf pan or cake tin with olive oil. Line with baking paper if necessary. Mix the dry ingredients in a bowl: flour, baking powder and a pinch of salt. Add the eggs one at a time, mixing well. Pour in the milk and olive oil, stirring constantly. Add tuna, crumbled feta, chopped green olives, finely chopped parsley and a little black pepper to the dough. Mix until the dough is evenly distributed. Pour the batter into the prepared pan, spreading it out evenly. Place the pan in the preheated oven and bake for about 40-45 minutes, or until the cake is golden brown on top and the tip of a knife in the center comes out clean. Full recipe + tips and variation ideas in 🇺🇸🇫🇷🇩🇪 on my blog. Link in my bio. #frenchcuisine #summersnack #cakesale #savorycake #fyp #fyfyfy #foryoupage #foryou
So technically, this does mean quick breads are actually cake. Banana bread is cake, zucchini bread is cake — and a tuna-feta-olive loaf, like the one made in a viral TikTok, is cake, too. French baguettes, on the other hand, are bread — and are so important to the country's culinary culture that they're now under cultural protection by the United Nations. However, we need to approach this argument from a functional perspective. The food world contains plenty of miscategorized ingredients — botanically, tomatoes are fruits, bananas are berries, and peanuts aren't actually nuts — but we commonly group foods by the ways we use them.
Even in their TikTok video, the food blogger who made the French savory cake says they serve it during picnics or with a salad for lunch. Cakes are typically sweet in flavor and celebratory in nature, a characterization that experts agree with. So, sorry-not-sorry — but as a savory dish that's a central part of a meal, tuna-feta-olive loaves should just be bread.