Turn Canned Biscuits Into No-Knead Monkey Bread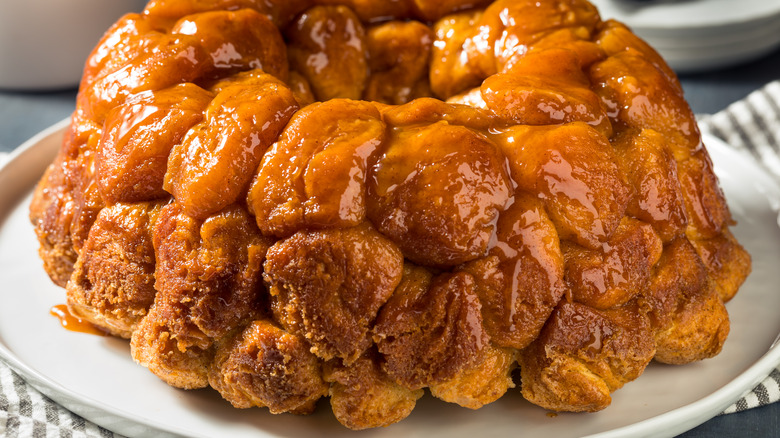 Bhofack2/Getty Images
What would you do if you were Martha Stewart? Well, in addition to hanging out with Snoop Dogg, stacking wine glasses, and posing for Sports Illustrated in a bikini, you'd probably also be making your monkey bread from scratch and starting with homemade yeast dough. Well, the rest of us may not be quite such a whirlwind of energy as everyone's favorite octogenarian domestic diva, but that's okay since monkey bread is every bit as delicious if you make it the easy way with canned biscuits, instead.
Making a basic monkey bread is pretty easy, as long as you have a bundt or tube pan, a can of biscuits, and some pantry staples like butter and sugar. Cut the biscuit up into quarters, coat them with cinnamon sugar, and layer them in the pan. Maybe sprinkle some walnuts or raisins between layers, then drizzle the whole thing with caramel sauce. Bake the bread, flip the pan upside-down to evict it, then detach the bread balls and eat them
You can, of course, deviate from the standard recipe in numerous wonderful ways. Stewart herself likes to use Nutella in her monkey bread, while we have a recipe for monkey bread made with butterscotch pudding. (Ours uses canned biscuits.) If you wish, you could leave out the cinnamon and swap the butterscotch for chocolate or pistachio pudding, then mix in some mini chocolate chips and chopped pistachios or almonds for an equally delightful and yet entirely different spin on this pull-apart bread.
Savory monkey bread is also a thing
While sweet monkey bread can be a lovely breakfast or even a dessert, you could also make a savory one for an appetizer. One variant version we love is monkey bread made with parmesan and garlic butter: Use the former, mixed with some salt and pepper, to replace the cinnamon sugar in the standard monkey bread recipe, then use the latter in place of the caramel sauce. You could also mix in ingredients such as crumbled bacon, green onions, or diced peppers (jalapenos for a spicy southwestern spin) and use a cheese such as cheddar, blue, or pepper jack. Ham and Swiss monkey bread would also be a classic pairing, particularly with a mustard dip, while a layer of scrambled eggs could turn a bacon-cheese monkey bread back into a breakfast dish.
For the ultimate comfort food mashup, though, you can't beat pizza monkey bread. To make it, you can coat cut-up canned biscuit pieces with olive oil and Italian seasonings, then toss them with parmesan, mozzarella, and pepperoni and layer them in your tube pan along with some marinara sauce. Once the pull-apart pizza bread is cooked and out of the pan, dip each chunk in more marinara and sprinkle it with extra parmesan. Deep dish pizza's got nothing on this for an interactive, fun-to-eat party centerpiece.