What Happened To Wimpy Burgers?
With a name like Wimpy, it may almost seem obvious why the restaurant chain flopped in the U.S. by 1977. Think about it. Why would anyone ask their friends if they want to go grab a Wimpy burger versus one at Burger King? What sounds more appetizing? In actuality, the history and current state of the Wimpy restaurant is as complicated and unpredictable as a tornado through a drive-thru lane. While it may have fizzled in the United States, the fast food joint is still going strong in other places around the world like the United Kingdom, South Africa, and the Middle East, where Wimpy was often their first introduction to American hamburgers. 
In the United States, Wimpy faced fierce competition from established fast food giants like McDonald's, Burger King, and Wendy's. The name "Wimpy" itself didn't quite capture the American imagination like its competitors' names did. Nowadays Wimpy is taking names and flipping burgers elsewhere. From its inspiration behind the namesake to the eccentric, chopped hot dog menu items and now its robotic burger-flipping counterpart, the Wimpy name doesn't sound so wimpy anymore, does it? While a heart attack may have stopped Wimpy in its tracks in the United States, there's a reason its unique take on table service is still going strong. In short, we have a lot to unwrap, so here's what really happened to Wimpy burgers.
It was inspired by Popeye character, J. Wellington Wimpy
The story begins with J. Wellington Wimpy, Popeye's hamburger-obsessed friend who famously promised to pay people back on a Tuesday that never seemed to arrive. The cartoon character originally created by E. C. Segar was known for his relentless pursuit of free meals, often indulging in burgers in the most unexpected locations. It was this unforgettable character that inspired the name of the renowned Wimpy restaurant. The brains behind the Wimpy restaurant was none other than Edward V. Gold, who had a close affinity for Wimpy, so much so that a friend even went as far as nicknaming him after the character because he loved hamburgers so much. 
With a keen understanding of the comic strip's popularity and the widespread appeal of hamburgers like White Castle, Gold saw an opportunity to bring the essence of Wimpy to life through a unique burger dining experience. Inspired by Wimpy's insatiable appetite and unyielding pursuit of his beloved burgers, Gold aimed to create a space where people could indulge in delicious, high-quality hamburgers by creating a "10-cent hamburger" that rivaled the other five-cent burgers on the market, per the Chicago Daily News. Ultimately, J. Wellington Wimpy was just the beginning, but the inspiration served as a jumping off point for everything in the Wimpy restaurant business. 
It started as Wimpy Grills and Wimpy Bar before it became just Wimpy
Before it became the Wimpy we know it as today, the restaurant went under two different names. When Edward V. Gold opened the first restaurant's doors on September 12, 1934, in Bloomington, Indiana, the brand was originally known as Wimpy Grills. He established Wimpy Grills restaurants in five other cities in the Midwest, and in 1936 he opened the first Chicago location. 
Twenty years after founding his restaurant chain, Gold made plans for multinational expansion and found them in J. Lyons and Co., a British company that started as a catering business in 1886 and expanded into food manufacturing and restaurants. With the license obtained from Gold's Wimpy Grills, Lyons wasted no time in establishing the first "Wimpy Bar" in the United Kingdom. The inaugural Wimpy Bar opened its doors in 1954 at the well-known Lyons Corner House on Coventry Street in London. As the Wimpy Bar gained traction and popularity in the United Kingdom, the Wimpy name flourished alongside it. Eventually, the success of the Wimpy Bar led to the establishment of standalone Wimpy restaurants that specialize in burger-focused meals.
Wimpy's menu featured eccentric fast food meals like the Bender and the Brown Derby
In the 1970s, the Wimpy menu in the U.K. wasn't your typical fast food affair. Beyond the hamburgers and fries it still serves today, the restaurant pushed the boundaries by serving items you wouldn't usually find in a fast food place like brunches ingeniously incorporating its signature patties and hot dog benders (without buns) as well as delectable pastries, crispy fried potatoes, and even hearty soups. One of its signature items was the bender, called a Bendy & Cheese on today's menus. Far from a traditional hot dog in a bun, this so-called "rule-breaker" hot dog was sliced into pieces and ingeniously reshaped into a circular form and served in a bun with cheese, tomato, and onions.
Its main meals weren't the only unusual finds on the menu. Wimpy also served desserts like the Brown Derby. Also known as the Chocolate Bowler, the Brown Derby consisted of a fried donut topped with whipped cream, nuts, and chocolate fudge syrup. The Wimpy menu revealed a surprising quirk often absent from fast food establishments of the time, especially when it came to prices. Nestled discreetly at the bottom of the menu was a message stating that there has to be a minimum 20-pence charge per person (equivalent to roughly 25 cents in U.S. dollars today) during the lunch hours from noon to 2 p.m. and all day on Saturdays.
Wimpy featured table service, not counter service
Wimpy set itself apart from the majority of fast food restaurants by embracing a unique approach to ordering: table service instead of the conventional counter service. Long before the days of our modern fast food culture, Wimpy made a significant impact, especially in Glasgow, Scotland. When Wimpy arrived there in the 1960s, it quickly became a sensation, providing Scots with their first taste of American-imported fast food cuisine. It introduced the concept of a sit-down restaurant serving exclusively hamburger-based meals, capturing the imagination of Glaswegians who had grown up consuming American media. The traditional table service offered by Wimpy, with cutlery and food served on plates, added a touch of elegance to the dining experience. Customers could relax, take their time, and enjoy their meals in a comfortable setting that wasn't fast casual or quick service.
While Wimpy table service and attention to detail resonated with customers for many years, economists believe that it eventually contributed to the chain's decline. The arrival of competitors like McDonald's with its efficient over-the-counter system, coupled with disposable containers, presented a seemingly quicker and more convenient option. This shift in customer expectations and the rise of competing fast food chains posed challenges for Wimpy's continued success. For nearly three decades, the table service at Wimpy and its near monopoly on the fast food market made it a beloved destination for Scots until it wasn't enough to keep up. 
When the founder died, the U.S. franchise died with him
"I don't give a (bleep, bleep) what happens to the business. When I'm six feet under, what the (bleep) do you think the difference will be to me what happens to it?" Wimpy Grills founder Edward V. Gold was quoted as saying in a 1977 article in Chicago Daily News, just months before his actual death due to a heart attack. Gold never married and had no kids. When he died at the age of 70, the U.S. franchise faced an uncertain future. In a July 1978 column in the Chicago Tribune, one bank officer involved with his estate speculated, saying, "Maybe there's another Ray Kroc [founder of McDonald's Corp.] around for the 1980s." 
With Gold's entrepreneurial vision and dedication, he had established a national chain of Wimpy restaurants, known for their inviting atmosphere and quality food. At its peak, the chain had 25 restaurants across the United States, but by the time Gold died, only four remained in the Chicago area under the ownership of his estate. The sale of the Wimpy restaurants along with rights to the name and U.S. trademark presented an opportunity for potential buyers, yet the absence of Gold's leadership and the challenges of re-establishing the brand in the competitive fast food industry proved insurmountable. As a result, the U.S. franchise shuttered, leaving behind a legacy of a once-thriving business that ultimately succumbed to the loss of its visionary founder.
Wimpy flourished in United Kingdom and South Africa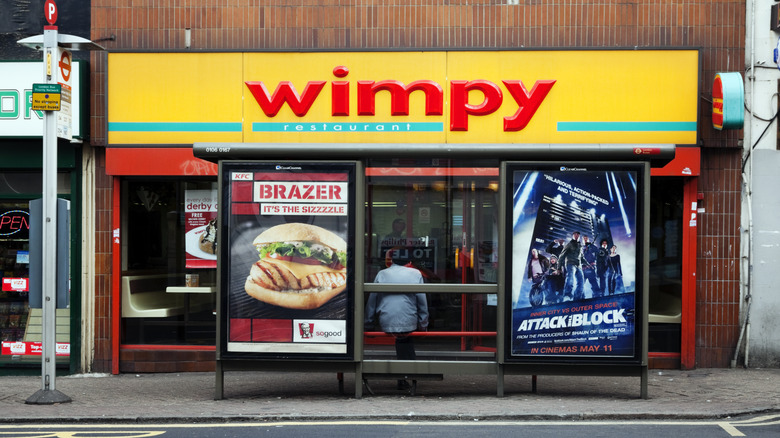 Whitemay/Getty Images
While the Wimpy name was deteriorating in the United States, it was gaining traction overseas in the United Kingdom, where The Guardian wrote in 2002 about the chain "making a comeback." Since its opening in 1954 in London, Wimpy has been hailed as one of the most British things to emerge in the U.K. Despite the biggies like Burger King, McDonald's, and KFC in the fast food market, Wimpy doesn't actually see itself as a direct rival but rather as a unique dining experience. Clare Starling, the marketing manager of Wimpy International at the time, explained to The Guardian, "We have no high-street comparison. Our customers come to us looking for something different."
Interestingly, Wimpy seems to have an even stronger hold on the people of South Africa since first opening there in 1967.  With over 500 franchise locations and counting, Wimpy has captured the hearts of South Africans who can't seem to get enough of it. The brand has become deeply embedded in the local culture, offering a distinct and cherished dining experience that resonates strongly with the South African population. 
Wimpy launched a short-lived chicken restaurant, Dr Beaks
"Chicken is a growth market," John Prior, then the marketing director at KFC U.K., said in an interview with Campaign in 1999 just before Wimpy launched its own fast food restaurant called Dr Beaks Chicken to capture some of that market share. Undeterred by the challenge, Prior responded, "We are the experts, and consumers rarely prefer an imitation." So, what really prompted Wimpy, originally aspiring to be a unique dining experience, to go head to head with a restaurant it initially didn't intend to rival? The answer lies in its pursuit of success in a food industry it was floundering in.
While Wimpy had no desire to compete with major fast food chains like McDonald's and Burger King, it soon realized that those chains were a huge factor hindering its growth. Wimpy chief executive Max Woolfenden told Campaign that Wimpy had been "competing with McDonald's since it launched [in the U.K.]." So Wimpy looked for a new revenue stream by launching Dr Beaks Chicken and aiming to challenge KFC's fare by offering healthier options focused on white meat and oven-baked chicken. However, Dr. Beaks Chicken struggled to gain traction because of its predominantly motorway service locations and an inability to match the well-established KFC brand name. It merged with the original company to become Wimpy Chicken in 2003 but closed all of its locations within just a few years.
In the U.K., it was purchased by Burger King's GrandMet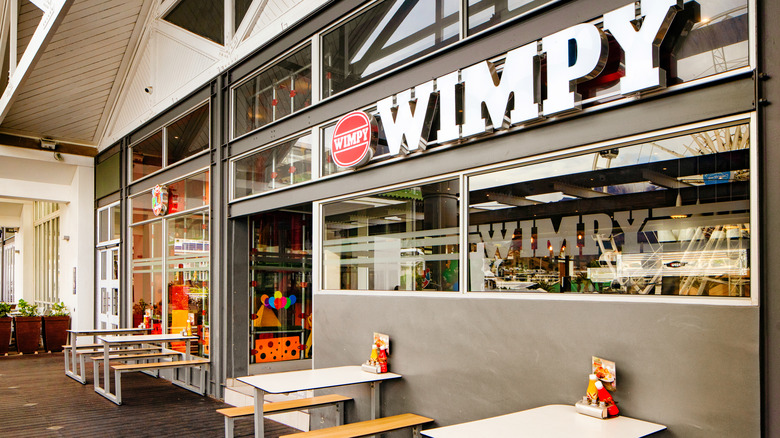 Nicolasmccomber/Getty Images
Even prior to its Dr Beaks Chicken flop, Wimpy turned out to be too small of a fish for the big pond it was in. In a conversation with The Herald, Allen Sheppard, the chairman and chief executive of GrandMet, stated his company's 1989 acquisition of Wimpy was a good move, calling it "a rare opportunity to gain the sites needed to expand our European retailing operations." A year later, GrandMet announced that roughly 20 Wimpy locations would be converted into one of its direct competitors, Burger King.
The acquisition of Wimpy by GrandMet signaled a significant shift in the fast food industry that shed light on the challenges faced by smaller players. GrandMet, recognizing the potential for growth and expansion, saw Wimpy's locations as valuable assets that could boost its own retailing operations. While the acquisition may have been a strategic move for GrandMet, it marked a pretty sour turning point for Wimpy. The absorption of several Wimpy franchises into the Burger King brand diminished Wimpy's presence and identity in Britain. GrandMet then sold what remained of the Wimpy restaurants in 1990 to a former Wimpy managing director and his business partners, who helped rebuild the brand.
In South Africa, Wimpy launched a Braille Burger
While Wimpy continued to struggle in the U.K., the hype train for the burger chain was just starting in South Africa. In an effort to be more inclusive, in 2002, Wimpy created Braille menus for all of its locations to allow the visually impaired to learn more about its food. Roughly 10 years later it launched an ad campaign to spread the word about the Braille menus. The ad campaign by South African agency Metropolitan Republic featured blind people reading the Braille message made with sesame seeds atop their burgers that read, "100% Pure Beef Burger Made For You."
Ultimately, the results from the ad campaign were more than they imagined. As Dave Mullany, the agency's art director told News.com.au, via The World, "The response we had when these people read the message was worth every moment that it took." The campaign not only garnered attention among tens of thousands of people with visual impairments but also highlighted Wimpy's commitment to inclusivity and the diverse needs of its customers. That commitment still rings true in its South African locations.
Wimpy rebranded in the Middle East
After establishing a strong presence in the U.K. and South Africa, Wimpy expanded its reach to the Middle East in 1969, specifically in Kuwait, Egypt, and Saudi Arabia. While Wimpy didn't exactly achieve the same level of success there as in other regions, it experienced a resurgence following a pretty technological rebranding effort in late 2021. Described as "American fast food with an omnichannel, tech-driven approach," the Middle East version of Wimpy aimed to appeal to a younger demographic. "We view fast food as a way of life, and we are here to switch things up with a new look, new menu, super techy solutions, and a quirky point of view," its website states.
According to TwoFortyEightAM, the rebranding was not just a superficial makeover; it entailed an overhaul of every aspect of the Wimpy experience. From the burger smashing technique to the quality of its chicken, breading, and even the custom-made buns with a switch in flour, everything changed for the better. The Middle East branch of Wimpy sought to provide an upgraded and improved dining experience, catering to the evolving tastes and preferences of its target audience. By incorporating technology and modern approaches, Wimpy aimed to stay relevant and resonate with a tech-savvy generation. The emphasis on enhancing the quality of its ingredients and processes underscored Wimpy's commitment to delivering exceptional food to its customers.
Wimpy introduced Flippy 2, its robot burger flipper
The technology phase at Wimpy is just getting started. In fact, it's kind of a game changer. Leading the way is the Middle East branch in Dubai, where workers have introduced a robotic burger and fry flipper known as Flippy 2. The renowned burger brand opened a location in late 2022 at the food court of Dubai Mall, with its operations falling under Americana Restaurants, a leading operator of dining and quick service restaurants in the Middle East, North Africa, and Kazakhstan. Chief executive officer Amarpal Sandhu told Arabian Business the company is actively embracing technological advancements and hopes to make the Middle East location a first of many.
When it comes to robotics, Wimpy is in good hands. The manufacturer behind Flippy 2 is none other than Miso Robotics, a California-based company that's familiarized itself with robot machine learning as well as ways to reduce costs and improve the dining experience. This strategic partnership allows Wimpy to take on a more forward-thinking approach as it looks to stay at the forefront of technological advancements in the food industry. With Miso Robotics' expertise and experience in developing advanced robotic solutions at the helm, Wimpy is in good hands. The burger chain is really getting a fresh start. This collaboration represents an exciting step forward, combining the renowned legacy of Wimpy with the latest advancements in robotics and machine learning, to deliver an enhanced dining experience for customers in the Middle East and beyond.
Copycats and spinoffs still exist in the U.S.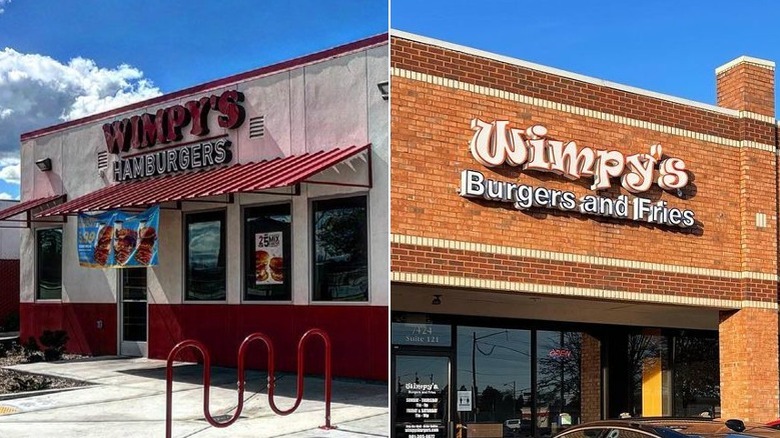 Instagram
Although the original Wimpy restaurant as we knew it from 1934 no longer operates in the U.S., that doesn't mean there aren't any Wimpy-inspired establishments in the country. Take Wimpy's Hamburgers, for example. It first opened its doors in Tulare, California, in the early 1990s. Originally spearheaded by Aziz Attaran, the joint draws inspiration from the iconic Popeye character, J. Wellington Wimpy, and his fellow comic strip characters. Wimpy's Hamburgers offers its own unique menu, featuring the Wimpy Burger, Bruto Burger, and Sailor Burger in addition to wings, sandwiches, patty melts, and a variety of sides ranging from chili bowls to zucchini sticks.
Another spinoff of Wimpy in the U.S. is Wimpy's Burgers and Fries, with locations in Tennessee and Mississippi, and yet another Wimpy's Hamburgers operates in Texas. These spinoffs have put their own twist on fast food, offering a range of items that J. Wellington Wimpy would likely approve of as long as he could pay for it later. The Tennessee and Mississippi locations serve hamburgers, turkey burgers, and even buffalo chicken sandwiches. In contrast, the Texas spinoff serves not only hamburgers — including one with spinach – but also shrimp po' boys among other typical fast food fare. While the original Wimpy, founded by Edward V. Gold, doesn't remain in the U.S., these spinoffs and copycat establishments continue to carry the spirit of the Wimpy name in their own unique ways.