Canned Chipotles Are All You Need To Spice Up A Bland PB&J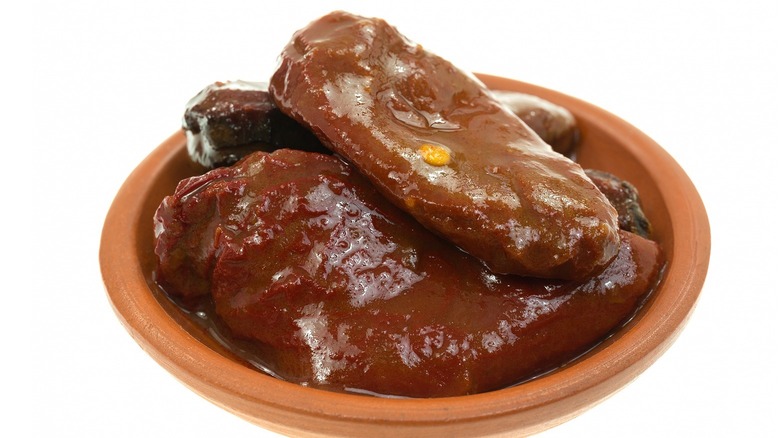 BW Folsom/Shutterstock
In its most basic form, a peanut butter and jelly sandwich requires a couple of slices of white bread, a tablespoon of peanut butter, and a smear of grape jelly. This simplicity, perhaps, has allowed the sandwich to enjoy such a prominent position in our hearts and stomachs for generations. On the other hand, maybe PB&J continues to reign supreme because its simple nature lends to the unbounded potential for culinary creativity.
While there will always be a time and place for the classic iteration of a PB&J, some days you may want to zhuzh it up for a more elevated sandwich experience. There are countless ways to enhance a PB&J, but if you want to take your creation from kindergarten to garden party with just one ingredient, make that ingredient canned chipotle peppers.
While a spicy PB&J may sound a little odd, the notion of combining sweet and spicy flavor profiles is nothing new. Some cultures have utilized this pairing for centuries. Recently, sweet heat has been incorporated into everything from BBQ to desserts. Even timeless classics like the PB&J are getting the sweet heat treatment. Experimental chefs have discovered that, with the addition of canned chipotle peppers, any jam or jelly can be transformed into a sweet and spicy spread that promises to take your PB&J to hot new heights!
How to make jam with chipotle peppers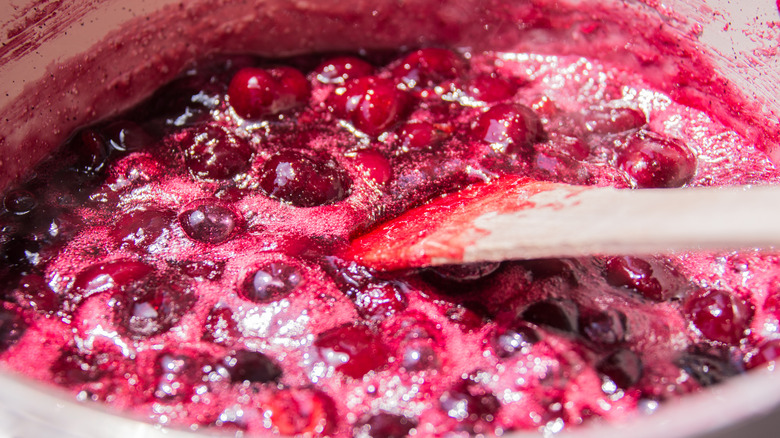 Diliana Nikolova/Shutterstock
Canned chipotle peppers — created by smoking and drying jalapeños, rehydrating them, and then submerging them in a combination of tomato purée, vinegar, and spices – bring a bit of umami and spice with them anywhere they go. While they're often added to sauces, soups, and condiments, their zesty flavor also pairs perfectly with homemade strawberry jam.
This can be achieved by simmering strawberries and chipotle peppers together before blending them into a smooth spread, but much like the PB&J itself, there is plenty of room for substitutions. Instead of simmering the peppers with strawberries, this can be done with peaches, apples, cherries, mangoes, or any other fresh — or frozen — fruit that tickles your fancy. The results can be used to make an adult-rated PB&J that can be an impressive finger food at your next party or a satisfying lunch when you're pressed for time.
Because homemade chipotle jam will only last in your fridge for up to a week, you may be looking for other reasons to use this delicious spread. The sweet and spicy treat also makes an excellent addition to buttered toast and scones, can be baked into thumbprint cookies, or used as a glaze for pork and chicken.