At-Home Barbie Shake Recipe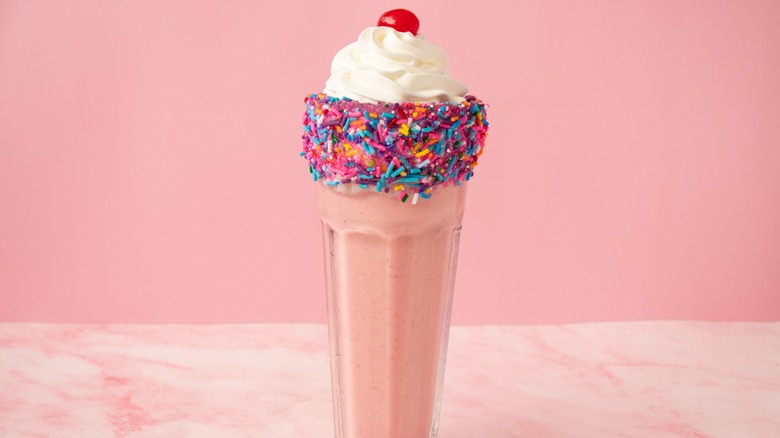 Patterson Watkins/Mashed
Barbie lovers worldwide are rejoicing at the opportunity to watch their favorite childhood toy live on screen. If you are equally as excited about the new movie and would like a festive treat to celebrate this momentous occasion, look no further. Recipe developer Patterson Watkins brings us this recipe for an at-home Barbie shake — a fun DIY alternative to the latest TikTok and Cold Stone trend.
Do you have a favorite Barbie collection? Watkins does! She says, "My hands-down, all-time favorite Barbie was the "Barbie & The Rockers" Barbie from the mid-'80s. There was even this animated TV show! Barbie and her crew were these total rockstars (OMG, the permed Barbie hair was a trip), had their own tunes (oddly disco, not quite rock, but it was the '80s), and belted out a couple of covers. Absolute magic."
Because of her love of Barbie and this particular Barbie collection, Watkins tells us, "this milkshake is my ode to 'Barbie & The Rockers' and Barbie's overall style panache, pulling colorful inspiration from their outfits (lots of pink with pops of sparkle and wild day-glow spandex)."
Gather your ingredients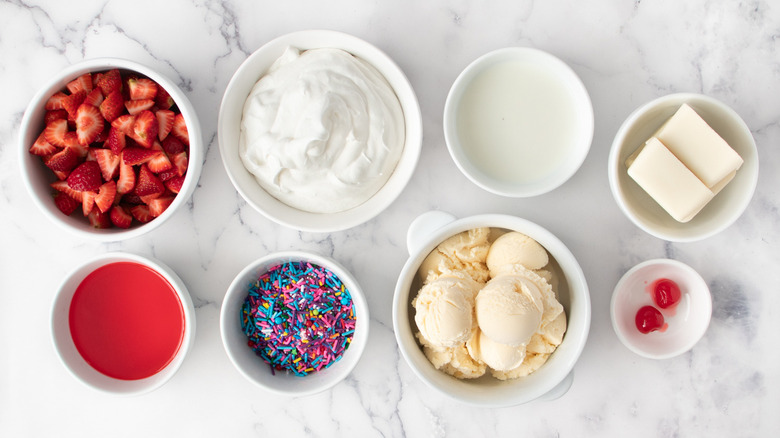 Patterson Watkins/Mashed
To make this at-home Barbie shake, you can start by gathering your ingredients. For this recipe, you will need white chocolate, sprinkles, strawberries, milk, vanilla ice cream, whipped topping, and maraschino cherries — including the sugary syrup they come in.
Create spinkle-dipped rims on serving glasses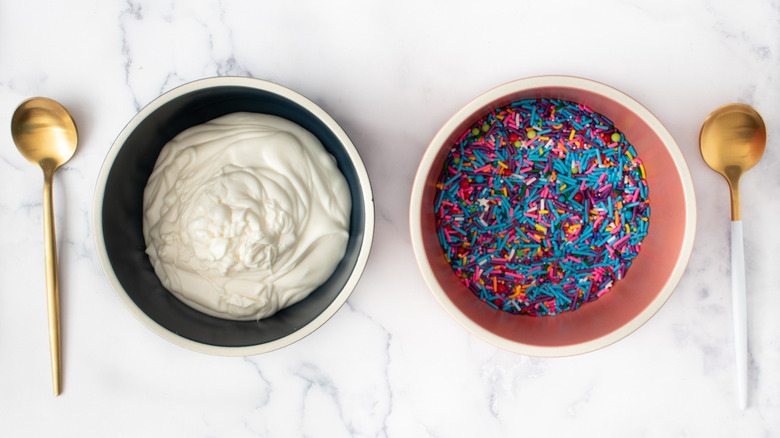 Patterson Watkins/Mashed
Microwave the chocolate in 30 second intervals and stir until the chocolate is melted. Then, dip your serving glass into the chocolate around the rim. Then, dip into a shallow bowl filled with your desired sprinkles. The sprinkles will adhere to the chocolate to create this festive rim. You may need to use a spoon to help the sprinkles reach the entire surface area of the chocolate. Then, place these glasses in the freezer to chill and set.
In terms of choosing a color palette for your sprinkles, Watkins recommends taking inspiration from your favorite Barbie collection. She says, "Go wild here! Find a sprinkle color collection (or craft your own) that speaks to your favorite Barbie (or Ken)." If you aren't sure which theme to go with, we recommend going with the classic hot pink color, because there is nothing more true to the Barbie brand than this iconic hue.
Blend the milkshake until smooth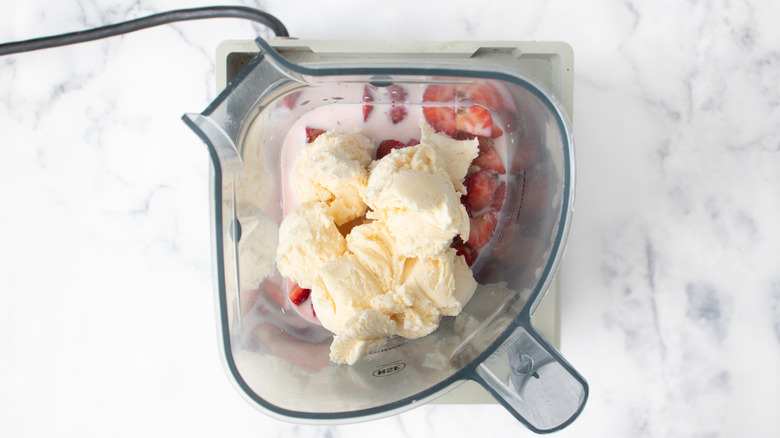 Patterson Watkins/Mashed
Into a blender, add your milkshake ingredients. Add the strawberries, maraschino cherry syrup, ice cream and milk. Then, blend these ingredients until they are silky smooth.
As the ingredients blend, you'll start to see that iconic pink color form. Watkins wanted to make sure her ingredients resulted in that hue, but flavor was important, too. She notes, "This milkshake is flavored with both strawberries and maraschino cherry, creating not only a vibrant pink color, but this sweet-tart strawberries and cream thing going-on. The milkshake itself is not overly sweet, wanting to make sure we maintained some balance between the white chocolate-coated rim, the sprinkles, and the whipped topping (all pretty sweet ingredients)."
Then, top with whipped topping and cherries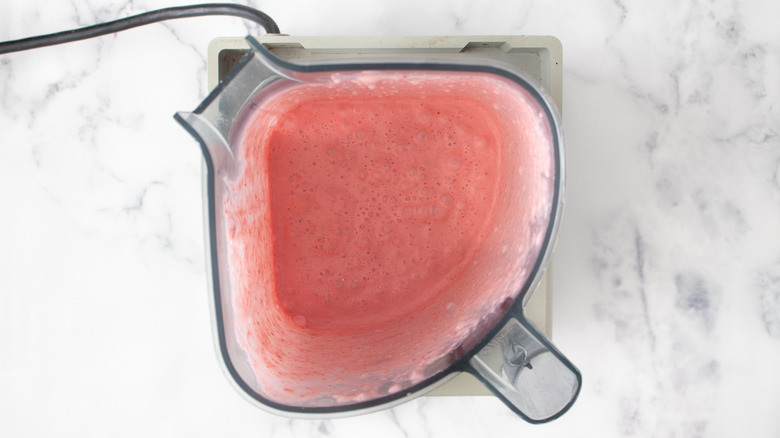 Patterson Watkins/Mashed
Next, pour the milkshake into the prepared serving glasses. Then, top each milkshake with freshly-piped whipped topping. Lastly, for the truly "cherry on top" effect, add a single maraschino cherry to each milkshake. Then, stare in wonder and awe at your masterpiece, because you did it.
Watkins says, "Whip up this milkshake whenever you're feeling nostalgic for those Barbie-playing days! Stroll down memory lane [while] you sip on your over-the-top and totally accessorized milkshake." And if you're planning a movie night to catch the new flick, this is the perfect treat to set the mood.
At-Home Barbie Shake Recipe
Come on Barbie, let's go party ... with these fantastic (but not plastic), decadent, and very pink shakes.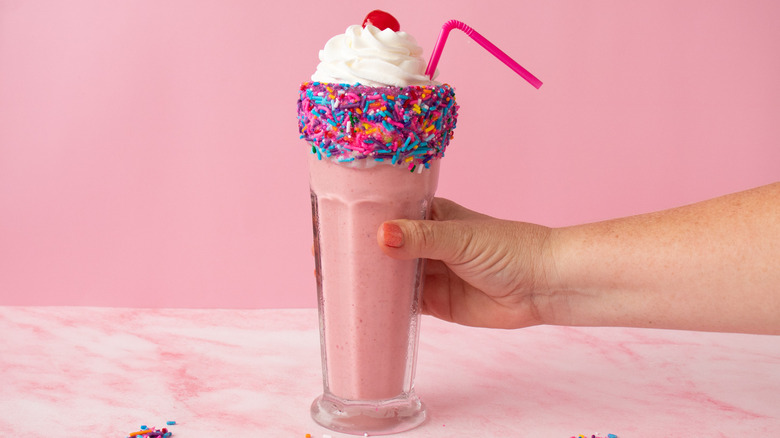 Ingredients
1 cup (8 ounces) melting white chocolate or white chocolate chips
¾ cups colorful sprinkles
2 cups chopped strawberries (fresh or frozen)
½ cup maraschino cherry syrup
½ cup whole milk
2 cups vanilla ice cream
1 ½ cups whipped topping
2 maraschino cherries
Directions
Place white chocolate in a bowl (microwavable safe) and warm in the microwave in 30 second intervals, stirring in between each internal, until thoroughly melted. Place sprinkles in another, equally-sized, bowl.
Dip serving glasses into the melted chocolate, swirling around to really adhere the chocolate to the rim and sides of the glass. Hold the glass inverted to allow any excess chocolate to drip off and back into the bowl.
Transfer the dipped glass to the bowl with the sprinkles, swirling the glass around to collect as many sprinkles as possible (using a spoon, if necessary, to really get those sprinkles on there) and gently press with your hands to adhere.
Place the glasses in the freezer while you make the milkshake; freeze just long enough for the chocolate to harden, about 2-3 minutes.
Meanwhile, place the strawberries, cherry syrup, milk, and vanilla ice cream in a blender and blend until smooth. Divide the milkshake between your sprinkle-coated glasses.
Using a piping bag fitted with your favorite tip, top the milkshakes with whipped topping. Garnish with cherries before serving.
Nutrition
| | |
| --- | --- |
| Calories per Serving | 1,597 |
| Total Fat | 63.4 g |
| Saturated Fat | 38.3 g |
| Trans Fat | 0.0 g |
| Cholesterol | 122.2 mg |
| | |
| --- | --- |
| Total Carbohydrates | 253.4 g |
| Dietary Fiber | 4.4 g |
| Total Sugars | 243.6 g |
| Sodium | 285.8 mg |
| Protein | 15.7 g |