The Impact Julia Child Had On Rick Bayless' Career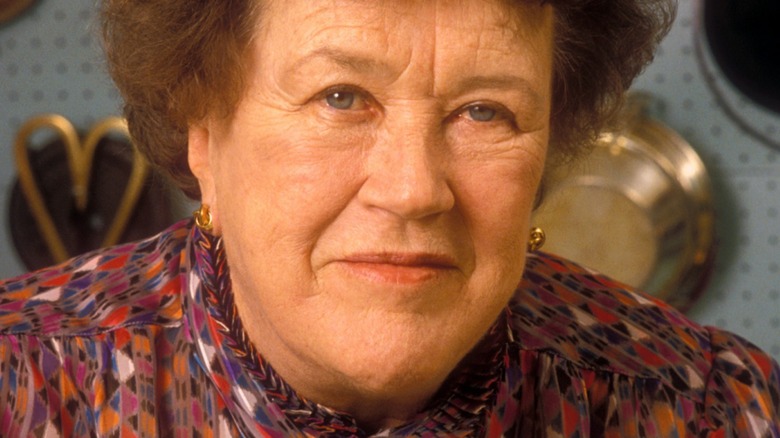 Rick Friedman/Getty
The name Rick Bayless is synonymous with authentic Mexican cuisine. The chef spent years living and working throughout Mexico, learning about the diverse range of ingredients and techniques that define the regional dishes of the country. He shares his expertise with the world through his restaurants like Topolobampo and XOCO, his line of Frontera sauces and salsas, cookbooks, and videos. Given all this, it may come as a surprise that one of his earliest cooking inspirations was a chef who was famous not for Mexican cooking, but French cooking: none other than Julia Child.
In an exclusive interview with Mashed, we asked Chef Bayless about the path that led to his lifetime devotion to Mexican cuisine. He said that while growing up in Oklahoma, he was fascinated with Child's TV show "The French Chef." He shared, "I grew up watching Julia Child in her first series of television shows on public television, and I just fell in love with technique."
Even as he lay the foundation for a career in Mexican cooking, Bayless told Mashed that he used to only cook French food and was once a professional pastry chef. Today, he still likes to return to some of the same French dishes that Child might have demonstrated on her show. "I've still continued to love French food as time has gone on, not so much for the flavor as for the technique that it teaches me."
Rick Bayless and Julia Child faced the same challenges of early TV cooking shows
Julia Child learned her cooking techniques at Le Cordon Bleu in Paris and made them accessible to American home cooks through her show, much like Rick Bayless shared Mexican cuisine with the U.S. through his show "Mexico: One Plate at a Time." He likely didn't realize it at the time, but Bayless learned more than just cooking techniques when he watched Julia Child on TV: He also learned the right way to operate under those live taping pressures. Bayless reminisced with Mashed about his early days of cooking on television and how different it was from today. "If you go down a wrong path ... you can just stop and say, 'Oh, let's do that again,' but we couldn't do that at all during the early days. Everything, including all those Julia Child shows, they were all shot live to tape."
It was an era that really put the quick-thinking skills of TV personalities to the test. "It's a lot like working improv in a way, because, yes, you have planned it all out, but it may not all go that way," Bayless said. Child faced the same challenges on "The French Chef." When eggs didn't flip over the way they were supposed to, Child brushed off these unexpected mishaps with humor and a quick fix. Her calm and confidence gave fans the courage to try those seemingly-complicated French dishes — perhaps inspiring Bayless to do the same.