Why You Should Pair Your Next Martini With Caviar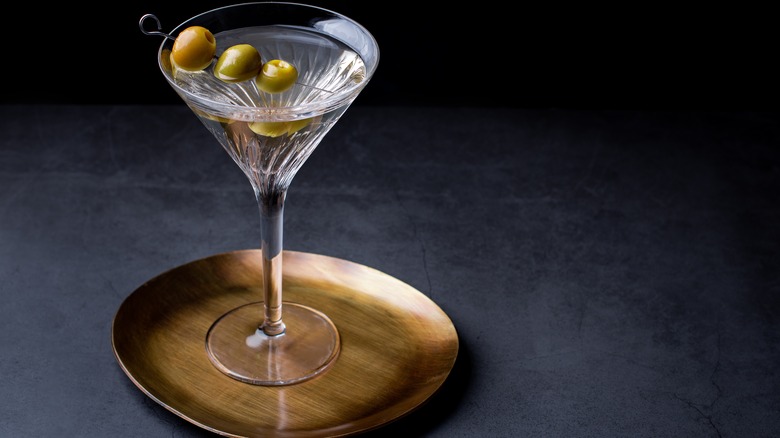 Maria Shipakina/Shutterstock
Champagne and caviar is a decadent combo immortalized in pop culture — the pearl-clad mother and Rolex-ed father of all sweet and salty couplings. However, vodka is just as timeless a match for the black, jewel-like fish eggs that have become synonymous with wealth and fine dining. That said, having vodka straight-up with your roe isn't for everyone. Naturally, a cocktail is a more crowd-pleasing way to showcase the spirit, letting everyone experience the classic combination without the throat-sting.
There are few cocktails as classic as the martini, with its simple, time-tested, and scientifically-perfected formula that has inspired endless variation. We spoke to an expert that explained why the Vodka Martini and Caviar combo works so well. In a conversation with Mashed, Amanda Davenport, GM and Beverage Director of Noisette Denver, shared her thoughts on the type of vodka cocktail she thought would go exceptionally well with caviar.
"I suggest a classic vodka martini," Davenport told us, "the subtle profile of vermouth can add just enough character for those who don't prefer to drink plain vodka. A lemon twist garnish can help bring out the freshness in the caviar, while olives can complement the oceanic qualities."
Dressing up the flavors of vodka or gin with the herbal, floral hint of vermouth is one of the martini's best tricks. It's no wonder that the subtle, complex profile of the beverage would bring out the best in caviar. As Davenport points out, the chosen garnish can take things up another notch.
A vodka martini can bring out the best in caviar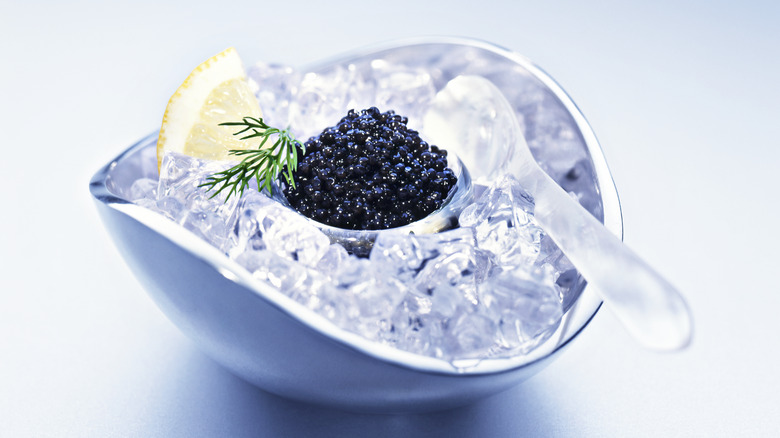 Jostaphot/Getty Images
Vodka may have only ended up in the martini by accident, but it has had a home there for decades now and doesn't appear to be going anywhere. Whether you lean into caviar's fresh and bright flavors by adding a lemon twist to your drink or its briny depths with an olive garnish, you can't go wrong when matching a martini with caviar. However, in a pinch — or if you prefer to stick to the most traditional martini formula — a gin martini will also do. When we asked Davenport what other spirits go well with caviar, she answered, "If you are looking specifically for a spirit, I would suggest dry gin." If you're not into liquor whatsoever, Davenport also suggests a variety of wines to pair with the delicacy that goes beyond champagne.
Vodka and caviar, however, is the classic pairing that dates back centuries, to the times of tsars. While their powerful flavors sometimes make these two things hard to enjoy completely by themselves, together, they make an unstoppable, opulent duo. The Russian liquor is known to complement and enhance the salty, oceanic taste of this delicacy, drawing out a depth of flavor with a side of booze. It's not exactly the most affordable option for appetizers or charcuterie, but maybe you can save it for a special occasion.