The Best And Worst Restaurants For A First Date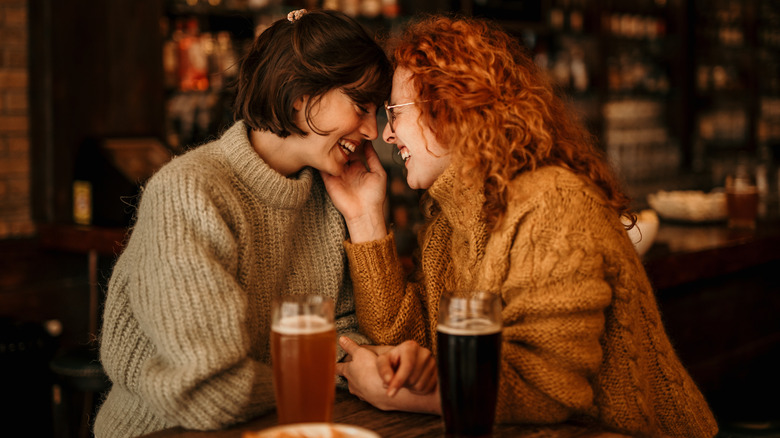 Studio4/Getty Images
Romance and dining can go hand in hand, like peanut butter and jelly; it can also go horribly, like peanut butter and pimento cheese. Making things more complicated is the fact that the same restaurant that will seal the deal with one potential date will be a dealbreaker for another. As they say, there are plenty of fish in the sea. Some like to nibble and peck casually; others enjoy spending the entire evening digging into fresh meat. 
Dietary restrictions, passionate favorite foods, and contrarian opinions must be considered before you pitch a prospective date night. Try to hash these out with a few ice-breaking questions and get creative once you get an idea of your date partner's interests. That's where we come in. Because regardless of personal choice, for every tremendous first date restaurant out there, there is an equally horrible alternative. To save you from getting left on read, we've assembled a dining road map that avoids messy pit stops and uninspired choices and points you directly towards quick, hip bites and full-fledged romantic experiences. Enjoy. 
Best: Fondue Restaurants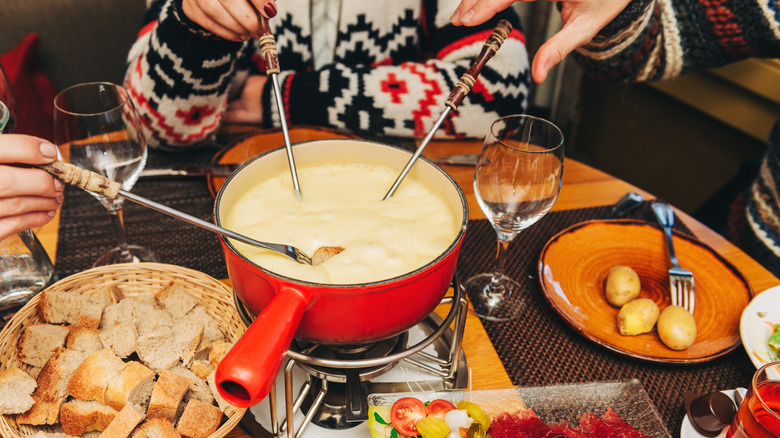 Anna Nahabed/Shutterstock
You want your first date to be noteworthy. If things go well, you might tell people about it for a long time. What's more memorable than a night full of dip-your-own succulence? 
Start by browsing through an extensive selection of cheeses and deciding on an array of delicious bite-sized carbs and proteins to plunge inside steaming pots of your chosen dairy. After forking, dipping, and coating through an appetizer and main dish, switch out your cheese for a vat of bubbling chocolate to cap off the evening.
There's just something sensual about dripping pots of gooey cheese and melty chocolate. As you and your date shimmy up and lean to share the fondue pot, the evening will heat up as much as the cheese already has. Fondue restaurants know how to play up a romantic ambiance, often offering private candlelit dining experiences and unique sharing specials that turn the night into a multi-course, intimate immersion.
You could spend your first date hoping an overworked and underappreciated server can set the mood, or you can put the long-stemmed forks in your own hands and take control of the evening.
Worst: Wing Joints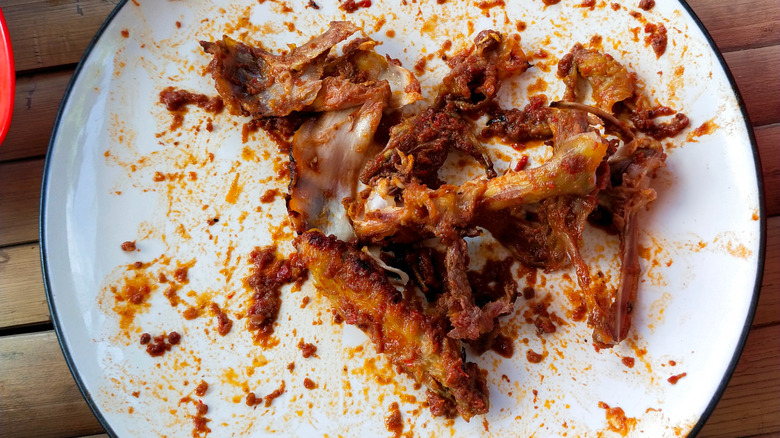 Mairaima/Shutterstock
Eating all 12 wings before breaking out the napkins might earn you accolades in certain circles, but it doesn't usually garner the same respect on first dates. If you do go on a date with someone who eats chicken wings without making a speck of a mess, you need to run, because there might be something off about that person. There's just no way to enjoy great wings without getting a bit of sauce on your pants.
Wings might be the absolute worst first-date food, eeking out ribs and lunch out of a Tupperware at the library without any utensils. Enterprising wing joints have published thesis papers on how to eat cleanly in response to the growing notoriety of wings. Tips include going light on sauce, not eating more than one wing per minute, and never talking with your mouth full. (Actually, that last one is good advice no matter what you're eating.) Of course, the easiest way to eat your chicken wings cleanly is to avoid ordering them altogether.
There are plenty of restaurants that don't feel the need to give public tutorials on how to eat their food without looking like an oaf. Stick to those on night one and save the wings for your rehearsal dinner.
Best: Sushi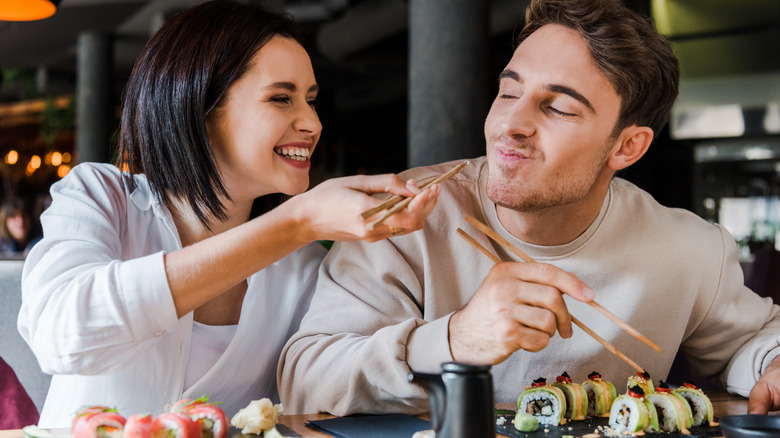 LightField Studios/Shutterstock
Dating may not be an exact science, but that won't stop us from crunching the numbers to get a leg up on first-date success. A Singles in America survey says sushi might be that secret ingredient we're looking for. Surveyed singles reported that first dates involving sushi almost doubled the chances of a second date. Raw fish might be the closest thing we have to Cupid's arrow.
It all adds up when you think about it. Sushi is the ultimate shareable experience. Two people can split three rolls and eat exactly what they want while sharing a plate. Plus, you can find great sushi sold in all sorts of atmospheres. Hit up hole-in-the-wall hidden spots that provide party platters to-go, head to a sushi-go-round and grab your sashimi off the rack, or find an upscale sushi lounge to pair your plates with some sake. 
Some science says nights that start wrapped up with seaweed will eventually unfold under the covers. Shellfish has long been rumored to work as a natural aphrodisiac. Even if you don't order the California roll, there's evidence that eating more seafood can play a role in a boosted sex drive. No one food is going to seal the deal. Still, sushi's lightness could leave you both walking out of the restaurant feeling fresher than after two plates of fish 'n' chips.
Best: Food Halls
Hold on tight: We've got two concepts that seem strikingly similar at first glance but have the potential to change the outcome of your night drastically. On the romantic end of the scale, we have food halls – vibrant spaces with local restaurants, artistic entrées, and overpriced cocktails. These establishments can be either open-air or inside gentrified warehouses with sunshine-yellow lanterns hanging down from the ceiling. 
You and your new interest can roam the halls, checking out Portuguese sandwiches, ramen spots, and concept kitchens, all serving the same tables. No more awkward guessing games about where to eat; you get to look confident and present a plan without the risk of picking the wrong restaurant. Once you've ordered, food halls can help eliminate some of the awkwardness surrounding who pays for dinner. 
Some folks may swoon over a server presenting the check and a dapper lad in a three-piece suit confidently picking up the tab, but modern love allows us all to think differently. You can still leap up and pay for your date's perogies if you feel like it, and if you guys veer off in separate directions in search of your own perfect entrée, that's fine, too.
In addition to thoughtful cuisine, food halls also have killer beverage selections. You'll be able to enjoy dinner with craft beers, fancy drinks, and espresso martinis while the night is young.
Worst: Food Courts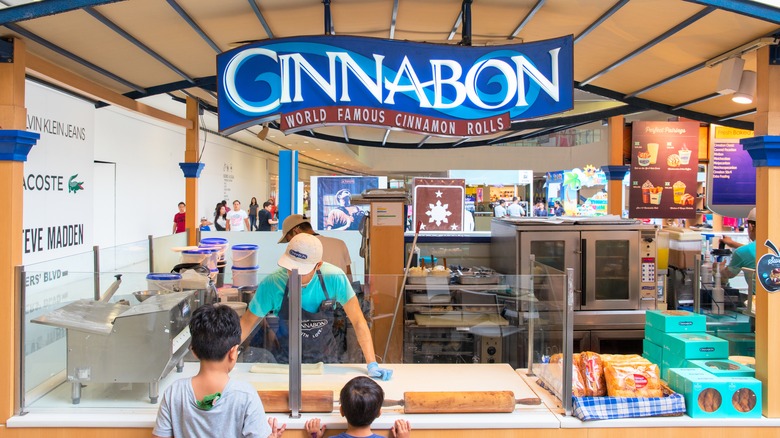 Davdeka/Shutterstock
Believe it or not, the simple switch from food "hall" to food "court" changes everything. Whereas food halls operate in reclaimed real estate, food courts are typically inside malls, airports, and train stations. If your first date was a stroll through Urban Outfitters and H&M, a stop at Auntie Anne's or Sbarro is a great sign that things are going well. Besides that niche scenario, you're better off steering clear of asking your date to meet you at a food court.
The problem is food courts are known to be filled with the same old chain restaurants that we recommend avoiding when they are standalone. Just because someone has combined a Subway with a Popeyes and a Panda Express doesn't make it an upgrade from taking your date to any of those locations.
Making matters worse is the drink selection. Food halls can heavily lean into beers and wines, often featuring bar spaces front and center. While malls are slowly becoming more alcohol-friendly, food court drink choices rarely stray further than a Coca-Cola Freestyle machine or overpriced airplane bottles of Sutter Home.
If you're still struggling to find what makes a court into a hall, judge your potential selection by the worst restaurant there. Food halls won't do much worse than an inauthentic sandwich stand, but if you see a Cinnabon, you've gone too far.
Worst: Fast Food Mega Chains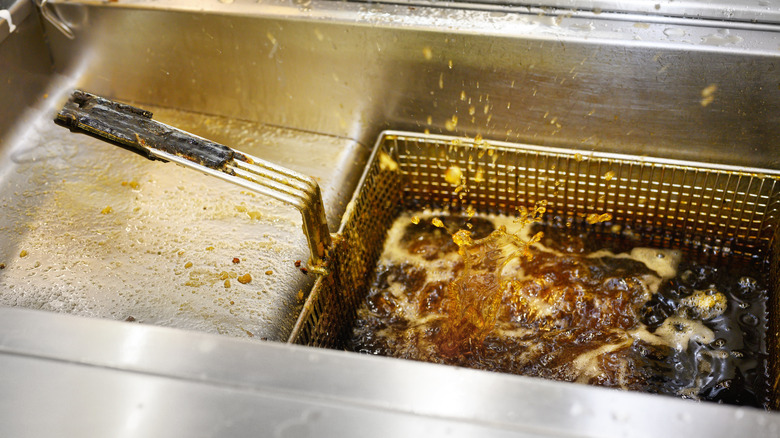 Herraez/Getty Images
Trips to fast food chains don't exactly scream "second date material." Sure, these places have their strengths, but setting the mood isn't one of them. The lights at fast food chains are bright; oftentimes, the walls could use a good scrubbing; the whole place smells like a fryer, and the food is about as impersonal as it gets.
Picture this scenario: You've been texting back and forth with someone for a while, exchanging lols and cheeky innuendos, and you're starting to feel a connection. So, you take a leap of faith and pop the question:
"Do you wanna do something sometime?"
Boom. Three minutes that feel like three hours later, they say, "How about dinner?"
Here comes the moment of truth, the pivotal response that sets your date in motion: "Great! I know this amazing Taco Bell that's right by your place!"
That's a pretty significant risk. You're bound to find a person or two who could think of no better spot for a first date, like the guys who got married in one, but a large majority of the population will either (a) think you're kidding or (b) immediately drop their phone and tell whoever's closest to them what just happened. You might as well ask them if they want to come over and smoke weed with you and your parents.
Best: Local Fast Food Favorites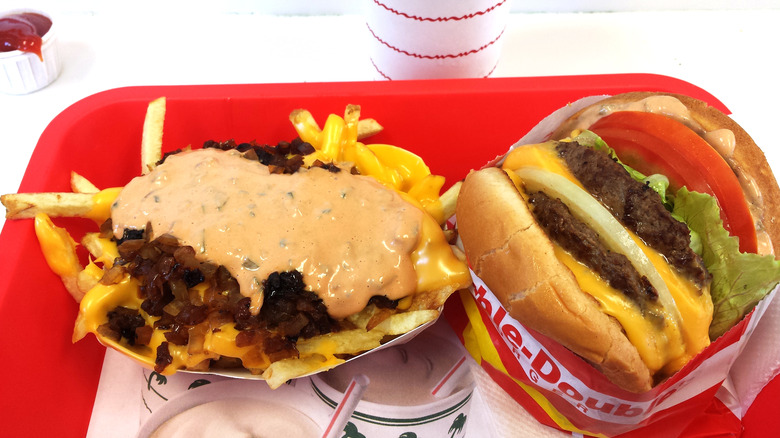 Greenpimp/Getty Images
Global fast food chains are one thing; regional fast and casual-food chains are another matter entirely. These distinctions are important to understand, and not just for the purpose of scheduling dates. Mcdonald's is a terrible first-date idea, In-N-Out Burger is a whole other ball game. Taco Bell is not the best choice, but a taco truck with a zesty hot sauce and some Instagram panache — now we're talking. It's all about finding a quick meal with a soulful twist. This category can be a bit tricky to navigate. The line between "awesome first date" and "food faux pas" isn't always clear-cut. Chipotle doesn't quite make the cut, but Raising Cane's does.
When you're going this route, it's all about the context. Take some time to suss out what your partner is looking for. Not everyone wants to get all gussied up and spend two hours inside an Italian joint while they get to know you. If they're down for a quick bite and an easy date, a restaurant that balances quality with speed can be a great way to break the ice. 
The key to nailing this one is to personalize your choice. Maybe you know of a great secret menu item somewhere or who has the best ranch dip in town. You can score major bonus points if the place is a local legend your potential partner hasn't been to yet.
Worst: Corporate casual dining chains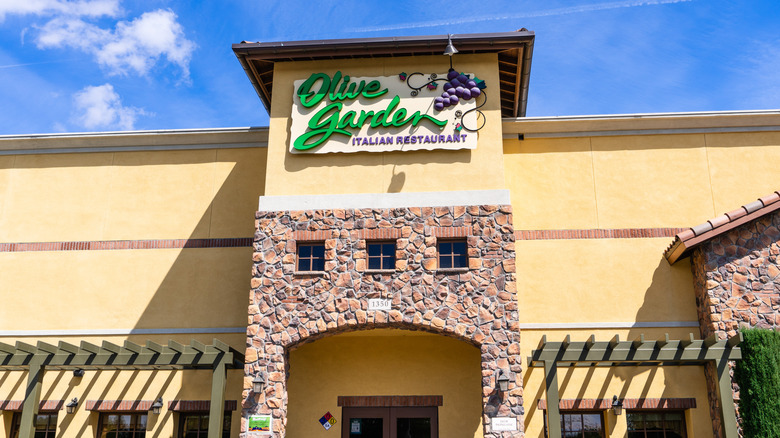 Sundry Photography/Getty Images
Before we dive into this one, a disclaimer: If your town describes the construction of a new Olive Garden as "the second coming of Christ," you go eat at whatever restaurant you can. We don't all live with easy access to authentic Sicilian entrées or artfully remastered industrial architecture to impress our first dates. Sometimes you've got to make do with what's around you. 
Still, as much as you can, try to avoid eating at any dining chain that wouldn't exist without expensed meals and company cards. Places like Applebee's, Chili's, TGI Fridays, Olive Garden, and Ruby Tuesday get by without taking any risks. The goal inside those walls is to provide a safe, all-encompassing menu to feed the masses. They exist to ensure large groups of people can eat together and all find something they like. That's great for a business lunch or a family dinner, but the watered-down margaritas and unimaginative flavors can dull the edge of a budding romance. This class of restaurant should appear in the dictionary next to the phrase "so-so." Is that how you'd like your date to be described?
Best: Pizza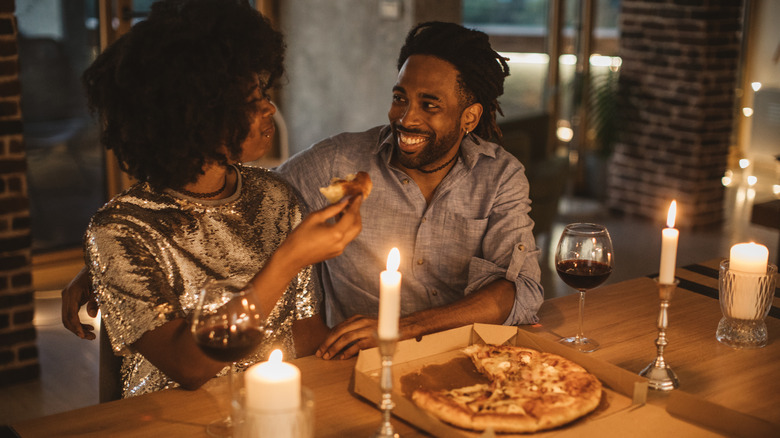 Svetikd/Getty Images
You won't find a much safer first date choice than a great slice of pizza. If you ever encounter someone who doesn't like pizza, you are justified in questioning their taste in more than just food.
The beauty of pizza lies in its versatility and customization. Want pineapples on your half while your date wants nothing besides pepperoni and jalapeños? Boom. At many pizza-centric locations, there are even great gluten-free cauliflower crusts and delicious vegan mozzarella options to make a slice for all taste buds.
Pizza restaurants are a lot like pizza itself: They come in many different flavors. Fancy a quick slice at your favorite hole-in-the-wall? Sure thing. Or how about going upscale and sharing a salad, uncorking a bottle of red, and savoring two personalized pizzas topped with uncooked arugula? Ooh la la.
On the same note, breweries adding brick ovens alongside their shiny fermentation tanks and life-sized chess boards is one of the best things that happened to the institution of first dates. Now you can meet up for drinks without pressure and know that if things are going well, the oven's hot, and the extensive tap selection will keep the conversation flowing.
No matter your style, there's a pizza place nearby waiting to sling a hot and fresh spin on your next first date.
Worst: All-You-Can-Eat Anything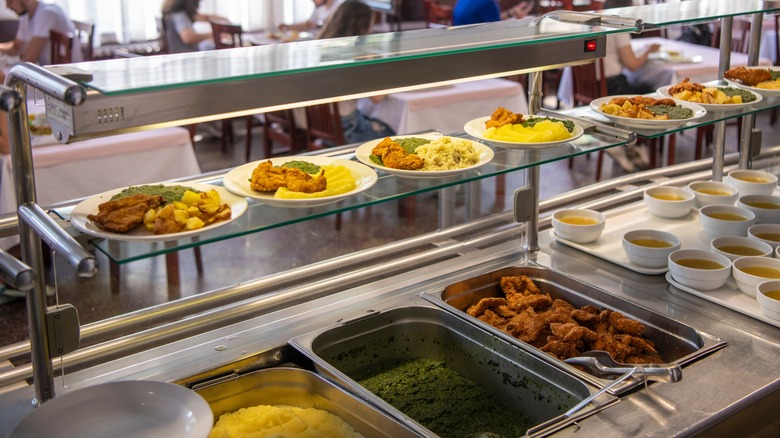 Dragan Mujan/Shutterstock
When you walk through the doors of an all-you-can-eat buffet, you are legally required to overeat. Half the point of heading to these hallowed halls is to fill your plate with five steaks, four desserts, and no salads. You can't get your money's worth and still impress your date unless they are a professional eater.
Sure, under the right circumstances, it can be a gluttonous blast of an evening, but springing this idea on someone out of the blue might not lead to a happy ending. Best case scenario, they're super into it. Great, now what? If you play the all-you-can-eat game right, you and your date should be too full to do anything but waddle home and pass out on the couch. And let's face it, that's not exactly the kind of romantic date night you had in mind.
Forget about suggesting this culinary adventure for a first, second, third, or fourth date unless you and your partner share a genuine passion for unlimited entrées and stomach-stretching challenges. Otherwise, save it for your future family outings when the kids want to load up on tater tots and soft serve.
Best: Grocery Store Hot Bars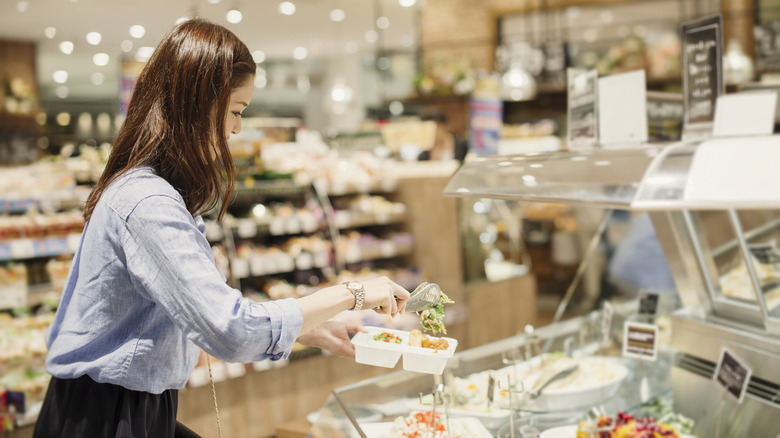 Yagi-studio/Getty Images
Next time someone seems ready to balk at the idea of committing to a two-hour dinner, here's a low-key plan B — head to the nearest grocery store and dine in. Grocery store food bars have stepped up from heat lamp-blasted rotisserie chickens to a cornucopia of culinary delights. Many grocery store chains and local legends are rolling out hot and cold buffets surrounded by restaurant-quality selections that can make for a great date. The massive span of offerings at some of these spots will dwarf even the biggest chain restaurant's menus — especially regarding vegan, vegetarian, and healthy choices.
A grocery store hot bar first date is what you make it. Don't read this and think you should invite your date to lunch at the Walmart deli counter. Scout out a grocery store, preferably local, with plenty of fresh hot choices near a park or a pleasant outdoor space. You can load up your plates, grab a six-pack or a two-liter of choice, sprint through self-checkout and stretch out while you get to know each other. Bring your own plastic cups and cutlery to enrich the experience.
Worst: Restaurants that serve unlimited bread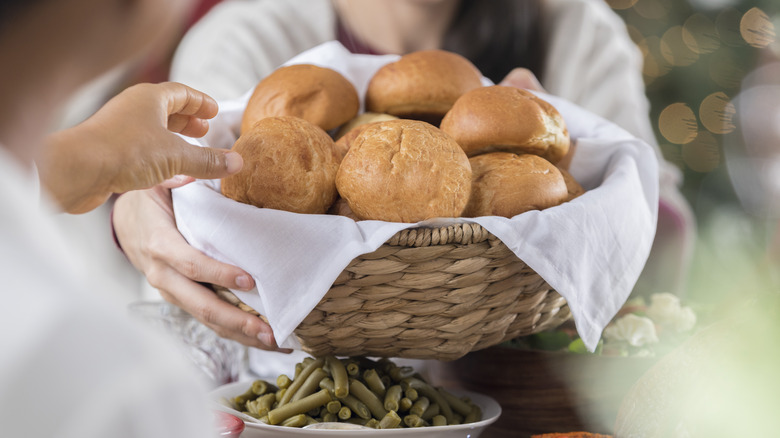 Sdi Productions/Getty Images
Ah, the allure of unlimited bread. The carb-load heaven that can turn any meal into a feast fit for champions. But let's face it; first dates might not be the best time to embrace the breadbasket with open arms. Especially for us nervous eaters who might subconsciously munch through awkward introductions — things can get ugly fast. White bread digests quickly and can drastically affect your blood sugar levels. You might find yourself in a sleepy, post-meal haze before the entrées even show up. 
You might not always mind the sleepy after-lunch feeling on a slow Friday afternoon at work, but too much free bread can bring that same energy to date night. Especially if you pair two bowls of free French bread with a plateful of pasta, toasty fresh bread will make you tired and leave you yawning through the date no matter how long you pumped yourself up in the mirror before heading out the door.