Finger Sandwich Cakes Are The Savory Key To Beautiful Tea Parties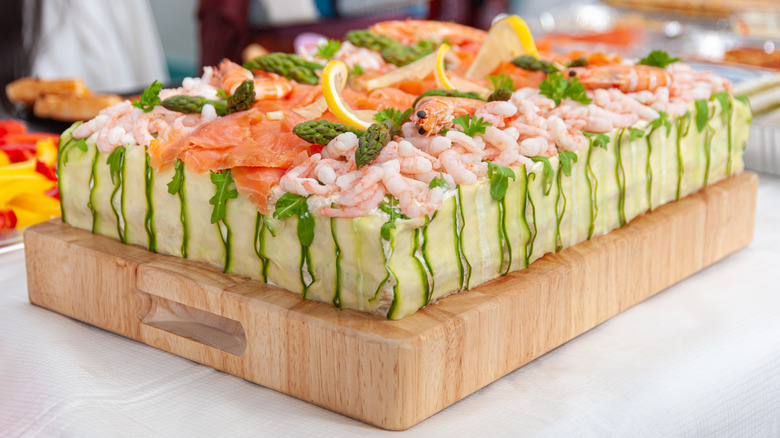 Jakub Rutkiewicz/Shutterstock
Funny how things spin in and out of fashion. The finger sandwich cake, also known as smörgåstårta in its native Sweden, is something that dates back to the 1950s or earlier. Sometime in the mid-20th century, the dish made its way to the United States where it went by the name of party sandwich. In the fullness of time, however, such sandwiches eventually joined the pantheon of what many (including Alex Guarnaschelli) now see as creepy-looking foods only our grandparents could stomach. 
As recently as 2015, Vice dismissed this dish as "insane," but now things have come full circle and such cakes are considered cool again because TikTok has so decreed it. We must admit that such an attractive cake would make for an eye-catching entrée for your next tea party.
In a recent TikTok video, a cake is slowly assembled from sliced brown bread and topped with a cream cheese-based frosting, then decorated to turn it into what the creator calls a "masterpiece." So how do you make sure your finger sandwich cake doesn't cross the line from edible art into retro ick? The key seems to be avoiding sliced stuffed olives as a decoration since these do seem to give off an eyeball-type vibe that's better suited to a Halloween party than a tea table. Instead, leafy green herbs and cucumber ribbons will make for a much more visually appealing smörgåstårta that's more in line with today's food aesthetic.
Here's how to make your own smörgåstårta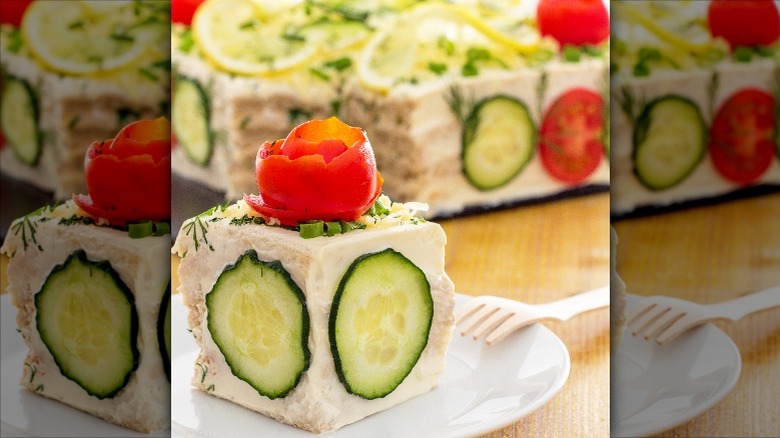 Happy Foods Tube/Shutterstock
If you're creating a smörgåstårta of your own for a tea party or any other special occasion (the Swedes serve these for funerals), it takes time and effort. The basis for any such sandwich cake is sliced, de-crusted sandwich bread, whether it be fresh-baked pain de mie or Pepperidge Farm's finest. The bread can be white, wheat, darkest rye, or whatever works for you. As for the fillings, you may get as creative as you wish. 
The sandwich cake shown in the Tiktok video is filled with mashed avocados and smoked salmon, while a party cake from the 1970s had three layers. One of these was also made from mashed avocados, while another was of ground ham and chopped celery and the third was curried egg salad. Traditional Swedish smörgåstårta include one made with a layer of ham and cheese and another of liver pate as well as a sandwich cake of shrimp and smoked salmon.
To frost your cake, whipped cream cheese will work very nicely, perhaps thinned out with some whipping cream or else mixed with sour cream, crème fraiche, or plain yogurt. Colorful vegetables such as cherry or grape tomatoes or fresh peas can make for attractive decorations, or, if you really want to get artistic, you can cut carrots, cucumbers, or radishes into floral shapes. Hard-boiled eggs or lemon slices can also be a tasty garnish.