Copycat Girl Scout Thin Mints Cookies, Ranked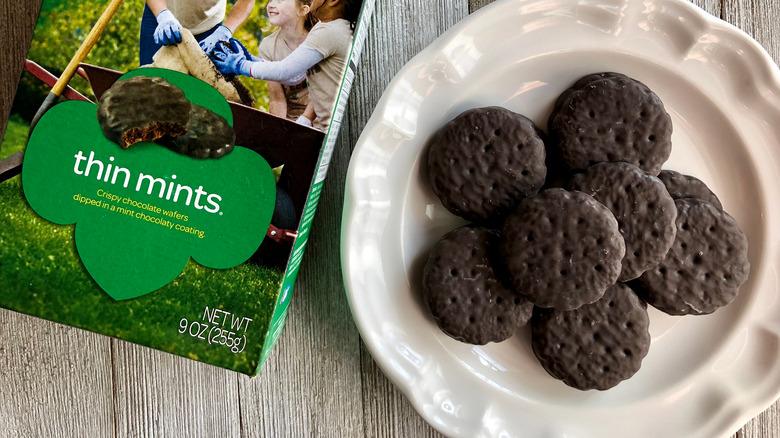 Jmcanally/Shutterstock
January through April is not only exciting as the start of a new year, but also for the exciting arrival of the sweet cookie goodness that comes with it. Girl Scout Cookie season is one of the most exciting times of the year when we can give money to a good cause. By far, Thin Mints are the most popular Girl Scout Cookie in the United States, and for a good reason. Their chocolatey, minty, and thin, crunchy existence makes for a perfect snack at room temperature or even frozen.
The other Girl Scout Cookies are also special in their own ways, with a few consistent flavors proving to be reliable visitors each and every year. With a mix of fairly straightforward ingredients, Thin Mints are surprisingly easy to replicate, which has opened up the minty potential throughout the year. Here are some of our favorite brands that have made minty cookies in the image of Thin Mints. With various prices, year-round availability, and a close-to-matching flavor, we are grateful for these delightful Thin Mint alternatives.
1. Keebler Grasshopper Cookies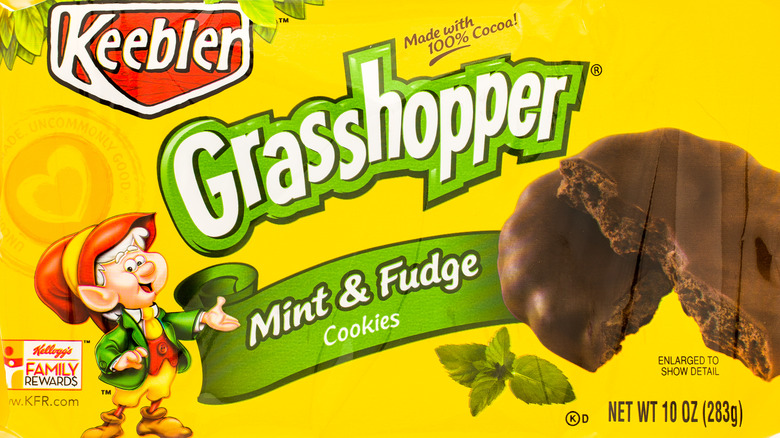 Keith Homan/Shutterstock
Thank goodness for the Keebler Elves in their little tree, crafting up delightful treats for our enjoyment. We can thank the little guys for sharing the delicious Keebler Grasshopper Cookies that mimic Girl Scout Thin Mints closely. The cookies are round, chocolate-coated, and mint-flavored which serve as a fantastic alternative to the beloved Thin Mints. Interestingly, their similarity may have been more of an inside job than most people realize. One of the main Girl Scout Cookie manufacturers, Little Brownie Bakers, is closely tied to Keebler, so it's possible that there was some level of recipe insight shared between the companies.
However they came to exist, we are happy to have the option of Keebler's Grasshopper cookies when we need some chocolate and mint goodness. They also are a reasonably budget-friendly option of less than $5 per box, and are available at most grocery stores. So, the next time you're craving that delightful combination of mint and chocolate, grab a box of Keebler Grasshopper cookies. They're conveniently available at most major grocery stores, sparing you from making a special trip to find your Thin Mint cookie alternative. 
2. Great Value Fudge Mint Cookies
Walmart has provided low prices for a number of great items, including many copycat foods. The Great Value Fudge Mint Cookies are no exception, and have earned their spot on our list of favorite Thin Mint copycats for a reason. With a wallet-friendly price of just $1.77 for a 10 ounce pack, Great Value Fudge Mint Cookies offer one of the most budget-friendly options for a Thin Mint fan out there. Great Value succeeded in its effort to provide a similar flavor profile to that of Thin Mints, and truly nailed the chocolate-mint combination in a nearly identical thin cookie form. In addition to being available all year, it is a cookie option that enables us to savor the joy of a scrumptious treat without breaking the bank.
Great Value takes pride in using high-quality ingredients, and the Fudge Mint Cookies stay true to that goal. With every bite, you'll experience the genuine essence of rich cocoa and pure peppermint, ensuring an authentic Thin Mint experience. They are also Kosher dairy approved, made with real cocoa, and contain no artificial colors. Share them with friends during a cozy get-together, enjoy them as a delightful indulgence after a long day, or simply savor them during moments of self-care.
3. Costco's Girl Scout Thin Mints Almonds and Pretzels
If you find yourself craving the delightful taste of Thin Mint cookies while looking for a unique and non-cookie twist, look no further than Costco's Girl Scout Thin Mints Almonds or Pretzels — delightful alternatives that will keep your taste buds dancing with joy. Costco's Girl Scout Thin Mints Almonds ($12.99 per container) or Pretzels ($8.99 per bag) offer a reasonable value without compromising on flavor. The luscious minty taste combined with the satisfying crunch of salty almonds and pretzels is the perfect harmony of sweet and savory, making it a wonderful snack for any occasion.
They are made with high-quality ingredients, ensuring a guilt-free indulgence, and use a combination of real cocoa and refreshing mint. Not only do these treats satisfy your Thin Mints cravings, but they also serve as an excellent Thin Mint cookie alternative for those seeking a more diverse snacking experience. Next time you're at Costco, be sure to pick up a bag of these delightful Girl Scout Thin Mints snacks. If nothing else, these snacks make the membership worthwhile.
4. Oven Baked Fudge Mint Cookies
If you are one of the millions who value easy access to Amazon's magical store of everything, then you will be happy to learn that another fabulous Thin Mint alternative is waiting for you deep in the Amazon database. Introducing Oven Baked Fudge Mint Cookies — a delightful and budget-friendly Thin Mint cookie alternative that will leave you with a smile on your face, and all without having to leave the house. Affordably priced at around $7 a box, these cookies are a bit more expensive than their Girl Scout friends, yet offer convenience and year-round accessibility. Their perfect blend of rich fudge and refreshing mint flavor creates a mouthwatering combination that's sure to satisfy your cravings.
Oven-baked to perfection, these cookies have a satisfying crunch from their shortbread base, and a rich fudge coating that pairs beautifully with coffee or tea. If you're looking for a great Thin Mint cookie alternative, look no further than Oven Baked Fudge Mint Cookies. You can also conveniently find them online through Instacart, making it even easier to get your hands on these delectable treats.
5. Publix Fudge Mint Cookie Squares
Publix is well-known as one of the most delightful grocery stores out there. With top-tier customer service and store organization, it may come as no surprise that Publix also provides a top-tier Thin Mint alternative. Behold the delicious and affordable Thin Mint cookie alternative that's sure to satisfy your cravings — Publix Cookie Squares in the flavor of Fudge Mint.
These cookie squares boast a rich fudge coating and a refreshing mint flavor, offering a delightful treat at a budget-friendly price. They are made with wheat flour, cocoa, and all of the basics, which makes them a close match to actual Thin Mints. They also boast a very similar crunch and flavor profile, even if their shape may be different. Whether you enjoy them with a glass of milk, or savor them as a quick pick-me-up, Publix Cookie Squares are the perfect way to indulge in a mint-chocolate delight. Don't be a square — head to Publix to grab your box, and treat yourself to these scrumptious Cookie Squares today.
6. Back to Nature Fudge Mint Cookies
Back to Nature is a nature-inspired company that fosters an eco-friendly partnership with programs like Plant a Billion Trees and The Nature Conservancy. This makes it incredibly easy to feel good about supporting them when we need a Thin Mint fix later in the year, and their Fudge Mint Cookies hit just the right spot.
With a similar blend of ingredients to that of actual Thin Mints, Back to Nature's cookies use a natural blend of cocoa powder and peppermint oil to achieve their fudgy, minty flavor. The Thin Mint copycats are also Kosher, Non-GMO, and in line with a vegan diet. Additionally, they are free of scary preservatives and artificial colors, which makes them appealing to almost everyone. Their price is not too shabby, either, coming in at around $6.99 per box, depending on where you shop. While that's a bit more than a typical box of Girl Scout Cookies, it's a good deal when you need to tackle a Thin Mint craving at a time that's out of season.
7. Benton's Mint-Striped Fudge Cookies
Aldi is a cost-effective option for savvy shoppers, and provides not only a unique shopping experience, but also a convincing Thin Mint alternative. Aldi sells the popular Benton's Mint-Striped Fudge Cookies, which are fudge-flavored shortbread cookies drizzled with lovely green and minty stripes. While the texture itself is a bit different from classic Thin Mints, some people seem to prefer it. Also, the flavor profile is a close contender, and provides that beautiful chocolate-mint hybrid that you know and love.
One of the areas where Benton's cookies come in as superior is with price. You can normally find these minty cookies at Aldi stores for about $2 per box, which is a steal of a deal compared to a typical box of seasonally limited Thin Mints. They have similar ingredients and are an excellent option for out-of-season cravings, or just to keep on hand because you want a cheaper option.
8. Clover Valley Mint Thin Cookies
Coincidentally, our next Thin Mint copycat is another brand that associates itself with clover-like designs as the Girl Scouts do. Clover Valley Fudge Mint Thin Cookies (nice switcheroo there, Clover Valley) are another readily available option for the lovers of Thin Mints. The brand is sold at Dollar General, and focuses on providing a competitive price in addition to its convincing flavor profile.
With a price tag of around only $2 a box, Clover Valley wins the budget award over the Girl Scouts brand with little to no contest. The flavor of their Mint Thin Cookies is also a good match for the real deal, and provides an almost identical texture and presentation. It's possible that if you freeze them, they'd be indistinguishable. Clover Valley is also known for its other Girl Scout Cookie copycats, and is doing its best work to provide us with delightful and available alternatives year-round at a fraction of the cost.
9. Safeway Fudge Mints
Safeway is a grocery chain that has provided great deals for its customers, and the popular Safeway Fudge Mint Cookies fall in line. At a super affordable price of less than $3 a box, these Fudge Mints offer a cost-effective treat that won't disappoint. With their rich fudge coating and minty goodness, they provide a delightful and satisfying snacking experience that rivals Thin Mints and holds our cravings at bay during the entirety of the year.
Each bite of these cookie delights delivers a perfect blend of fudge and mint flavor, making them a delectable choice for any mint-chocolate lover. Safeway maintains a similar ingredient list to that of Thin Mints when crafting these cookie gems, although it doesn't steer completely clear of artificial flavors. Otherwise, the affordable cookie option guarantees a scrumptious and indulgent taste, making it a convenient Thin Mint cookie alternative. You can find these delightful Fudge Mints easily through their online shop, allowing you to enjoy this delicious treat with just a few clicks.
10. Trader Joe's Dark Chocolate Mint Stars
Trader Joe's, arguably the star of most grocery stores, provides a dose of whimsy with their Thin Mint cookie alternative, and presents its customers with the ever-scrumptious Dark Chocolate Mint Stars. The stars fell into our little corner of the world around 2013, and have charmed mint chocolate lovers ever since. They cost half as much as a normal box of Thin Mints, and can usually be found for less than $2 per box for 10 ounces. The great thing about the stargazing-themed cookie is that they can serve as a cute holiday treat, or can provide a bit of indulgent joy into an otherwise normal day.
With a base of chocolate shortbread, the cookie stars are coated with dark chocolate and fresh peppermint oil, bringing the perfect balance of refreshing mint flavor. For those who love Trader Joe's (and who doesn't?), the Dark Chocolate Mint Stars is a lovely Thin Mint alternative that you can obtain through one of your favorite shopping experiences. It's a win-win.
11. Home Free Chocolate Mint Mini Cookies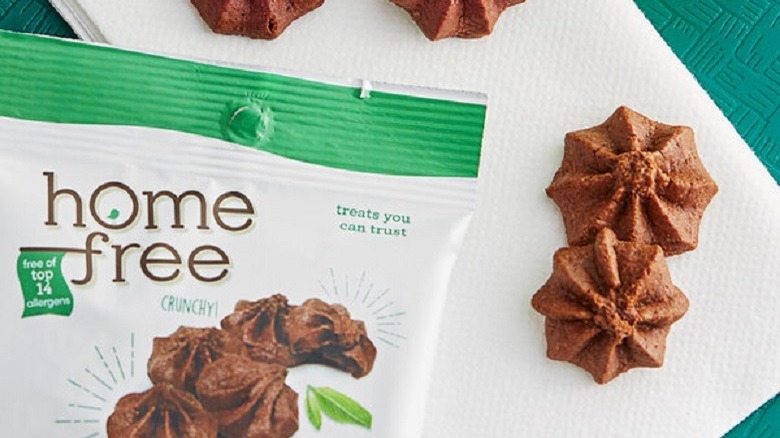 Webstaurant
This one is for the food-allergy sufferers out there. Home Free Chocolate Mint Cookies are the perfect allergen-friendly Thin Mint cookie alternative that will delight your taste buds without compromising on safety! These delightful gluten-free mini chocolate mint cookies offer a delectable treat that everyone can enjoy, even those with diet restrictions. You can buy a case online that contains 30 individual 0.95 ounce bags for around $40.00, which is worth the simply delightful flavor of these cookies. Made with gluten-free whole-grain oat flour, they offer a hearty taste and a satisfying crunchy texture, and the addition of rich chocolate chips brings a sweet and chocolatey goodness that keeps customers coming back for more. Each cookie is crafted with care in a dedicated allergen-free facility, ensuring peace of mind for both you and your customers.
Home Free's commitment to allergen safety is unparalleled. These cookies are free from dairy, egg, peanut, tree nut, potato, soy, sesame, fish, shellfish, rice, corn, gluten, and legume allergens. They are also vegan and Kosher pareve, catering to a wide range of dietary preferences. So, whether you're looking to accommodate dietary restrictions, expand allergen-friendly offerings, or simply treat yourself to a delicious snack, Home Free Chocolate Mint Cookies are the perfect choice. Serve them with confidence, knowing that you're offering a delightful, and allergen-safe indulgence that will bring joy to all your guests. Or keep them all for yourself — we won't judge.
12. Goodie Girl Mint Slims
Another girl-power-inspired company is doing truly meaningful work in society by bringing us a fantastic Thin Mint alternative. Goodie Girl's Mint Slims are the perfect Thin Mint cookie alternative that is addictive to chocoholics, and readily available regardless of the time of year. Priced around $7 per box, Goodie Girl's Mint Slims offer an affordable option for all the cookie lovers out there that stays true to the price point of their Girl Scout-sponsored counterpart. With each cookie's impeccable texture and taste, they provide an irresistible temptation without breaking the bank.
The flavor of these Mint Slims centers around velvety chocolate paired with a refreshing minty twist, with only the finest ingredients in their delectable treats. Real chocolate, pure peppermint, and wholesome gluten-free ingredients come together to ensure a satisfying and guilt-free snacking experience that is a welcome reprieve to the otherwise gluten-filled cookie market. With their thin and crispy texture, Mint Slims offer a delightful crunch in an easy-to-eat size that is full of minty indulgence. Whether you're a die-hard Thin Mint fan, or simply looking to try something new, Goodie Girl's Mint Slims are an excellent choice. Their affordable price, almost identical flavor, and quality ingredients make them a standout alternative to the classic Thin Mint cookies.