Costo's Girl Scout Thin Mint Almonds Are Turning Heads
Thin mints with less guilt? Bring it – right to our snack jars. This latest Costco find helps make up just a little for our pandemic year without samples and door-to-door cookie sales. As shared by social media account Costco Deals, "What!! 1lb @girlscouts #thinmints #almonds found at [pin emoji] Aloha OR @costco! Only $12.99! check your local store for availability! #costcodeals #costco #girlscouts" (via Instagram). Commenting on this hunger-inspiring find, one fan replied, "What in the literal heck. Making a Costco run today lol."
The jar of "Girl Scout Thin Mints Almonds" describes the product as "crunchy almonds coated with mint flavored 100% real dark chocolate." The jar is 30 ounces of chocolaty crunch and each serving of about eight pieces (30 grams) only contains 170 calories, 3.5 grams of saturated fat, 0 grams of sodium, and 7 grams of sugars. In contrast, the original Thin Mints cookies will run you 160 calories for four cookies (32 grams) in addition to 5 grams of saturated fat, 125 milligrams of sodium, and  10 grams of sugars (via the Girl Scouts Cookie Program). The almond version advertises that it has no artificial colors, flavors, or preservatives, but we cannot determine if these are also vegan like their namesake cookie. 
Each jar of almonds sells for $12.99 and is part of an official partnership with Girl Scouts of the USA.
People can't get enough Thin Mints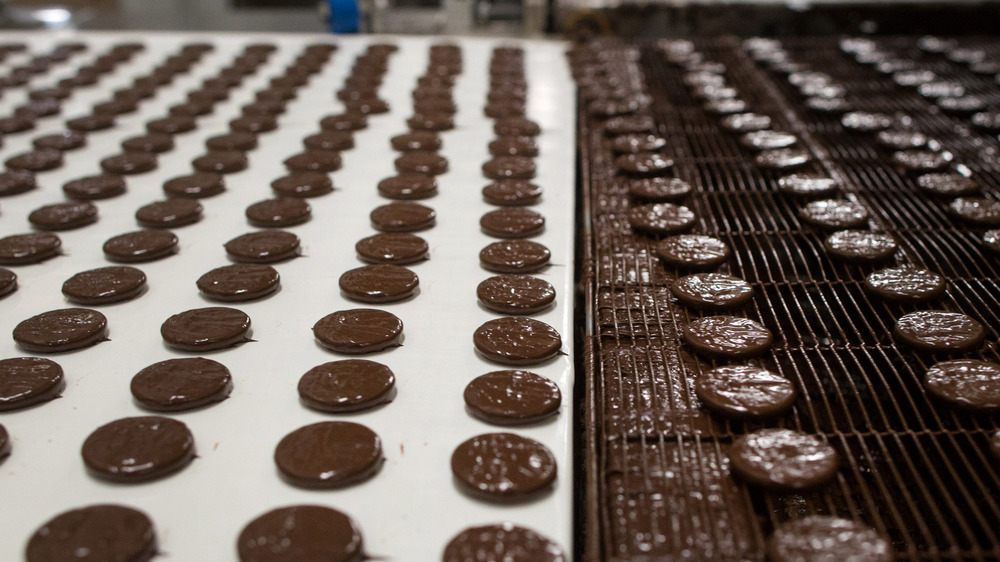 Bloomberg/Getty Images
As described on the jar, "Girl Scouts powers life changing experiences for girls" and the product is official licensed by the Girl Scouts of the USA nonprofit. The love of Thin Mints' signature flavor goes a long way back, and many people wait all year to grab the original cookie. The official Thin Mints name wasn't coined until 1963, but these beloved cookies have been a hit since 1939 (via Pop Sugar). On the box, the treats are described as "crisp wafers covered in a chocolaty coating made with natural oil of peppermint." Clearly, these cookies were in on the essential oils thing before it was cool.
As a top-selling sweet treat in the USA, these chocolate cookies are also joined by hit flavors like Trefoils and Samoas today but topped the charts alongside Shortbread and Peanut Butter Sandwich Cookies in the 1960s. Newer flavors that are sure to be extra delicious also include 2021's lineup of Toast Yay!, Lemonade, Lemon Ups, Tagalongs, Do-si-dos, Toffee-tastic,  Caramel Chocolate Chip, and Graham and Chocolate Girl Scout S'mores (via Girl Scouts of the USA).