The Embarrassing TikTok That Got Gordon Ramsay Crucified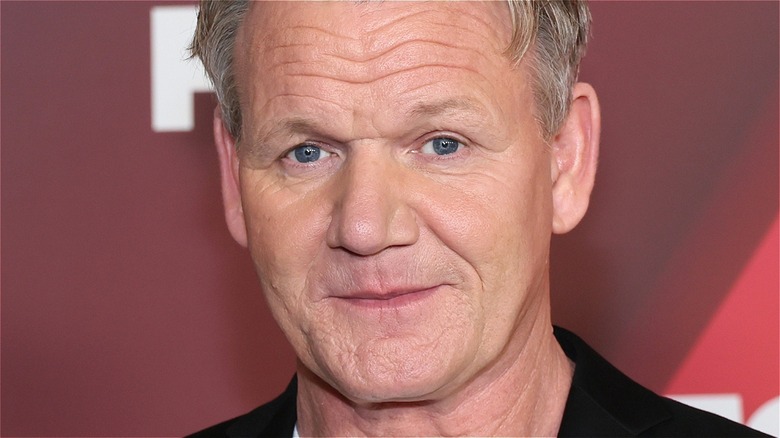 Dia Dipasupil/Getty
If you happen to be one of the almost 40 million followers of celebrity chef Gordon Ramsay's TikTok, then you know of his affinity for remixing other creators' cooking videos and providing his usual animated critique. Whether it's Ramsay being understandably horrified at someone making boiled hamburgers or cringing at another's attempt at cooking a hot mess of a beef Wellington, fans love his professional takes on amateur chefs. However, there was one TikTok video that the "Hell's Kitchen" star made that received a much different reaction from his followers than we're sure he intended.
Dueting an international scrambled egg recipe shared by @larakiye, Ramsay added his usual shock and outspoken criticism towards the creators' handling of the simple recipe. However, the reason Ramsay is taking some heat isn't because of his critique. He mistakenly identifies @larakiye as German when, in fact, they are Dutch. First, he refers to the recipe as "German scrambled eggs" after hearing them start to explain the dish. Later, he yells out, "Nein! Nein! Nein!" when she removes the pan of scrambled eggs from the heat source while the runny mixture needs further cooking. Finally, near the end, he sends off the video by saying, "It does look a little over-cooked, but not bad. Gut gemacht! Gut gemacht!" Although the send-off is German for "Well done," folks were less than impressed with his misrepresentation.
Fans didn't hold back from correcting Gordon Ramsay after TikTok blunder
Gordon Ramsay is one of the most recognizable celebrity chefs because of his involvement with several shows such as "Hell's Kitchen," Kitchen Nightmares," and "MasterChef." However, all that time in the public eye means his blunders will be seen worldwide. In the case of his misrepresenting a TikTok creator as German instead of Dutch, fans did not hesitate to correct and scold the culinary star without reprieve. With over 6,000 comments on this TikTok video, folks were quick to chime in about his embarrassing mistake. "Is that what German sounds like for people that don't speak German?" one person asked, while countless others reiterated their version of "Gordon, this is Dutch, not German."
Although you may think this blunder can be easily shaken off, the timing was also unfortunate. Ramsay posted the TikTok duet on May 3, just before Dutch Remembrance Day on May 4 and Liberation Day on May 5, recognizing those who have lost their lives for the Kingdom of the Netherlands since World War II, so mistaking a Dutch resident of the Netherlands for a German is an error that will not sit well with some people. One commenter said, "How to trigger the Dutch community, saying their German," while another mentioned, "Worst day to call someone German when it's Remembrance Day."