Baskin-Robbins' August Ice Cream Flavor Is A Snack Food Explosion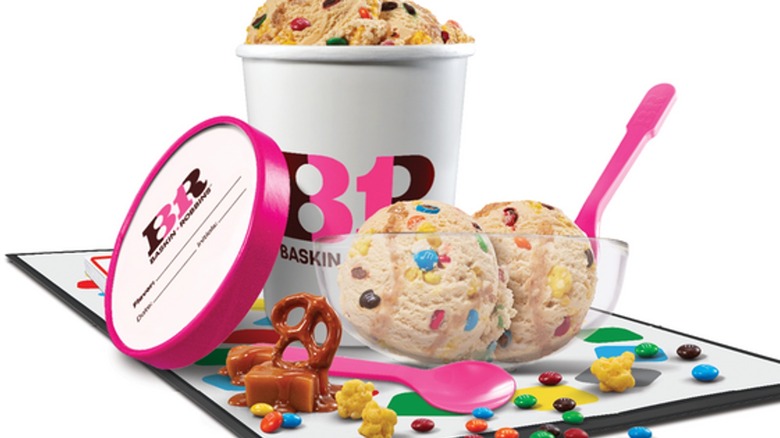 Baskin-Robbins
Every month Baskin-Robbins likes to come up with some kind of creative new flavor that is somehow linked to the season, an upcoming holiday, or some other kind of fun theme. The chain has been doing this for a very long time, as in July of 1976 it came up with Valley Forge Fudge in honor of the nation's Bicentennial, and as far back as 1964 it celebrated the hottest new band on the scene with Beatle Nut. The flavor for August 2023 is marking something a bit less momentous, however, as it is instead a homage to family game night and thus goes by the name of Game Night.
So what, exactly, does a game night taste like? Unlike a game day, which might be expected to have the flavors of beer, chicken wings, and pizza, a game night is apparently all about sweet and salty snacks. Game Night does its best to encapsulate the experience with a salted caramel ice cream base that includes mini M&Ms, popcorn (or "popcorn-flavored clusters," as the press release puts it), and a caramel-pretzel swirl. While sweet and salty as a flavor combination still seems to be pretty popular, Baskin-Robbins may have been wise to capitalize on it now rather than waiting as the trend may be past its peak by now. According to data compiled by Tastewise, there's been a 32% decline in social media mentions of sweet and salty snacks over the past year.
Here's how Baskin-Robbins is promoting its new ice cream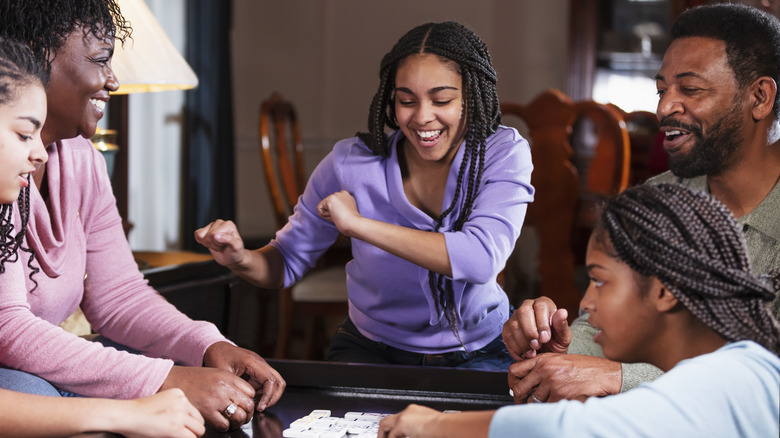 Kali9/Getty Images
Baskin-Robbins does, of course, have a few special deals to help ensure that Game Night is a hit. One of these is a coupon that can be used when ordering via the BR mobile app. The not-so-secret code is GAMENIGHT, and using it will unlock $2 off a carton of fresh-packed ice cream. It's not clear, however, whether this coupon is valid for the small (12-ounce) as well as the large (24-ounce) cartons. This coupon expires on August 15 and is only good on ice cream you'll be picking up in-store as it doesn't apply to GrubHub deliveries.
If you're in the Los Angeles area in early August, you might want to drop by The Grove for a game night (and afternoon) hosted by Baskin-Robbins. The event, which takes place between noon and 10 p.m., is said to feature a variety of games as well as prizes. (No word on which ones they'll be playing, although we imagine these will be more along the lines of Monopoly and Yahtzee than D&D or Magic: The Gathering.) While Baskin-Robbins does not have a permanent location at the shopping center, the pop-up event is advertised as taking place at The Statue (Most likely The Spirit of Los Angeles statue located outside Barnes & Noble.) Even if you're not into playing games, you might still want to swing by this soirée as doing so will score you a free scoop of Game Night.