Aldi Frozen Desserts Ranked Worst To Best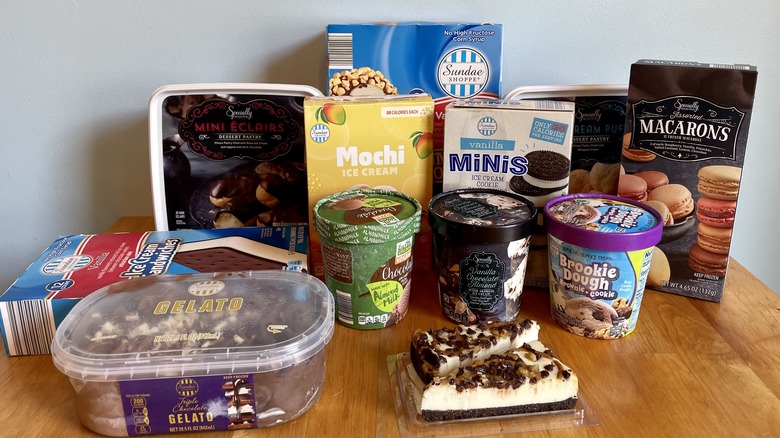 Helena Nichols/Mashed
Aldi does a lot of things differently than other grocery stores. It is well known for its quarter-release shopping cart, and it has had customers paying for plastic bags well before the giant push to reduce waste by charging for single-use bags. It has also kept prices low by supplying its own brands for food and rarely offering name-brand versions. While this can benefit shoppers' wallets, it also means that when shopping there, it is hard to know how tasty a product is until you try it.
So we decided to put Aldi's frozen desserts to the test. To do this, we had to pick which desserts to try. We stuck with Aldi label brands such as Sundae Shoppe, Specially Selected, and Belmont. We also tried to choose regularly available items and forgo seasonal and special products. We ranked each of our selected items from worst to best, determined to find the best that Aldi has to offer.
12. Sundae Shoppe Minis ice cream cookie sandwiches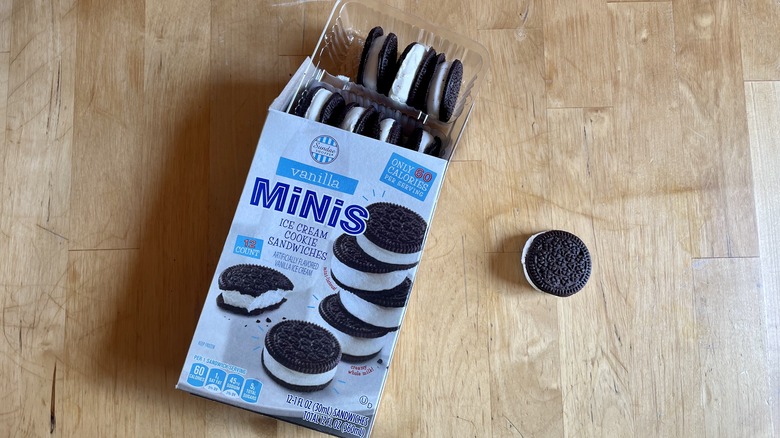 Helena Nichols/Mashed
The Sundae Shoppe Minis vanilla ice cream cookie sandwiches look shockingly similar to Oreos. From the package, you can see that each one has two chocolatey cookies with a design reminiscent of Oreos stamped into them that are sandwiching a layer of vanilla ice cream. (Aldi sells a mint version, too). When you open the package, you realize they are basically the size of an Oreo too, which is to say, they are very small. The packaging does say "minis," so there's a point for honesty in advertising.
These treats have a little more filling than a standard Oreo cookie, but that is about it. Still, we persevered and tried the vanilla flavor. We were surprised to find it did not taste like an Oreo at all. The cookie flavor was intense, but the vanilla ice cream was barely there. Instead of enjoying glorious creations that satisfy our desire for cookies and cream, we get a sad little bite without much substance. The package proclaims that each ice cream cookie is only 60 calories, but to us, you're better off investing these extra calories in a better dessert.
11. Specially Selected macarons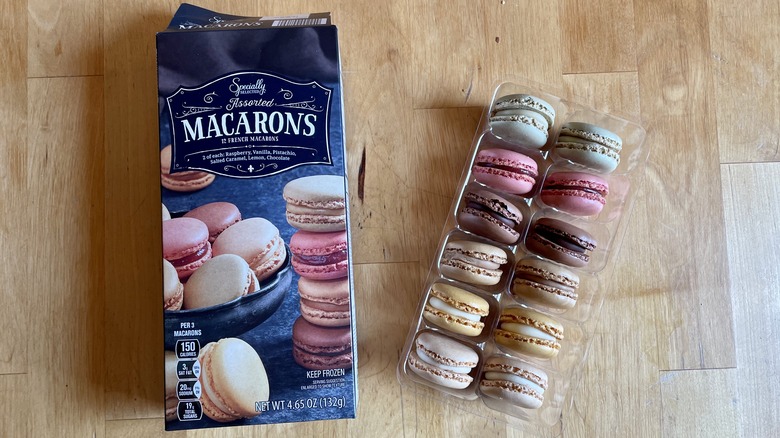 Helena Nichols/Mashed
Specially Selected offers a variety pack of macarons that consists of two of each flavor: vanilla, chocolate, raspberry, pistachio, salted caramel, and lemon. The macarons are smaller than average, which on its own would not be a deal breaker; the problem is their texture. Macarons should have a lovely crisp shell, a chewy inside, and a filling between the two cookies. Though these macarons have the filling, they lack the crispy exterior. They are tough to the point of being difficult to chew. We tried each flavor, and each time it took effort to simply bite through the macarons, even after being fully thawed.
The flavors of each macaron were good, but taste alone is not enough to save these. They look delicious, but we feel we should not have to work so hard to simply eat them. Perhaps it is a result of being frozen, or maybe they are just made that way. Either way, we are not impressed by this frozen dessert.
10. Specially Selected mini cream puffs
Helena Nichols/Mashed
There are a few reasons we do not love these mini cream puffs from Aldi's Specially Selected brand. First, the "cream" does not taste like pastry cream. Instead, it tastes just like vanilla ice cream. We know that is a subtle difference to make, but to us, it makes this dessert feel more like a dough-covered ice cream bite than a light and delicate cream puff.
The "puff," which is traditional choux dough, is also not up to caliber. Whereas choux dough is light and airy, this pastry is dense and almost bready. It lacks flavor and texture, getting soft and a little moist from the ice cream-like filling. Unlike the similar eclair, which appears to have the same dough and comes later on our list, the cream puff does not have chocolate and a decent filling to balance it out and make it more palatable.
Because these cream puffs come in such a big container, we assume the idea is that you can serve them to party guests. However, we suspect that if you did this, there would be plenty of leftovers.
9. Belmont cheesecake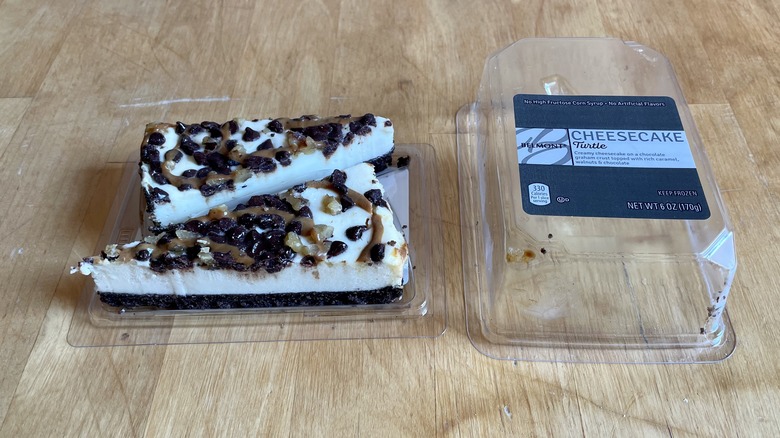 Helena Nichols/Mashed
We honestly thought this Belmont cheesecake would rank higher, but there were some structural issues that prevented it from performing better on our list.
We do appreciate that Aldi has a variety of options, including whole cheesecakes. These Belmont cheesecake twin packs are available in New York style, strawberry swirl, and turtle flavors. The twin packs are perfect for one to two people who are just looking for a little cheesecake bite. The cheesecake filling is creamy and velvety. However, the graham crust does not hold up its end. The slices are fairly short, and a surprising amount of the height is made up of crust.
It is not that we are against the crust, but if you cut each forkful straight down, the crust will be the predominant flavor in the bite. It turns the whole consistency gritty, which is far from the smoothness we expect from cheesecake. In addition, these pieces are generally just small. It is hard to tell from the package, but once it is open, you can see just how tiny each piece really is. We simply expected more from these cheesecakes.
8. Specially Selected mini éclairs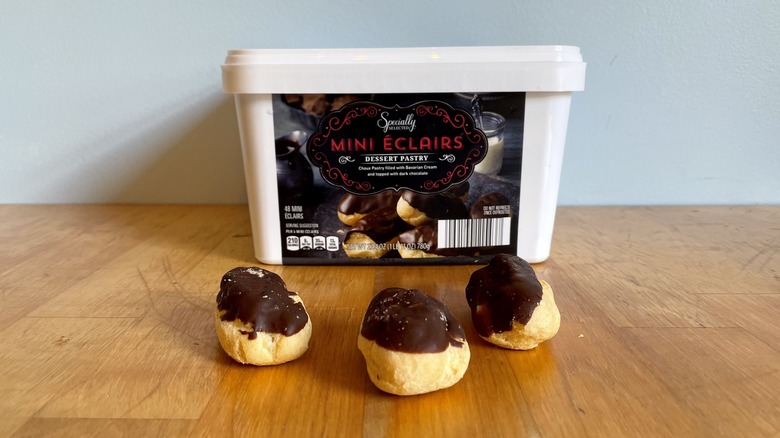 Helena Nichols/Mashed
First, we want to say that when defrosting these mini éclairs, it will take longer than you think and longer than the directions on the package say. We took these out on a hot summer day, and hours later, the center was still frozen. That aside, we are pleasantly surprised by the mini éclairs. The size is perfect and gives the consumer about two bites. While the dough is not fantastic and frankly borders on flavorless, it serves as a vessel for the cream filling and the chocolate on top.
Eaten still partially frozen, the inside is icy and unpleasant, but when correctly defrosted, the interior is creamy and adds a perfect contrast to the shell and coating.
While these bites will never be as good as a fresh éclair, they are perfectly acceptable. The box is huge, though, so unless you plan on defrosting these a few at a time, we recommend having company over to help finish them.
7. Sundae Shoppe ice cream sandwiches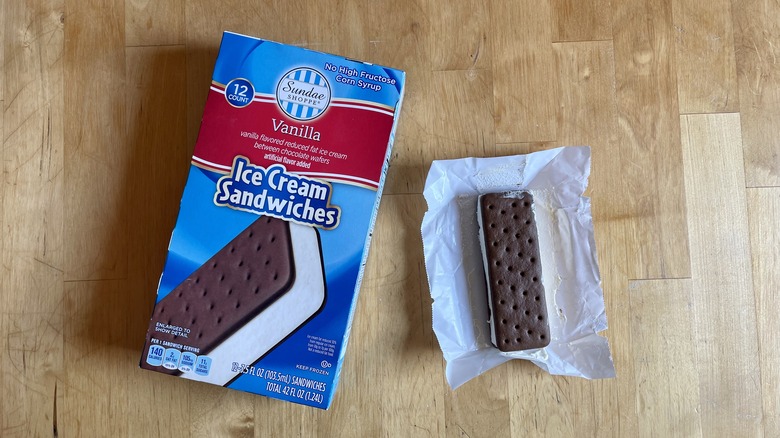 Helena Nichols/Mashed
Thankfully, in addition to the sad mini ice cream sandwiches, Sundae Shoppe also carries a more traditional ice cream sandwich. These treats have vanilla ice cream sandwiched between two chocolate wafers. One bite and you are transported back to childhood, where these were a staple at many school events.
The ice cream inside is light and fluffy, more so than even standard ice cream. This is likely due to it being reduced fat ice cream. While that isn't what everyone prefers, it works well in this sandwich. The wafers have a very mild chocolate taste, not dark by any means, but they provide just enough chocolate flavor to keep it a little interesting.
There is a reason ice cream sandwiches are so popular. They are relatively cheap for a pack of 12, and the chocolate-vanilla combination is mild and generally appealing to children. As adults, these sandwiches are chock-full of nostalgia, if not a refined taste. This dessert is not here to set the world on fire. And the brand is not adding anything new to reinvent the concept. But these treats are a solid choice and as advertised: bare-bones chocolate wafers sandwiching vanilla ice cream.
6. Earth Grown almond milk non-dairy frozen dessert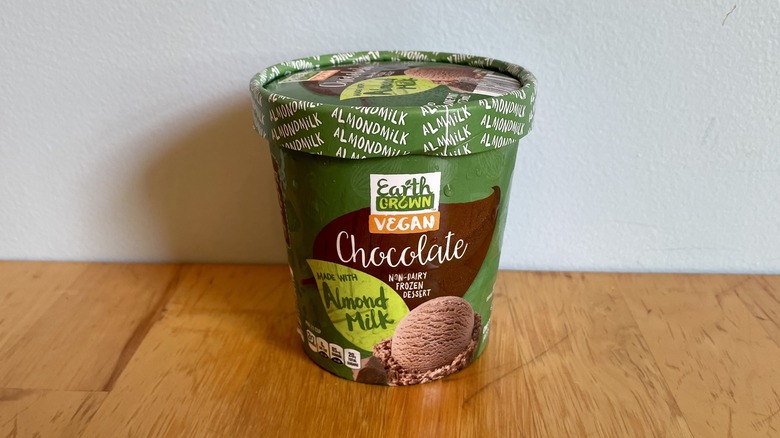 Helena Nichols/Mashed
The Earth Grown almond milk non-dairy frozen dessert comes in three flavors: chocolate, vanilla, and mocha fudge. Dairy-free ice cream can have a multitude of different bases. Aldi also offers coconut milk and oat milk varieties that come and go from store aisles, but the almond milk version is typically available. The difficulty with making an excellent almond milk ice cream is that it is not naturally creamy, as almond milk tends to be thin. So making good almond milk ice cream that feels creamy can be hard to achieve. We were pleasantly surprised to find Aldi did just that.
The chocolate almond milk ice cream is surprisingly silky, and while it does melt thinner than traditional ice cream, we can say that it holds its own better than other almond milk ice creams we've tried. In addition, the chocolate in this dessert is nicely pronounced and flavorful. The cocoa really comes through and effectively adds to the overall experience. While a typical dairy eater would likely still choose a dairy ice cream over this one, the Earth Grown version is an excellent option for those of who are dairy free.
5. Sundae Shoppe mochi ice cream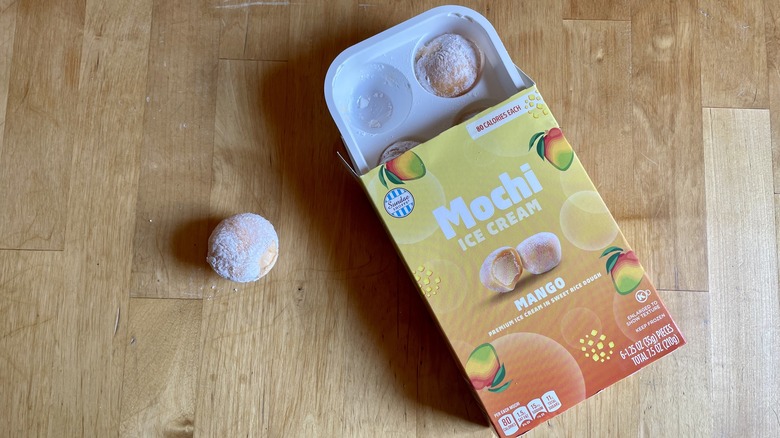 Helena Nichols/Mashed
Aldi has a few different mochi suppliers. The discount store has carried the My/Mochi line in the past and still has it at some locations. Now, though, Aldi's Sundae Shoppe brand has its own mochi ice cream. Currently, it comes in mango and strawberry flavors. 
We tried the mango and were pleasantly surprised. The mochi dough on the outside was soft and chewy, and the mango ice cream inside was rich with just enough fruit flavor. The one downside was that, like a lot of packaged mochi ice cream, there was a lot of starch covering each piece to keep it from being too sticky. We get it: Mochi is tacky. But we had to brush a truly excessive amount of starch off our mochi before eating it. That also made this treat a bit of a mess. 
Still, this is not an issue solely unique to Aldi. We would argue that in taste and experience, the Sundae Shoppe mochi ice cream holds up well against the name brand My/Mochi, and for that, it's definitely worth a try.
4. Sundae Shoppe sundae cones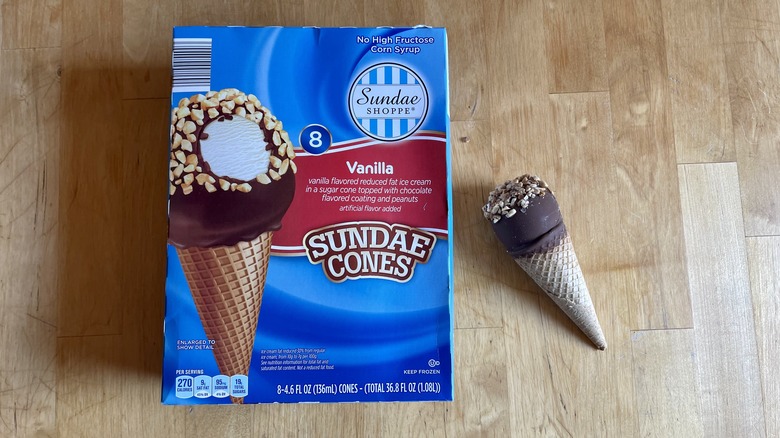 Helena Nichols/Mashed
Ice cream sundae cones are one of the summer's great joys. They combine textures and flavors in a lovely way. The most popular versions of the prepackaged cones are produced by brands such as Blue Bunny and Nestlé Drumstick, but who really wants to pay full price for these desserts? Aldi's Sundae Shoppe cones taste no better or worse than the Drumstick version but come in at nearly half the price.
The Sundae Shoppe vanilla sundae cones we tried feature a sugar cone lined with chocolate, filled with vanilla ice cream, then dipped in more chocolate, and finally topped with peanuts. Aldi also sells varieties that have fudge or caramel in the ice cream's center.
Similar to the ice cream sandwiches, the ice cream inside these treats is reduced fat, which likely helps keep the cone light and easier to eat. That is a good thing because these are pretty big. In addition, these cones have no high fructose corn syrup, which is a nice bonus. Are they the best we've ever had? No. But they are absolutely a competitor for brand-name varieties, and we would say they are a clear winner.
3. Sundae Shoppe gelato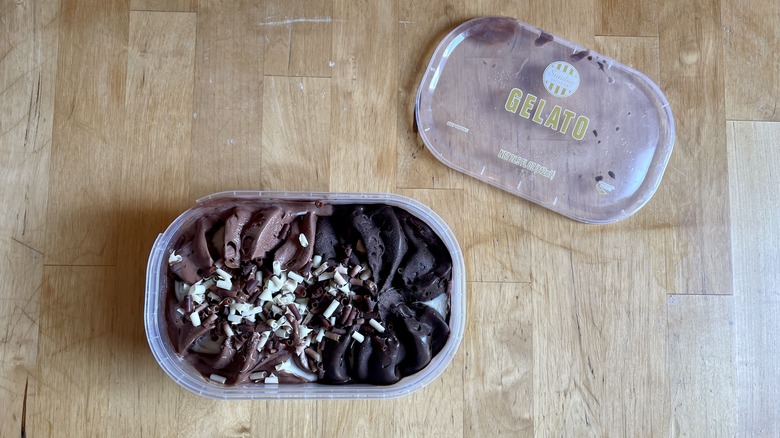 Helena Nichols/Mashed
The Sundae Shoppe gelato comes in three varieties, not that we would know from our visits to Aldi because our store seems to perpetually be low or out of most of the flavors most of the time. The three flavors advertised are caramel cookie crunch, mixed berry, and triple chocolate. We tried the triple chocolate by default, as it was the only one left, and we have to say, we are not disappointed.
The triple chocolate version consists of half milk chocolate gelato and half dark chocolate gelato, each swirled with white chocolate. The whole thing is then topped with chocolate shavings. The first thing we notice is how easily the gelato scoops out of the container. It is luscious and velvety but light enough to scoop right out of the freezer. Each flavor is distinct. The white chocolate offers a milky sweetness to the other two gelato flavors. And if you are a fan of dark chocolate, this dessert will hook you in. The dark chocolate gelato is incredibly dark, to the point of almost being bitter, but it blends beautifully with the other flavors. The Sundae Shoppe gelato is a real winner.
2. Specially Selected super premium ice cream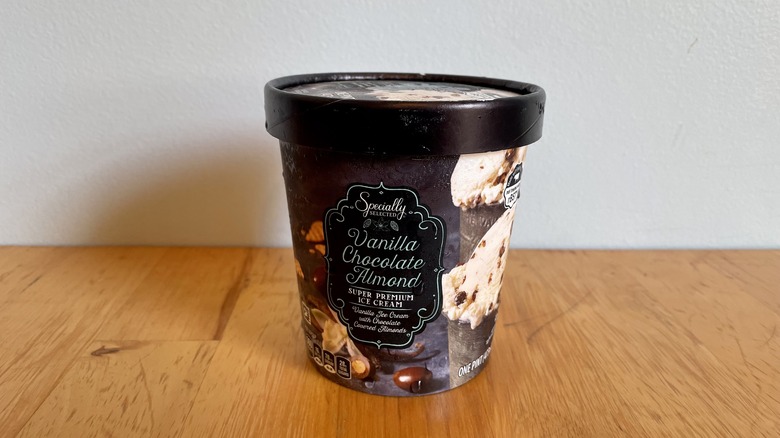 Helena Nichols/Mashed
Aldi's Specially Selected super premium ice cream is frankly incredible. For those unaware, super premium is a designation for ice cream that has a higher fat content, that typically uses high quality ingredients, and that does not have as much air churned into it. We can see Aldi took these qualities seriously in creating its super premium line, which according to the label at the store, wins fan favorite with the chocolate and vanilla flavors. We can see why. The vanilla has just five ingredients, keeping it simple and simply perfect.
The store also branches out and offers a few gussied up flavors, such as the vanilla chocolate almond, which is what we tried. The ice cream is the perfect blend of rich and sweet. In fact, it tastes like old-fashioned ice cream. The chocolate-covered almonds are crushed and evenly distributed throughout the ice cream, making each bite a perfect combination. We appreciate that Aldi does not skimp on the mix-ins, as other brands have been known to do.
1. Sundae Shoppe super premium ice cream assorted pints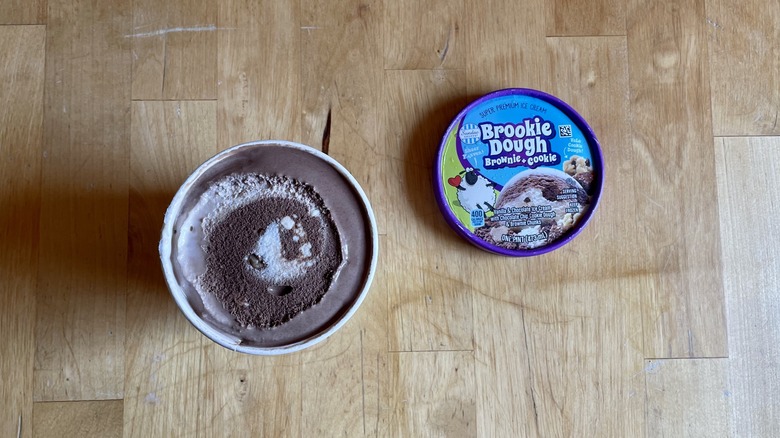 Helena Nichols/Mashed
Aldi goes big with this frozen treat, taking on the reigning king of fun ice cream flavors with funky names: Ben & Jerry's. Each of the three flavors of Sundae Shoppe's super premium assorted ice cream directly riffs off of Ben & Jerry's flavors: Brookie Dough is like Half Baked, Thank you Cherry Much is like Cherry Garcia, and Make Fudge Not War is like chocolate fudge brownie. Going up against such a big name brand is ambitious, but Aldi's super premium ice cream is absolutely a winner.
The Brookie Dough ice cream is especially good, made with chocolate and vanilla super premium ice cream with chocolate chip cookie dough and brownie chunks throughout. The result is a rich and creamy ice cream that is full of mix-ins. While one could argue that Aldi's Specially Selected super premium ice cream comes off as more refined, these assorted pints are simply more fun. We could dig into a pint of any of these flavors and be happy.