Aldi Shoppers Swear This Ice Cream Is Just Like Ben & Jerry's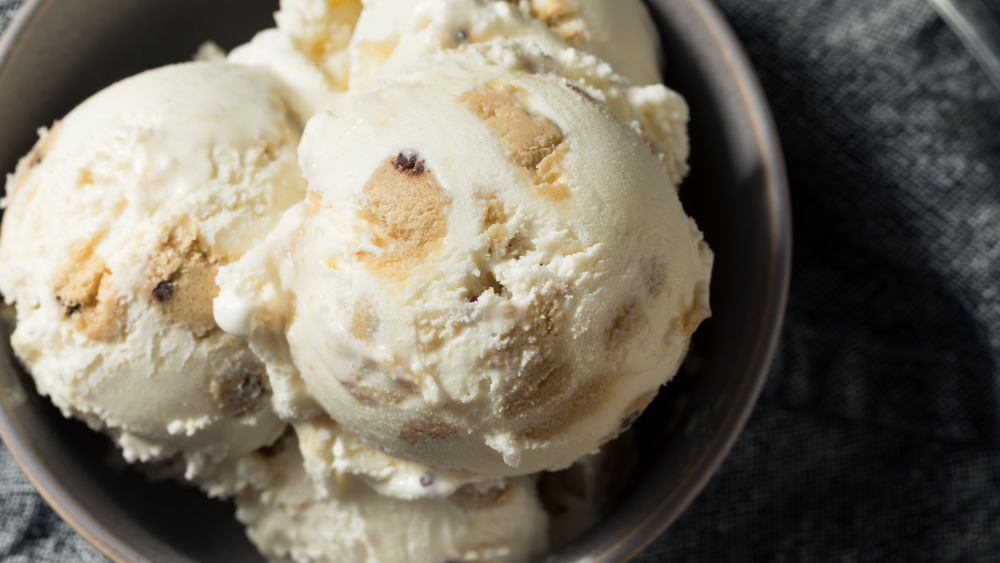 Shutterstock
Ben & Jerry's tops the list when it comes to bringing us ice cream flavors we love and never knew we needed. Flavors like Chunky Monkey, The Tonight Dough, and Americone Dream have truly won us over and inspired a variety of copycats (via Thrillist). While there are recipes out there that attempt to replicate the flavors and textures of these ultimate ice cream treats at home, it's tough to precisely match the joy of cracking open a carton of Ben & Jerry's (via Top Secret Recipes). In fact, when Mashed surveyed 27,000 people globally about their favorite ice cream brand, Ben & Jerry's was the favorite of 39 percent of voters. As we continue the search for an ice cream that can topple this established brand, Aldi and their newest ice cream might just have what it takes to compete.
Instagrammer @theamazingaldi recently posted a picture of three cartons of Belmont's Thank You Cherry Much, Brookie Dough, and Make Fudge Not War ice creams alongside the caption "Did you know that Aldi carries your favorite Ben and Jerry dupes? Which one are you getting?" (via Instagram). Followers have latched onto the post, giving it over 800 likes. Commenters quickly came in with reviews: "We just got these for the first time! I got the Brookie and the husband got Cherry! We liked them a lot and the price even better," and "Brookie Dough is amazing & there's always only ONE when I go."
The newest Aldi dessert you have to try
These latest flavors join the wide selection of Belmont ice cream you can pick up at Aldi. Current selections include favorites like Moose Tracks, Cookies and Cream, Mint Chocolate Chip, and the classic vanilla and chocolate varieties (via Aldi Reviewer). The latest Ben & Jerry copycat flavors have hit stores nationwide and prices vary based on location (via Aldi). As Aldi Reviewer points out, Belmont's Make Fudge Not War is a good dupe for Ben & Jerry's Chocolate Fudge Brownie, while Brookie Dough is most similar to Half Baked. Meanwhile, the cherry ice cream and chocolate chunks of Thank You Cherry Much have to be the closest thing to Ben & Jerry's classic Cherry Garcia.
Make your moves while you can — with an ice cream this good, you can guarantee it will fly off shelves. Get in on the action and decide for yourself if this new frozen dessert can compete with Ben & Jerry's. As one person commented on @theamazingaldi's post, "Just as good [as Ben & Jerry's]. Maybe even better."