Aldi's Best Ice Cream Items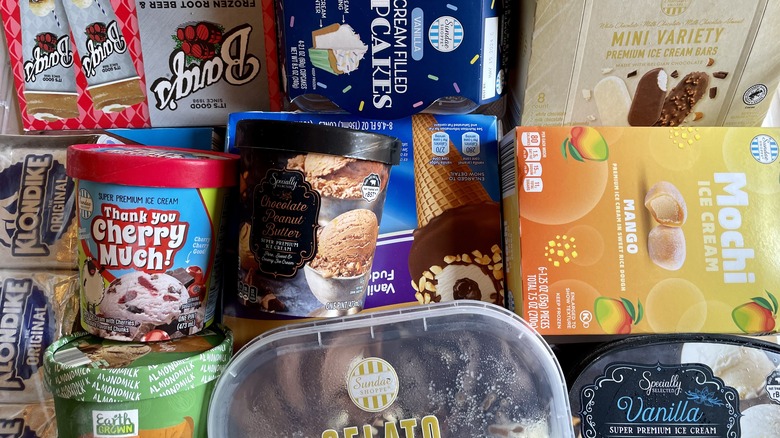 Helena Nichols/Mashed
Ice cream is the perfect solution to cool down when the weather heats up. How can you resist the sweet allure of frozen treats? While many grocery stores have large aisles filled with every kind of ice cream imaginable, those who shop at Aldi know that the company is far more selective about what it brings in. Many of the products at Aldi are made by one of the company's house brands. Products come and go, which makes it hard to know what is available and whether it is worth trying.
Not all generic brand foods are good, but Aldi has a solid history of sourcing quality products. Still, when faced with a wall of ice cream, it can be hard to know what to spend your money and freezer space on and what to leave on the shelf. We compiled a list of the best Aldi ice cream products, so you know what to get on your next grocery trip. You'll find some solid cold classics, as well as new flavors, all of which are sure to please your taste buds.
Sundae Shoppe donut bars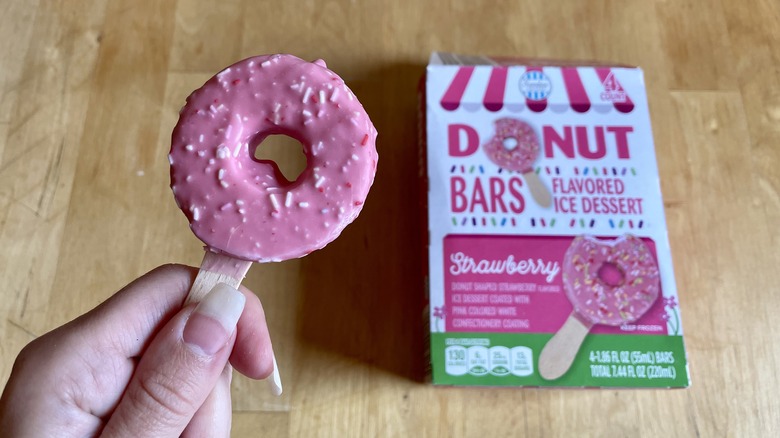 Helena Nichols/Mashed
If you are looking for a small treat, Sundae Shoppe donut bars are the way to go. It is always a good sign when packages are running low, and when we went to grab some for ourselves, the shop was down to just one package of the strawberry variety. While we may not have gotten a choice in the flavor, we are in love with strawberry. Instead of tasting like "strawberry flavoring," the ice cream tastes like actual strawberries. The coating, too, with the sprinkles, provides a nice crunch to balance the creamy inside. 
These are not technically considered ice cream, as the USDA has specific regulations on using the term ... nor are they donuts. They are donut-shaped flavored ice desserts. That being said, we are sure pink donut connoisseur Homer Simpson would approve. In addition to being downright adorable, they are pretty tasty too and come in three flavors: chocolate, vanilla, and strawberry. 
Redditors enjoyed them, as did Aldi Reviewer. According to the label, they are made with fruit and vegetable-based colors, which is a nice bonus. These are definitely on the sweeter side, even for ice cream desserts, but they are small enough not to overwhelm your appetite, making them the perfect size for kids or adults who just want a little treat.
Barq's frozen root beer & vanilla ice cream float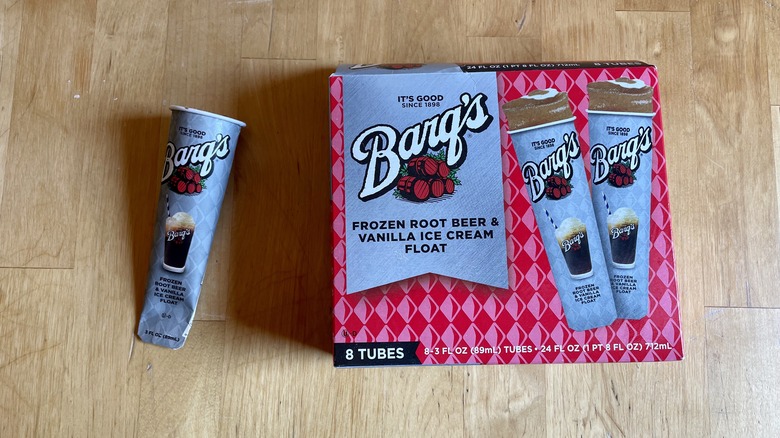 Helena Nichols/Mashed
The root beer float has been delighting consumers since 1893. Originally, the treat was called Black Cow Mountain, after the snow-topped mountains that inspired Frank J. Wisner to put dark-colored root beer and vanilla ice cream together. Since then, the root beer float has found its way into the hearts of many, thanks to the combination of sweet and spicy flavors, and a consistency that is somewhere between a drink and dessert. 
Root beer floats can be a bit of a pain to make though, which is why we are so glad that Aldi carries Barq's brand frozen root beer and vanilla ice cream float. Each tube contains a swirl of root beer flavored ice and vanilla ice cream. This had the potential to go very wrong, as turning one food into another kind of food often does, but Barq's managed to pull this one off. These tubes really do taste just like a root beer float. The push pop keeps it contained and prevents it from melting in your hand, which makes this a clean eating experience, as well as a delicious one. 
The internet is buzzing with the arrival of the Barq's Root beer float tubes just in time to keep us cool for the summer. As a limited seasonal product, if you see them, make sure to buy a box.
Sundae Shoppe vanilla ice cream filled cupcakes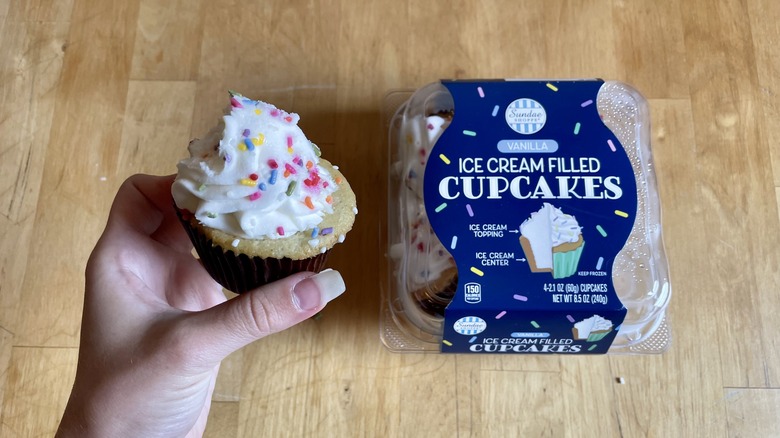 Helena Nichols/Mashed
How can you complain about the classic combo of cake and ice cream? There's no need for it to be someone's birthday to enjoy the pairing; you can just pick up a four-pack of these Sundae Shoppe ice cream cupcakes. Committing to a whole ice cream cake entails a lot of money and freezer space, but that does not mean you should be denied such a pleasure. The Sundae Shoppe ice cream filled cupcakes are simple but effective and consist of vanilla cakes filled with ice cream and topped with even more ice cream. Sprinkles are added on top because sprinkles make everything better.
Reddit reviews are generally positive, with people being unable to stop themselves from eating all of the cupcakes. But hey, that means they will not take up extra space in your freezer for long. The cupcakes may be simple, but they are effective. Unlike a full cake which must thaw a bit before you can cut and eat it, these were ready right from the freezer. The cake stayed soft but held its form, and we appreciated that in lieu of a whipped topping, it was topped with ice cream, which made for a cohesive bite. While these aren't Cold Stone ice cream cakes with multiple toppings, fillings, and extras packed in, you will not be sorry if you pick up a pack of these. And since it is Aldi, your wallet will be happy too.
Earth Grown plant based caramel dessert bars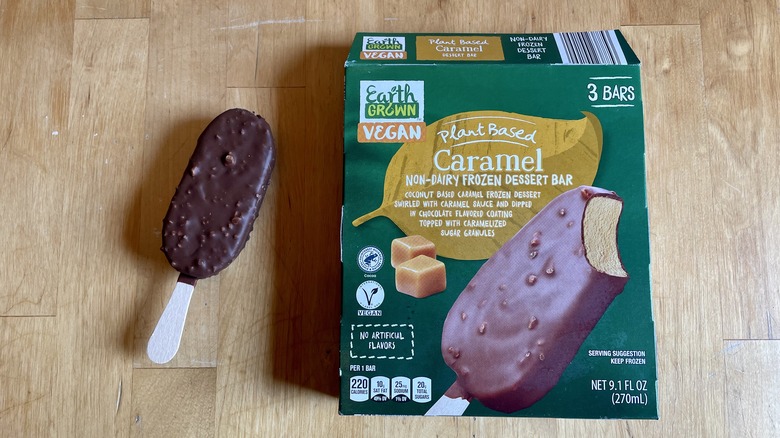 Helena Nichols/Mashed
Aldi does not leave its plant-based friends out in the sun to suffer. The Earth Grown brand makes plant-based, non-dairy frozen dessert bars that will cool you down and quench your desire for a frozen treat. They come in two flavors: coconut milk-based caramel and oat milk peanut butter. These treats are surprisingly creamy for vegan bars, especially the peanut butter ones. 
The caramel bars are the perfect balance of a molasses-like flavor from the caramel and smooth, creamy chocolate. The chocolate coating has small pieces of crunchy caramel, which rounds out the texture and brings the whole bar together. Each bite has sweet, crunchy, and creamy packed into it. Even people who enjoy traditional ice cream, like we do, can attest that these bars are absolutely drool-worthy. Commenters on Aldi Reviewer raved about them, with one stating they previously tried other brands but nothing holds a candle to Earth Grown. 
Getting a store-brand item can be risky, but Earth Grown plant based bars are pretty much a slam dunk. Each box only comes with three bars in it, so if you find a flavor you like, we recommend stocking up. Or, pick up a box of each flavor and test them all out.
Original Klondike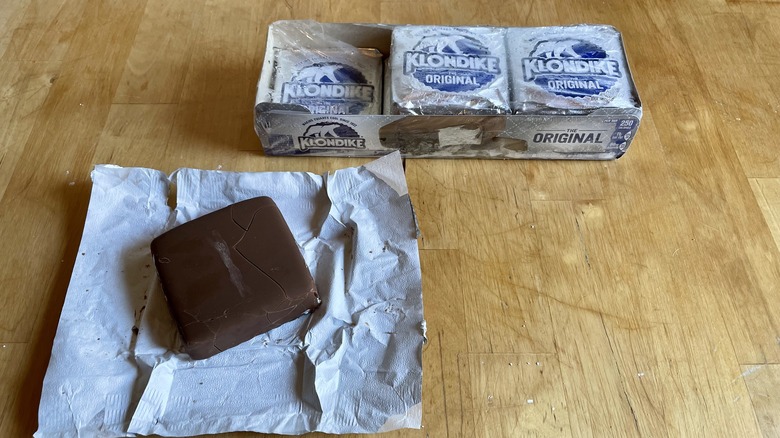 Helena Nichols/Mashed
Every now and then, Aldi graces its shelves with a name-brand product we all know and love. This year for the summer, Aldi has Klondike bars. Sometimes you just need the comfort of a familiar brand, but that doesn't mean these are entirely the same. There is one crucial difference between Aldi Klondike bars and those sold at other stores — the price.
A six-pack of Aldi Klondike bars was more than a dollar cheaper per pack at Aldi versus our local Target, which is so close to the Aldi, you can see it from the parking lot. The brand's slogan proclaims, "What would you do for a Klondike bar?" The one thing you shouldn't have to do for a Klondike bar, though, is overpay. You should be able to enjoy the cold, creamy ice cream coated with a crunchy and melty chocolate layer. It is honestly hard to beat a Klondike bar. You will get messy eating these, and you will enjoy every minute of it. We are glad to see that Aldi opted to bring in a classic to give the people what they want.
Sundae Shoppe mini variety premium ice cream bars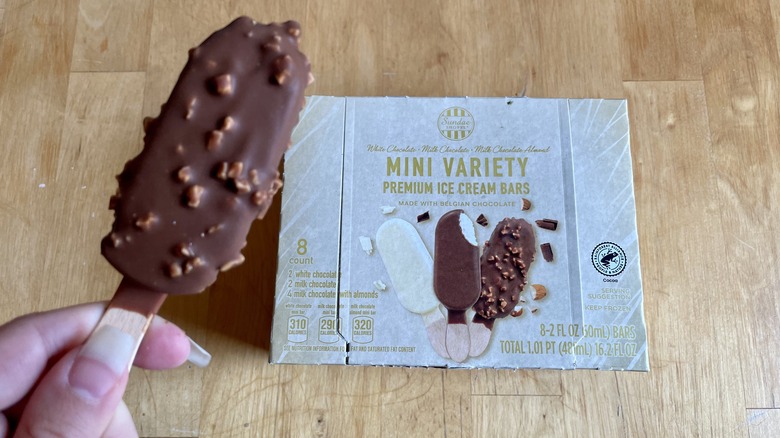 Helena Nichols/Mashed
Aldi makes a number of ice cream bars on a stick. Let us be clear; we are not talking about Sundae Shoppe's ice cream bars that come in a blue box. These are made with "chocolate flavored coating" and subpar ice cream. Sure, they are fine in a pinch, but why would you choose them when Sundae Shoppe makes premium ice cream bars? Our favorite is the mini variety box which contains white chocolate, milk chocolate, and milk chocolate almond-flavored mini bars. 
Each bar is made with premium ice cream, which has a higher fat content and better ingredients, coated in Belgian chocolate. There is a noticeable taste difference. We know there is a significant price difference, but trust us, it is worth it. After trying one of each bar, we can say that the premium ice cream bars blow the others out of the water. The ice cream is noticeably denser and creamier, and the chocolate has a nice snap and melts delicately in your mouth. Even the white chocolate variety, which often goes unappreciated, provides a decedent eating experience. These bars may be small, but they are backed by quality. 
Sundae Shoppe ice cream sandwiches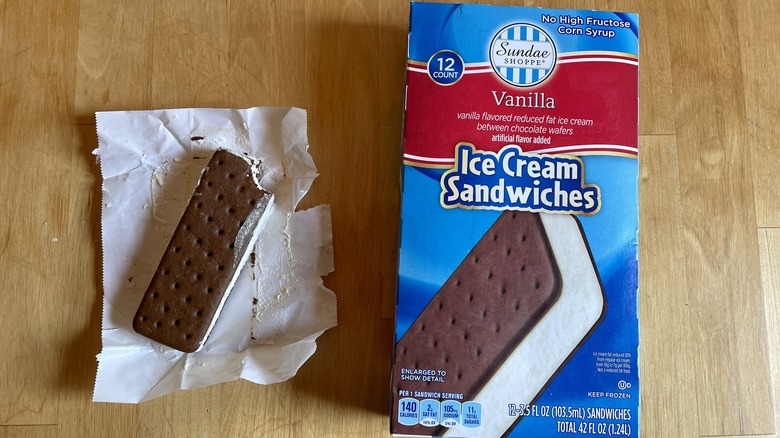 Helena Nichols/Mashed
Sundae Shoppe vanilla ice cream sandwiches offer a taste of childhood, and one bite will send you back to hot days on a playground. According to the label, they are made with reduced-fat vanilla ice cream and two chocolate-flavored soft wafers to create a rectangle of pillowy goodness. Do not hold the low fat feature against this product. In a way, this actually serves the bars by keeping them light instead of dense, which makes them the perfect dessert. Biting into one is like biting into a cloud. It is pure nostalgic heaven. 
We contend that you could put Sundae Shoppe ice cream sandwiches up against any name brand, and we are not the only ones. While Aldi Reviewer finds Blue Bunny's version of the product to be slightly creamier, a commenter counters that Aldi's is the best. We are inclined to agree; not only are they tasty, with an excellent balance of soft and substantial textures, but the Aldi ones come in a larger pack at a fraction of the price of Blue Bunny. Each pack comes with 12 ice cream sandwiches, making this ideal for feeding groups of kids or adults during the hot summer months. If you break these babies out during a party, no one will be mad about it.
Specially Selected chocolate peanut butter ice cream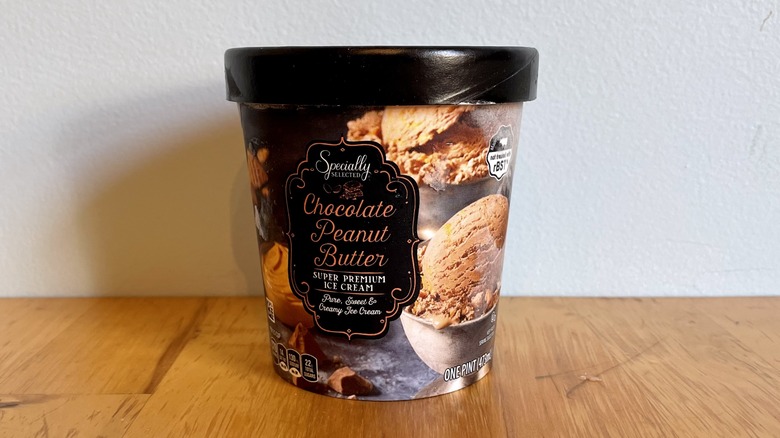 Helena Nichols/Mashed
Aldi has a huge selection of ice cream, and with so many flavors to choose from, it's helpful to highlight the best. Specially Selected chocolate peanut butter ice cream will satisfy all your desires for creamy, decadent ice cream. Aldi shoppers love this ice cream. A Reddit thread proclaimed it one of the best flavors available, with one comment comparing it to Häagen-Dazs chocolate peanut butter ice cream. Not bad for a store-brand pint.
This flavor usually goes one of two ways: It can be dotted with chocolate peanut butter cups, or like this Aldi pint, it consists of a base of super premium chocolate ice cream with ribbons of peanut butter mixed throughout. To us, the latter creates a product that is a masterpiece all on its own instead of relying on add-ins for interest. According to the label, ingredients are short and simple, with no corn syrup or artificial flavors — and you can really tell. 
The chocolate ice cream is not overly sweet and the deep cocoa flavor is present. The ice cream is ultra-rich and has a pleasant contrast with the peanut butter, which freezes slightly and provides a texture that is almost, but not quite, crunchy. Rather than tasting like a sweet Reese's Cup, it tastes like a dark chocolate Justin's peanut butter cup.
Belmont Thank You Cherry Much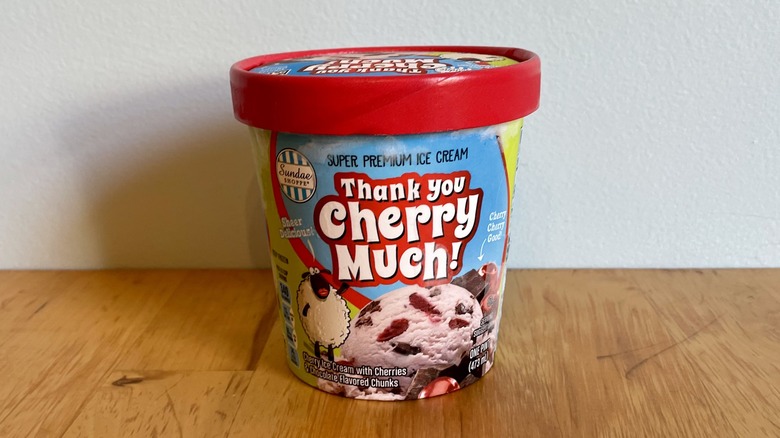 Helena Nichols/Mashed
Of course, some people are more of the Ben & Jerry's type rather than a Häagen-Dazs fan. Don't worry — Aldi has you covered with its own line of ice cream that nearly replicates some of the most popular Ben & Jerry's flavors.
We have to admire Aldi's Belmont ice cream's commitment. Not only are the flavors copies of Ben & Jerry's, they even have appropriately hippy and pun-filled names. There is Make Fudge Not War, a play on the chocolate fudge brownie and brookie dough, which is a twist on Half Baked. The one we are most impressed by is Thank You Cherry Much, a nearly perfect match for one of Ben & Jerry's most popular flavors, Cherry Garcia.
Thank You Cherry Much comes in a pint and consists of cherry ice cream with cherries and chocolate chunks. The ice cream itself is fruity and flavorful, with the chocolate and cherry chunks well distributed. The fruit and chocolate come together in perfect harmony, making this a frozen masterpiece. But you do not have to take our word for it; reviewers on Reddit were blown away by the similarities between Thank You Cherry Much and Cherry Garcia. Not only does it taste the same, but it comes in much cheaper than its name-brand counterpart. You can't go wrong with any of the Belmont ice creams, but Thank You Cherry Much is particularly special.
Specially Selected super premium vanilla ice cream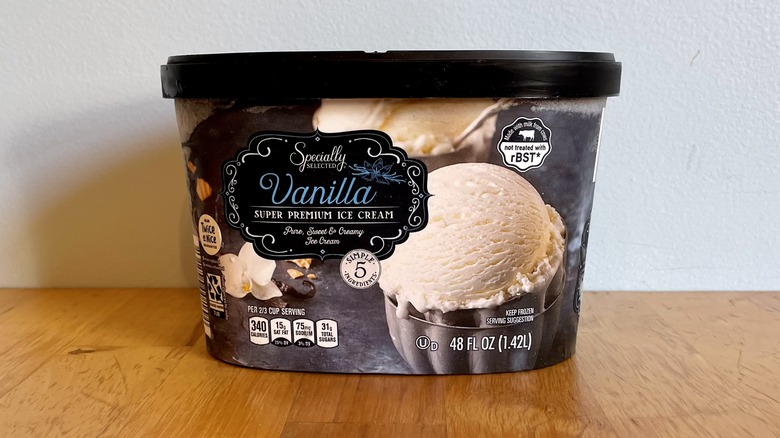 Helena Nichols/Mashed
Sometimes you can't beat a classic. You may wonder how plain old vanilla ice cream made it on this list, and that is because this is no boring vanilla. Aldi makes a couple of different types of vanilla ice cream, but it is the Specially Selected vanilla that is a scoop above the rest. This super premium ice cream is made with just five ingredients according to the package: cream, skim milk, sugar, egg yolks, and vanilla. It is unadulterated, simple, and delicious, and the texture is creamy and light while still feeling substantial. Other versions, such as the Sundae Shoppe vanilla, low fat, and the vanilla light ice cream pail, just can't compete. We would even say that we would pick this vanilla ice cream over many name-brand versions; the quality ingredients just make it too delicious.
This particular ice cream is so good that according to the label in the store, the Specially Selected vanilla and chocolate ice cream won the 2023 Aldi Fan Favorites, an annual survey where Aldi shoppers get to vote for their favorite products in a category. It speaks volumes that this ice cream beat out other arguably fancier products. Plus, this flavor is versatile; have a bowl, add your favorite toppings for a sundae, or pair it with a slice of pie. The options are endless.
Sundae Shoppe sundae cones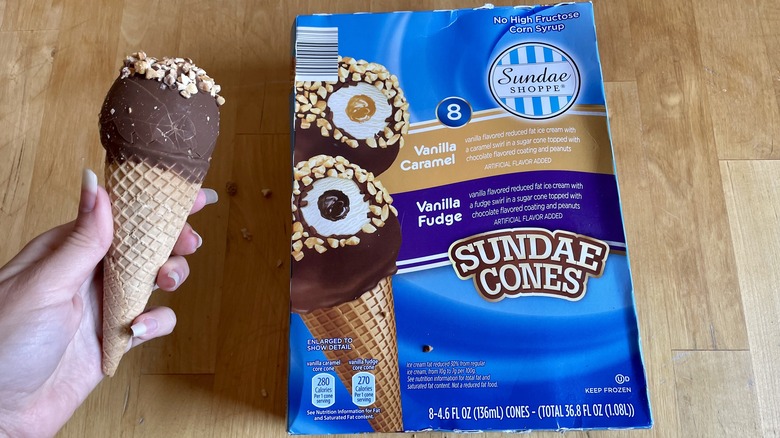 Helena Nichols/Mashed
Move over Drumsticks, these sundae cones are taking center stage, and they are delicious. Once again, we see Aldi coming in with a version that is both cheaper and arguably better than the original. Aldi offers a couple of different flavors, but the fudge and caramel sundae nut cones are worth the extra attention. They are made by Sundae Shoppe and are regularly available at Aldi, unlike some of the brand's other products that rotate in and out.
Each sundae cone is made with low-fat vanilla ice cream, coated in a chocolate layer, and placed on a sugar cone. The fudge and caramel sundae nut cones are also topped with chopped peanuts and filled with either caramel or fudge sauce. The thing that is really great about these is that include a whole sundae in one. You get the crunch from the nuts and chocolate combined with smooth ice cream and slightly chewy fudge. Just when you think you have run out of crunch and chocolate you hit the cone, which is coated inside with even more chocolate. Don't expect a gourmet ice cream treat, but when compared with Nestle's Drumsticks, these absolutely hold their own.
Sundae Shoppe mochi ice cream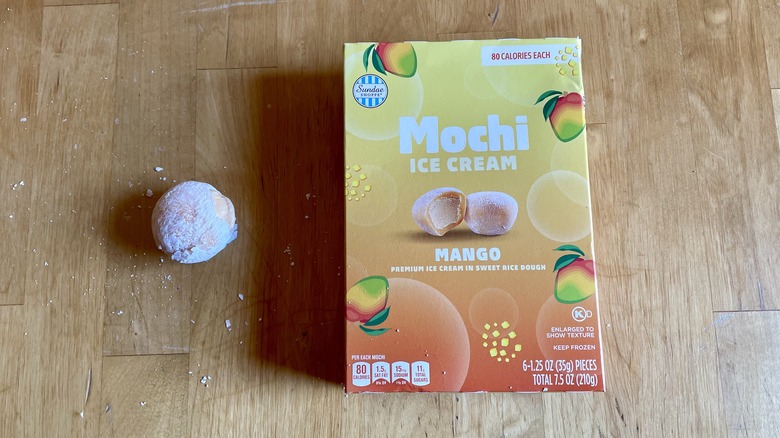 Helena Nichols/Mashed
For a long time, Aldi offered My/Mochi mochi ice cream. In fact, at the time of this article, My/Mochi is still listed on the Aldi website, while Sundae Shoppe is not. However, Aldi now sells Sundae Shoppe mochi products, and we are happy to say these absolutely pass the taste test.
The dessert is available in cookies and cream, strawberry, and mango, which are also the same flavors that My/Mochi sold at Aldi. We have to say, after trying the mango, we could not taste the difference between this brand and the previous product. They are light, sweet, and of course, sticky, but they make a great summer treat. The mochi is pillowy and soft, and the ice cream is refreshing and creamy. There is nothing about this we would change, except maybe to get more of them in a box. While we have not tried the other two flavors, if they are as good as the mango, we will be fans forever.
Earth Grown non-dairy frozen dessert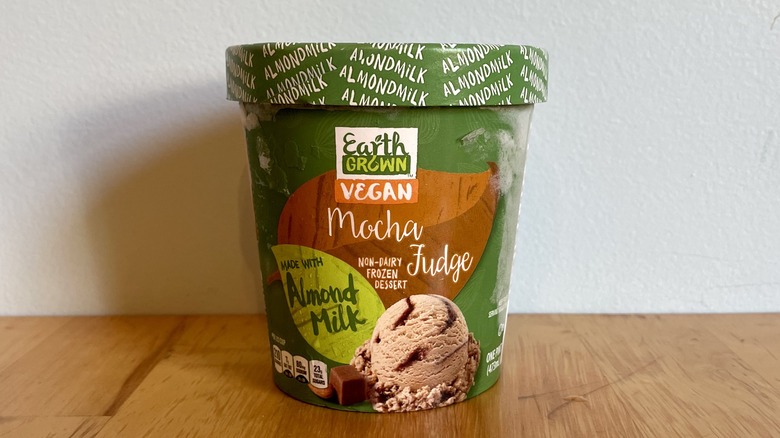 Helena Nichols/Mashed
Once again, we cannot leave out our dairy-free friends in our frozen dessert selection. Aldi has multiple lines of ice cream made with almond, coconut, and oat milk. They all have merits, but we chose to feature an almond milk product because it is the one most consistently in stock, and the texture is on point.
For those looking beyond basic chocolate and vanilla flavors, we recommend the mocha fudge, which features chocolate ripples in a coffee ice cream. The coffee is not shy, and you can smell it as soon as you open the pint. Still, the flavor is not immediately overwhelming and instead, you get a creamy coffee flavor akin to a milky iced coffee. This melds seamlessly with the fudge, which is just gooey enough to be pleasant in the mouth without being difficult to scoop. Even people who eat dairy will want to grab a pint to savor every creamy spoonful.
Reviewers on Go Dairy Free rave about its consistency and taste. People comment on the creaminess of the ice cream and praise the quality of the cocoa. We are not surprised to see Aldi doing well in the chocolate department, as the company is known for its quality chocolate. 
Sundae Shoppe gelato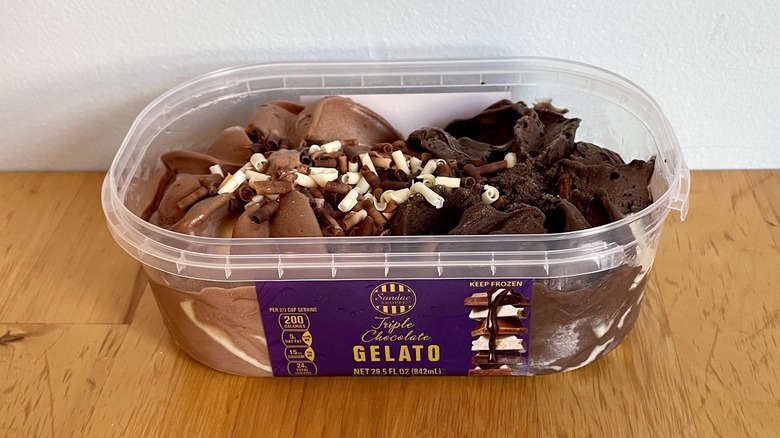 Helena Nichols/Mashed
Summer is definitely a time for a treat, and if you are feeling fancy, Aldi's Sundae Shoppe gelato is the way to go. The flavors of gelato Aldi carries have changed over the years, but that has not stopped people from obsessing over them. Currently, Sundae Shoppe gelato is available in three flavors: triple chocolate, mixed berry, and caramel cookie crunch. 
We tried the triple chocolate, and it is perfect for the chocoholic in your life. The gelato is piped into the plastic container in a swirled pattern consisting of white, milk, and dark chocolate, all topped with shaved chocolate. It is rich, creamy, and absolutely decadent. Since the milk chocolate and the dark chocolate are separated, we found scooping along the length of the container allowed us to get all three kinds of gelato in one. Don't worry about letting it soften before scooping either as this gelato is astoundingly easy to scroop right out of the freezer. What surprised us most was that each of the three gelatos had such distinct flavors. The dark chocolate truly tastes like earthy dark chocolate, and the white chocolate offers subtle caramel notes. When you pair them with milk chocolate, the three meld in perfect harmony while retaining their individual flavors.
A container of gelato will almost certainly not last long, as it is so irresistible that you are likely to go back for more helpings. If chocolate isn't your thing, try the other flavors. No matter what you do, pick up some gelato to taste.