Turn Leftover Buffalo Chicken Dip Into A Mouthwatering Sandwich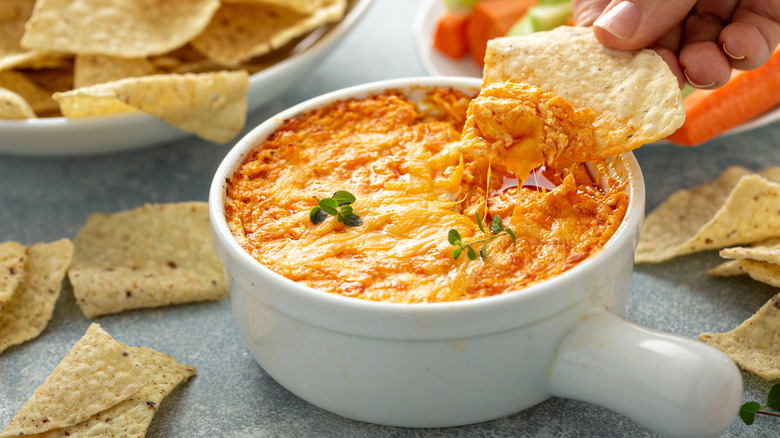 Elena Veselova/Shutterstock
Picture this: The party is over, and some of the tantalizing Buffalo chicken dip you made is still in the serving bowl. You could either pop it in the fridge or bust out the bag of tortilla chips if your stomach still has room to spare. Better yet, the remnants can embark on a mouthwatering makeover journey — one involving everyone's favorite handheld meal. Say "hello" to your new favorite nosh: the Buffalo chicken dip sandwich.
Buffalo chicken dip is a creamy, spicy, chunky, and undoubtedly iconic appetizer that combines tender shredded chicken, zesty Buffalo sauce, mild, slightly sweet cream cheese, and a mélange of spices. While irresistible when paired with crunchy chips, crackers, or veggie sticks, it offers a perfect blend of savory and spicy notes that can convert a simple sandwich into a novel taste sensation. The transformation from a casual dip to a succulent sandwich is a culinary leap that requires minimal effort but promises maximum delight.
Buffalo chicken dip can complement a variety of sandwiches
By using Buffalo chicken dip in a sandwich, whether spread on a hearty roll, tucked into a wrap, or layered between slices of artisan bread, you can not only prevent food waste but also open the door to a quick and convenient meal option. 
Whip up a traditional grilled cheese, add it to a burger, or accompany it with your favorite lunch meat-stacked hoagie, hero, or sub — whatever tickles your taste buds! Incorporating complementary ingredients — such as crisp iceberg or romaine lettuce, juicy tomatoes, and cooling ranch dressing or blue cheese crumbles — can create a harmonious balance of flavors and textures.
The richness of Buffalo chicken dip has the power to play a pivotal role in creating a mouthwatering sandwich experience. The soft consistency and tangy notes of the cream cheese and zippy hot sauce offer a delightful zing, infusing an invigorating kick into every bite. Leftover Buffalo chicken dip need not be resigned to the depths of the fridge. With a little imagination, it can be reinvented into a masterpiece that satisfies cravings and sparks joy.