Give Snickerdoodle Cookies A Peachy Twist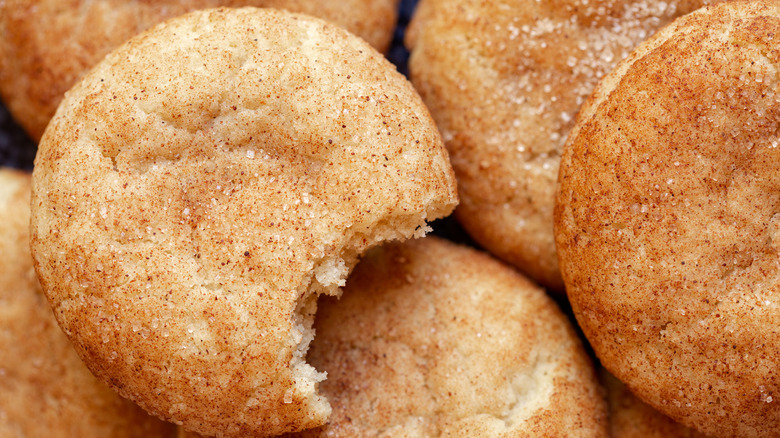 Linda Hughes Photography/Shutterstock
There's perhaps nothing tastier to eat in the summertime than seasonal fruit desserts like cobblers, pies, and sorbets. These classic desserts are bright, cooling, and comforting. Plus, they make summer evenings even better. Although cookies might not be the first dessert you would think to pair with fruit, a TikTok recipe helps snickerdoodle cookies form an unlikely alliance with the most summery fruit — peaches.
The uniquely-named cookie is a favorite of many and goes quite well with peaches. So, what makes this combination work? The answer lies within a classic peach cobbler's butter and cinnamon flavors. The snickerdoodle's cinnamon-sugar coating and high butter content are reminiscent of a standard crumble topping, a key component of fruit cobblers. This composition makes for a naturally harmonious pairing with peaches, often flavored with cinnamon in standard cobbler recipes. 
To make this summery snickerdoodle, first, bake a dependable snickerdoodle cookie recipe and slightly indent the tops of the cookies when they are fresh out of the oven, as this will act as a mini bowl for the fruit later. Separately prepare a peach compote, a simple crumble topping, and a cinnamon-sugar glaze (if desired), then assemble!
Other fruits to pair with snickerdoodle cookies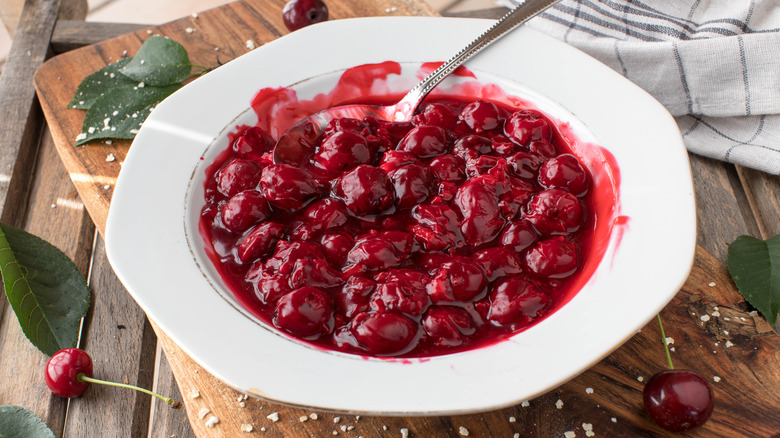 Angelika Heine/Getty Images
Peaches aren't the only fruit you can elevate with the simple flavors of snickerdoodle cookies. Summer is the season of berries and stone fruits, which work excellently in compotes. While many summer fruits can become a compote, giving you myriad options to work with, some pair more effortlessly with this cookie base than others. 
Consider a cherry almond twist. By subbing vanilla extract for almond extract in your cookie recipe and topping it with a fresh cherry compote and toasted almond slices, unique, bright flavors meld with the comfort of a classic snickerdoodle cookie. 
Alternatively, strawberry shortcake serves as another great inspiration point. If you top your snickerdoodles with strawberry compote and serve them warm with ice cream, you'll get a lovely cookie version of a classic summer dessert. You can even make strawberry compote in your Instant Pot if need be — that's how simple it is to make. Trust us: Giving snickerdoodles a delicious, fruity twist will pay off!