The Funky Cheese Ina Garten Loves Adding To Her Scrambled Eggs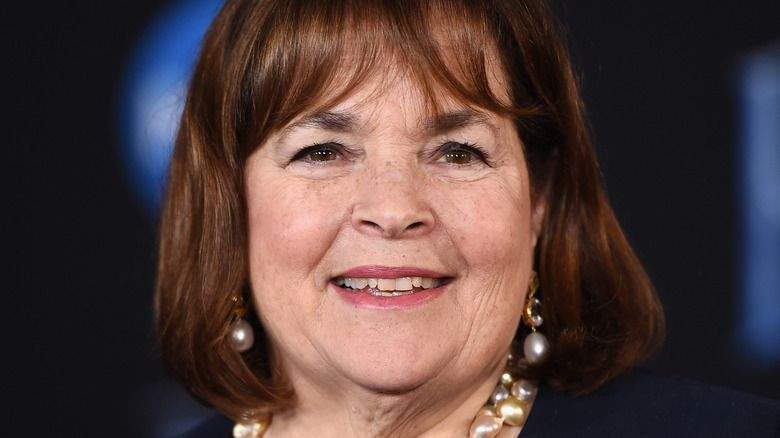 Amanda Edwards/Getty Images
Must be nice to be one of Ina Garten's numerous besties and be invited to a breakfast party with the Barefoot Contessa herself in her humble Hamptons pied-à-terre. Food Network uploaded a short clip to TikTok that seems to come from "Barefoot Contessa" Season 2 Episode 6, the one entitled "Birthday Breakfast BBQ." In it, Garten shows off her outdoor cooking skills by scrambling 16 eggs in a giant skillet — extra-large eggs, according to her recipe. "It's a lot of eggs, but it's a lot of people," Garten explains. No one breakfasting Chez Ina that day was likely to go home protein-deprived, though, since she also stirred in some cheese. Garten eschewed plebeian American cheese, of course, nor did she use even "really good" cheddar or Swiss. Instead, she opted for "gorgeous goat cheese" with her eggs, stirring it in along with some chives right as the eggs were done cooking.
Although there are numerous types of goat cheese, and not all of them are alike, Garten's recipe calls for the chevre type which tends to be soft and crumbly. While she complained on-camera that hand-crumbling it into the eggs made for messy work, this texture does allow the cheese to melt right in without overcooking the eggs. (For less messy crumbling, though, she might have tried freezing the cheese first.) It also adds some tanginess and salt, both of which flavors can help to perk up what could otherwise be a fairly bland dish.
Ina Garten has a few go-to scrambled egg upgrades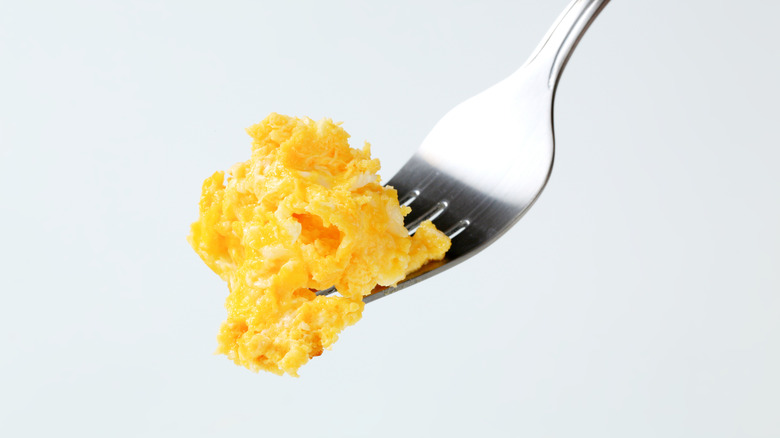 Milanfoto/Getty Images
If you, too, aspire to throw a breakfast party a la Ina, complete with cooking up your scrambled eggs over a luxurious outdoor barbecue, goat cheese isn't your only option for Barefoot Contessa-approved eggs. Garten actually has quite a few tricks up her designer sleeves for embellishing this humble dish. While not all of these recipes include cheese, Garten does have one pasta-inspired scrambled creation, the cacio e pepe eggs made with grated pecorino that she whipped up for an episode of "The Drew Barrymore Show."
Other Ina Garten breakfast recipes include scrambled eggs with roasted asparagus, scrambled eggs with chopped green herbs (these being parsley and dill), and of course, the oh-so-upscale scrambled eggs with caviar. She also has a recipe for scrambled eggs with truffle butter that the Food Network has billed as "perfect" and she said will "impress even your mother-in-law." It's not so much the truffle butter itself that makes these eggs so impressive, though, as the technique Garten favors for egg scrambling. All of her scrambled egg recipes, including the goat cheese one she cooked on a grill, involve the "low and slow" heat method. She says this helps the eggs to stay fluffy, as does turning off the burner before they are quite done and letting the residual heat finish them off.