Ina Garten Makes Her Scrambled Eggs Like She Makes Her Pasta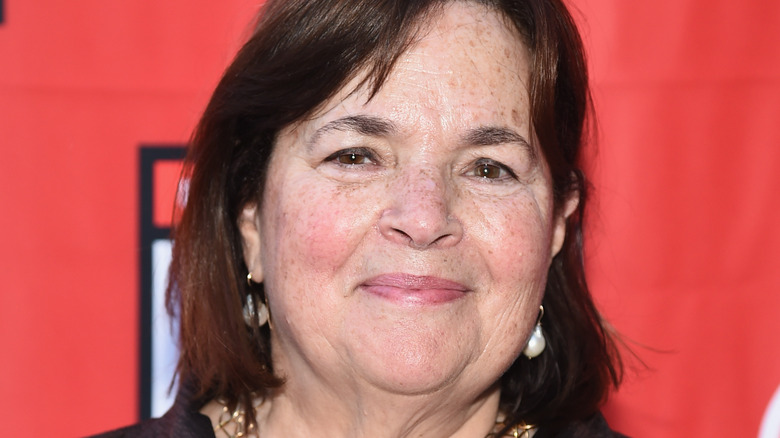 Michael Loccisano/Getty Images
When Ina Garten is craving a memorable breakfast, she cooks her scrambled eggs like she makes her pasta. Thankfully, that doesn't mean she dumps a bunch of raw eggs into a pot of boiling water — instead, she flavors her eggs with the same ingredients she'd use to make the traditional Roman pasta dish cacio e pepe. During a "Drew's Cookbook Club" segment on "The Drew Barrymore Show," Garten showed the host and another guest, Zosia Mamet, how to make her creamy Italian-inspired cacio e pepe scrambled eggs. The recipe comes from her book "Go-To Dinners," which was released in 2022.
Cacio e pepe means "cheese and pepper" in Italian, so it's no surprise that one of the key ingredients in Garten's eggs is Pecorino Romano cheese, which is a hard Italian sheep's cheese with a robust, savory, salty flavor. Garten adds nearly a full cup of pecorino to her softly scrambled eggs, then adds in a hefty dose of freshly ground black pepper. She recommends serving the dish "with a grilled piece of bread, and maybe heirloom sliced tomatoes." As for the taste, the reactions from Mamet and Barrymore say it all. "I've never tasted anything like this," exclaimed the host. "I will never forget the taste of those eggs." Mamet agreed. "It really packs a punch," she added. But this isn't the only food Garten has given the cacio e pepe treatment.
Cacio e pepe everything
It's clear that Ina Garten is smitten with the iconic flavor duo of Pecornio Romano cheese and pepper found in Italian cacio e pepe pasta, and she's found ways to translate those flavors to dishes other than just pasta. In the past, she's made cacio e pepe cheese puffs, cacio e pepe roasted asparagus, and, of course, cacio e pepe pasta with a twist: She adds heavy cream and minced parsley to her recipe and specifically calls for Telicherry peppercorns, which are a spice staple Garten swears by.
The "Barefoot Contessa" star isn't alone in her love for cacio e pepe. Anthony Bourdain once said on an episode of "No Reservations" that it "could be the greatest thing in the history of the world" (via the Los Angeles Times), and the dish has become increasingly popular in recent years. Trader Joe's stocks its shelves with several cacio e pepe products, and Bloomberg even called it "the new pumpkin spice" in 2022. Whether you're eating Garten's scrambled egg version, pasta, or Giada De Laurentiis' cacio e pepe pizza, you can rest assured that your choice is food celeb-approved.