Eggo Brunch In A Jar Sippin' Cream Review: A Breakfast Classic Gets A Boozy Twist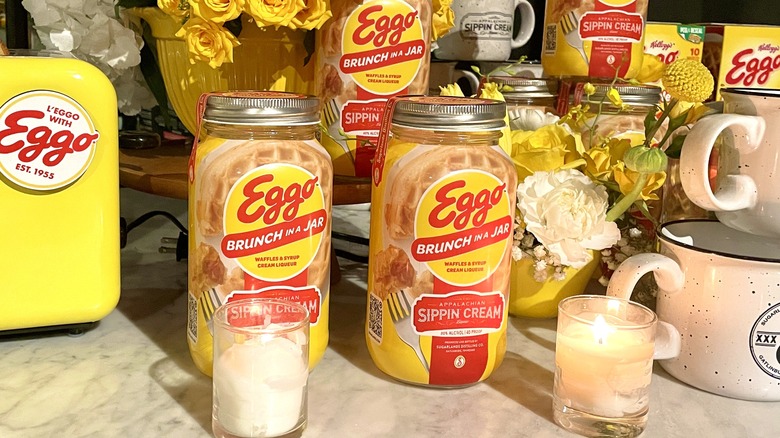 Jenny Kellerhals/Mashed
The surprising food and beverage mashups just keep coming these days — from the bizarre Velveeta Veltini cocktail to the mouth-puckering pickle-flavored wine cocktail by Spritz Society and Claussen pickles; we thought we'd just about seen it all at this point. But now, Sugarlands Distilling Company and Kellogg's Eggo Waffles have teamed up to bring us an adult beverage that sounds like it actually might actually be enjoyable?
The two companies first collaborated on a seasonal beverage last winter, creating the Eggo Nog Appalachian Sippin' Cream, which infused rum and cream with the iconic Eggo flavor, as well as cinnamon and nutmeg for a playful twist on a classic eggnog. The liqueur was so popular, that if you waited just a little too long to try it, it was probably already sold out. So when we heard that there was a new Eggo-flavored Sippin' Cream in the works, we jumped at the opportunity to give it a try. We were invited for a first taste of the new Eggo Brunch in a Jar Sippin' Cream liqueur, hosted by both the beverage and waffle brands at Brasserie SAINT Marc in NYC, where we learned about how the drink was developed, what's in it, what to eat and drink it with, and most importantly, where to find it. This is everything you need to know about the new Eggo Brunch in a Jar liqueur from Sugarlands Distilling Co. and Eggo waffles, and what we really think of the new drink.
Are there Eggos in it?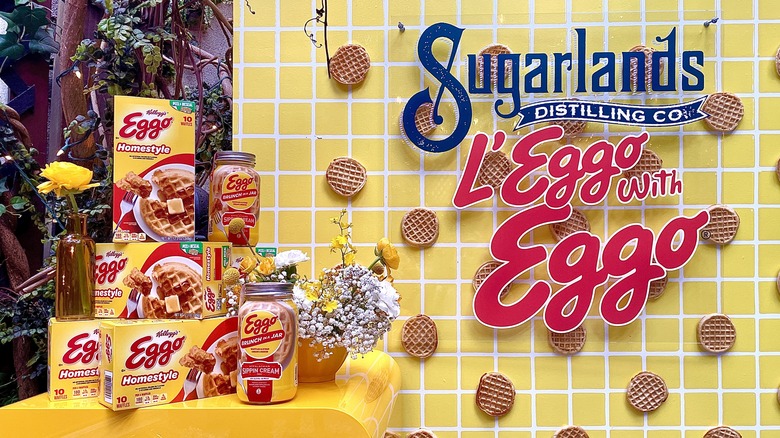 Jenny Kellerhals/Mashed
No, no Eggos were sacrificed to make the Brunch in a Jar liqueur. You won't find chunks of waffle floating in it, or wonder why your drink is weirdly chewy. Sugarlands' Head Distiller Greg Eidam walked us through the process of how the drink was developed and what to expect when sipping the new liqueur. Sugarlands Distilling Co. first made a name for itself in 2014 by distilling 100-proof sour-mash moonshine, legally, and offering flavored moonshines in nostalgic, fruit-forward, and playful flavors at varying alcohol levels. The distillery eventually expanded its line of liquors to include whiskey, vodka, and a line of very popular rum-based sipping creams — the latter of which is the base for the Eggo Brunch in a Jar liqueur.
To achieve the iconic Eggo flavor, the distillery worked with a combination of natural flavors to develop three distinct flavor-ways: a toasty, slightly yeasty, and waffle-forward profile, a buttery-maple profile, and a delicate but distinct bacon profile. Once all three flavor profiles were established, the distilling team fine-tuned the ratio of each profile to create a liqueur that's supposed to taste like an Eggo waffle, toasted, buttered, and topped with maple syrup and a side of bacon. With that said, the beverage is both gluten-free and vegetarian, although it does contain real dairy.
Can you find it on the freezer aisle?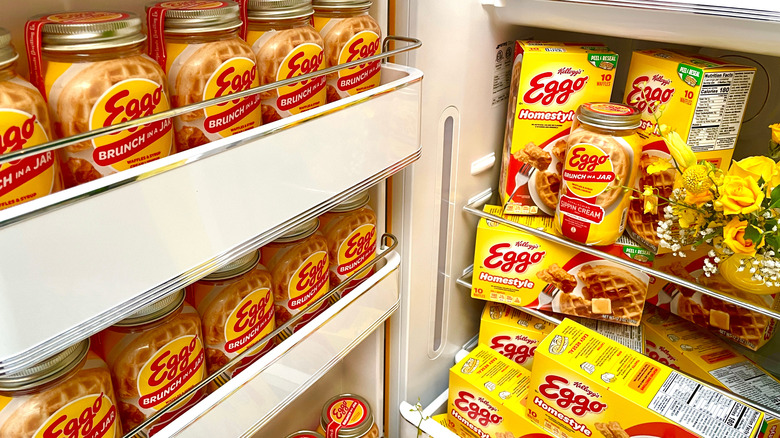 Jenny Kellerhals/Tasting Table
While it would be super convenient to be able to pick up a jar of the waffle-flavored liqueur in the freezer aisle while you're grabbing a few boxes of Eggos, no, you will probably not be able to find the drink in the freezer aisle of your regular grocery store. The distillery is based in Gatlinburg, Tennessee, but distributes its beverages in at least 42 states across the country. So there's a good chance that a store in your state, if not your city, carries it. For help locating a store that sells the new drink, Sugarlands has a store locator available on its website. Unfortunately, the distillery is not able to directly offer the drink online at this time, but a store in your state might.
Unlike the Eggonog, which was only available in a limited quantity during the holiday season last year, the Eggo Brunch in a Jar Sippin' Cream liqueur will be offered from this point on, year-round, with no predetermined end date in sight. That's good news for those who might have missed the first release, but want to get their hands on a bottle of the new Brunch in a Jar. The drink is available beginning August 15th and should regularly make its way to stores from that point, on.
What kinds of drinks can you make with it?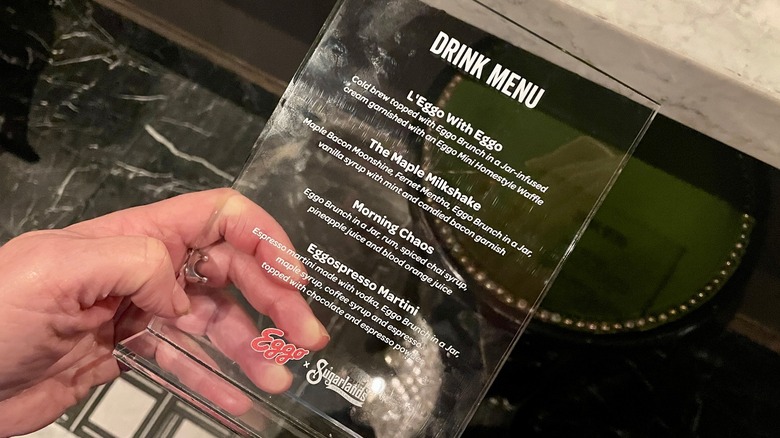 Jenny Kellerhals/Mashed
Technically, you don't have to make anything with the Waffles and Syrup Cream Liqueur — as a "Sipping Cream," it's designed to be enjoyed straight from the jar. We'd suggest drinking it cold or poured over ice if enjoying it on its own, but we can also feasibly see enjoying it warmed up for a toastier treat when it gets cold out. Just make sure not to boil it so it retains all its boozy goodness.
During the tasting event at SAINT, we tasted cocktails designed by Ravi Thapa, with the Eggo Brunch in a Jar liqueur as one of the components. The four cocktails were playful riffs on the breakfast favorite, and of course, a new take on the espresso martini with a splash of waffles affectionately called the "Eggospresso Martini." Sugarlands has also created a small collection of four simple mixed drinks to make with the liqueur, including the "Cozy Breakfast," which is made with 2 ounces of Eggo Brunch in a Jar and 4 ounces of hot coffee or hot chocolate, garnished with a mini Eggo waffle. The company also suggests an "Eggo Mocha Macchiato" for the cold brew lovers out there, which is made with equal parts cold brew, chocolate milk, and the Eggo liqueur. Sugarlands has made all eight of the cocktail recipes available for free on its website, if you're in the mood to shake things up.
What can you pair with the liqueur?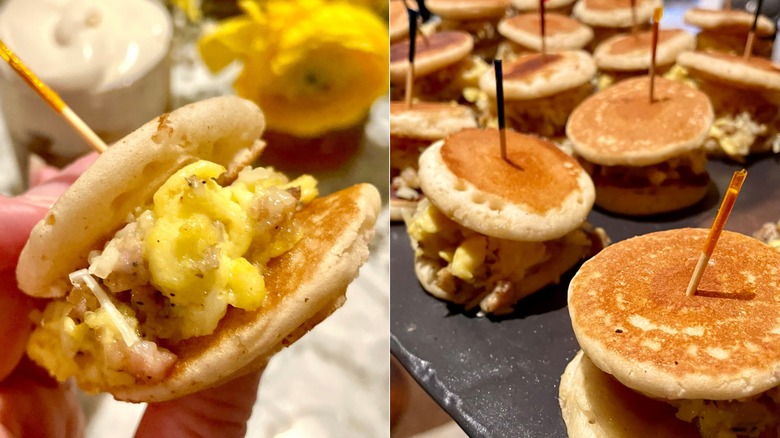 Jenny Kellerhals/Mashed
Given that this is an alcoholic drink, the Eggo Brunch in a Jar is obviously meant to be enjoyed by adults. And as an adult, you're entitled to enjoy it any way you choose — whether that be over a home-cooked brunch with your besties, as a sweet after-dinner nightcap, or poured into your morning coffee like an Irish coffee with a distinctly American vibe.
But we love a theme, and if sticking to the concept of brunch, we'd suggest going all-in on the breakfast choices. At the Sippin' Cream's tasting event, we were served mini pancake sandwiches filled with scrambled eggs and sausage, mini quiche, fresh fruit and whipped cream-topped waffle bites, and bacon, egg, and cheese pancake tacos. We also like the idea of throwing a breakfast-for-dinner (yes, brenner) dinner party, complete with tater tot casseroles, crustless breakfast quiche, and of course, piles of Eggo waffles.
How does Eggo Brunch in a Jar taste?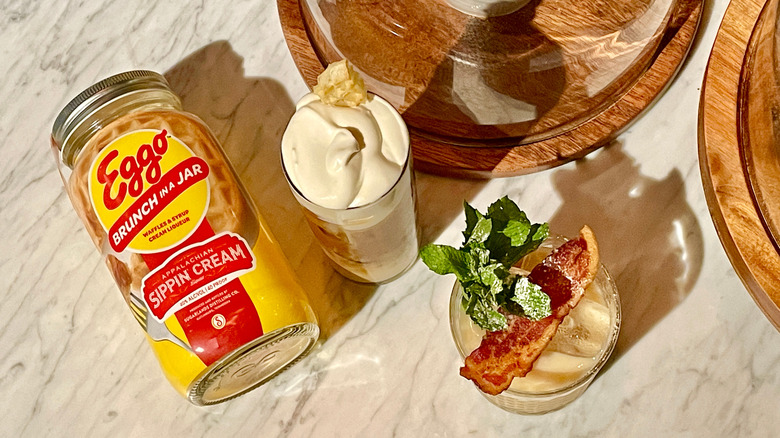 Jenny Kellerhals/Mashed
We'll admit that, as kids who grew up eating Eggo waffles, we were both excited to try the new Brunch in a Jar liqueur and a little skeptical that it could live up to our nostalgic ideal of those maple-drenched mornings we so fondly remember. But somehow, the Sippin' Cream manages to tap into both the fond childhood memories of buttery homestyle waffles and the very adult desire to unwind with something a little harder at the very same time.
Our first sip of the Eggo Brunch in a Jar liqueur was a little surprising; we weren't prepared for a drink that's 20% alcohol by volume to hit so hard. We also weren't prepared for how spot-on that iconic Eggo waffle flavor would shine through. While tasting the individual waffle, butter-maple, and bacon flavor profiles that went into creating this beverage, we were impressed by how much thought and effort went into creating something that would be so universally recognizable. It's the grown-up treat we didn't know we needed, and can't wait to enjoy when we're craving something comforting and sweet. It's not something that we see drinking all day, every day, but we'll keep a jar in the fridge for a late-night sip after dinner or a lively weekend breakfast that lasts well into the afternoon.