The Most Unconventional Salad Toppings That Totally Check Out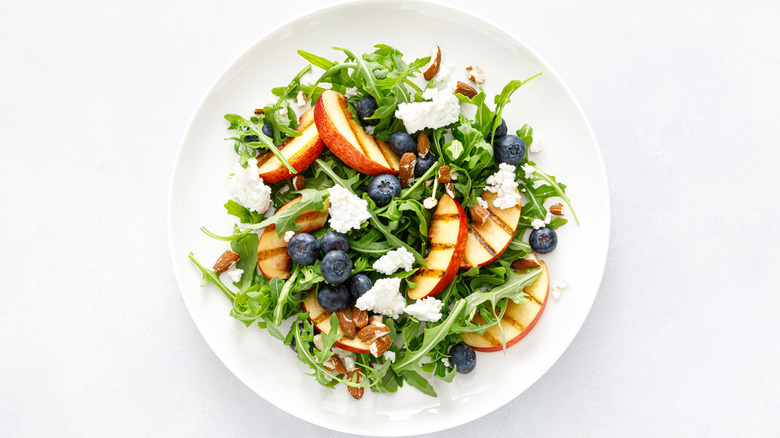 Yelenayemchuk/Getty Images
Everyone with a sense for salad knows it's not the greens that go in the bowl that bring the excitement: It's the goodies that go on top. The right toppings can take what amounts to a cluster of leaves into the realm of culinary enchantment. And when you step beyond the gates of garden-variety salad toppings, you discover a whole world of possibilities that might sound a bit odd at first. But trust us — these delicious decorations are a snazzy set sure to add intrigue to your romaine and transform your arugula into a revelation.
With the idea of uniqueness firmly front-of-mind, we set out to find some unconventional salad toppings that might sound unusual at first, but that make total sense once you discover how they fit into the herbivorous hierarchy. Even one or two of these unexpected add-ins can help a simple salad taste like a gourmet creation. So instead of reaching for the same old croutons or throwing on a handful of shredded cheddar and calling it a day, give these appetizing toppings a try and start making your salads more of a main event on the dinner table rather than just another snooze-worthy side dish.
Smoked salmon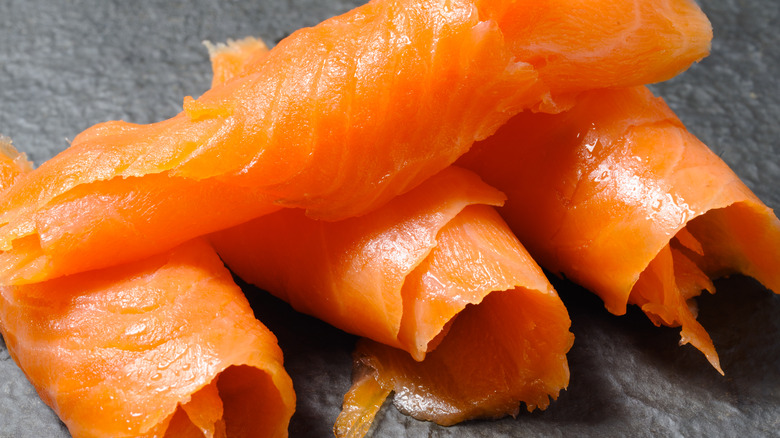 4kodiak/Getty Images
Sure, you've had it draped on bagels and wound up in sushi rolls. But have you ever considered adding smoked salmon to your salad? This robust pescatarian pleaser has all the earthy sweetness you could want as a counterpoint to the crisp coolness of your base ingredients. It's also a textural contrast that introduces an unexpectedly tender bite among the prevalent crunch. The silky smoothness combined with the delicate, yet definite taste will make you wonder why it took you so long to start tossing a bit of Nova Scotia lox into your wild wilderness of green goodness. 
Not only is smoked salmon a taste temptation, but it's also a highly healthy protein and adds extra power to your carb-centric plate. A serving of smoked salmon provides 117 calories and 18 grams of protein, as well as omega-3 fatty acids — one of nature's wonder substances for keeping humans healthy. Try getting that kind of nutritional magic from carrot sticks and celery stalks. And with fish in this form as part of the formula, you'll have a more specific direction to take your other toppings for a balanced salad that doesn't skimp on flavor.
Edible flowers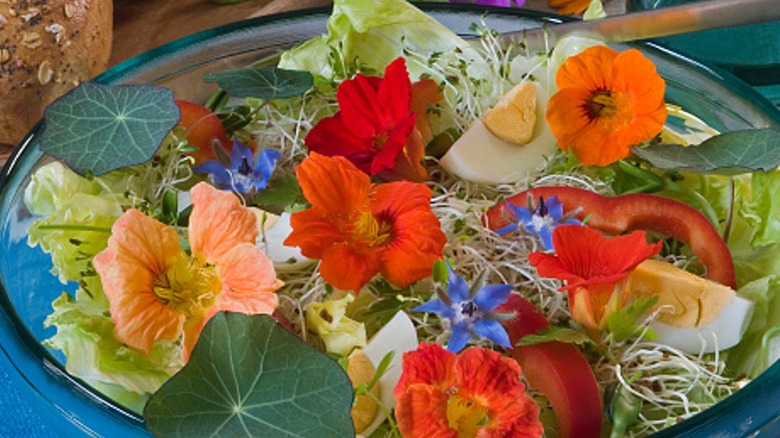 Karma_pema/Getty Images
Prettiness counts when it comes to salads, and with so many colors on the plate, it can be tough to compete. This is where edible flowers earn their place at the table. An edible bouquet of flowers you can eat from the garden is a sweet way to add unexpected hues to everything from small side salads to more substantial dinner salads. The delicate texture of these fantastic florals is close enough to the leaves in your salad that you'll be delightfully surprised by how compatible a topping they are.
But before you go collecting the prettiest blossoms to beautify your blend, it's important to know that commercial flowers from nurseries and flower shops may be treated with pesticides and should be avoided as ingredients, no matter how lovely they may be. And for chefs whose gardens don't grow anything but greens, there are organic edible flowers available at specialty stores like Whole Foods ready for pick-up or delivery whenever the occasion calls for them. 
Toasted coconut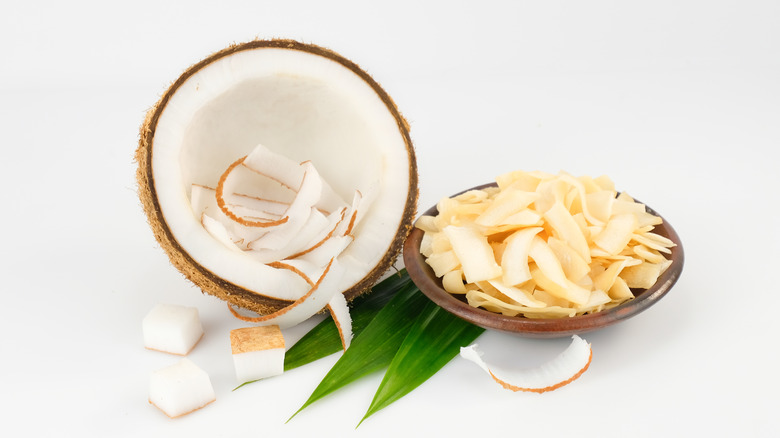 Hasiah Z/Shutterstock
It's a little sweet, a little nutty, a little crunchy, and a little chewy. Toasted coconut is all the best things in a salad you could hope for in an unexpected sprinkle. The flavor lends to a vast variety of cultural profiles, global goodness spanning the culinary atlas from Thai to Caribbean to Indian. Coconuts have great significance beyond their use as food amongst many cultures as well, historically serving as offerings at temples and finding their way into homeopathic medicine. Even without fitting into any particular theme, coconut shares its complex character with whatever salad elements you favor.
A bag of shredded coconut from the baking aisle is the easiest reach for experimenting with this unexpected topper. To make your own, spread out a cup of flakes on a parchment-lined baking sheet and cook for 10 minutes in an oven at 250-degrees Fahrenheit. Even a toaster oven will work. For a more stylish presentation, use larger coconut curls toasted in the same manner to add extra-large slivers to your spring mix.
Pickled green tomatoes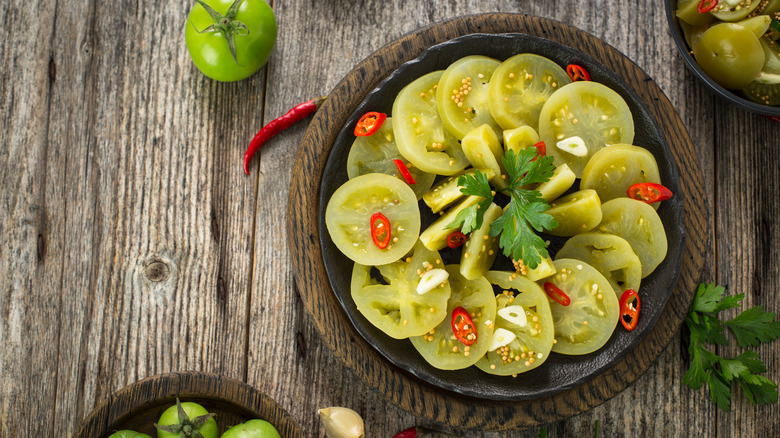 Pilipphoto/Getty Images
Red, orange, and even gold tomatoes are a given in a salad mix. But what about green tomatoes? And more than that, what if those green tomatoes have been pickled? It may sound far-fetched, but pickled green tomatoes are a revelation as a salad topping, perfect for adding some bouncy zing to an otherwise ordinary bed of greens. The texture is more al dente than regular tomatoes, which helps these spicy slices hold up nicely to any dressing you toss on them.
With roots in the American South, pickled green tomatoes were originally meant to make use of unripe tomatoes rather than letting them go to waste. You may have overlooked jars of pickled green tomatoes when cruising through the grocery aisle that holds the other jarred wonders from the olive and pickle sphere. But you'll find them if you keep your eyes peeled somewhere between the olives and the dill spears. If you're feeling ambitious about your salad enterprise, you can try making a batch of your own with just a few easy-to-grab ingredients and a little time to allow the flavors to bloom.
Stuffed olives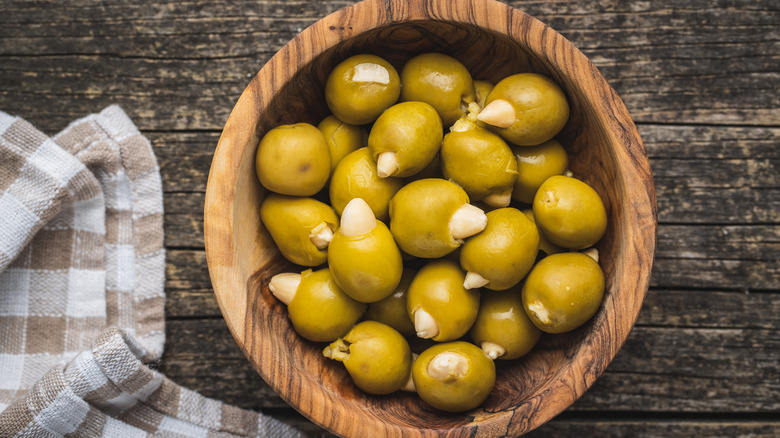 Jirkaejc/Getty Images
With stuffed olives adorning your radical radicchio, you can turn a simple salad into a martini of a meal. Step out of your comfort zone — and beyond the condiment aisle — and stuff your olives with all sorts of ingredients chosen to bring salt and tang to the party. Of course, olives stuffed with pimentos are an easy choice, though they're not a particularly outrageous option. You'll want something a little more daring for this olive scenario to take your salad over the top.
You may find stuffed olives at your local grocer, though it's simple enough to create your own, using pitted olives soaked in brine; canned black olives don't bring the right flavor to this party. The most familiar olive stuffings are soft cheeses: blue, feta, and goat cheeses are all prime candidates. Even a daub of homestyle cream cheese dressed with a little fresh dill will send you into the far end of the flavor zone. But you can also try aromatic elements like fresh garlic to liven up the green scene.
Boozy salad dressing
Cook Shoots Food/Getty Images
Why let the cocktail menu have all the fun when you can spruce up a salad by adding a little spirit to your dressing? Using a liquor-based recipe will give your creations a shot of excitement. Even if you've made salad mistakes in the past, boozy salad dressings let you turn over a whole new leaf while bringing fresh, sophisticated flavor to help make amends. Consider your salad dressing cruet a mixology shaker and a whole new dimension of tasteful toppings comes into focus. 
Taste is, of course, the driving factor when using liquor in your dressing recipe. A vodka or mojito vinaigrette are great options to punch up your pours. Bourbon and tequila are all natural choices, as well. But why limit yourself to using only spirits when wine- and champagne-based vinaigrettes can enhance your drizzle, too? Even ale lovers can pour a round of citrus beer dressing to cheer up their cruciferous collections. And if making your own beer dressing is a step too far, know that there are bottled options to make the work easier.
Roasted garlic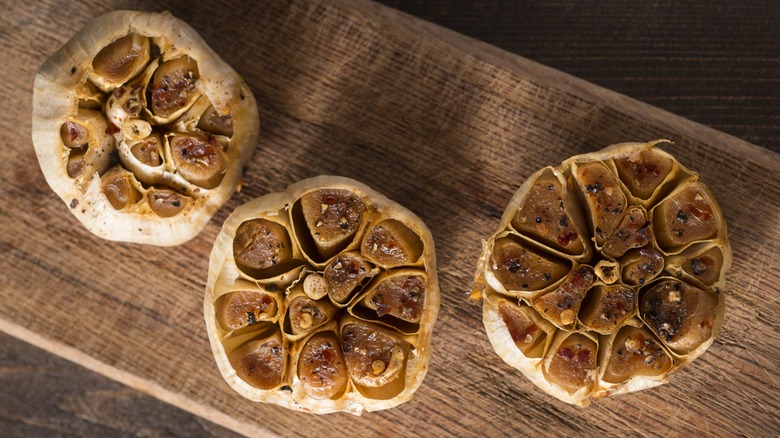 Rudisill/Getty Images
The creamy, aromatic smoothness of roasted garlic is a luxury that shouldn't be reserved for only meat dishes. A squeeze of this smoky spreadable will complicate your salad situation in a most delectable manner. It might be a bit heavy sitting happily atop your leaves, so consider using slices of larger veggies like bell peppers and carrots to carry your confident garlic pulp. Better yet, experiment with turning roasted garlic into a creamy dressing made tangy with vinegar, oil, herbs, and spices and pour it over any salad blend you like.
It isn't difficult to create your own roasted garlic to keep your toppings in fine homemade form. Simply slice the ends off a bulb of garlic, wrap it in aluminum foil and cook in an oven at 400 degrees Fahrenheit for up to an hour, depending on your preference and the power of your oven. When finished cooking, unwrap the bulb and either squeeze or spoon out the interior to serve. Partner this topping with green onions or chives to complete the onion-and-garlic partnership that can only make your salad even more spectacular.
Balsamic glazed fruit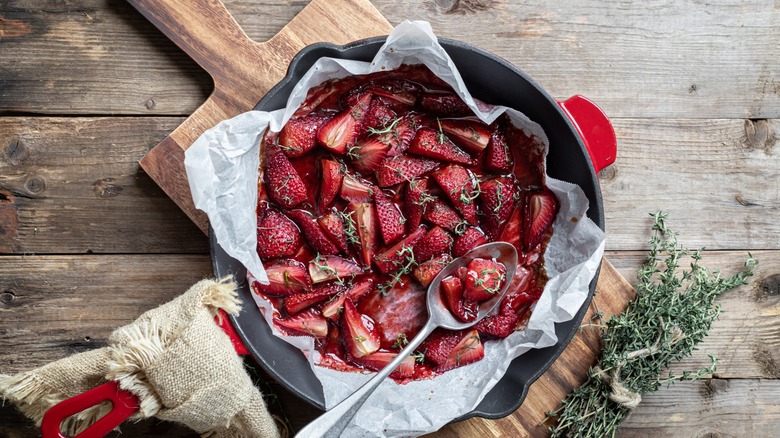 vlasna/Shutterstock
Fruit is a fairly common find at salad bars, with strawberries, melon, and mandarin oranges making regular appearances between the dried cranberries and the sunflower seeds. Balsamic-glazed fruit, though? That's a discovery your taste buds won't regret making. This isn't exactly the same as using fruit as a salad base for a recipe such as a strawberry salad. Think of it as a way to introduce a more complex version of cooked fruit into your salad in small or large amounts, depending on what the occasion calls for. Bowls of balsamic-glazed fruit waiting on the table will allow your guests to decide how much sweetness to add to their own savory medley.
You can approach the glazing process in a few different ways to determine which one suits your salad selections best. The simplest process is soaking strawberries or sliced stone fruits like plums or nectarines in a balsamic marinade. This infuses the fruit with a tangy flavor that complements the sugary natural juices. You can also fire up the grill and char marinated peaches or pineapple slices to add smoked caramel goodness to the formula.
Fruit preserves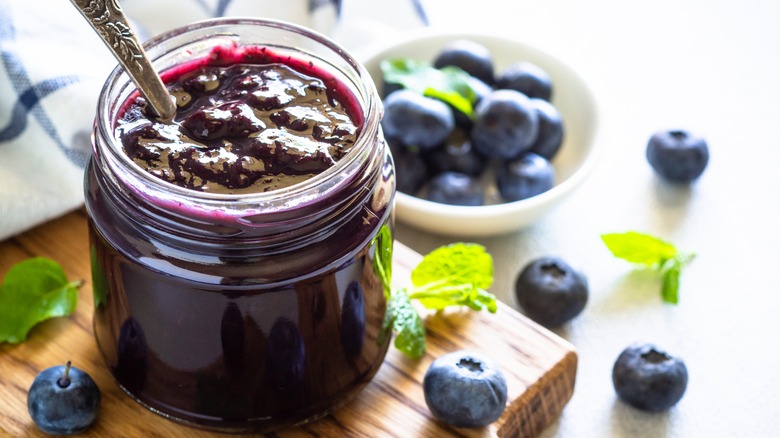 nadianb/Shutterstock
If you prefer your toppings on the sweeter side of the flavor seesaw, a dollop of fruit preserves can help you sugar up the scenario. Preserves differ from jams and jellies due to the inclusion of whole fruit. You get a texture similar to a compote that lends smoothness to otherwise crispy layers. Store bought preserves are available in a variety of simple fruits like blueberries and peaches, as well as some exciting possibilities like quince and fig that are sure to start a conversation around the table.
Though making your own preserves allows you to control the quality of the finished product, there are plenty of workable options hanging around the peanut butter at your local market. Make the most of jarred spreads by spooning them straight out of the jar and letting them find their place among the greens and veggies. Or, if you'd rather control the coverage, you can create a dressing of your own by adding up to 2 tablespoons of the preserves of your choice to ½ cup vinegar and ½ cup oil. Ramp up the acid or sugar as your tastes dictate to find a balance that makes your salad shine.
Crispy quinoa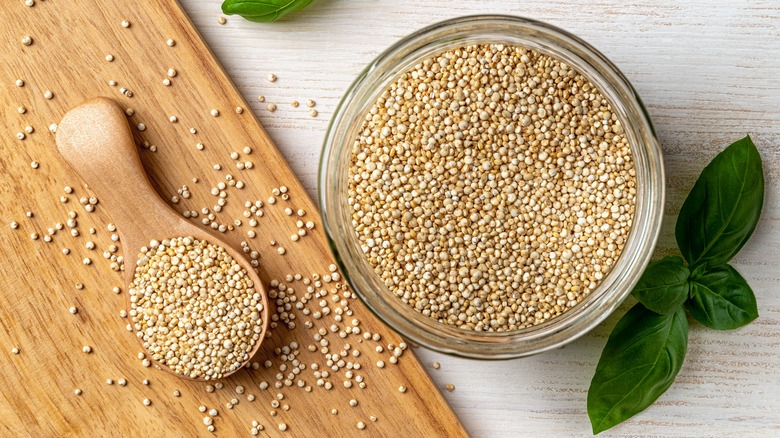 Maryia_K/Shutterstock
Making quinoa into a salad topping is easier than it sounds, and much tastier than you might imagine. It might be tempting to use your quinoa straight out of the bag, considering that it's already quite crisp. Though it isn't unheard of to eat quinoa raw, this faux whole grain develops a warm toasty flavor when heated in the oven, similar to sesame seeds. It's not only a novel way to add crunch to the garden get together, but it's also a sneaky trick for augmenting an already healthy green feast with even more nutrients like iron and zinc. The idea of building a multi-textural power salad is made all the more possible with a sprinkle of toasted quinoa in the recipe.
To make crispy toasted quinoa, spread rinsed quinoa in a frying pan and cook at medium heat, until the residual liquid has cooked off and the kernels begin to pop. Add salt and pepper, plus whatever seasonings you like, and sprinkle the finished quinoa on top of your salad.
Marinated mushrooms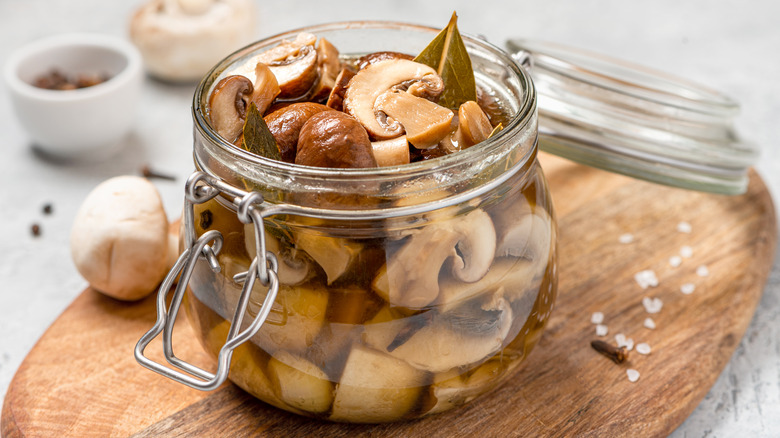 Svetlana Monyakova/Shutterstock
Raw mushrooms as a salad topping are about as interesting as a vanilla sundae with vanilla sauce. Marinated mushrooms are what the cool kids are eating on their salads these days. Whether you dig cremini, baby bella, or white mushrooms more, these fabulous fungi can all be elevated into five-star selections for topping any salad. You can even replace meat elements without losing elegance. Slices of marinated portobellos make trendy additions to the tops of salads, with a texture and buttery flavor similar to steak. If chicken is more your dish, try marinated oyster mushrooms for a poultry-style stand-in.
You can get your favorite produce section or farmer's market mushrooms marinated in easy fashion by removing the stems and simmering the caps until soft, then soaking them in a mix of vinegar, olive oil, and your favorite seasonings overnight. Add peppers or pimentos to provide interesting elements to the recipe. Once finished, keep them in a jar in the fridge so they'll be robust and ready for your next salad occasion. 
Granola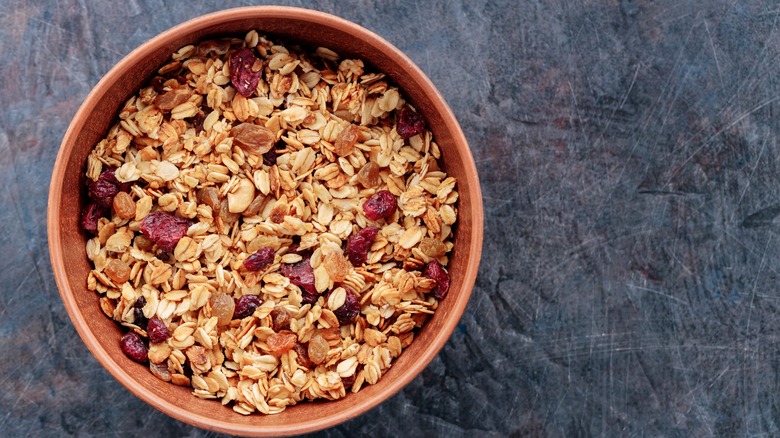 Lazarenko Olha/Shutterstock
Who says granola is only for breakfast, camping, hiking, treat bars, and parfaits? With a resume like that, there's no reason not to include granola on your table as a salad topping. A proper granola is loaded with crunchy bits of toasted oats that can nestle among the layers of leaves and veggies to make your salad into a textural art project. But a supreme granola also includes almonds, peanuts, dried cranberries, and sunflower seeds, an incredible combination of tidbits that have made appearances in salads for years. With a touch of sweetness from honey or maple, granola is a true timesaver of a topping that melds a grand cluster of crunchy and tasty elements.
You can use granola in a breakfast salad, provided adventurous early-morning eating doesn't scare you. And if sweet toppings aren't your thing, you can create your own savory granola salad topping that features spices and cheese to throw the usual ingredients an intriguing curveball. Be sure to keep the sweet and savory versions separate to prevent breakfast disappointment from unsuspecting eaters.
Roasted soy beans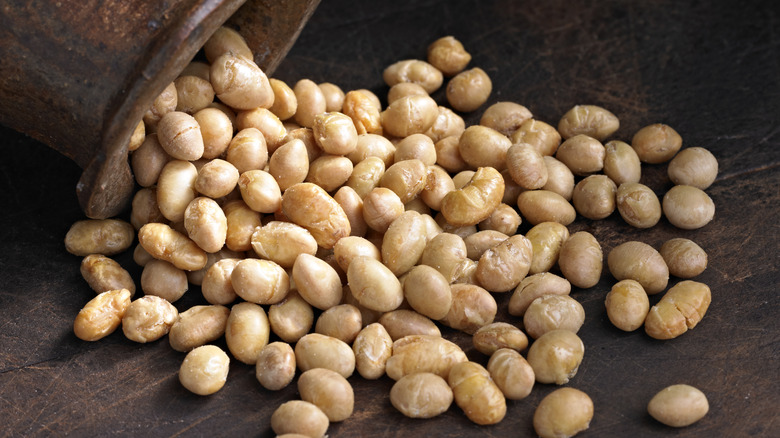 4kodiak/Getty Images
Go for a lower-fat version of nuts as a salad topping and reach for roasted soybeans instead. Also called soy nuts, these crisp nuggets are made from mature soybeans that have been soaked and roasted either dry or in oil, then salted and sometimes flavored with zesty shake-ons like garlic powder or paprika. Roasted soybeans are by no means a new idea, having been prepared by chefs in Asian cultures for hundreds of years. Regardless, they tend to be overlooked when the time comes to add quirky bites to send a standard-issue salad into the stratosphere. 
The process for cooking your own roasted soybeans at home is a bit involved, though it can be done with a bit of patience and well ahead of serving them on a salad. To save time and trouble, you can grab a package at Amazon and have them ready to go in your pantry. You'll be adding protein, fiber, and antioxidants to an already nutrient-rich mélange. 
Ramen noodles
Stefan Tomic/Getty Images
Ever had a package of ramen noodles that ended up crushed into pieces too small to consider for the soup pot? Sprinkle a handful on your iceberg sundae before adding dressing and voila — those noodle nibs are now a ramen noodle salad topping you never saw coming. No need to wait for breakage or hunt through your ramen stash before using them in this unique and unexpected way. Simply take a rolling pin and bash an unopened package a few times to achieve the desired effect. Add a touch of authentic ramen flavor by spritzing the noodles with a bit of olive oil and shaking on some of the seasoning packet included. 
Using ramen noodles as a salad sprinkle shouldn't be confused with creating a crunchy ramen salad, which is more of a slaw made with broccoli and bacon ... although, if you're an overachiever, you can always do both. Using a salad as a salad topping topped with another salad topping may be the most boss salad topping move ever. With possibilities like these, there's no reason to limit your options.