Salmon Salad Will Have You Leaving Canned Tuna Behind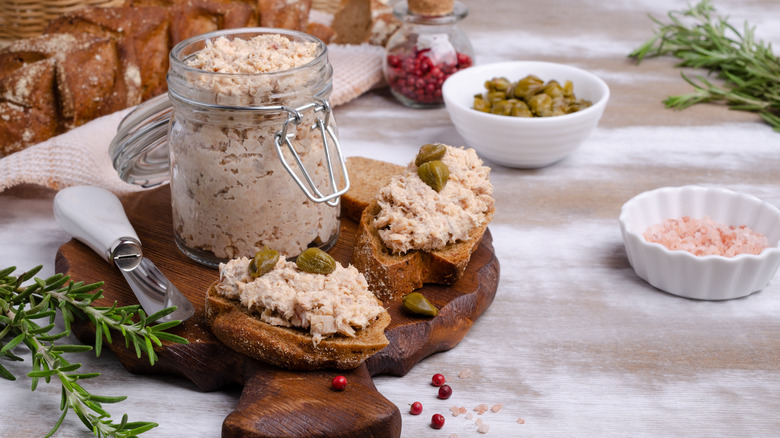 Veronika Idiyat/Shutterstock
Tuna salad is a go-to lunch staple, but if you want to change things up, try using a different canned seafood. Canned salmon can be used in many of the same dishes as tuna and packs just as much flavor. Per Healthline, it also boasts different health benefits. Not only does salmon contain a greater amount of healthy omega-3s than tuna, but it typically has less mercury and more vitamin D. That may be enough reason to make the swap, though it's not the only incentive.
Convenience is one benefit of tuna salad, which often utilizes canned fish. The best canned salmon brands deliver a product that tastes good, uses sustainably caught fish, and minimizes toxins. Canned salmon is easily mixed with other ingredients; most canned salmon recipes use some combination of veggies, onions, mayonnaise, salt, and pepper. However, mayo can be swapped out for avocado, olive oil, lemon juice, or mustard. 
As salmon salad can be made using canned or fresh salmon, the choice depends on your preferences. Using fresh fish instead of canned takes more time to prepare, so those opting for freshly made fish salad will need to go through the process of cooking it and breaking it into small pieces to make the salad base. On the plus side, fresh salmon can be seasoned however you like, allowing you to customize the flavors of any dish.
How to use salmon salad in other recipes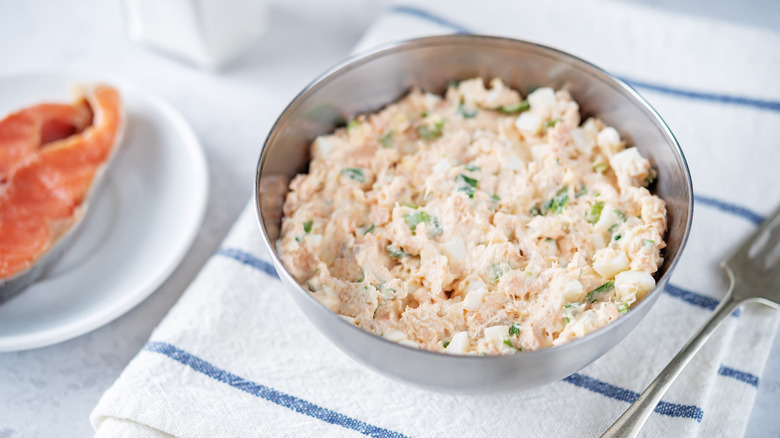 Nata_vkusidey/Getty Images
Like tuna salad, salmon salad can be eaten straight out of the bowl, but it also works well in a variety of lunches and dinners. For instance, a simple salmon salad can be used to make a sandwich or wrap, which can easily be added to your lunch rotation. It can also serve as the protein atop a leafy salad. Creamy dressings like Caesar and ranch complement salmon nicely, and fruity vinaigrettes can put a sweet spin on this tuna alternative.
Salmon salad is also ideal for snacking on and serving to guests, as it can be turned into an appetizer or dip. Spread this fishy concoction on crackers or bread to make it seem more decadent than its easy assembly suggests, or swap the carbs for cucumber slices or peppers and top these crunchy veggies with your creamy salmon spread instead. The options are endless when it comes to salmon salad. We think it's just as versatile as tuna or chicken salad but is often underutilized as a replacement.