Canned Salmon Salad Recipe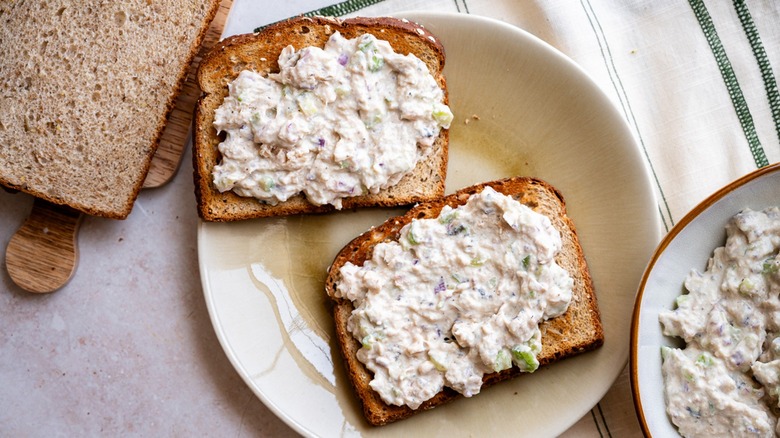 Christine Musgrave/Mashed
You've heard of tuna salad, but have you ever tried salmon salad? This canned salmon salad recipe from food blogger and recipe developer Christina Musgrave offers an easy and delicious way to elevate a lunchtime classic.
In addition to being delicious, salmon — canned or otherwise — can offer serious health benefits. According to Healthline, salmon is an excellent source of protein and omega-3 fatty acids. In addition to the canned salmon, the inclusion of Greek yogurt in this recipe offers yet another way to get a filling protein boost.
But most importantly, this recipe is so easy that it's nearly impossible to mess up. "This is great for a quick lunch. I like making this when I only have a few minutes to make something," Musgrave says. All you need are a handful of ingredients, some bread, and a little more than half an hour. Let's get started!
Gather your ingredients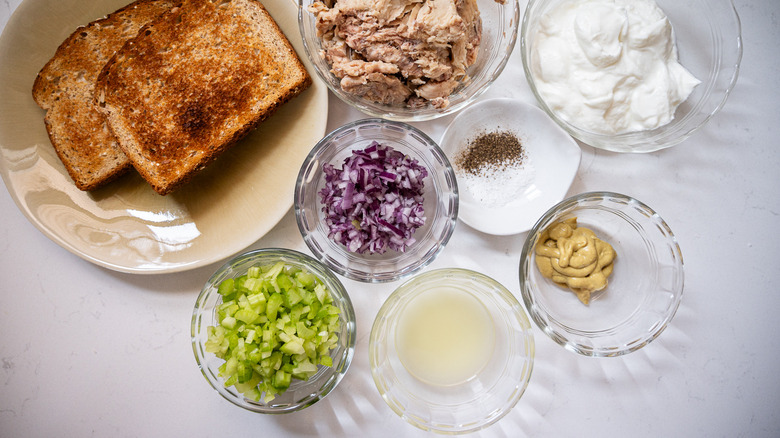 Christine Musgrave/Mashed
To make this canned salmon salad, you'll need 1 (15-ounce) can of salmon — check out our ranking of canned salmon brands — as well as diced celery and red onion, salt and pepper, lemon juice, and Dijon mustard. You also might want some toasted bread for when you're ready to eat and serve the salmon salad.
You'll also need some Greek yogurt. Use whatever kind you have on hand — according to Musgrave, it doesn't matter if you use full-fat or non-fat yogurt. The yogurt in this recipe acts like a binding agent and takes the place of mayonnaise, which is another, more common ingredient in fish salads. Plus, Musgrave says, it adds a tartness you won't get from mayo.
Mix everything together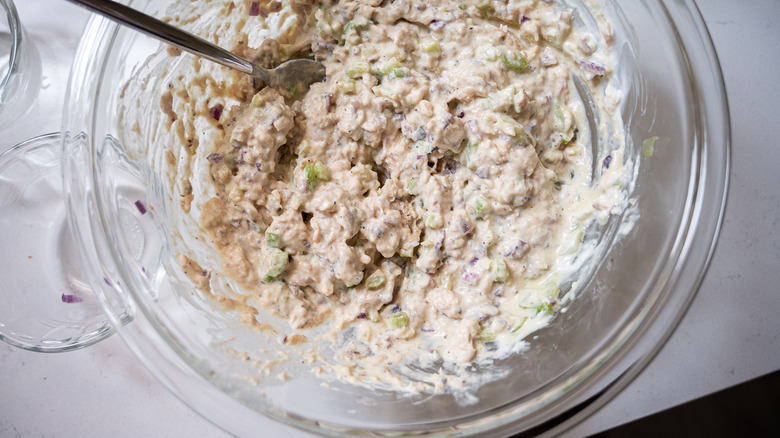 Christine Musgrave/Mashed
Combine the salmon, Greek yogurt, celery, red onion, salt, pepper, lemon juice, and Dijon mustard in a bowl and mix well. Refrigerate the salmon salad for 30 minutes so all the flavors meld.
Enjoy your salmon salad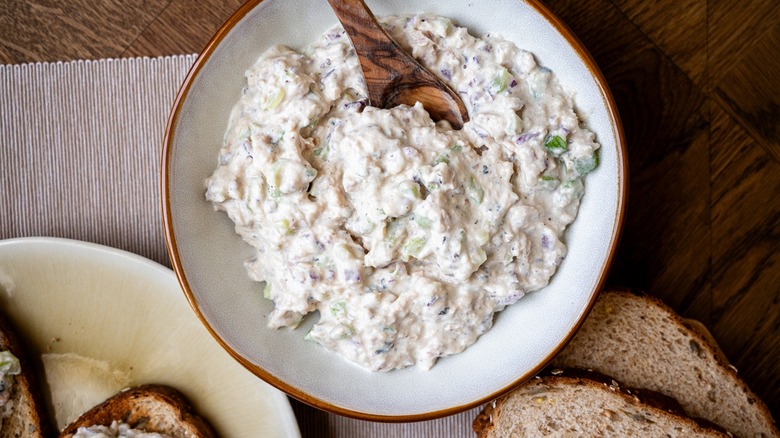 Christine Musgrave/Mashed
Once your salmon salad has rested in the fridge, it's ready to serve and eat! Musgrave recommends serving this creamy spread on toasted bread, particularly whole-wheat or rye bread.
Store the salmon salad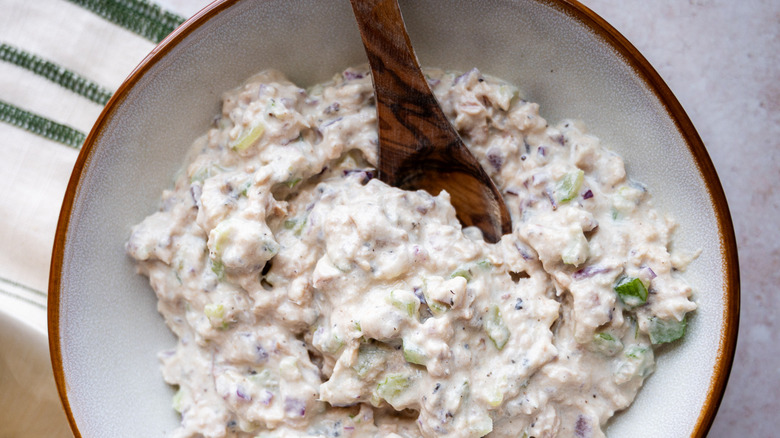 Christine Musgrave/Mashed
This salmon salad should last in an airtight container in the refrigerator for up to 3 days. Musgrave does not recommend freezing it for textural reasons.
Canned Salmon Salad Recipe
Worth keeping canned salmon in your pantry, this quick lunchtime recipe is creamy, tangy, and perfect on toasted bread.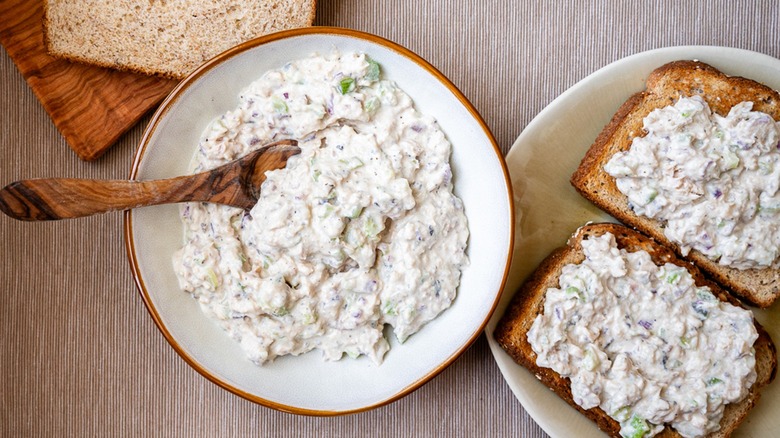 Ingredients
1 (15-ounce) can salmon, drained
1 cup Greek yogurt
½ cup celery, diced
½ cup red onion, diced
Salt and pepper, to taste
1 tablespoon lemon juice
1 tablespoon Dijon mustard
Toasted bread, for serving
Directions
Add the salmon, Greek yogurt, celery, red onion, salt, pepper, lemon juice, and Dijon mustard to a large bowl and mix thoroughly.
Refrigerate the mixture for 30 minutes.
Served the salmon salad on toasted bread.
Nutrition
| | |
| --- | --- |
| Calories per Serving | 177 |
| Total Fat | 6.7 g |
| Saturated Fat | 2.3 g |
| Trans Fat | 0.0 g |
| Cholesterol | 65.2 mg |
| | |
| --- | --- |
| Total Carbohydrates | 8.5 g |
| Dietary Fiber | 1.0 g |
| Total Sugars | 2.9 g |
| Sodium | 375.6 mg |
| Protein | 21.3 g |