Take Your Halloween Punch To The Next Level With Apple Butter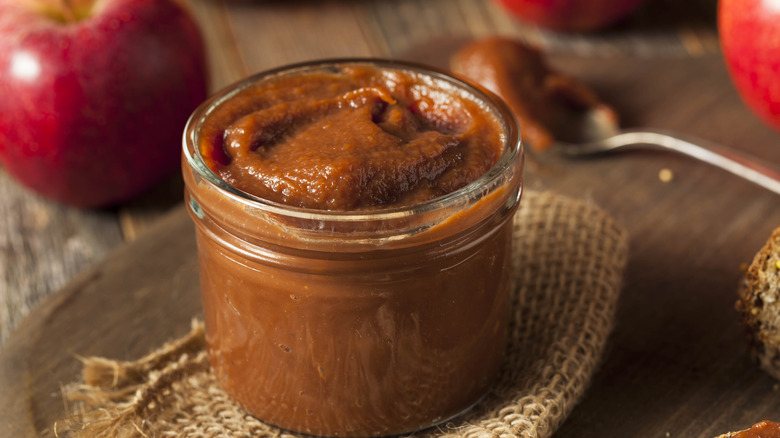 Bhofack2/Getty Images
Whether you're on team Pumpkin Spice coffee or you can't resist the scent of warm apple cider wafting through the air, you'll welcome the fall season when the cozy drinks start rolling in. Apple cider has long been a staple of the season, especially throughout the East Coast where apple orchards thrive. The New England colonies enjoyed boozy apple cider centuries ago, and it's still popular today. One festive party idea is to add a hefty serving of apple butter to your next batch of Halloween punch.
Contrary to its name, there actually isn't any butter in apple butter, and it can be better described as a thick applesauce with warm, aromatic spices. Apple butter is cooked longer than apple sauce, which starts the caramelization process and allows the apple flavors to intensify. Adding some to your apple cider gives it more flavor and makes your Halloween punch more full-bodied. If you'd prefer to be greeted by the apple butter when you start sipping, you could also spoon a dollop of it into your drink after you've poured it, letting it melt away into your cup. Of all the apple recipes to try this fall, apple butter-enhanced party punch is an easy way to upgrade its flavor noticeably and is an easy ingredient to whip up at home.
How to make apple cider punch with apple butter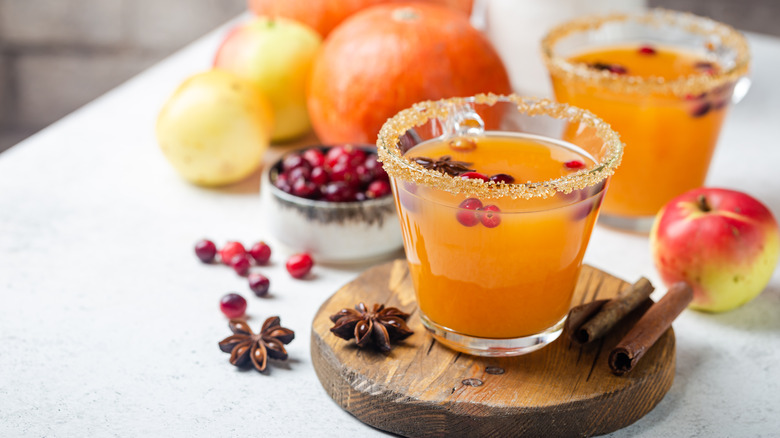 Roxiller/Getty Images
'Tis the season for all things apple. If you've just returned from a successful apple-picking trip to the orchard, you can use your fruity bounty to make your own crockpot apple butter at home. Add ½ cup of apple butter to your Halloween punch if you're serving at least eight people. This concoction doesn't have to be served hot, and you can stir all your ingredients together and chill until you're ready to serve. If you're feeling creative, you can also add apple butter to fall-themed margaritas or use it in an apple cider old-fashioned.
You could make apple cider in your slow cooker, or you can use your favorite store-bought cider. Start off by mixing the cider with the apple butter, then add spices like cinnamon, star anise, ground nutmeg, allspice, or cloves. Add a layer of flavor by using aromatic orange bitters, if you like, and finish the punch with your spirit of choice, which can be anything from vodka to rum to bubbly champagne. A non-alcoholic version of this punch would also work perfectly. Lemon juice, ginger ale or ginger beer, Sprite, and honey are also great flavor enhancers you could add to your apple butter punch for more oomph. It never hurts to slice up a couple of apples and toss them in too. When setting out individual glasses for guests, you can garnish with a cinnamon stick or a cinnamon sugar rim to complete the festive autumn mood.