Crockpot Apple Butter Recipe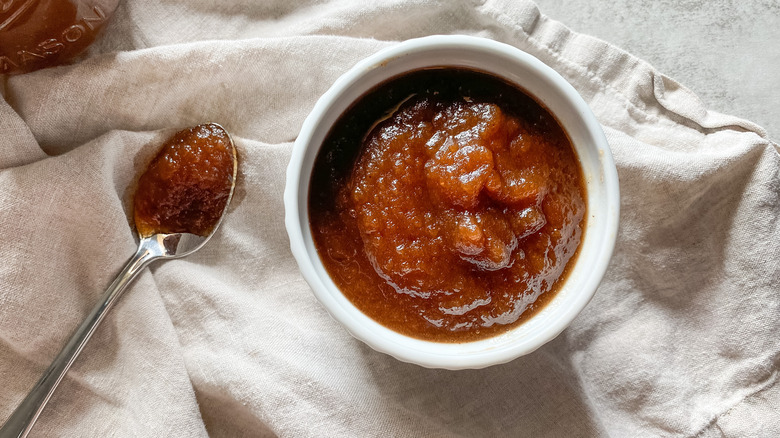 Kristen Carli/Mashed
Apple butter is one of the most wonderful spreads that you can make, but it's highly underrated. Most people like blueberry and strawberry spreads, but apple is just as tasty. It's perfect for enjoying during the fall months when the weather starts getting a little bit cooler. We can thank recipe developer Kristen Carli for this wonderful recipe for apple butter that tastes and smells fantastic. "I love apple butter, and this is SO easy to make at home. I ate some on my toast this morning," she raves. "I love it paired with cream cheese or peanut butter too!"
Carli also can't help but mention how great apples are for you. "Apples are one of my favorite fruits to keep on hand," she says. "They are very durable and resilient, meaning that they aren't the first thing in your produce drawer to go bad. They are filled with nutrients like fiber and antioxidants."
Keep reading to find out how to make this tasty apple butter.
Gather the ingredients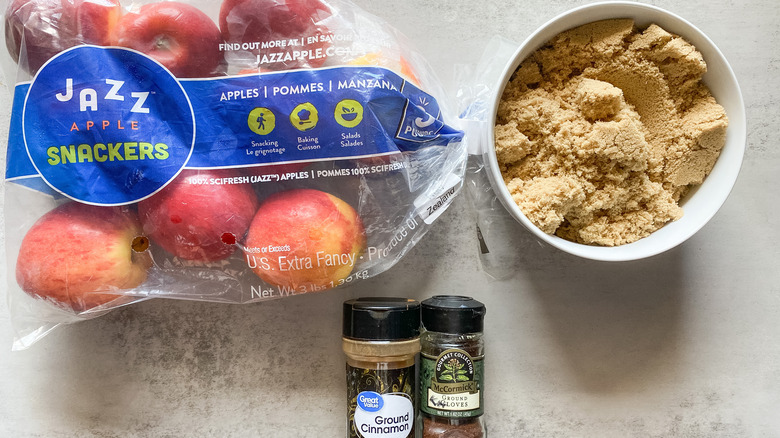 Kristen Carli/Mashed
Are you ready to get cooking? We sure are. Before you start getting down to business, grab all of the necessary items to whip the apple butter together. You will need a few pounds of Jazz apples to start, as they make up the bulk of this dish. When you're at the store, pop by the baking aisle and grab some brown sugar. Next, a trip down the spice aisle should be on your list, and be sure to add some ground cinnamon to your cart. The last item that you will need is some ground cloves.
Once you have everything in front of you, it's time to begin.
Peel and slice the apples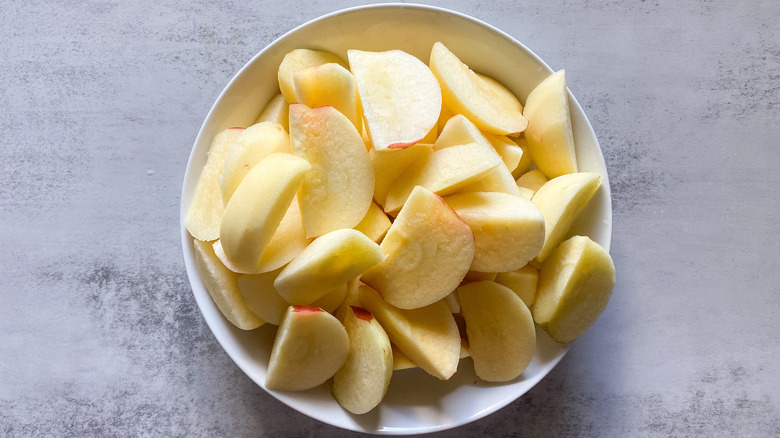 Kristen Carli/Mashed
Grab your apples and wash them well, then dry them. Peel the apples to get all of the skin off of them. "To peel these apples, I use a standard swivel peeler as best I can to remove most of the peel, Carli says. "Then, I simply slice the apples into rough slices. For this recipe, the slices do not need to be exact or uniform since you blend them later on."
Once you have the apples prepped, you can move on to the next step.
Put the apples in your slow cooker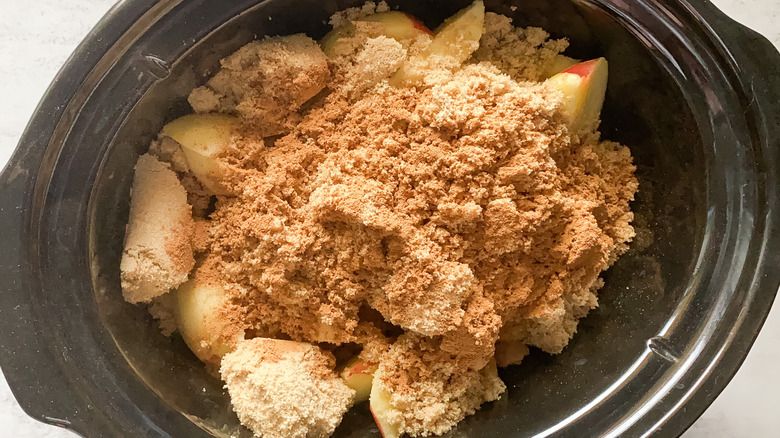 Kristen Carli/Mashed
Now, take out one of the best kitchen machines ever invented: the slow cooker. You will need one for this recipe, as that it the best way to cook your apples. "Slow cookers allow you to set it and forget it," Carli raves. "I love any recipe using a slow cooker to make my busy life easier. Another added benefit: your house will smell AMAZING!" We've got to love a slow-cooker recipe that also smells like a candle, right? 
Throw the apples in first. Then, add the sugar, cinnamon, and cloves. Stir everything well to combine.
Cover and cook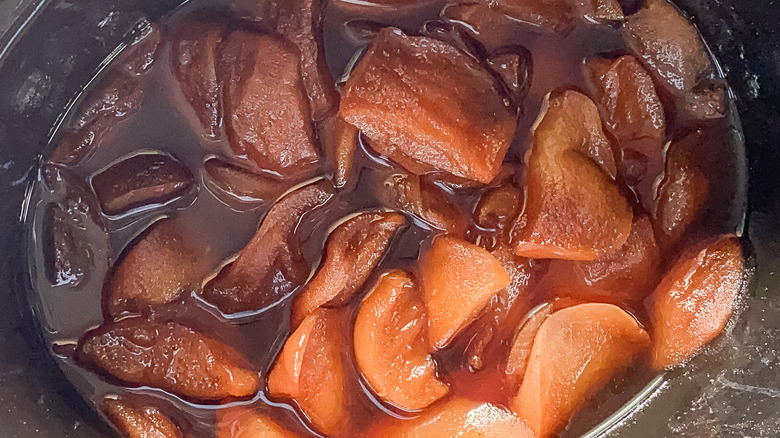 Kristen Carli/Mashed
Once you've loaded the apples and all of the remaining ingredients into your slow cooker, place the lid on top. Turn the knob to high, and then set your timer for six hours. If you're going to be away from home for longer than that, then you can cook this dish on low as well. "If you don't want to cook on high for six hours, you can cook on low for 10 hours," Carli shares. You can go on and do your own thing as you wait for the apples to cook. 
Serve and enjoy
Kristen Carli/Mashed
Once your timer goes off, grab an immersion blender and blend the apples until they're smooth. Then, scoop the mixture into whatever you would like to serve. This makes an excellent spread for toast or anything else that you would typically put jelly on. Of course, it's also great to enjoy by itself to help curb any sweets cravings.
We don't think there will be much left over, but if you have some, don't sweat it! "Leftovers will last in an airtight container in the fridge for up to 10 days," Carli shares. We hope you loved this apple butter!
Crockpot Apple Butter Recipe
Apple butter is one of the most wonderful spreads that you can make, but it's highly underrated. Give this recipe for apple butter a try.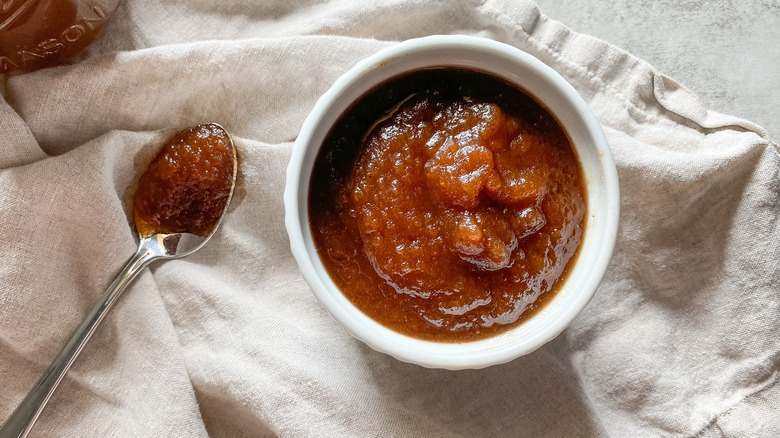 Total time: 6 hours, 5 minutes
Ingredients
3 pounds Jazz apples
2 cups brown sugar
1 tablespoon ground cinnamon
1 teaspoon ground cloves
Directions
Peel and slice apples.
Place apples in a small slow cooker. Add sugar, cinnamon, and cloves. Stir.
Cover with lid and cook on high for 6 hours.
Remove lid and stir well. Using an immersion blender, blend until smooth.
Serve and enjoy.
Nutrition
| | |
| --- | --- |
| Calories per Serving | 183 |
| Total Fat | 0.3 g |
| Saturated Fat | 0.0 g |
| Trans Fat | 0.0 g |
| Cholesterol | 0.0 mg |
| | |
| --- | --- |
| Total Carbohydrates | 48.0 g |
| Dietary Fiber | 3.8 g |
| Total Sugars | 42.3 g |
| Sodium | 10.1 mg |
| Protein | 0.4 g |