Apple Cider Old Fashioned Cocktail Recipe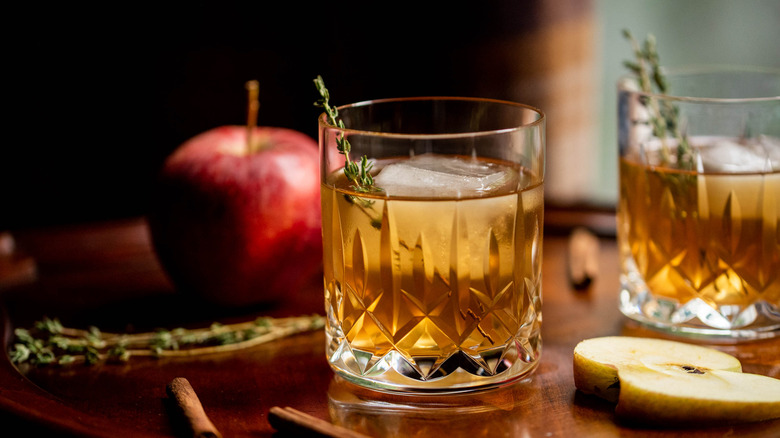 Michelle McGlinn/Mashed
There is nothing better than a crisp fall day, when the leaves are turning fiery red and the smokey smell of bonfire lingers in the air. One way to make a perfect autumn evening even better? Building an old fashioned using fresh apple cider and nutty, spicy bitters. While apple cider is most abundant in the fall, it is easy to find year-round in the produce section of grocery stores or made from scratch using an instant pot spiced apple cider recipe and can be enjoyed in this cocktail no matter the season.
In this recipe, developer Michelle McGlinn shares a quick and easy apple cider old fashioned and variations for warm, sweet, and batched versions. In this version, we use a mix of nutty bitters and a sprig of thyme for a sophisticated and balanced flavor, but the possibilities for swaps are endless. This cocktail is perfect for parties or for sipping while enjoying baked brie and fresh apples.
Gather your apple cider old fashioned ingredients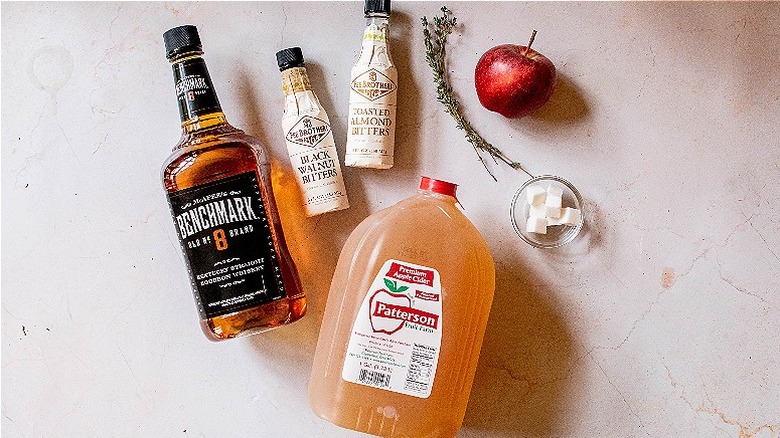 Michelle McGlinn/Mashed
If you frequently make a classic old fashioned cocktail recipe, you likely already have half of the ingredients for this apple cider riff. Grab your favorite mixing bourbon, a sugar cube, and some bitters. To bring out the sweetness of the apple and balance it with nuttiness, try using toasted almond and black walnut bitters. You can use just one or both: Using toasted almond alone will make the cocktail subtly sweeter, and using only black walnut will add a spiced edge. You can also try molasses, cardamom, or cinnamon bitters for more autumnal variations.
Next, pour in apple cider to taste. We recommend about double the amount of bourbon, but for a stronger drink, add the bourbon and apple cider in equal amounts. If making this cocktail in fall, be sure to use fresh, local apple cider for the best results!
Muddle the sugar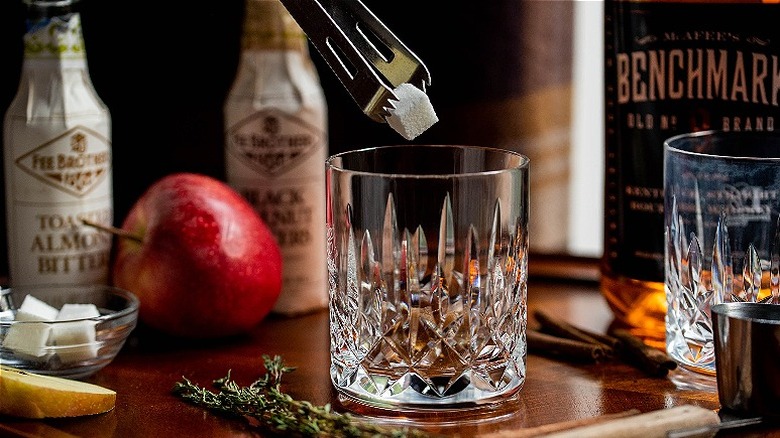 Michelle McGlinn/Mashed
Start your cocktail in the glass by muddling a sugar cube into a paste using the bitters. By dashing the bitters over the sugar, the sugar starts to dissolve and is ready to combine into the bourbon. Not a fan of the grainy sugar cube? You can use ½ ounce simple syrup for a smoother cocktail instead. For this variation, stir the simple syrup, bitters, and bourbon together to combine, then drop in a large ice cube.
Add the bourbon and apple cider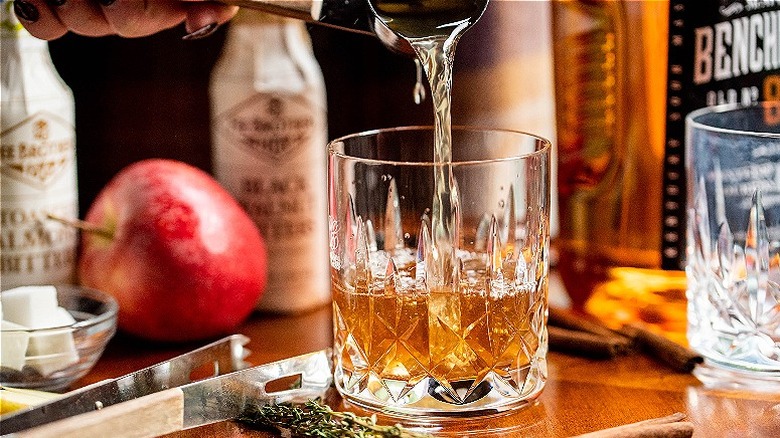 Michelle McGlinn/Mashed
Swirl the bourbon into the dissolved sugar cube, or simple syrup, if using. Then, add the apple cider and a large ice cube. Swirl again to chill the liquids, then garnish with a thyme sprig. If you don't have a thyme sprig, try using rosemary or a cinnamon stick instead. For a really impressive finish? Gently light the rosemary and extinguish in the drink for a smokey, charred top flavor. For fruity garnish variations, try a slice of red apple or a clove-studded orange peel.
Serve and enjoy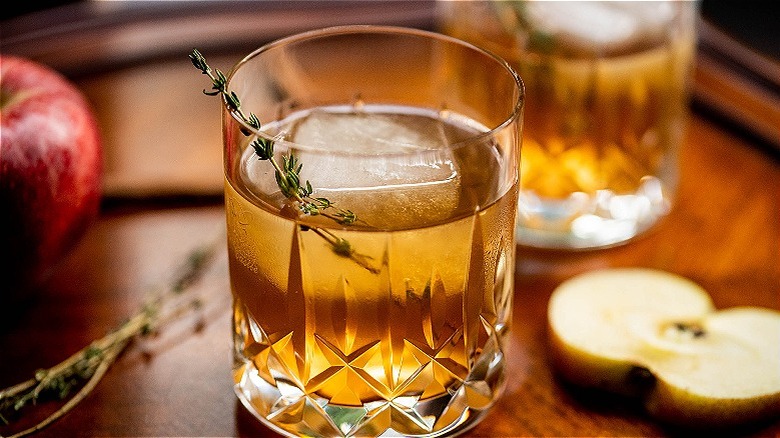 Michelle McGlinn/Mashed
While this bourbon-heavy cocktail will surely warm you up as-is, try omitting the ice and warming the apple cider for a hot version. Serve in a mug or handled glass and enjoy on chilly autumn nights. Crafting this for a crowd? You can make a batch to pour by the glass up to a day ahead of time. To serve 8, add 2 tablespoons of each bitters, 8 sugar cubes (or ½ cup simple syrup), 2 cups bourbon, and 4 cups apple cider. Stir well and pour over ice to serve.
This apple cider old fashioned can be enjoyed as an appetizer or during dessert. During crisp fall weather, this cocktail pairs well with brie, apples, pecans, and salty charcuterie. You can also serve with stews, soups, and delicious beef chili. No matter how you serve it, we hope you enjoy this perfectly fall, super sophisticated cocktail.
Apple Cider Old Fashioned Cocktail Recipe
The nutty bitters and sprig of thyme bring a flavorful sophistication to this apple cider old fashioned cocktail that's perfect for a chilly autumn evening.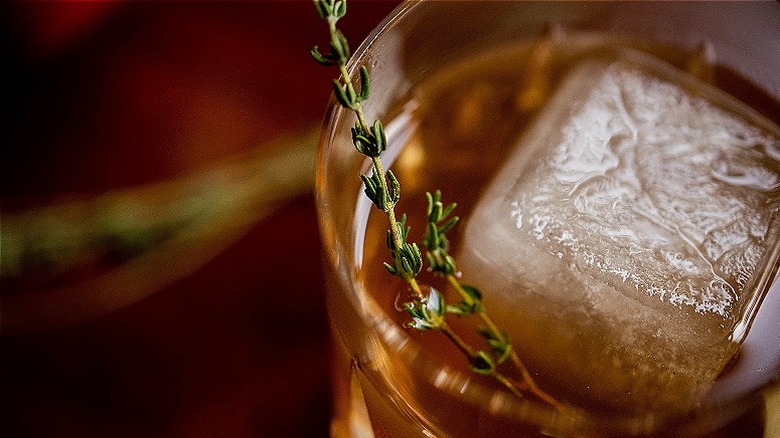 Ingredients
1 sugar cube
5 dashes black walnut bitters
5 dashes toasted almond bitters
2 ounces bourbon whiskey
4 ounces apple cider
thyme sprig, for garnish
Directions
Place sugar cube in a rocks glass. Dash both bitters over sugar cube and allow to dissolve slightly, then muddle into a paste.
Pour bourbon into glass and stir the sugar into the bourbon to dissolve. Top with apple cider.
Add ice cube. Garnish with thyme sprig to serve.
Nutrition
| | |
| --- | --- |
| Calories per Serving | 225 |
| Total Fat | 0.2 g |
| Saturated Fat | 0.0 g |
| Trans Fat | 0.0 |
| Cholesterol | 0.0 mg |
| | |
| --- | --- |
| Total Carbohydrates | 17.5 g |
| Dietary Fiber | 0.5 g |
| Total Sugars | 15.2 g |
| Sodium | 4.8 mg |
| Protein | 0.2 g |