Your Burger Deserves Peanut Butter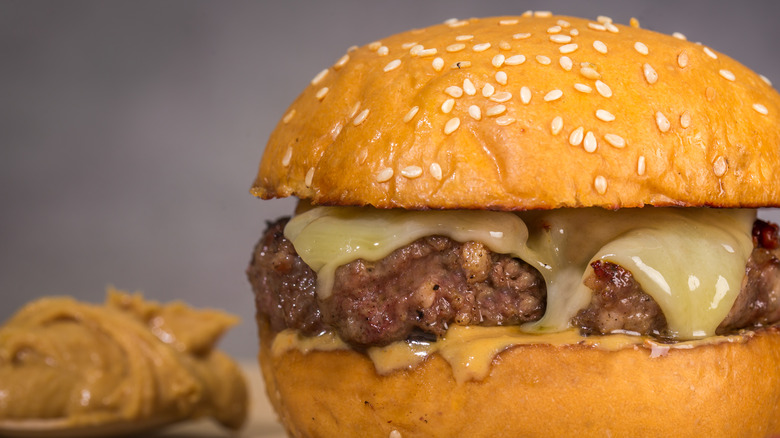 Estudio Conceito/Shutterstock
Peanut butter on burgers may sound like an unconventional combination, but this surprising twist on a classic has gained a devoted following. The reason is multifaceted, but it boils down to peanut butter's ability to amplify the overall profile of a traditional hamburger or cheeseburger.
The truth about peanut butter on burgers is that the condiment introduces a rich, slightly salty, subtly sweet taste that harmonizes surprisingly well with the umami notes of a warm, well-seasoned patty and a bun's pillowy softness. This synergy results in a lovely fusion of flavors, making every bite a complex, gratifying experience.
When smothered atop a burger patty, peanut butter forms a velvety-smooth layer that contrasts with the patty's crispy exterior and impeccably complements the melted cheese. Peanut butter's inherent creaminess can also offset any dryness that may occur with overcooked or lean meat. The sandwich staple has consistently proven itself a versatile culinary superhero, and establishments from coast to coast are taking advantage of this delicious trend.
Peanut butter burgers are popping up nationwide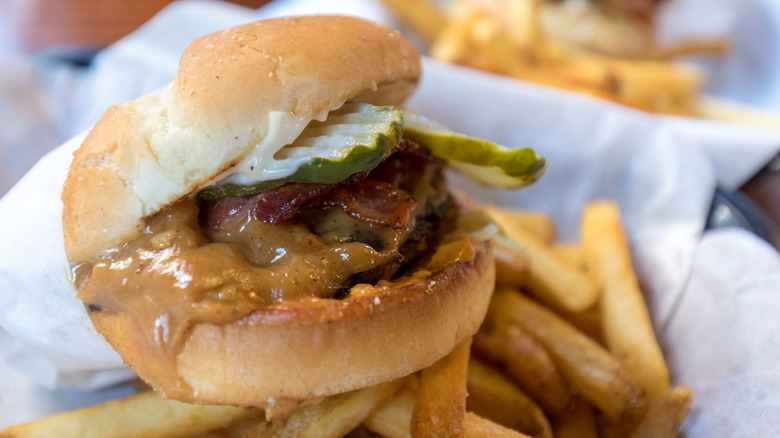 ARTYOORAN/Shutterstock
Across the U.S., several innovative restaurants have embraced this delicious burger you need to try before you die. Among these establishments is Slater's 50/50, a renowned California-based burger chain, which offers the delectable Peanut Butter and Jellousy Burger. This indulgent creation boasts a juicy Angus patty crowned with peanut butter, bacon, and a generous serving of strawberry jelly on a honey wheat bun. You can even pair it with a scoop of vanilla ice cream for an extra dose of sweetness.
In the heart of Milwaukee, local favorite AJ Bombers has made a significant mark on Brew City with its Barrie Burger, which features chunky peanut butter as the star ingredient. The Vortex in Atlanta, long celebrated for its quirky, inventive menu, pays homage to The King via the Fat Elvis. The masterpiece showcases peanut butter alongside bacon and fried plantains.
Fortunately, you don't have to travel to these cities to taste a peanut butter-burger medley. Next time you're grilling at home or in the tailgate lot, just grab the jar of the good stuff.