We All Bought Kraft Mac & Cheese Ice Cream As A Joke, Right? Well, It's Back Anyway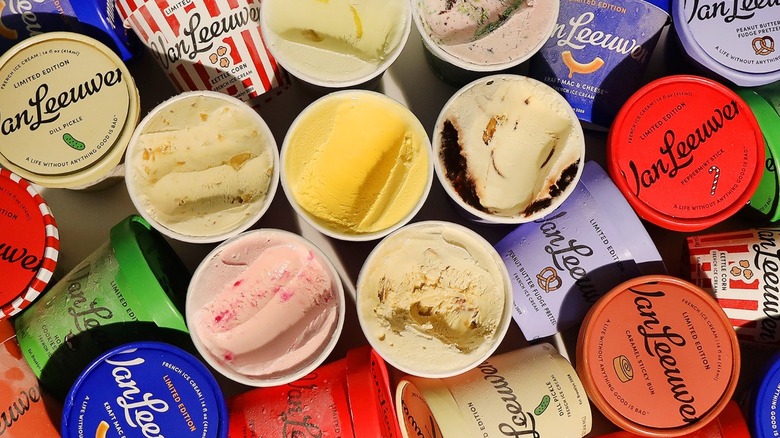 Van Leeuwen
Kraft Mac & Cheese ice cream may have turned a few heads when it first came out in 2021, but it likely turned more than a few stomachs, too. Some brave souls probably bought cartons on a dare, or perhaps as gag gifts, but it's unlikely anyone has been clamoring for Kraft or its ice cream-making accomplice Van Leeuwen to bring this flavor back from the dead. Those two partners in food crime, however, are granting the wish no one made by re-releasing their Kraft Mac & Cheese ice cream once more.
If you didn't get in on the joke the first time around, you should be able to find Kraft Mac & Cheese ice cream at your local Walmart. It will be available through December 26 or until it sells out, unlikely as that may seem now that the novelty factor has arguably worn off for many — this is, after all, the third time the ice cream has been introduced to the market. Even if the first distribution was an extremely limited one, everyone who wanted to try it probably already did so last year.
Mac and cheese isn't the only oddball flavor in Van Leeuwen's winter ice cream lineup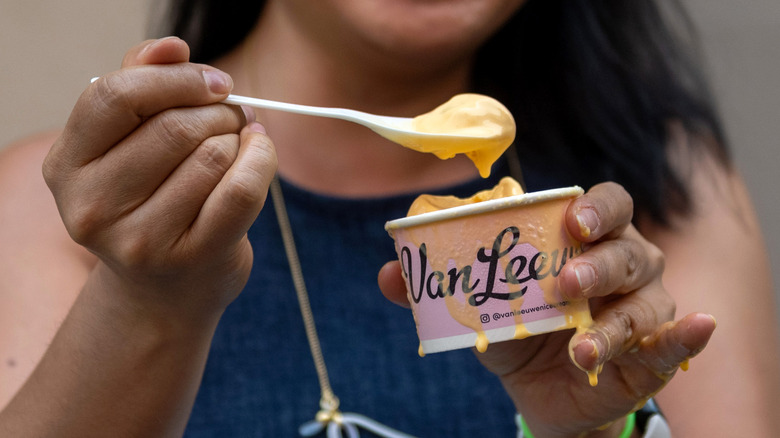 Alexi Rosenfeld/Getty Images
It's difficult to think of macaroni and cheese as a holiday flavor (or an ice cream flavor, at that); nonetheless, Van Leeuwen is including its Kraft Mac & Cheese ice cream reboot in its holiday lineup. For the most part, the holiday collection, carried by Walmart, seems to be pretty standard stuff: peppermint stick, caramel sticky bun, holiday cookies and cream, and a couple of obligatory salty-sweet flavors: peanut butter fudge pretzel and kettle corn. In addition to mac and cheese, though, the lineup includes another not-exactly-guaranteed people-pleaser: dill pickle.
Pickle ice cream, like mac-and-cheese ice cream, has been around for a few years, but it generally doesn't make anyone's list of top favorites. Blue Bell tried making this flavor a while back, only for it to flop. Similarly, pickle-flavored soft serve from a fashionable Manhattan creamery was compared to cucumber-scented hand lotion in 2018. Still, Van Leeuwen seems to be carving out quite the niche for itself as a maker of farcical flavors, as it's also tried mustard, onion, and ranch dressing ice creams.