Kraft's Mac And Cheese Flavored Ice Cream Is Turning Heads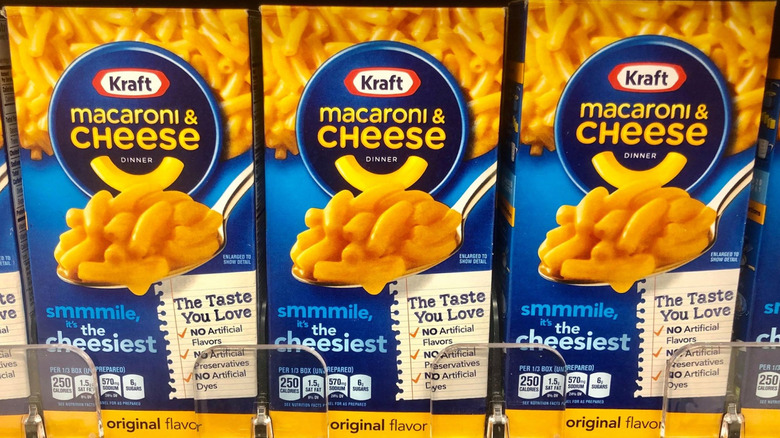 Shutterstock
There are some things that, when combined, simply make each other better. Foods like peanut butter and jelly, or spaghetti and meatballs, complement each other, coming together to make a delicious third flavor that is better than either one of them could be alone. However, these special types of pairings are few and far between. While mac and cheese and ice cream are both two separately delicious treats in their own right, you might be understandably skeptical if someone were to suggest combining these two pretty distinct flavors. After all, there can be too much of a good thing.
But Kraft did not listen to conventional wisdom when they went ahead and partnered with the popular creamery Van Leeuwen to release their new, unique Kraft Macaroni & Cheese flavored ice cream. According to Eater, the New York City-based ice cream parlor decided to get creative with Kraft's signature neon-orange cheese powder to release a limited-edition ice cream that is funky, cheesy, and somewhat irresistible. The bold new release combines Van Leeuwen's classic rich, creamy, almost buttery texture with the savory, tangy flavor of Kraft's blue box mac and cheese to make a complex, creative, and somehow delicious new dessert. Here's what fans (and skeptics!) should know.
Kraft's Macaroni & Cheese ice cream will be available July 14
"We know that there is nothing more refreshing on a hot summer day than ice cream. That is why we wanted to combine two of the most iconic comfort foods to create an ice cream with the unforgettable flavor of Kraft Macaroni & Cheese we all grew up with," Kraft Macaroni & Cheese Sr. Associate Brand Manager Emily Violett said of the impending release (via Kraft). "As big fans of Van Leeuwen, we knew they'd be the perfect partner to create this ice cream with us."
Adventurous eaters and mac and cheese lovers are invited to try this interesting new creation for free at Van Leeuwen's ice cream truck in New York City's Union Square on July 14 from 11 a.m. to 6 p.m., while supplies last, so be sure to get there early to secure your spot in line! But even if you are not able to score a free sample, never fear — the ice cream will still be available for purchase starting July 14 on the Van Leeuwen website, but you will have to be prepared to shell out the pretty hefty price of $12 for just one pint, according to People. While this might not be the most obvious pairing, the odd combo does make some sense. After all, they are both creamy, comforting, and a fan favorite with picky kids and adults alike. So, perhaps this combination is not really such a crazy idea.