If You Make TikTok's Pumpkin Dump Cake, Don't Forget To Fully Mix It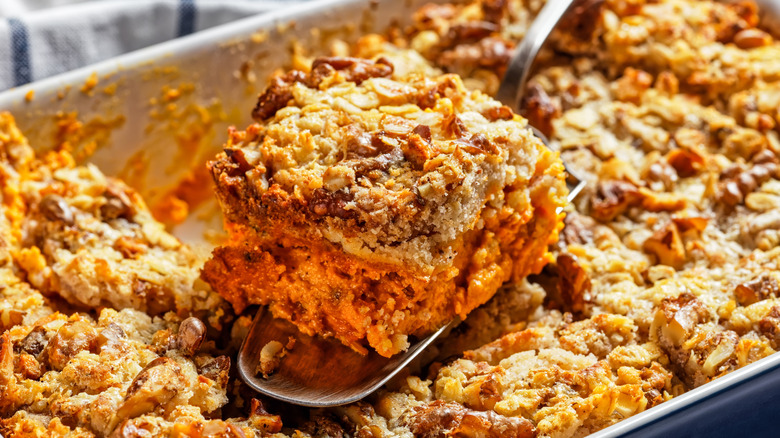 from my point of view/Shutterstock
Fall is here and pumpkin desserts have exploded onto the scene. It's difficult not to stumble into any store or coffee shop and leave with a pumpkin spice latte or pumpkin pastry. If you'd like to try your hand at baking a pumpkin dessert at home, a pumpkin dump cake can be a great choice for people without significant baking experience. Just like the name implies, a dump cake is among the easiest cakes you will ever make. They are made by quite literally dumping together a bunch of ingredients and baking. The end result is a cake-like texture with a browned, crispy top layer. Even though the name implies throwing things together, there is some mixing that's required.
@janelleandkate on TikTok shared a pumpkin dump cake preparation but received some flack for taking the dumping part too literally. During the video, the baker pours the base ingredients like eggs, sugar, pumpkin puree, and evaporated milk into a cake pan and then just whisks them together. However, it's noticeably obvious that the ingredients are not fully mixed before the baker dumps the cake mix. The video explicitly states that the batter is "fully mixed" while specs of milk and spices are visible.
When a pumpkin dump cake attempt goes wrong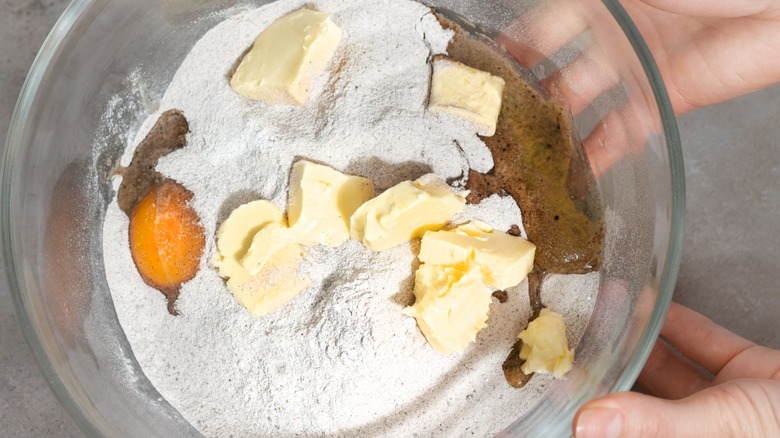 Tomasz Majchrowicz/Shutterstock
People were quick to swarm the comments section to share their disappointment with the lack of mixing along with the vessel for the cake. Instead of mixing the ingredients in a bowl, as is tradition, the baker mixed the ingredients in the same shallow dish they did their baking in. One person wrote, "Wouldn't it be better to mix everything in a bowl then dump it in the tray?" Others couldn't believe the ingredients were not fully mixed, with one person writing, "I think you forgot to mix it lol." All in all, people were less than thrilled with the unmixed batter.
The dumping part of baking a pumpkin dump cake actually comes in when the cake mix is added to the pre-mixed wet ingredients. After mixing the wet ingredients and transferring them to a baking dish, the cake mix is sprinkled on the top. Usually, bakers will follow that with melted butter they pour over the top of the cake mix. While the cake is baking in the oven, the top layer that isn't mixed creates a buttery, crumbly topping for the sweet filling underneath.