Bobby Flay's Cat, Nacho, Has Died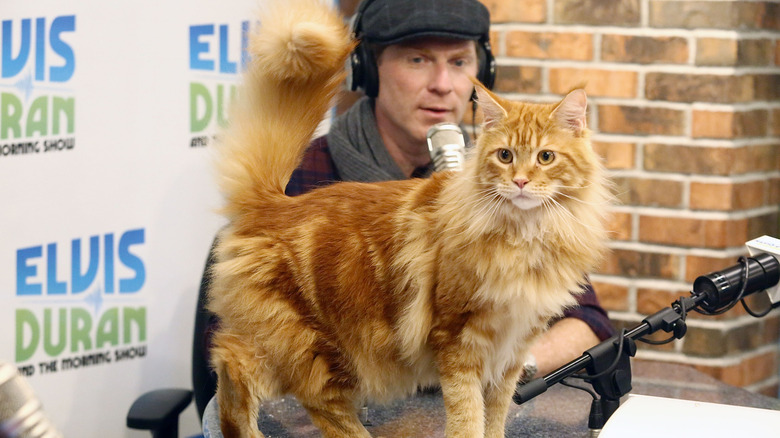 Astrid Stawiarz/Getty Images
Former Iron Chef Bobby Flay has been pretty vocal about his love of cats, famously telling CBS in 2017 that, "as an only child they were as close to my brothers as I had. I spent countless hours side by side with them, and we kept each other company." As an adult, he refrained from having any cats for 30 years, so it's unsurprising that the cat he finally adopted when he was 49, Nacho, earned a special place in his heart. This made the news all the more devastating when he revealed today in an Instagram post that 9-year-old Nacho has died.
"It is with an absolute broken heart that I report Nacho has passed away peacefully," Flay began his tribute. He wrote lovingly about the joy and magic Nacho brought to him and his life, and their special connection. "Give your pets an extra long hug today and please say a short prayer for Nacho," he finished the post. "They mean so much to all of us." Flay did not mention how Nacho died.
He brought the orange Maine Coon, Nacho Flay, home in 2015. Nacho quickly became Flay's sidekick and even got his own Instagram page, which eventually garnered over 270,000 followers.
Nacho inspired Flay's Made by Nacho cat food
Thanks to his love for Nacho, Bobby Flay eventually began developing a new, commercially available product: cat food. Frustrated at the lack of cat-specific food brands, he launched the appropriately named Made by Nacho in 2021, which features dry food, wet food, and treats. Made by Nacho's secret ingredient is bone broth, which he included because "It's very palatable for cats. It's packed with protein and also provides the extra hydration cats need" (via People).
Even though Nacho had his own Instagram page, he frequently appeared on Flay's page, too. Whether the feline was promoting Made by Nacho and showing cute behind-the-scenes videos from cat commercials, or showcasing the many adorable gifts Flay gave him, the affection Flay had for his cat was regularly on display. "I often wonder if I wasted three decades without a cat roaming my home, especially when I look into Nacho's eyes and I can almost hear his thoughts," Flay told CBS in 2017.
Nacho has a sister, Stella, and just a week ago, Flay introduced Stella and Nacho's newest sibling, Canelo, in an Instagram photo. While Canelo won't get a chance to know his big brother, the newest member of the Flay family will probably get just as many plates of nachos and catinis as his siblings.