Thumbprint Cookies Don't Need To Be Filled With Only Jam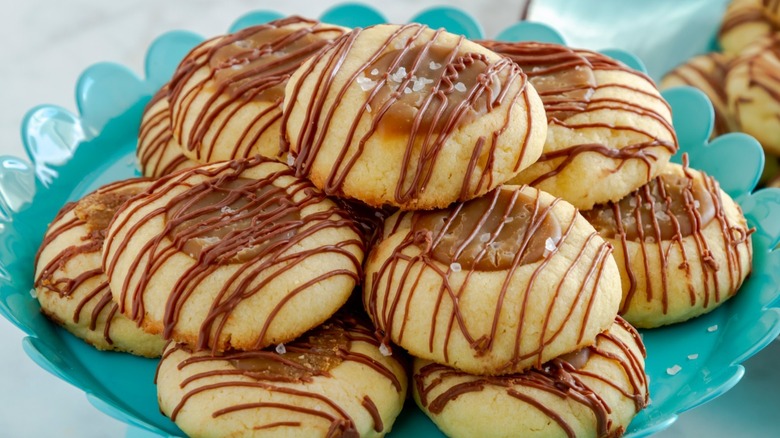 Here in the U.S., nothing says "Happy Holidays," quite like a fresh batch of thumbprint cookies. Inspired by a Swedish cookie called hallongrotta, which literally translates to "raspberry cave", thumbprint cookies are crafted by pressing the thumb into the center of the still-soft dough to create an indent, which is subsequently filled with jam. Both thumbprint cookies and hallongrotta are typically made with a sugar cookie or shortbread dough, and filled with sweet, raspberry jam. However, there is plenty of room to get creative with them.
Shortbread or sugar thumbprint cookie dough can easily be substituted for another type of cookie dough, like peanut butter, oatmeal, or chocolate. But even more exciting than switching up the type of cookie is the endless possibilities for fillings. While raspberry jam is the traditional choice for thumbprint cookies, other jams and preserves, like orange marmalade or fig preserves, can work well in a gingersnap cookie or an oatmeal variation, respectively. But jam and preserves certainly aren't the only options for filling up those thumbprint cookie crevices.
A cookie for every taste preference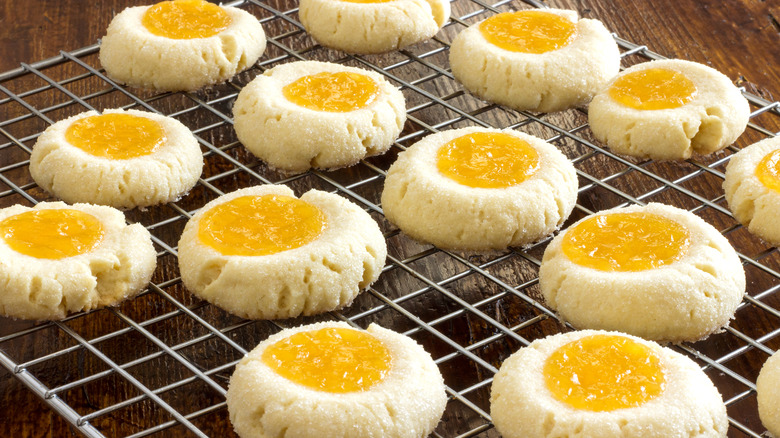 Happy Foods Tube/Shutterstock
Similar to a blossom cookie, which is made by pressing a Hershey's Kiss into the center of a peanut butter cookie, the center of a thumbprint cookie can also be filled with chocolate. Melting chocolate chips in a saucepan and combining them with heavy cream creates a thick chocolate mixture called ganache, which can be poured into the indentations and left to set in the fridge. If you're looking for something with a little more texture, Nutella can also be spooned into the indentions and topped with chopped hazelnuts. If caramel is more your speed, homemade or store-bought caramel sauce makes for a sticky, sweet center that can be topped with flaky sea salt.
For a tangy thumbprint cookie, reminiscent of a lemon square, shortbread thumbprint cookies can also be filled with lemon curd and sprinkled with powdered sugar for a treat that is perfect for tea time. While homemade lemon curd can quickly be made with ingredients you likely have lying around your kitchen, you can just as easily buy a jar from the grocery store. While you're there, you might pick up a can of apple or peach pie filling for some cobbler-inspired thumbprint cookies.
Hard candies, like the Starlight mints your grandma kept in her purse, can also be pressed into the center of a chocolate thumbprint cookie for a minty holiday treat. When baked, the hard candy softens, allowing you to swirl the candy into the still-soft dough.