TikTok's BLT Cocktail Is Surely An ... Interesting Way To Drink Your Food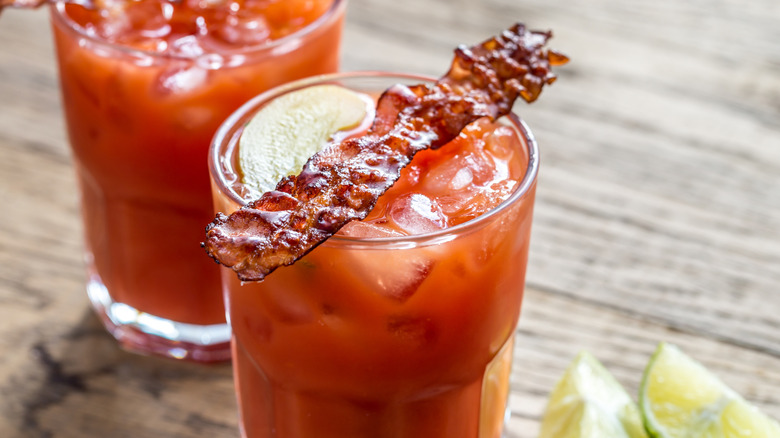 Alexpro9500/Getty Images
If you've ever enjoyed a boozy brunch comprised of a delicious B.L.T. and a strong Bloody Mary, then perhaps you'd be interested in combining this food and drink to make one of the strangest cocktails ... well, ever. A B.L.T. cocktail recipe has been making the rounds on TikTok, garnering over 25,000 likes. Unsurprisingly, though, the comments on this particular drink are pretty split. While some folks are interested in the idea of a meal in a boozy glass, others aren't so enthused. In fact, one commenter said, "Currently hungover laying on the bathroom floor at 2 p.m. and this just brought it all back out. Thanks." Since the Bloody Mary is known for being a "hair of the dog" drink (aka a hangover cure), this doesn't bode particularly well for the B.L.T. cocktail.
Nevertheless, the foodies and cocktail lovers among us just may want to give this new sandwich-inspired beverage a try. The B.L.T. cocktail includes, of course, bacon, lettuce, and tomato, but those aren't the only off-beat ingredients you'll be pouring into this glass. It's also got a poblano-flavored spirit and — brace yourself — mayonnaise. That may seem gross, but would this drink really be a B.L.T. without it?
TikTok's B.L.T. cocktail is surprisingly complex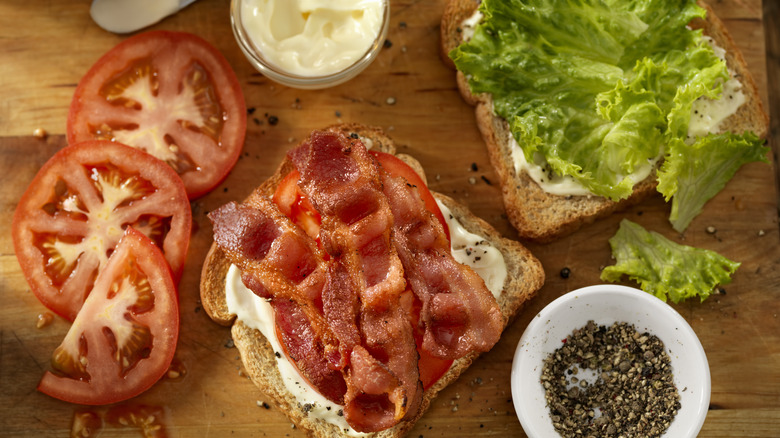 Lauripatterson/Getty Images
If you're ready to take the B.L.T. combo beyond the sandwich, then you might be interested in what the bartending TikTok account @verygooddrinks has created. However, while a B.L.T. sandwich is relatively easy to throw together, this cocktail isn't quite as simple. The creator prepares multiple different mixtures to add to the cocktail, like salted tomato syrup, romaine lettuce-infused lemon juice, and a poblano agave spirit with bacon fat. Some of these complex ingredients require freezing or overnight resting, which makes this version of the B.L.T. cocktail fairly time-consuming and complicated to put together.
@verygooddrinks

Oop here I go putting mayo in drinks again! 🤪 Full vid in yt! 📺 BLT COCKTAIL 🥓🥬🍅 •2 OZ BACON WASHED POBLANO @MeanMuleDistillingCo •3/4 OZ ROMAINE LETTUCE LEMON •3/4 OZ SALTED TOMATO SYRUP •BARSPOON MAYONNAISE @dukesmayo HARD SHAKE, FINE STRAIN, GARNISH WITH FRESHLY CRACKED BLACK PEPPER **to make salted tomato syrup, add 150g ripe tomato to 150g white sugar. Let macerate overnight at room temp, strain and add 2% salt by weight (3g)** #BLT #tomato #mayonnaise #lettuce #bacon
This may come as a surprise, but TikTok's viral B.L.T. cocktail isn't the only version out there. If you'd rather test the waters of this savory drink before diving in head-first, there are easier options. Egg whites, bacon fat, tomato juice, and horseradish are some easy, ready-made ingredients you can use for a B.L.T.-inspired cocktail. Spiking the drink with vodka, whiskey, or even bacon bourbon can make your cocktail equal parts strong and delicious without requiring any additional infusing. And remember: Cocktail garnishes aren't just for looks, so don't be afraid to toss in a crispy piece of bacon so you have something to munch on while you sip your bacon-y beverage.