S'mores Cookie Cups Turn The Campfire Classic Into Bite-Sized Treats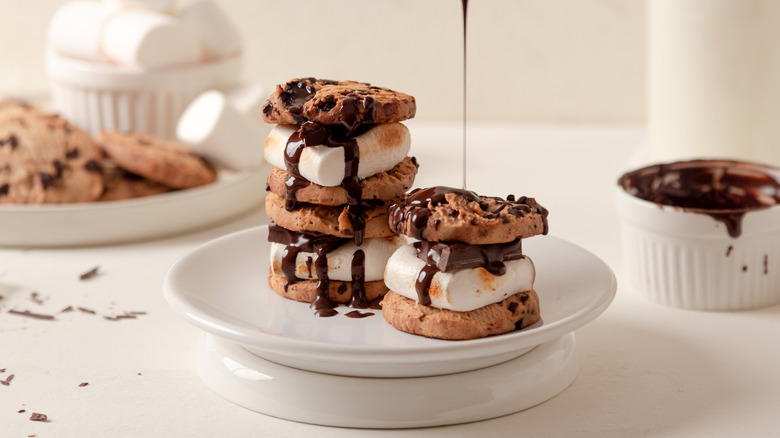 Marielen Cestari Baldino/Shutterstock
No matter the time of year, sometimes you just want s'mores. Sure, you could roast a marshmallow over the stove, but that's just a one-and-done snack for emergency cravings. S'mores cookies, on the other hand, can be produced in larger quantities — and stashed away for later.
Rather than just adding some marshmallows and a graham cracker to store-bought chocolate chip cookie dough, you can make an entirely new dessert from scratch. Just start with an easy sugar cookie recipe, then add graham cracker crumbs for s'mores flavor and texture. Press your dough into a mini muffin tin, make an indentation in each cookie, and bake as usual. Once the cookies are baked through, top each one with half of a large marshmallow and return the muffin tin to the oven just long enough to toast them. Lastly, finish them off by pressing a mini Reese's peanut butter cup into the marshmallow.
More ways to make bite-size s'mores cookie cups
If you're allergic to peanut butter or simply don't like the taste, a s'mores cookie with a Reese's cup on top probably isn't your jam. Fortunately, you can easily swap out the mini Reese's peanut butter cups for another chocolate candy of your choosing, like a square of Hershey's chocolate.
You can also upgrade these cookies by swapping out regular marshmallows for flavored marshmallows. For instance, Jet-Puffed's fall flavors — especially its pumpkin spice marshmallows — could make a fun addition to a s'mores cookie. After all, the graham cracker crumbs in your cookie base likely already contain cinnamon, which is one of the staple ingredients in pumpkin spice.
For a cookie that's heavier on the chocolate, you can try using chocolate graham cracker crumbs or even start with a chocolate cookie recipe. However, you should keep in mind that adding too much chocolate to your base might cancel out the graham cracker flavor entirely, which is a crucial part of any s'more.