Eat Your Breakfast As A Dip With This Viral Egg Recipe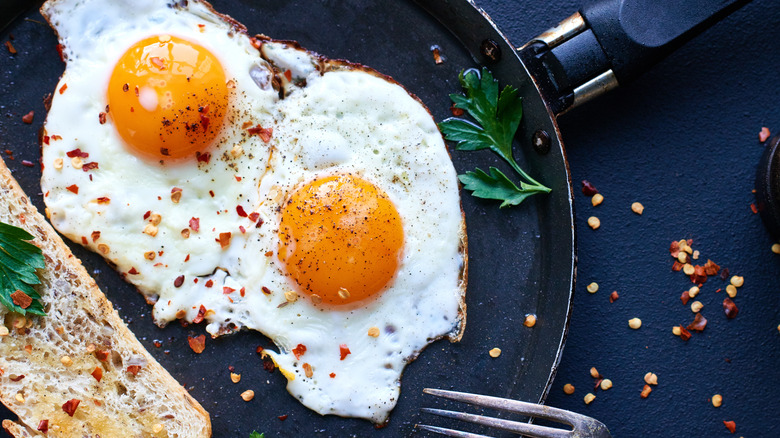 Mediaphotos/Getty Images
Any list of quintessential breakfast foods will have a variety of seriously delicious egg recipes, and a huge plus is that eggs can easily be a quick-prep meal. If you're mixing up the same old ingredients every time you make eggs, though, you might want to branch out into a more savory realm with the help of feta cheese. Egg lovers are likely already dumping cheddar, Gouda, or pepper jack into their morning eggs, but feta does a perfect job of intensifying the dish's overall flavor with the help of a few added spices.
The internet already wowed us with TikTok's feta fried eggs, but this time, it's a viral Instagram video that we're drawing brekky inspiration from. Mom and lifestyle blogger Ayushi Gupta-Mehra has hundreds of thousands of followers who seem to love her account, The Foodie Diaries, whether it's for food photos, creative recipes, or tips. She already had one spicy feta egg recipe go viral with 7 million views, so she decided to recreate it in reverse. The traveling foodie first heats oil and cherry tomatoes in a pan before adding in chili flakes, black pepper, and garlic cloves to simmer. She introduces the star of this dish by sprinkling feta cheese, explaining in her caption that you should "always measure with your heart." She fries her eggs sunny-side up in the pan, but you can fry them in the style and consistency you prefer.
Now you can eat your feta fried eggs as a cheesy dip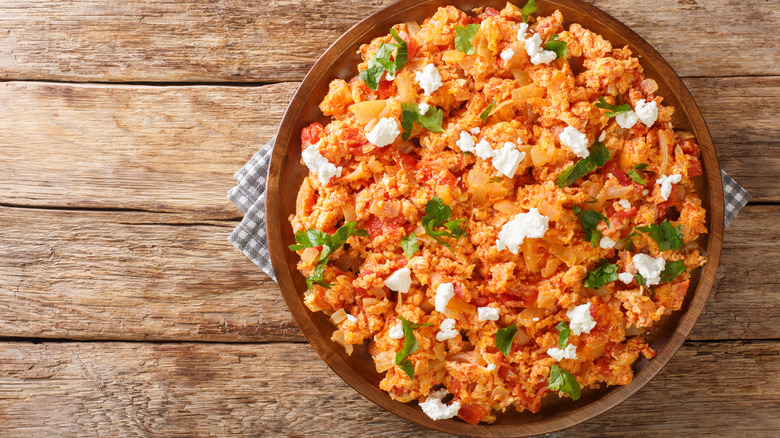 AS Foodstudio/Shutterstock
The best part about this flavorful version of fried eggs is that you can enjoy it in a variety of ways. Whatever carb vessel you decide to eat it with, whether you're wrapping this protein-packed meal in a tortilla, making an on-the-go breakfast sandwich, topping it on toast, or using it as a melty chip dip, this is one easy recipe you'll probably want to experience on repeat. For an extra dose of spice, simply drizzle it with chili oil for the finishing touch and get to scooping, loading up a crunchy piece of toast or tortilla chips with this tasty breakfast dip.
One popular meal that shares many of the same ingredients as this feta cheese-infused egg recipe is a Greek dish called strapatsatha. The main difference is that it doesn't have the same spicy kick. In the comments, you can find other creative variations viewers are trying, like swapping the feta for goat cheese. This is a great option since both of these types of cheeses are soft and taste strong enough to make a savory impact. They melt similarly without turning fluid. Some commenters suggest using fresh basil to garnish the dish or crumbling seaweed on top. Combining it with rice seems to be a common idea to bulk up the meal. For those looking to switch things up, commenters' ideas and Gupta-Mehra's arsenal of homemade recipes may provide plenty of inspiration.